The FADER's "Songs You Need" are the tracks we can't stop playing. Check back every day for new music and follow along on our Spotify playlist.
Next month, Trevor Powers will release Heaven Is a Junkyard, his first album as Youth Lagoon in more than seven years. He announced his beloved solo project's return in February with the forthcoming record's devastating lead single, "Idaho Alien," an infectious, ambling piano-folk tune about despair and self-harm. "Prizefighter," a partial return to Youth Lagoon's earlier, poppier ethos, followed last month. And on Tuesday (May 9), he shared the LP's third single, "The Sling."
The new song is another piano ballad. It's far less subtle in its path to pathos than "Idaho Alien," choosing a direct, methodical approach where that track seemed to wander into its tragic revelations. Sing-rasping over a simple, four-chord minor progression, Powers sings with an unconcealed, aching nostalgia in the verses ("I could die happy / If I started again, started again") and is even franker in the song's strikingly simple hook: "What makes me lose my head? / Love and memories."
The strength of "The Sling" may come from its openness, but Powers is too crafty a songwriter not to embed some hidden gems in his translucent text — "Time would bend like a drunken tree," "Smile so gapped like a stray dog's teeth," and "Father tells Eugene / He'll only meet God if the kitchen is clean," for instance. But the track's coup d'etat is its coda, which employs one of my personal all-time favorite tricks: saying an album's title in a non-title track. "Heaven is a junkyard, and I'm at home," Powers repeats as the weepy strings that appear in the preceding bridge fade out, leaving him alone at his keyboard once more.
As with "Idaho Alien" and "Prizefighter," Powers tapped Tyler T. Williams to handle visuals for "The Sling." The result is a music video that picks up where the first single's left off: with Powers walking across endless northwestern landscapes as the seasons change. Here, however, the vibe is more Frost than Kerouac; the setting goes from autumnal to wintry in the film's final minute, ending with a shot of its protagonist kneeling in the snow, communicating a quick sequence of emotions in miniature: fatigue, confusion, serenity.
Watch the clip, check out Heaven Is a Junkyard's cover art and tracklist, and view Youth Lagoon's upcoming tour dates below. A late-fall European leg was added this week to follow his previously scheduled, expansive summer/fall North American run.
Heaven Is a Junkyard album art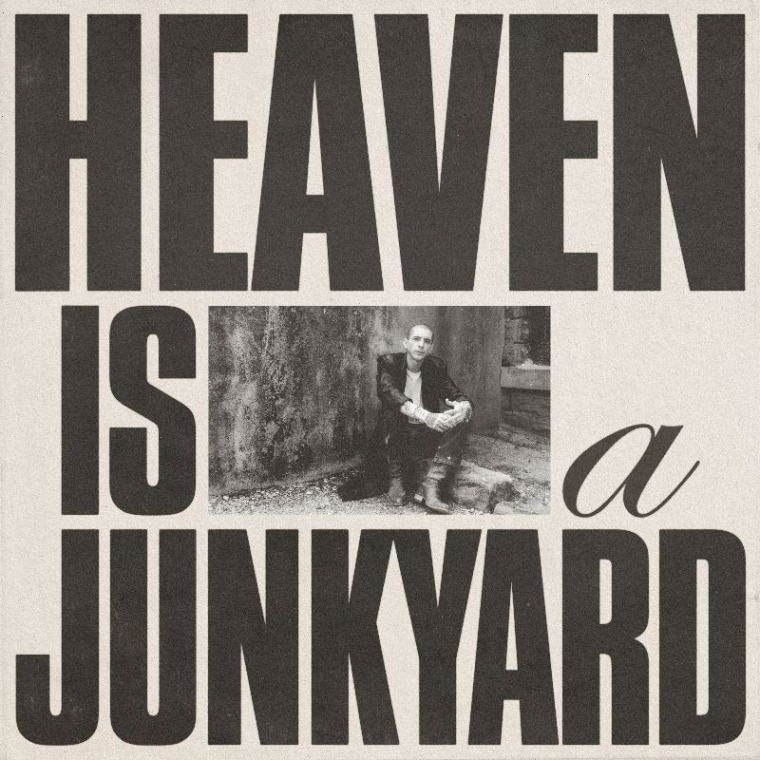 Heaven Is a Junkyard tracklist
1. Rabbit
2. Idaho Alien
3. Prizefighter
4. The Sling
5. Lux Radio Theatre
6. Deep Red Sea
7. Trapeze Artist
8. Mercury
9. Little Devil from the Country
10. Helicopter Toy
Youth Lagoon 2023 tour dates
July 14 - Spokane, WA - Lucky You
July 15 - Bozeman, MT - The Elm
July 17 - Sioux Falls, SD - Club David
July 18 - Iowa City, IA - Gabe's
July 20 - Milwaukee, WI - Cactus Club
July 21 - Chicago, IL - Pitchfork Music Festival
July 22 - Louisville, KY - The Whirling Tiger
July 23 - St. Louis, MO - Blueberry Hill
July 25 - Kansas City, MO - recordBar
July 26 - Omaha, NE - Slowdown
July 28 - Fort Collin, CO - The Aggie
July 29 - Boulder, CO - Fox Theatre
July 31 - Jackson Hole, WY - Center for the Arts
September 7 - Boise, ID - Treefort Music Hall *
September 8 - Salt Lake City, UT - Urban Lounge *
September 9 - Denver, CO - Bluebird Theater *
September 11 - Minneapolis, MN - Fine Line *
September 12 - Madison, WI - High Noon Saloon *
September 15 - Detroit, MI - El Club *
September 16 - Toronto,ON - Horseshoe Tavern *
September 18 - Montreal, QC - Theatre Fairmount *
September 19 - Boston, MA - Sinclair *
September 20 - Brooklyn, NY - Music Hall of Williamsburg *
September 22 - Philadelphia, PA - First Unitarian Church *
September 23 - Washington, DC - Union Stage *
September 25 - Durham, NC - Motorco Music Hall *
September 26 - Atlanta, GA - Aisle 5 *
September 28 - Houston, TX - White Oak Music Hall (Upstairs) *
September 29 - Austin, TX - Antone's *
September 30 - Dallas, TX - Trees *
October 2 - Santa Fe, NM - Meow Wolf *
October 3 - Phoenix, AZ - Crescent Ballroom *
October 4 - Santa Ana, CA - Constellation Room *
October 6 - Los Angeles, CA - Teragram Ballroom *
October 7 - San Francisco, CA - Great American Music Hall *
October 9 - Portland, OR - Mississippi Studios *
October 10 - Seattle, WA - Neumos *
October 11 - Vancouver, BC - Cobalt *
October 12 - Bellingham, WA - Bellingham Exit *
October 30 - Hamburg, DE - Kent Club
October 31 - Copenhagen, DK - Lille Vega
November 2 - Amsterdam, NE - Paradiso Noord
November 4 - Berlin, DE - Pitchfork Music Festival Berlin
November 6 - Paris, FR - Pitchfork Music Festival Paris
November 8 - Zurich, CH - Bogen F
November 9 - Cologne, DE - Luxor
November 12 - London, UK - Pitchfork Festival (EartH Theatre)
November 13 - Manchester, UK - YES (The Pink Room)
November 14 - Glasgow, SCT - Oran Mor
November 16 - Dublin, IE - The Button Factory
November 17 - Leeds, UK - Belgrave Music Hall
* with urika's bedroom