Arlo Parks just wants to give you some relief
The ascendant singer-songwriter-producer opens up the rich universe inside her new album, My Soft Machine, on The FADER Interview.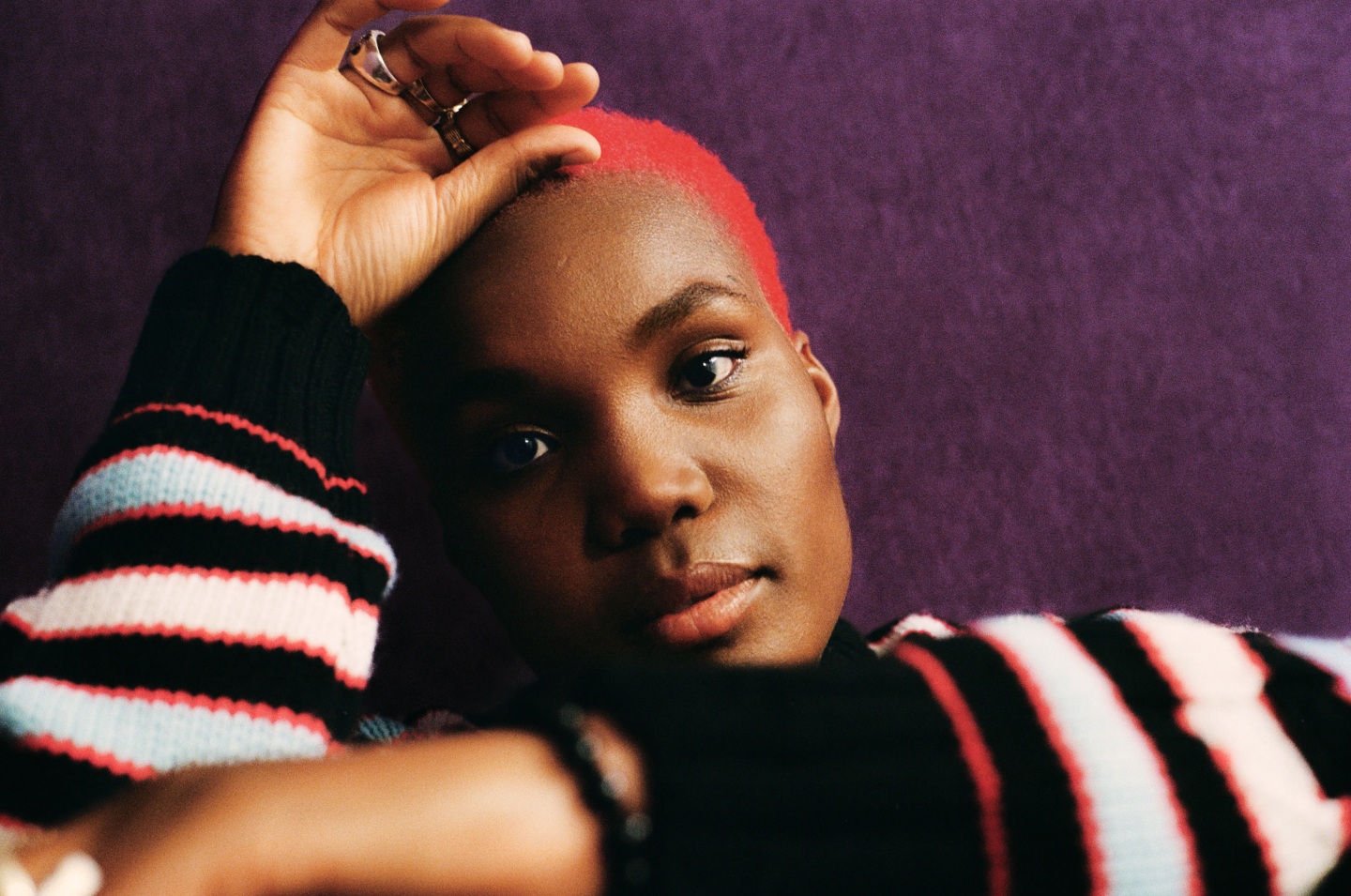 Arlo Parks wrote her debut album, Collapsed In Sunbeams, about her teenage years in London, with references to Radiohead and Jai Paul buried among stories of comforting troubled friends and her own romantic misadventures. Parks' candid writing style and pillow-soft voice won her critical acclaim; the album was awarded the prestigious Mercury Prize in 2021.
Collapsed In Sunbeams catapulted Parks to stratospheric heights and sent her around the world, including support slots with Harry Styles and Billie Eilish. Her follow-up, My Soft Machine, arrives this week and is much more worldly, with time spent in Tokyo and California (where she moved last year) informing her tactile and conversational lyrics. It's an album that pulls the listener in close and whispers its stories softly. Among them are tales of relationships that veer from effortless and unconditional to ugly and transactional. Parks' voice, coolly observational with a unique turn of phrase, ties it all together.
The same globetrotting that helped inform My Soft Machine also brought on a reckoning for Parks. In September 2022, she pulled out of a number of shows amid a hectic period of touring, citing "debilitating" mental health concerns. The comments section of the announcement post is filled with fellow musicians, including Clairo and Romy Madley-Croft of The xx, sharing their love and empathizing with her situation.
Last month, I caught up with Parks to discuss the many ways her life has changed since Collapsed In Sunbeams, the movies that inspired My Soft Machine, and how she hopes to avoid another burnout.
This Q&A is taken from the latest episode of The FADER Interview podcast. To hear this week's show in full, and to access the podcast's archive, click here.

The FADER: On tour, you visit countries and dig into their subcultures, learning about the places where you're spending time. Were there any countries that inspired My Soft Machine, and if so, what did you pull from those locations?
Arlo Parks: I spent some time in Tokyo. We were in the city, but we also had the opportunity to go out and explore nature a bit. I went to a lot of little record shops in Japan. I was exploring a lot of the ambient music they have there, and I didn't realize there was this really rich punk scene. I got to hang out in some queer bars and meet some drag queens. Thinking about the richness in that culture was so inspiring: being immersed in a culture that was so different from what I was used to, walking around in the parks and learning about the fashion and the way they approach food and ritual.
And then, in California, thinking about the songwriters in Laurel Canyon, listening to Joni Mitchell whilst driving around and thinking about the rich history of Hollywood and filmmaking and scriptwriting and art in that city, being among a lot of the people who are really pushing music forward, spending time in the nature — in the desert, in the mountains — reading Joan Didion… Each place I went to, I was doing a bit of digging.
Does the album feel bigger to you as a result, as opposed to the debut, which is from your teenage years in London?
Definitely, in that I was very much out in the world. The first record was quite an insular process: in London, during the pandemic. I was going back into the past in order to find things to write about — thinking about those formative years, those parties, those relationships, those conversations, those summers spent in the park, thinking about coming of age.
With this record, I was looking more inwards and less from a character perspective, and I was actually in the room with people playing drums, banging on synths, resetting tape machines, having the ability to experiment and play and be a student of other people's processes, and also a lot more involved in the production and bringing in references that I'd always loved but hadn't yet put into my music. So it definitely feels a lot bigger, and I'm telling my truth, rather than the truth that I'm observing in others
"I wanted there to be more ebbs and flows while still retaining that sense of warmth."
You worked with some great producers on this album, but you've also done some of your own production in there for the first time. Talk me through your process of becoming a producer. What do you want to bring to your own music from the production side?
I started off as a producer because I didn't know how else to make music. I was under the naïve impression that everyone who makes music produces and writes it themselves. So I was on YouTube, figuring out GarageBand, understanding what EQing meant. But I didn't have much technique, which actually served me well. For example, I didn't know you could comp a vocal, that you could pick different bits from takes and make a new take. So I was like, "I have to sing the song perfectly from start to finish." And then when I was trying to do doubles of a vocal take, I'd have to do it perfectly 'cause I didn't know how to change it afterwards. So it meant I had these interesting little ways of getting around not having very many resources.
I wanted the production of this record to have more contrast. With Collapsed in Sunbeams, there was this warm, mid-tempo minimalism. With this album, I wanted there to be a sense of urgency. I wanted the abrasiveness of those guitars in "Devotion." I wanted that crescendoing middle A in "Room" that reminded me of "Exit Music (For a Film)." I wanted there to be more ebbs and flows while still retaining that sense of warmth.
"Weightless" is the first song we heard from the album. It's written about a relationship you describe in quite attritional terms, almost like the love was being rationed out.
I was reading a lot of Annie Ernaux books and thinking about the sparsity with which she writes. She writes in quite a factual, unsentimental way with these little glimmers of poetry dotted within the writing, and it inspired me to write it in that brutally honest way. Like, "I'm keeping wool over my eyes, watching your deltoid flex as you cough on the phone," actually thinking about what happened and talking about what happened in a way that felt very vulnerable because it wasn't veiled behind poetry and fragments. It was real.
The topic of the song isn't necessarily romantic. It could be about a parent or a friend — that sense of being tethered to someone who's quite avoidant. You have this fantasy built up in your mind that you're the only person that can fix them, that you're somehow the exception to their pattern. You slowly figure out that you have to disentangle yourself from this relationship in order to survive, to get back to your happiness and to your center.
"Impurities" feels like the opposite of that. It's about an abundance of love and affection. Is that a journey you've gone on between the two albums — removing yourself from situations like "Weightless" and seeking out the "Impurities" people?
That's a lifelong journey. There's never really a point we reach where we have perfect, healthy balance in every single relationship in our lives. I think the main difference is that because I was practicing my craft, I was writing every day, and I suddenly felt able to capture the quality of joy. Not that I wasn't feeling joy before, but that I wasn't quite sure how to put it into words. It just felt like something that flooded in and out of my life and that I wasn't able to bottle. With this record and the trust that I felt in collaborators, I was able to bottle the feeling of joy and feeling held, feeling special, feeling radiant, feeling like what I have to say is important.
"My music is a place where I put the softest parts of myself, like a little raft, and push it out into the ocean."
The album title My Soft Machine comes from a quote from the movie The Souvenir. One of the characters explains the appeal of film and cinema by saying, "We don't want to see life as it's played out. We want to see life as it is experienced in this soft machine." Do you feel that music is a soft machine too — and if that's the case, whether there's a difference between making it and listening to it?
I've always viewed the soft machine as the body and as the lens through which life is filtered. But I do think music is a soft machine in terms of it being a vessel to carry ideas. My music is a place where I put the softest parts of myself, like a little raft, and push it out into the ocean.
When I listen to music my favorite songs, I can enjoy them purely and lose myself in the words and the tone. But when I'm making music, it feels more just like I'm building a structure. I have this moment of inspiration, and I can picture the architecture of the house, what color rug I want in it, how many doors there are, and how it feels to walk from the kitchen to the hallway. But I have to actually sit down and construct this thing. It's a lot more effortful than sitting down and listening to "Either/Or" by Elliot Smith. It's an arduous process, but the joy that I feel in doing it is like the best feeling in the world to me.
Did any other movies influence the record? I know that there are nods to Gus Van Sant and Juliette Binoche on "Impurities," for example.
I was reading Gus Van Sant's book, which tracks his creative journey from the very first movie he directed all the way through. His career has had moments of massive commercial success like Good Will Hunting. But then he goes into a film like Jerry, which is very much his own personal creative venture and quite abstract. It was really inspiring to be like, "Okay, if I want to make music for a long time, all I can do is trust the instincts I have now." People are gonna like certain albums I make more than others, and that's just how it's gonna be.
In terms of specific films, I loved watching [Pedro Almodovar's] Parallel Mothers and Talk to Her, watching the Lanthimos movies again — Dogtooth, Killing of a Sacred Deer, watching the short film La Voz Humana with Tilda Swinton, where she's going through a breakup in this vibrant, surreal home, and she's waiting and waiting for this person who's left her life. I've always gravitated towards films that feel like they're about humans — how fallible they are and how capable of beautiful and terrible things they are.

You've said you learned a lot about patience through the process of making My Soft Machine. Why did you need to be more patient for this project?
Because of the ambition of the record. I wanted to sculpt something, rather than just trusting an impulse and leaving it at that. I wanted to craft a landscape. I wanted to build a world, and a lot of that is about writing a song. I pretty much always have the lyrics and the melody, but sometimes it's only over a piano and drums. You have to be patient when you think about the treatment of the music. You have to let it reveal itself to you slowly, what it's meant to be in its final form. Some things take time; you can't force it. Sometimes you have to step away, and when you care about something a lot, it's hard to do that. It's hard to leave something alone and trust the process, but it's something I've had to learn.
Off the back of Collapsed In Sunbeams, you were touring a lot. You were doing some quite big arena/stadium shows, supporting the likes of Harry Styles, Billie Eilish, Florence + the Machine. Does the scale of those venues make its way into your thinking about new music? You wouldn't have written the first album thinking, "This needs to fill a stadium," but now that must at least cross your mind.
It's less about filling a stadium, more about, "If I were in a crowd, what would make me dance? If I were a fan, how would this sound make me feel? Does it feel euphoric? Does it feel like it should drop in pace?" When it comes to "Big Songs," they're never made by thinking, "I'm gonna make a stadium anthem." That's never gonna make anything particularly stadium worthy. I tried to shy away from making something I felt everyone would like.
Is there a song that feels particularly pivotal to the overall feeling of the album — a cornerstone track?
There are a couple, for different reasons. The one that comes to mind is "Devotion," because it's a song that happened by accident, and that made me feel like there were no bounds to what this record could be. I could make something heavier, something that honors my love of songs like "Debaser" by the Pixies, or The Breeders or Smashing Pumpkins or Deftones. For me, that blitzed any sense I had of the record and was completely freeing.
In September of last year, you spoke openly about dealing with exhaustion and the demands of life on the road, and you stepped back from performing live. Now that you're gearing up to tour this new album, are you putting steps in place to ensure that doesn't happen again?
Definitely. Something I learned last year was that the pacing of self-care has to be consistent and in small ways, rather than powering through for months and months and then having a big crash at the end. I've started to rethink how often and in what ways I take care of myself. I do something small most days. I'll go out for a little walk today and put on a podcast. I'll try and make time for dinner with a friend before a big show, or put in a little holiday with my partner. It's these little moments [that] allow me to balance the hectic life that I live.
Is this something you talk about among your peers? Is there a sense that this isn't sustainable?
There's definitely a support system among artists checking in with one another. If somebody posts tour dates, we're like, "Oh, this looks like a lot. How are you feeling about this?" Everyone takes care of one another, which is really nice, having this big pool of wisdom.
Phoebe Bridgers appears on "Pegasus." What was it about that song in particular that made you think she would be great on it?
There's a sense of melancholy but with a tinge of sweetness. She has such a wonderful command over her voice that she [was] able to elevate what I'd already written and fit into the world really magically. A lot of her music has a really kind of personal sense of storytelling. It's very detail-oriented, very vivid. I'm just a massive fan of her work. I've never had a feature on my record, and I told myself that if I ever did, it would have to be something that felt really organic and natural. I think we really achieved that with this collaboration.
She's just released the boygenius album with Lucy Dacus and Julien Baker. If there was a U.K. boygenius, who else would you like to see in that group?
I'd say Grian from Fontaines D.C., beabadoobee, and me. We'd make sick music.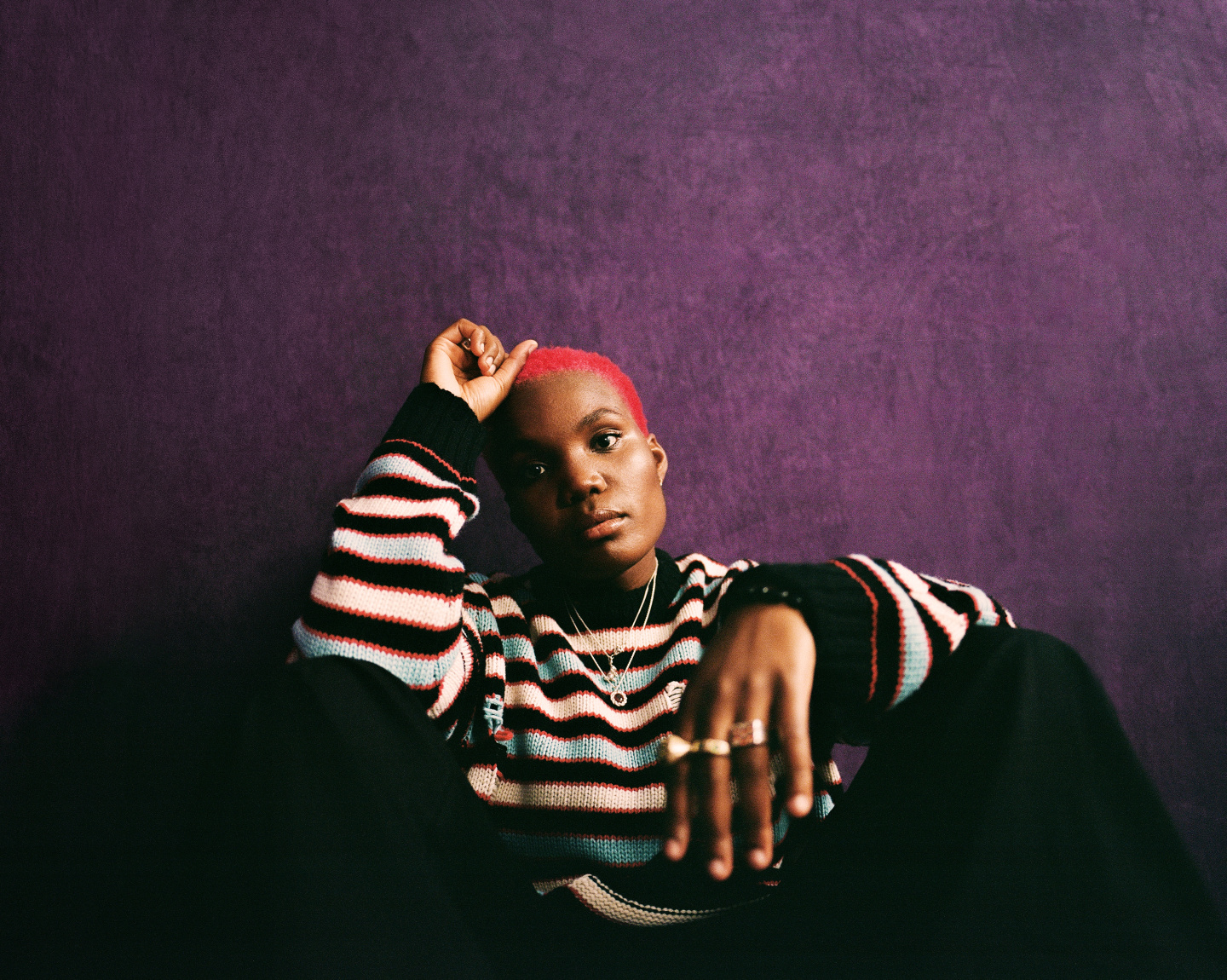 "I want to make something that provides relief."
When I think of your music, I think, first and foremost, of the lyrics. There's such a strong sense of place and a very evocative use of language. Are there any lines from the album that stand out to you as particularly strong, where you really nailed what you were trying to say?
The lyric I'm most proud of is the pre-chorus from "Purple Phase": "I just want to see her iridescent, charming cats down from trees / Mugler aviators, hiding eyes that laugh when concealed." I like those two together: the image of someone's eyes laughing behind their sunglasses and someone having the power to be trusted by animals — the good at the center of a person being clouded by addiction and mental health problems. I feel like it captures that well, and I like the way the rhymes weave in and out of one another.
Collapsed in Sunbeams was so successful: It won the Mercury Prize, propelled you onto this platform I'm sure you never imagined was possible. Outside the numbers, though, what does success for this new album look like to you?
I want to make something that provides relief. I remember putting out "Black Dog" and having this really strong sense that I'd put out something that was helping people, something people were carrying through their lives like a time capsule for a certain point in their journey. And it would be something that cements the fact that I'm able to make music and be creative for my job for the rest of my life. I want to feel that certainty. Hopefully, it also allows me to collaborate with people I've always dreamt of collaborating with, creating a little ripple effect.
My goalposts for this record are kind of nebulous. I just want to know that I can make songs and write my little scripts and be a little hermit and make good art people can hold onto. That's what I want, really.