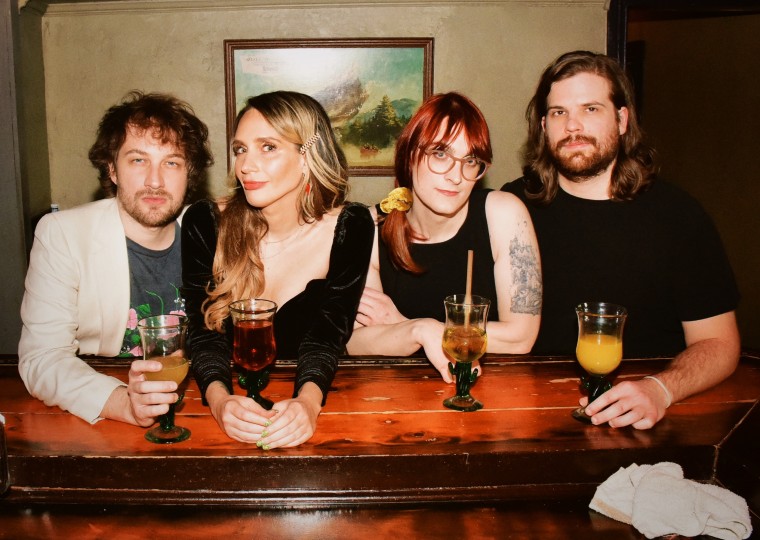 Speedy Ortiz have announced details of their first new album in over five years. Rabbit Rabbit will be released on September 1 via Wax Nine. News of the album is accompanied by the lead single "You S02." Scroll down to watch the video, an homage to John Carpenter's The Live, now.
"Mostly when I've met my musical heroes, they're kind and principled people. But occasionally someone whose work I love(d) reveals themselves to be anti-union, or anti-'woke,' or some other gear-grinding ugliness. That's who I wrote 'You S02' about, the song's frenzied guitar and synth solos mirroring the crazymaking intensity wafting off people who act like that," songwriter and guitarist Dupuis says in a statement. "In the TV show You's second season, the main character moves from New York to LA in hopes of a fresh start, but (spoiler) remains a murdering psychopath. Changing cities won't make you a hero if you still treat others badly."
Rabbit Rabbit is Speedy Ortiz's fourth album and their first since 2018's Twerp Verse. It was co-produced by the band alongside Illuminati Hotties' Sarah Tudzin. The album features the single "Scabs," released in April, plus the very topical opening song "Kim Cattral."
Starting in September, Speedy Ortiz will be on tour across North America. The band's headline run includes an opening night at Philadelphia's Johnny Brenda's plus dates in New York and Los Angeles. You can see their full schedule below.
Rabbit Rabbit track list
1. Kim Cattrall
2. You S02
3. Scabs
4. Plus One
5. Cry Cry Cry
6. Ballad of Y&S
7. Kitty
8. Who's Afraid of the Bath
9. Ranch vs. Ranch
10. Emergency & Me
11. The Sunday
12. Brace Thee
13. Ghostwriter

Speedy Ortiz tour dates
September 5 - Philadelphia, PA - Johnny Brenda's
September 6 - Kingston, NY - Tubby's
September 7 - Hamden, CT - The Space
September 8 - Somerville, MA - ONCE at the Center For Arts at The Armory
October 18 - Washington, DC - Black Cat
November 2 - Los Angeles, CA - The Echo
November 6 - San Francisco, CA - Rickshaw Stop
November 8 - Portland, OR - Polaris Hall
November 16 - Denver, CO - Globe Hall
November 17 - Omaha, NE - Slowdown
November 18 - Lawrence, KS - The Bottleneck
December 16 - New York, NY - Bowery Ballroom