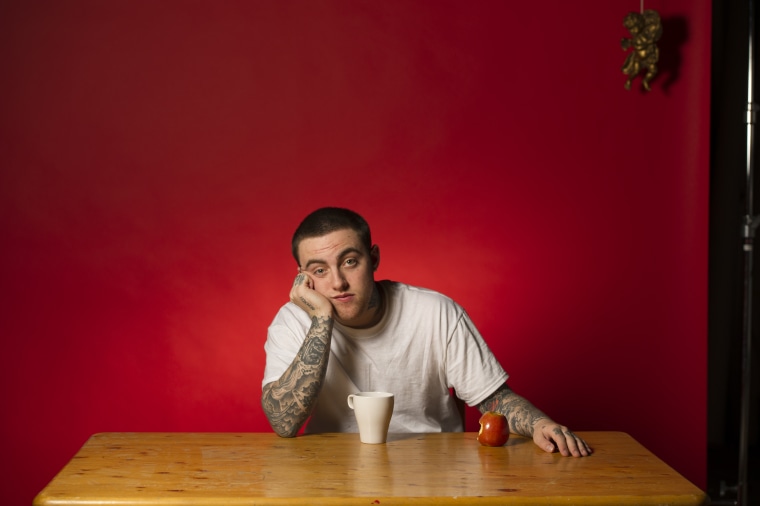 Mac Miller's sophomore album, Watching Movies with the Sound Off, launched the Pittsburgh rapper into a new phase of his career — from dismissed gimmick to a bona fide artist, a label he continued to wear and develop until his untimely death from an accidental drug overdose in 2018. The 10th-anniversary edition of this key entry in Miller's catalog is out today, and the tracklist sports a previously unreleased version of the album opener "The Star Room."
Branded the "OG Version," the new rendition of "Star Room" features a more contemplative beat that foregrounds the song's gummy synth lines and chops up a sample of a children's choir. The album version was far more forceful — which makes sense, considering the undeniable first impression Miller wanted to leave with the project's opening song — but the rich poignancy and craft behind the "OG Version" makes it far more than just a throwaway. Watch the previously unreleased alternate take's animated visuals below, followed by a statement from video's the director, Danae Gosset.
The video depicts the journey of an open-minded character as they navigate the world, discovering and evolving along the way. I had the privilege of collaborating with the incredibly talented Sam Mason [director of Miller's "Colors and Shapes" video], who designed the characters for the video. The storyline begins and ends with a candid embryo-like character, showcasing their growth and transformation through diverse landscapes and encounters. My goal was to capture the essence of a transformative journey while maintaining a childlike curiosity towards exploring different worlds.
To bring the video to life, we meticulously crafted a handmade layered collage-like technique. We employed a diverse range of physical mediums such as paint, color pencils, gouache, and more. The production involved a combination of 3D animation, 2D animation, footage integration, and VFX, all working together to support a surrealist vision through a handmade vivid, textural, and colorful world.
Watching Movies with the Sound Off (10th Anniversary Edition) is out now with a vinyl release shipping on October 6. That LP will contain an exclusive, never-before-heard song called "The Quest."
Watching Movies with the Sound Off (10th Anniversary) cover art