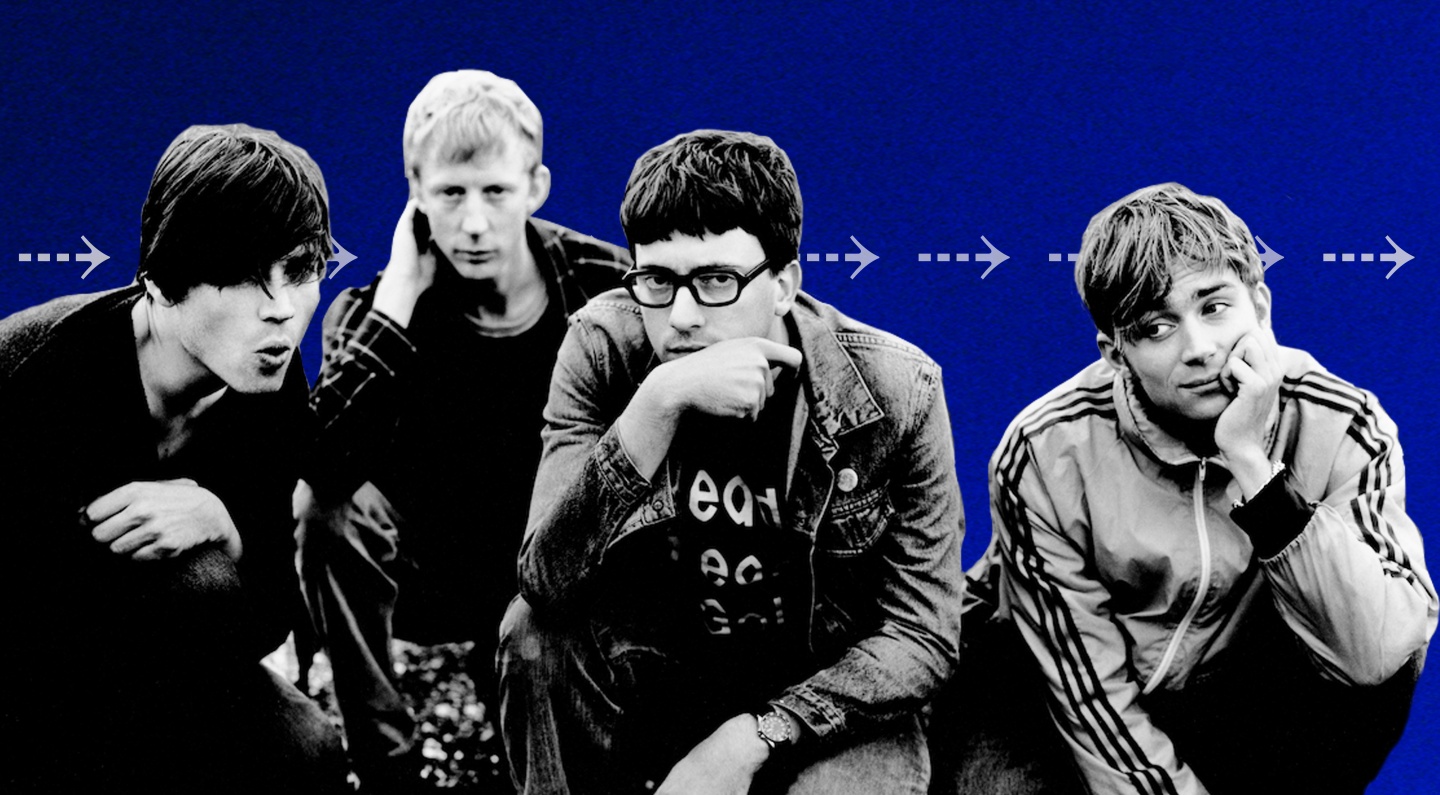 Decades ago, Blur became one of the most visible faces of "Britpop," a catch-all label ascribed to mid-'90s British guitar bands who drew from the island's rock history and inspired global followings. The London band, formed in 1988 by childhood friends Damon Albarn, Graham Coxon, Alex James, and Dave Rowntree, have diligently avoided a transition to legacy act. That's partially due to their sporadic release schedule heightened only by Albarn's ongoing success as a solo artist and with Gorillaz, his animated pop group formed in 1998. The Ballad of Darren, Blur's upcoming ninth studio album, will be the group's second in 20 years. It's worth paying attention to because at the root of Blur's music, there's a shifting identity that lives up to their namesake, muddying expectations and inviting repeat listens. Britannia may no longer be Cool, but Blur endures.
Blur's return has been as well-received as the last, with sold-out concerts across the world signaling that, the foursome's persistent personality clashes are behind them and that a new rhythm has been found. But what makes Blur remain exciting, and where can those who are unfamiliar start? This guide has outlined some key entry points as well as a few funny, weird, and interesting pieces of ephemera throughout their career that, if it goes on another eight-year hiatus, will still leave us eager to see where they'll go next.

If you're a dream-pop and shoegaze fan: Leisure
It's true that Blur's first album is a sonic outlier thanks in part to record label meddling that left Damon Albarn with little but distaste for the entire project. And while we can retroactively see 1991's Leisure as a bit of cosplay pulling from era-defining bands like My Bloody Valentine and The Stone Roses, the band's talents shine through. Take "She's So High," the Slowdive-y album opener that leads with an all-timer Graham Coxon riff spinning silk around Albarn's lovesick entreaties, and "There's No Other Way," the hit single that singals the beginnings of Britpop in a Madchester-adjacent package. Even if they weren't quite themselves, the group managed to deliver one of its best songs in "Sing," a hazy piano ballad with a bass performance from Alex James as tear-jerking as it is funky.
Blur's best album of the Britpop era: Parklife
There's an Albarn-esque irony in the way that Leisure arrived clinging to the heels of one scene, only for the band's third album to become a high water mark of another. Parklife arrived after the lukewarm receptions of Blur's debut album and its follow-up Modern Life Is Rubbish, and is widely regarded as the band's pinnacle achievement (is it, though? We'll get back to that later) It's a defining document of the "Cool Britannia" movement, a handful of years beginning in the mid '90s when British culture, from clothes to movies to music, became the cutting edge. On Parklife, it's distinguished in part by Albarn's literary eye; his treatment of the foibles of English life and characters spanning all ages is as gently sarcastic and as one would be with a family member, something you'll hear on the title track and the swinging disco smash "Girls & Boys." The influence of Ray Davies and The Kinks is strong here, and while not every English rock band that came up in the '90s was on board — Radiohead guitarist Johnny Greenwood deemed "a 1960s revival" — Parklife is too richly woven to be mere pastiche.
Blur's best album of the post-Britpop boom: 13
Broadly, though, Greenwood may have had a point: Britpop's retro-leaning guitar rock could only ever have been a fad, and its collapse was swift and definitive. In a 2014 interview, Albarn attributed the genre's rise to a reaction against encroaching American-centric culture, though the hermetic nature would eventually become its undoing. "It wasn't a particularly expansive bubble," Albarn said of the scene, "not a great deal of elasticity." Blur's rejection of Britpop began in earnest with 1997's self-titled album, which embraced more personal lyrics, more contemporary and abrasive sounds, and crucially, a sense of fun: "Song 2," written as a joke on their label, remains their biggest hit.
13 continues that expansion with William Orbit on board as producer for the band's first LP without longtime board-manner Stephen Street. Tragedy and restlessness converge in a new sort of forward energy: the end of Albarn's relationship with Elastica's Justine Frischmann and the band's restless desire to avoid being pigeonholed conspire to push Blur to new heights. Whether the band is focused or fucking around, they're equally compelling: "Tender" is the gospel-pop stompalong that christened Damon Albarn as pop iconoclast. By contrast, tracks like "Caramel" and "1992" are acidic jams drenched in the droning tones of the American indie rock underground. Free of definitions imposed internally and externally, 13 is Blur's best album because it's their most permissive.
Damon and Noel played "Tender" together for charity, and the entire British music press's hearts grew three sizes that day
This was the best part of the 1998 film The Beach: Leonardo DiCaprio in a fever-dream video game sequence soundtracked by a D&B Blur remix
They featured as a band on the Marianna Faithful song "Kissin' Time"
One of the band members has gone on to great success with his side projects
I am, of course, referring to Alex James, member of the groups Fat Les, Bad Lieutenant, and WigWam!
An insightful tour documentary from 1993