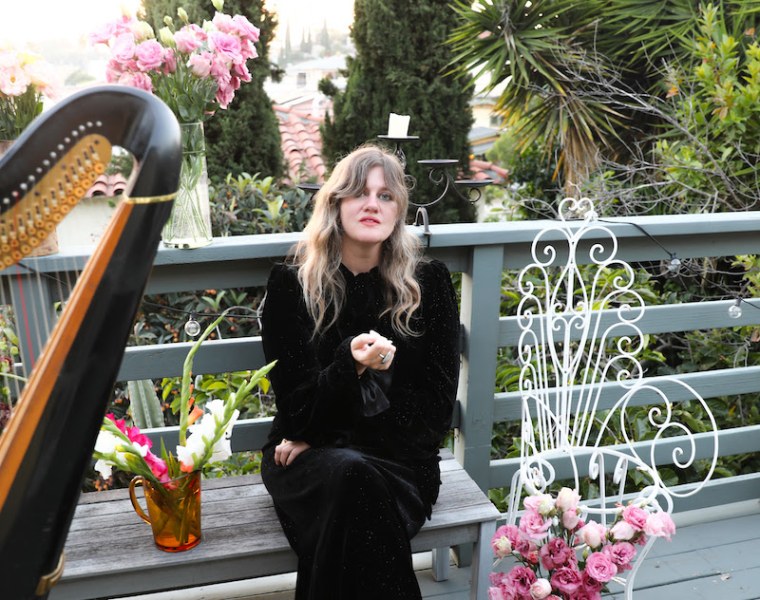 The FADER's "Songs You Need" are the tracks we can't stop playing. Check back every day for new music and follow along on our Spotify playlist.
It's hard to think about the harp without summoning Renaissance imagery of cherubs plucking golden strings, their celestial reverberations echoing down from on high. Mary Lattimore has spent much of her career subverting these easy connotations, taking her instrument to corners of the sound world it's never seen before. But on her newest song, she embraces the harp's heavenly connection to almost unbearably beautiful effect.
"And Then He Wrapped His Wings Around Me" is the lead single and opening track from Lattimore's forthcoming album, Goodbye, Hotel Arkada. The song arrived alongside the record's announcement last week and came with a black-and-white visual treatment courtesy of Rachael Pony Cassells. It features folk singer-songwriter Meg Baird and accordionist-composer Walt McClements.
The new track is a slow, atmospheric affair. It starts out centering a repetitive, mid-range, unresolving harp melody from Lattimore that slowly fades into the mix, encircled by McClements' slowly rising organ drone, Baird's wordless cooing, and tinkling high notes (also from Lattimore's harp) that begin as embellishments before seamlessly melting into the scenery.
Even without its biblical-sounding title, "And Then He Wrapped His Wings Around Me" would evoke a sense of perfect angelic harmony. According to a press release however, Lattimore is referring to a different type of winged creature altogether. After winning a drawing contest run by her local radio station as a child, the release explains, she was awarded the chance to see Sesame Street Live! in Asheville, North Carolina. After the show, she and her mother got to go backstage and meet the characters. She remembers Big Bird in particular: "He gave me an incredible hug with his scratchy yellow wings," she recalls fondly.
Watch the music video for "And Then He Wrapped His Wings Around Me" below; scroll further to stream the song on its own, check out Goodbye, Hotel Arkada's cover art and tracklist, and view Mary Lattimore's upcoming tour dates; and listen to my conversation with Mary Lattimore and Paul Sukeena on the 48th episode of The FADER Interview podcast.
Goodbye, Hotel Arkada album art and tracklist.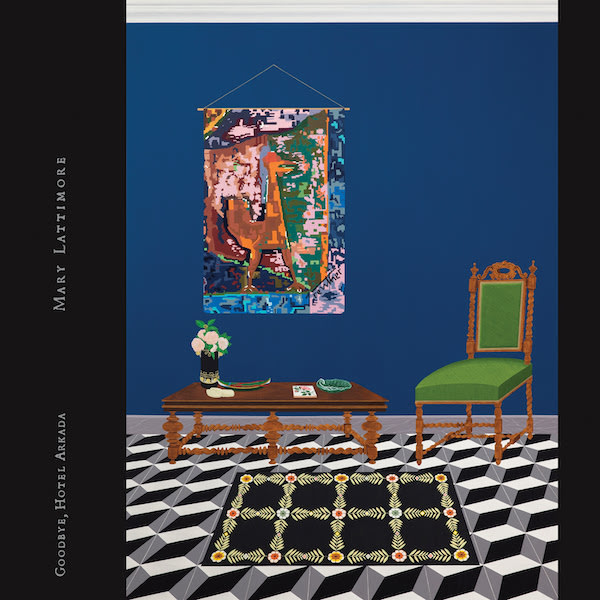 1. And Then He Wrapped His Wings Around Me (feat. Meg Baird and Walt McClements)
2. Arrivederci (feat. Lol Tolhurst)
3. Blender in a Blender (feat. Roy Montgomery)
4. Music for Applying Shimmering Eye Shadow
5. Horses, Glossy on the Hill
6. Yesterday's Parties (feat. Rachel Goswell and Samara Lubelski)
Mary Lattimore fall 2023 North American tour dates
September 24 - Philadelphia, PA - Making Time
October 11 - Los Angeles, CA - Hollywood Forever
October13 - Felton, CA - Felton Music Hall
October 10 - San Francisco, CA - Cafe Du Nord
October 16 - Portland, OR - Polaris Hall
October 17 - Seattle, WA - The Triple Door
October 19 - Boise, ID - Neurolux
October 21 - Denver, CO - Skylark Lounge
October 23 - Lawrence, KS - White Schoolhouse
October 24 - Iowa City, IA - The James Theatre
October 25 - Minneapolis, MN - Cedar Cultural Center
October 26 - Milwaukee, WI - Acme Records
October 27 - Chicago, IL - Constellation
October 28 - Chicago, IL - Constellation
October 29 - Lakeside, MI - Lakeside Inn
October 31 Toronto, ON - Longboat Hall
November 11 - Kingston, - Tubby's
November 3 - Brooklyn, NY - Union Pool
November 4 - Brooklyn, NY - Union Pool
November 5 - 2023 Brooklyn, NY - Union Pool
November 6 - Philadelphia, PA - First Unitarian Church
November 8 - Baltimore, MD - Current Space
November 9 - Durham, NC - Motorco Music Hall
November 10 - Asheville, NC - Grey Eagle Tavern
November 11 - Atlanta, GA - The Earl
November 12 - Nashville, TN - Third Man Records
November 14 - New Orleans, LA - Gasa Gasa
November 15 - Houston, TX - The Secret Group
November 16 - Austin, TX - Central Presbyterian Church