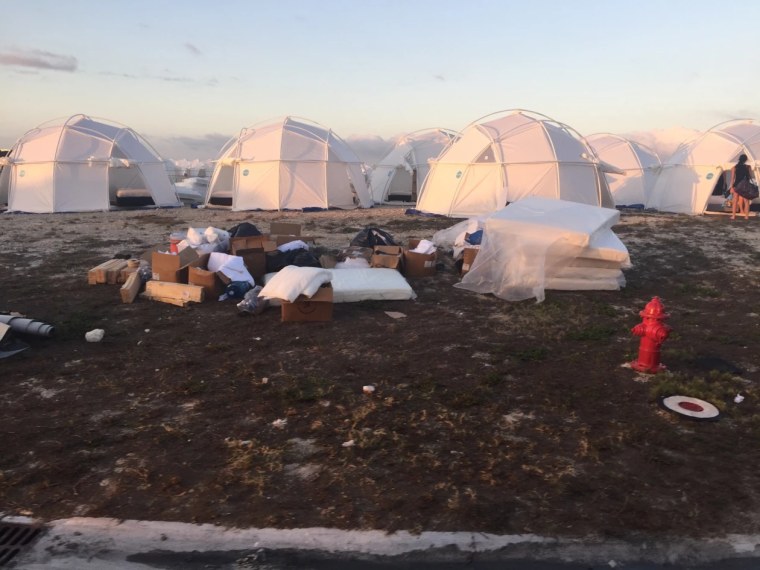 Back in 2017, a new music event called Fyre Festival launched. Billed as a luxury two-weekend getaway on a remote island in the Bahamas with A-list musical talent, Fyre Festival actually delivered destitute accommodation, terrible food, no bands, and — for the influencers who found themselves stranded on the island — no escape. As photos and video emerged from the festival, the world watched with captivated schadenfreude; on the first scheduled day, Fyre announced its cancellation. The festival faced multiple civil lawsuits and an FBI investigation, leading to the arrest of the Festival co-founder Billy McFarland on wire fraud charges. He pleaded guilty and was sentenced to six years in prison, serving four.
Not long after his release, McFarland said that he was "in talks" to bring Fyre Festival back alongside an official musical adaptation. Now tickets for "Fyre Festival 2" are on sale. There is no lineup listed, the location is set as "The Caribbean" (the Bahamian government has banned Fyre Festival from returning), and tickets currently cost $499. Is it ridiculous? Yes. But as McFarland and his investors have no doubt figured out, there's a not-insignificant number of clout chasers with disposable wealth who will be satisfied with the bragging rights from purchasing the tickets, regardless of whether or not a true "luxury" experience materializes or not.
McFarland announced the ticket sale in a TikTok video. "It has been the absolute wildest journey to get here," he says in the self-recorded clip, claiming that he devised the plan for Fyre 2 over the course of a seven-month stay in solitary confinement. The event is scheduled for late 2024, and in the meantime, McFarland promises "pop-ups and events across the world." I don't know if any of these things will – in a broad sense – happen, but I do know that things are stupid enough that they could. See the announcement below via Stereogum.