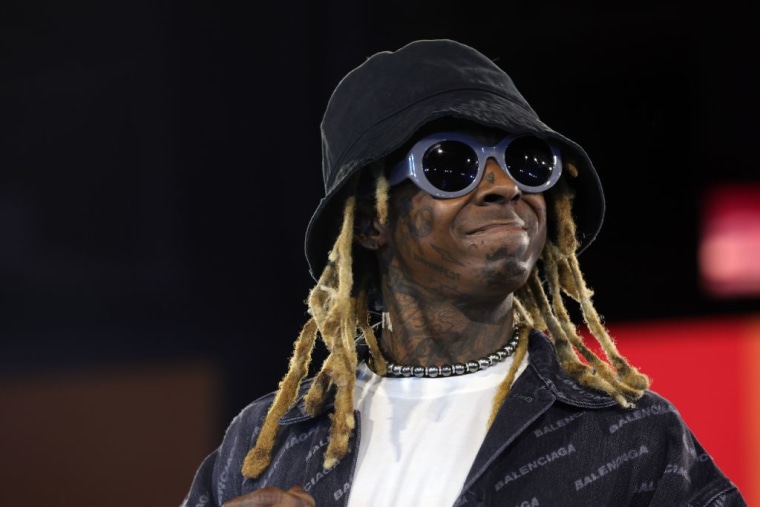 Lil Wayne was among the artists who performed at "50 Years Of Hip-Hop," a celebration of rap's big birthday held at Vice President Kamala Harris's residence over the weekend. Wayne played a five-song set (per The Hollywood Reporter) that included classics like "6 Foot 7 Foot" and "A Milli." Wayne expressed his gratitude for being able to perform at the event ("I appreciate this — my mom appreciates this too," he said at one point) but still managed to squeeze "Mrs. Officer" into his time on stage. Check out footage below.
"Mrs. Officer" appears on 2008's Tha Carter III and is written about Weezy enjoying the company of a female cop. "Now I got her hollering, sounding like a siren," he raps at one point. Kamala Harris has a long history of working in law enforcement, having served as District Attorney of San Francisco and California's Attorney General prior to her time in Washington.
"Hip-hop now shapes nearly every aspect of American popular culture, and it reflects the incredible diversity and ingenuity of the American people," the Vice President said in her opening speech. "I truly believe hip-hop is one of America's greatest exports."
Later, on the same stage, Wayne rapped, "I make her wear nothing but handcuffs and heels / Then I beat it like a cop."
Other artists on the lineup at the September 9 event included Common, Jeezy, Fat Joe, Remy Ma, Doug E. Fresh, Slick Rick, MC Lyte, and Wale.