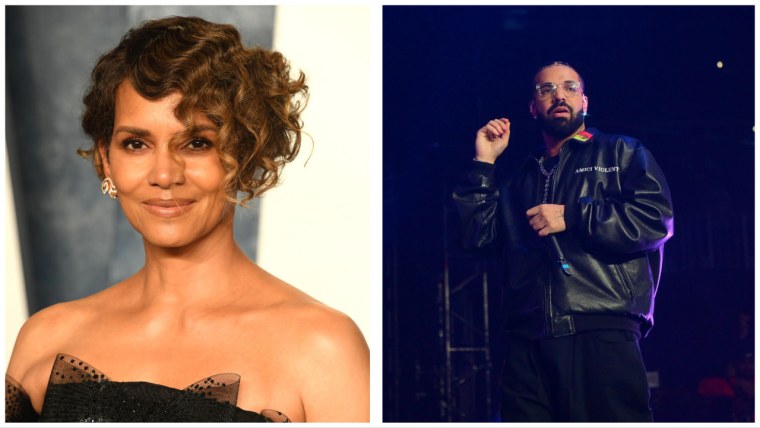 Last week Drake shared "Slime You Out," his first collaboration with SZA and the lead single from his upcoming album For All The Dogs. News of the song's arrival was teased earlier in the week when both Drake and SZA shared the same image, of Halle Berry being slimed at the 2012 Nickelodeon Kids' Choice Awards, on Instagram. Over the weekend Berry has claimed that Drake approached her for permission to use the image, which she says she declined. She described the fact that Drake went on to do that as "not cool."
The 2012 photograph is not being used as the "Slime You Out" single artwork (the For All The Dogs artwork, designed by the rapper's five-year-old son, is visible on streaming platforms when playing the song). It was used as promotion for the track by both artists, who have a combined 160M Instagram followers.
After the single was released on Friday, Berry shared an Instagram post of a pink square with the sentence "Sometimes you have to be the bigger guy … even if you're a woman!" on it. In the comment section, one user asked her how she felt about Drake using the picture of her for his new song.
"Didn't get my permission," she wrote. "That's not cool I thought better of him !" She later added a second response, "hence my post today. When people you admire disappoint you you have to be the bigger person and move on !"
On Saturday someone replied to Berry, suggesting that Drake and his team bought the image from a photo agency and that it was fair use.
Berry replied to them, writing, "Cuz he asked me and i said NO that's why. Why ask if you intend to do what you want to do ! That was the f*uck you to me. Not cool You get it? ❤️"
For All The Dogs was due to be released on September 22 but has been pushed back to October 6. Drake made the announcement on Saturday, explaining that he did not have time to finish the album and honor the final dates of his It's All A Blur tour. Wanting to avoid letting down ticket holders, he opted to play the shows and finish the album later, hence the new release date.
"Okay my dilemma I am faced with is either cancel shows to finish the album or I complete the mission and drop the album before the last show," he wrote on Instagram. "I owe you all these memories we are building and anywhere we have missed to-date we will be spinning back for sure. For All the Dogs October 6th. It's only right…"