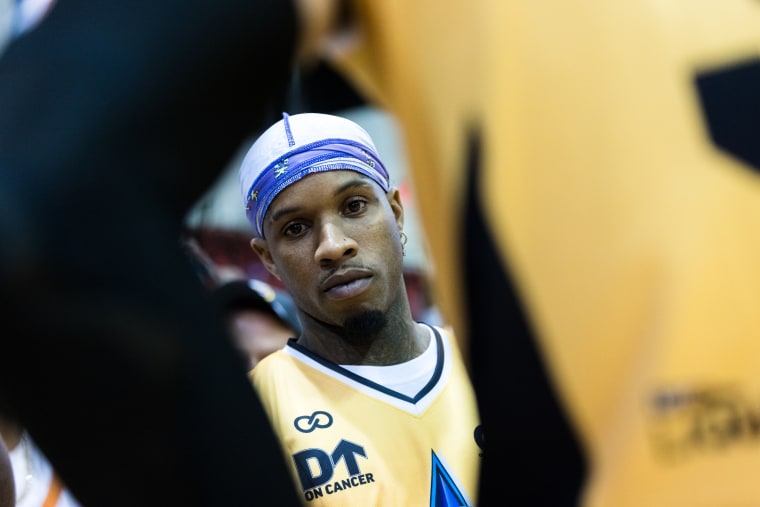 Tory Lanez has begun his 10-year sentence for shooting Megan Thee Stallion in 2020, courtroom journalist Meghann Cuniff reports. Lanez was transported to North Kern State Prison in Delano, California at 10:22 a.m. on Tuesday (September 20) according to records viewed by Cuniff; he will reportedly remain there temporarily before being transported to a different, permanent location.
Cuniff's new post, shared on September 20, also includes the transcript for the sentencing hearing in the Lanez case, which took place on August 7–8. The court heard remarks in support of Lanez from figures including his father, Cesar McDowell of the prison reform advocacy group Unite the People, and Raina Chassagne, Lanez's now-wife and the mother of his six-year-old son.
Arguing for a tough sentence, Deputy District Attorney Alexander Bott pointed out Lanez's violations of a protective order, including his plans to rush the stage during Megan Thee Stallion's performance at Rolling Loud Miami in 2021 and various social media posts directed at the rapper. "The message that he sent was: This piece of paper, this protective order, it's not gonna keep you safe. I can get at you whenever I want. I'll tweet at you. And I'll actually come to where you're performing and scare you."
Lanez was given credit for 305 days in custody by Los Angeles County Judge David Herriford, bringing his total credited time to 353 days. He was denied bail last week as he appeals his conviction.