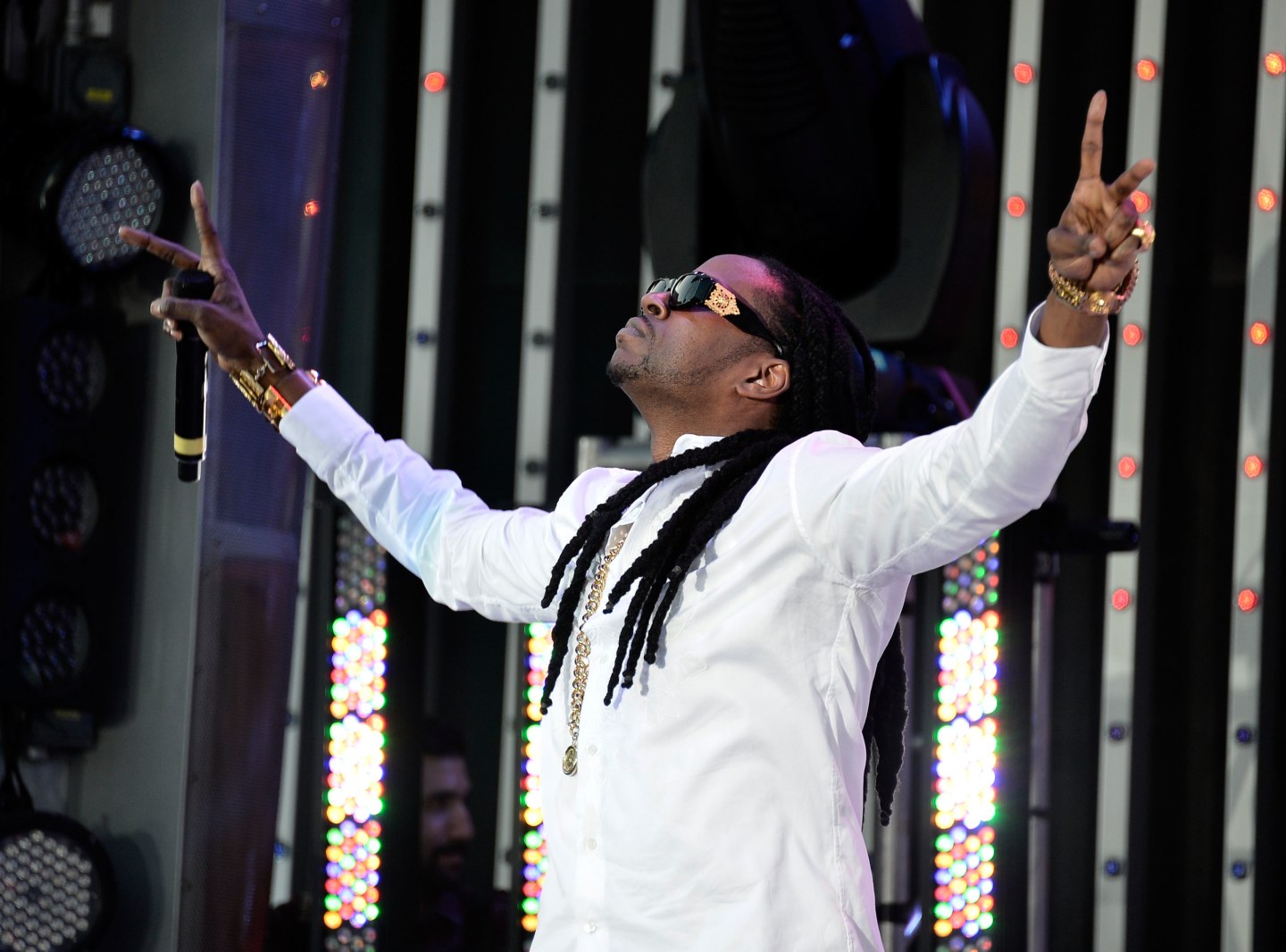 2 Chainz's 2013 album B.O.A.T.S. II: #METIME opens with a vision of catastrophe — he can't find the cash he left in his pants. It gets worse: "I had a dream/that rap wouldn't work," he intones over a ripple of bass. "I woke up on the block/had to hit it with the fork." Producers Mike WiLL Made It and P-Nasty bring in an organ that buzzes like a swarm of locusts. Then: "Rap won't work, records ain't being sold." It's hard to tell if he's looking at the past (bygone days of label purgatory in the 2000s), or the then-present, "the year streaming became unignorable."
Then again, this is a 2 Chainz album. "So much money on me, it won't even fold," he marvels. Even in his nightmares, he's rich.
B.O.A.T.S. II: #METIME is a classic 2 Chainz album — perhaps the classic 2 Chainz album. You could argue his later projects are more developed, his rapping more assured. But by that point, 2 Chainz had gone from second-chance underdog to industry stalwart. He hadn't really gotten less weird, but we'd gotten more used to his weirdness. By the time his next solo album Pretty Girls Like Trap Music arrives in 2017, he'll have COLLEGROVE with Lil Wayne and a mixtape under his belt plus a multiyear streak of talent-affirming hits ("El Chapo Jr.," "Good Drank," "Watch Out," "Big Amount"). The industry will respect him as a rapper, not just a hitmaker.
In 2013, 2 Chainz commanded none of that respect. 2012's Based On A T.R.U. Story charted dramatically and earned a Grammy nomination for Best Rap Album, but was a critical dud: 3 stars out of 5 from HipHopDX, 4.5/10 from Pitchfork, and a truly abysmal 1 star out of 4 from the LA Times. 2 Chainz wasn't an artist you could hang an album on, just a newly-reliable money minter.

To be fair, 147,000 first-week units and a Billboard #1 are big. It probably felt particularly huge for 2 Chainz, 15 years removed from the 1997 founding of Playaz Circle, his rap group with Dolla Boy. This was back when 2 Chainz went by Tity Boi (a family nickname about him being a spoiled only child). In 1999, they released their independent debut United We Stand, United We Fall, but Playaz Circle was put on hold when Dolla Boy was sent to prison and Tity Boi was shot in the ankle. Five years later in 2002, while Dolla Boy was still incarcerated, Tity Boi signed to Ludacris's new label Disturbing Tha Peace (distributed through Def Jam South).
Tity and Dolla made a couple of label compilation appearances and put out mixtapes on the street. Tity Boi popped up on albums by Luda, Chingy, and I-20, but as far as label-backed releases, their career was basically stalled. It took the 2007 release of "Duffle Bag Boy" with Lil Wayne for the duo to release their major label debut, Supply & Demand. By 2009's Flight 360: The Takeoff, Tity Boi was over it, frustrated with the label and wanting out — last year on Drink Champs, he recounted paying $100,000 to get out of his deal, plus a point on each of his first three solo albums. He went back to the mixtape circuit, culminating in 2011's name change and breakout T.R.U. REALigion. The DatPiff success of that mixtape and its predecessor, Codeine Cowboy, led to a new deal with Def Jam, making 2 Chainz and former boss Ludacris labelmates.
Most, though not all, of the pieces of the 2 Chainz persona were fully formed by the first Playaz Circle album. On those early 2000s Disturbing Tha Peace Records, he rhymes faster, bars and cadences a bit more complicated and wriggly. Paired with a love for alliteration and assonance that persists in his music to this day, you could tell André 3000 is one of his favorite rappers. By 2007, he's slowed down a little, and that eye for vivid, absurdist detail comes into focus. "Trunk bigger than your future, I'm too tall for a coupe" he explains on "U Can Believe It;" "Now even my pool got a backyard," he brags on the Phonte-featuring "Paper Chaser." He further refined down on solo mixtapes, veering more into Weezy-territory free association and sharpening his punchline-emphasizing hashtag flows on 2009's Trap-a-Velli and 2010's Me Against The World 2: Codeine Withdrawal. The penchant for emphatic repetition and his trademark adlibs are starting to coalesce.
What really catalyzes in 2011 is his delivery and performance. Whether stage whispering or legitimately shouting, the auditory spotlight stays on 2 Chainz's voice, never out-decibeled by the titanic beats around him. He's Billy Mays selling baking soda on Codeine Cowboy, a pioneer of YouTube Voice on T.R.U. REALigion. So when he had the full weight of the Def Jam machine behind him in 2012, Based On A T.R.U. Story came across as extra crisp and loud, all caps and six exclamation points in your speakers. As in, "I am smoking on that GAS!!!!!/Life should be on CINEMAX!!!!!/MOVIE!!!!!!!!!!!"
Based On A T.R.U. Story boasts insane hits — DJ Mustard-produced standout "I'm Different" showed 2 Chainz could find success on his own, though Drake, Kanye, and Nicki rapping their asses off surely helps — but it's wildly uneven. When the A-listers leave the room, you can practically hear the unspent money, chintzy beats, and thinner mixes like a movie poorly edited for TV. And even some of those headliner cosigns (Lil Wayne, The-Dream, Def Jam South ex-president Scarface) fail to fully gel.
B.O.A.T.S. II: #METIME sounds expensive from start to finish: "I just put a lot of time, putting little details into it," 2 Chainz told The Breakfast Club after the album's release. You can hear it in that plush-ass Pharrell beat for "Feds Watchin" — produced and recorded the night of the 2013 Grammys. Near the album's close, T-Pain wails, "If I don't do what I do then who gon put food on the table?" That track, "So We Can Live," breaks down from a boilerplate Maybach Music song into something more ominous thanks to a second movement produced by J.U.S.T.I.C.E. League. At one point he says he'll "have Drake sing a song just to get her pussy wet" on a song featuring Drake.
The album's sonic palette toggles between club-booming Southern Gothic trap and lounge-ready wealth management beats, part Gucci Mane, part Rick Ross. Songs are glossed up with touches of soul and gospel: Betty Idol harmonies on "So We Can Live," a barbershop quartet outro on "I Do It." Chimere Scott, who featured on Supply & Demand, contributes additional vocals to "U Da Realest." He might be gilding the lily, but the excess is part of the appeal.

You could argue his later projects are more developed, his rapping more assured. But by that point, 2 Chainz had gone from second-chance underdog to industry stalwart. He hadn't really gotten less weird, but we'd gotten more used to his weirdness.
Unlike Based On A T.R.U. Story, 2 Chainz never feels smaller than his high-profile collaborators. Whether he's on the track with Ma$e or Mannie Fresh, he bends them to his orbit. The song with Drake and Lil Wayne sprawls to a radio-unfriendly 6 minutes; Fergie is here to declare she smokes louder weed than you. An impassioned verse by spoken word poet Sunni Patterson is just a preamble for 2 Chainz to thank God he got out of his last record deal. Even the botched attempts at genre hybridization ("Mainstream Ratchet") and EDM crossover (Diplo/FKi-produced bonus track "Employee of the Month") at least feel like personal failures, rather than A&R-sanctioned readymades (Based On A T.R.U. Story's "Countdown" is a Chris Brown feature with a dubstep break).
Rich Homie Quan and Cap 1 turn in career-highlight verses, but the biggest moments on B.O.A.T.S. II: #METIME belong to 2 Chainz. He's gleefully stretching syllables like taffy on "36," woozily drawling through "Extra." The mildly clumsy storytelling of "So We Can Live" recurs in a more evocative fashion on "Outroduction" with far more resonance: 2 Chainz sounds better untethered from rigid narratives. And the music benefits from his willingness to be more vulnerable. "My pops told me 'men don't cry'/then he turned around and died on me," he sighs on "Live And Learn (It Will)." "So I didn't know what else to do/I motherfuckin cried homie."

"U Da Realest" is slightly infamous, the origin of "Rest in peace to all the soldiers that died in the service/I died in her cervix," a eulogy for Atlanta street racer Puerto Rican Johnny built around a crescendoing beat by Drumma Boi. "I done seen 'em ball/I done seen 'em fall/Rest in peace to my n***a, you the realest dog," 2 Chainz chants, and the bottom drops out from under him like his grief is so big the only way to communicate its depth and breadth is through the 808s, gargantuan low end hitting like freefall. "Rest in peace to my n***a, God bless all his babies/And he gettin' so much money, I know this shit sound crazy/But he coulda retired and he was born in the '80s." This is a 2 Chainz album: even the dead stack paper.
That a song juxtaposing his "neck filled with mansions" with "two or three 'Rest In Peace' tats on me" segues directly into a song called "Beautiful Pain" is no coincidence. The tension between life and death has always been central in hip-hop, but the way 2 Chainz toggles between registers on B.O.A.T.S. II feels hypercontemporary, the musical equivalent of a funny tweet about feeling sad. 2 Chainz might cry because something happened. But he'll definitely laugh when it's over.
Rap Column is a column about rap music by Vivian Medithi and Nadine Smith for The FADER.