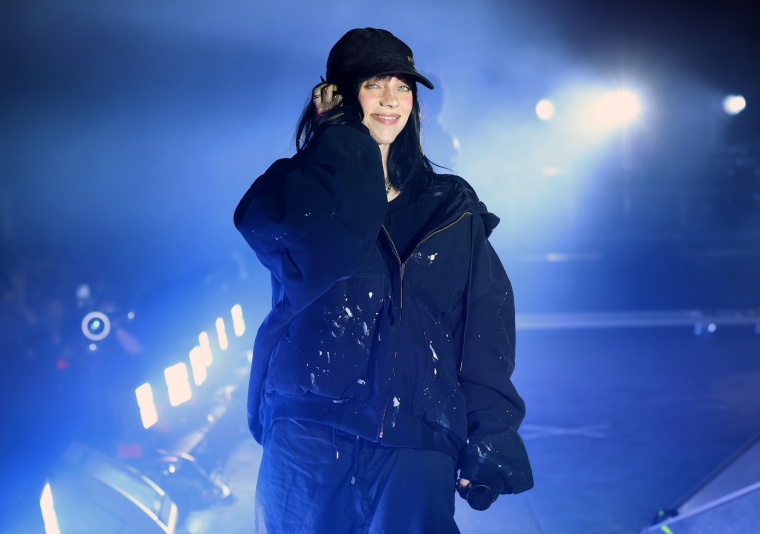 Billie Eilish gave an update on her new album during an appearance on The Cookout podcast, revealing that the new project is almost done — just don't expect to hear it imminently.
"There is lots of music coming," she said in comments spotted by Billboard. "There is a whole album of music coming... We're in the final stages of making it, so that doesn't mean it's about to come out, but it is getting there and it's very exciting." See those remarks below at the 5:37 mark.
Eilish released her most recent album, Happier Than Ever, in 2021. She's found a big hit since then with "What Was I Made For?," a song created for the soundtrack to Greta Gerwig's blockbuster Barbie movie. In a new Allure cover story (also published today), Eilish discusses how the song was created with her brother FINNEAS when they were both lacking inspiration.
"That day we were making stuff," she says, "and were like, 'We've lost it. Why are we even doing this?' And then those first chords happened, and 'I used to float / now I just fall down' came out and the song wrote itself. I have the whole video of us writing the song, and the first thing we wrote were those lines in the first 10 minutes.
"We wrote most of the song without thinking about ourselves and our own lives but thinking about this character we were inspired by," she continues. "A couple of days went by, and I realized it was about me. It's everything I feel. And it's not just me — everyone feels like that, eventually."