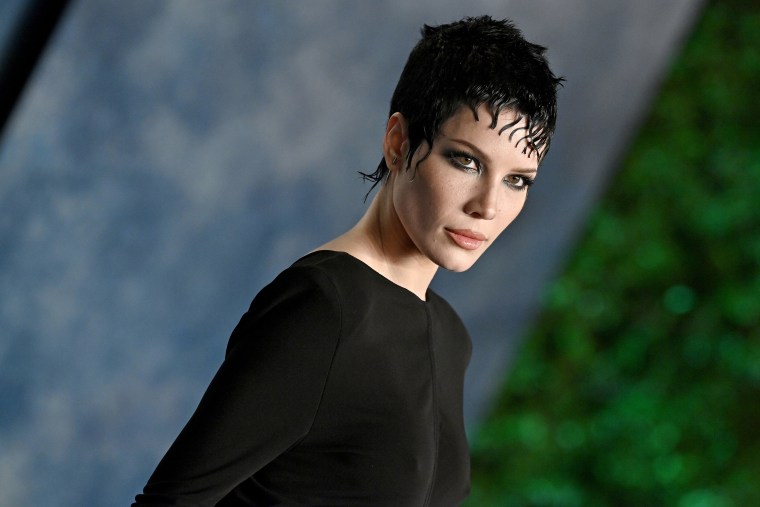 Halsey has broken their silence on the Israel-Hamas conflict.
On November 14, the politically outspoken pop star took to her Instagram Story to explain why she'd been unusually silent on the issue, saying past event had allowed their "cowardice" to take over.
"The global conversation has reached a level of volatility that I'm having a hard time navigating here and offline," Halsey wrote in a post that also reiterated their long-standing support of Palestinian liberation, which led to significant online backlash in 2021.
According to the singer, there was "a volume of violent and threatening events" during her last tour, which "resulted in my home being swatted multiple times and required the presence of snipers in the sky during most of my shows that summer." And given that she gave birth in 2021 to their son, Ender Riley, they'd "made a conscious decision to protect my family from people who plan to enact violence towards me in disagreement of my opinions."
However, Halsey said "it doesn't sit right with me that a decision I made for my own family is in turn keeping me from vocalizing support for families enduring far worse violence," which was why she wanted to join other high-profile celebrities in vocalizing their support for a free Palestine.
"I have no meaningful statement or excuse to make that could justify my weeks of silence this time around," they continued, "And I deeply despise the culture of deflecting responsibility to save face in front of the audience demanding comment."
She also went on to say that she'd be making a "series of size-able donations to relief and support organizations" as Israel continues to conduct air strikes and ground attacks on the densely-populated Gazan strip, while also enforcing a blockade that's created a humanitarian crisis for civilians.
"So instead I'm coming here to call it for what it is, admit my regret, and reaffirm my stance regarding the liberation of the Palestinian people," Halsey added, before clarifying that they've only ever condemned "the actions of any organized body of power unleashing acts of violence against innocent civilians."
"The rise of anti-Semitism and Islamophobia is undeniable," as they concluded, "I stand against hate speech in all forms. I stand for freedom and the right to live safely."
Since October 7, the Israeli government has been conducting a ongoing series of brutal attacks upon the Gazan strip in response to a surprise attack by Hamas fighters. According to The Washington Post, the Palestinian Ministry of Health said more than 11,100 Gazans — or one out of every 200 people — have been killed since Israel began its retaliation campaign, with most of the victims being women and children. Israel has incurred 1,400 casualties so far, per the Associated Press, a figure that includes 260 people killed at a music festival on October 7.
The FADER has reached out to Halsey's representatives for any further comment. In the meantime, you can read their entire statement below.