Cover Story: Baby Cham
Together with super-producer mentor Dave Kelly, Cham is reversing the double helix of dancehall's DNA
"Dub plates are crazy," confesses the artist formerly known as Baby Cham. "I'm like hidin' from sound-man right now." Justifiably so, because although there is no equivalent to the Billboard charts for Jamaican music, grown-ass Cham's latest 45 "Ghetto Story" is the dominant yard anthem by any metric that means anything: dub plates cut, video requests on Hype TV, so many forwards in the dance that the song can scarcely play audibly past the opening couplet: "I remember those days when hell was my home / when me an' mama bed was a big piece a foam…." It is, in fact, something like a phenomenon, a boom tune that has short-circuited the usual delayed reactions of six months to a year between Kingston, New York, Miami and London, overpowering all comers wherever dancehall is played (and a few places where it's not) within two weeks of its initial release. And like any true phenomenon, you can't plan it that way. "We weren't even thinking of releasin' it overseas," says Cham. "'Bring It On' was the song we were goin' crazy over…." "Bring It On" is Cham's first tune on the riddim called "Eighty Five", an integer that references both its general BPM range and the year it evokes. Uniting Cham with Majic Massey, a greasy Chicago sing-songster in the vein of Akon or R Kelly, "Bring It On" is the type of hybrid clearly designed to make a play for total world domination by bridging post-BET Jamaican taste for rap with the mainstream market stateside. "Like a yankee flavor with a mixture of hardcore dancehall," Cham says of the song. "Disc jocks were hearin it and it were blowin them away. Every disc jock—until 'Ghetto Story'." Embarked upon almost as an afterthought—just something to keep the vibe with the hard hard hardcore fans during the bashment-heavy Christmas season—"Ghetto Story" ultimately stole the show, and the after-party too.
This 1-2 approach is nothing new for Cham. He and his dancehall mentor Dave Kelly have in fact made it something of a trademark move to demonstrate Cham's versatility by releasing back-to-back tunes on each of the few select riddims he deigns to touch, beginning with 1997's "Joyride". Kelly is dancehall's only bonafide super-producer, possessed of a name that's routinely found in print next to the word "genius", and just as routinely found on wax next to the number one. He has ghost-written or produced a majority of the genre's classics, from early '90s mainstays like Wayne Wonder's "Saddest Day" to Beenie Man's 2003 comeback "Dude", and a near-continuous run of hit 45s in between. Their working relationship is a decade old and began with Kelly refusing to voice Cham on his "Pepperseed" riddim until he graduated from high school. "I had written a song for de riddim, song by the name a 'One Bag a Hotness'," says Cham. "I went to Dave wid it, he like the song but what he didn't like was I was a schooler—I was about 14 at the time." That little anecdote speaks volumes about the partnership's depth, especially when you consider that Cham and his eight siblings lost their father only a few years before. Without over-dramatizing the Jedi Knight aspects of the dancehall wizard taking on an orphaned protégé, the incident captures a certain tone that both Cham and Kelly convey in person. Despite the fact that, as writing partners, they have produced some of reggae's most graphic lyrics—talking sex and gangsterism and calling out Jamaican politicians by name—there is something so upstanding about the way both men speak and carry themselves. They seem to do things by the same book, an old-fashioned code of work ethic, high standards and loyalty that runs totally counter to the concrete jungle law of downtown Kingston where both came up. Even Cham's wardrobe, dominated by a black and white vocabulary of classic b-boy—Adidas, Polo and Timbaland—is so fastidious in a fresh an' clean kind of way that it's almost conservative. Musical decisions are made with a similar discipline: they don't write what they don't know, they record constantly and release seldom, and when they do release, the bottom line seems less a consideration than the service they render to their various dancehall constituencies. According to their strategy, "We always try to do two [voicings]," Kelly says. "Because Cham's fan-base is multifaceted. He has hardcore fans and other fans more on a mainstream level." Even his first album, 2000's Wow: the Story was a two-disc affair; one disc to catalog his 45 releases on Kelly's Madhouse label, and one to let the pair experiment with their own brand of Jamaican hip-hop. But the runaway success of their most underground efforts is causing Deejay and producer to re-evaluate the several LPs worth of material they've stockpiled in anticipation of Cham's major label debut this spring—as well as rethinking the necessity of separate tracks to reach his divided fan-base.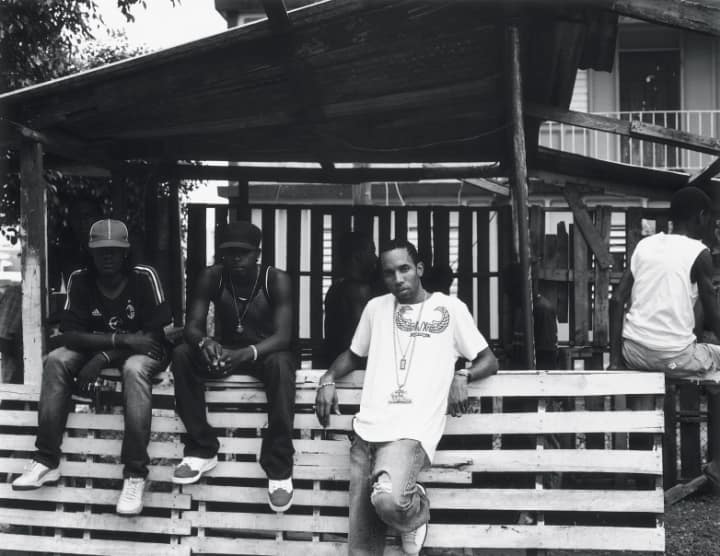 The many faces of Cham have been visible for more and more listeners to scrutinize in the past year or two. He's paved the way for the LP not with a steady stream of 45s but with a handful of well-timed 16-bar cameos on other people's records, following rap protocol and dropping the kind of verses on which reps are built. Like all of Cham's output, even this promiscuous lifestyle of guest appearances is ultimately inseparable from his partnership with Kelly. "All of dem, to be honest… they wanted Cham on it, but they approached it wantin' my input also. So usually they send the pro tools session to me and we work on it together and send it back to them," says Kelly "Plus when it comes to Cham, I'm always intimately involved 'cause what Cham does reflect on Madhouse whether he's on Madhouse or not. It's like a marriage almost." When dancehall's most lyrically versatile deejay is the protégé of its most recognizable rhythm king, the result is an irresistible trophy of ghetto credibility for non-Jamaican artists like Akon, MIA and Nina Sky, who've built their sonic identities around internationalizing the dancehall sound. In some cases—ie Cham's verse alongside Akon on the remix to "Bellydancer"—these cameos are the culmination of a longstanding collaboration. Kelly began voicing the newly signed Senegalese-American singjay on the Fiesta riddim (made famous by "Dude" and "Vitamin S") well before "Locked Up" propelled him into Top Eight At Eight stardom. "I was recording Akon before Akon became Akon. We an' him like family—it's definitely not a wagon thing." On the other hand, a Cham/D Kelly remix of MIAs "Galang" and a cameo on Nina Sky's "Turnin' Me On" over the Kopa riddim seem less like long-term relationships and more like strategic guest spots intended to crack the glass ceiling of radio exposure and build up a backlog of favors that can be called in when LP time arrives. But, true to their own rulebook, Cham and Kelly refuse to spend whatever musical capital they've accumulated on padding their own record with guest stars—even Madhouse extended family-members like Akon. "I like Akon," says Kelly. "He remind me of what dancehall singers used to sound like back in the day, like from Pinchers era. Whenever I have a riddim, he always tell me to send it over and he'll voice it or do a combination with Cham or whatever, but that doesn't necessarily mean its gonna be released. It have to be special."
The real benefit of these appearances is not measured in favors or exposure but in a mutual understanding with Cham and Madhouse's new distribution partner Atlantic—giving the major label practical experience in handling the Madhouse formula, particularly Kelly's distinct approach to crossing over. "I think they get what I'm about," says Cham. "But it's hard at the same time 'cause I'm not a typical dancehall artist. I'm the type a artist that would just flow somethin that a hip-hop artist would, and sometime people tend to not get it. But I think over the past two years they kinda unnerstan' because they heard the vibe with Mario [on "I Need a Girl"] an' Nina Sky, those just let them know that I'm different at times lyrically and musically." But what is the fruit of all that labor spent breaking in a major to your hybrid style when all of a sudden you upstage yourself with the most purist, unapologetically badman rhymes you've ever dropped, when club call and response and catchy boasts about getting brain an' rockin chain connect okay, only to be surpassed in popularity by lines like, Jamaican get screwed t'rue greed an glutton / Politics manipulate and press yout' button / But we RICH now so them cyaan tell man nuttin…. Voicing two different styles from one artist on the same riddim may seem like hedging your bet, but it could also be looked at as a tightly-run lyrical experiment with a control group thrown in for verification; exploratory surgery on the dancehall body politic, the kind of work that results in new discoveries, new fusions…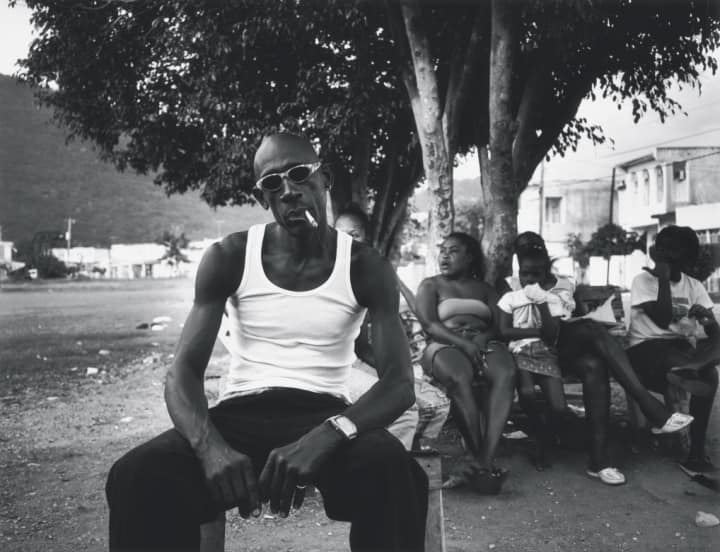 And therein lies the paradox of the whole thing; despite its rougher than rough exterior, "Ghetto Story" is a genuine crossover. And it is a hybrid—just not one that follows any formula the radio recognizes. "Bring It On" puts its crossover concept in your face where "Ghetto Story" seems like pure bashment, undoubtedly the toughest thing Cham has recorded since he was banned from public airwaves for inviting the street massive to storm King's House on 2000's "Desperate Measures". And yet it's subliminally more like a hip-hop track in its underlying structure than any dancehall 45 in recent memory, an urban legend woven around the organizing device of a cell phone call from abroad the same way Nas's "One Love" was built around a prison letter. No one line captures its brilliance, it's not easy to isolate the snowballing elements that make "Ghetto Story" the lyrical monster it is; the palpable impact of real anger, real events relayed with the flawless execution of virtuoso mic control and a Scorsese-esque feel for the dramatic. Most dancehall tracks recycle the last verse (if not every verse), content with the logic that only the first hook will play in the juggling anyway. But when the opening verse of "Ghetto Story" repeats, you realize that it has an intentionally circular construction in the same way "City Of God" does, bringing you back to the starting point to view the same events with new understanding. Like a movie, the emotional tone is raised notch by notch as Cham literally hits a more urgent pitch and more commanding volume every eight bars while relentlessly pegging it to the exact same rhyme scheme for the entire verse, playing off the spooky choral voices in the riddim with the skill of a singer and the kind of breath control that can only be earned the hard way—chatting over the forwards and gunshots of a sound-clash. "Rah rah" is a throw-away interjection as transparent as commas and full-stops in that environment, but when Cham looses it at the crescendo of his narrative of struggle and grade-school homeys gunned down before his eyes, it touches on something essential—that electric current of defiance, of pure fight that runs through the full spectrum of Jamaican music from "Crazy Baldhead" to the raunchiest dancehall. We get the t'ing dem, them outta LUCK now/ We squeeze seven and the whole a them a DUCK now… Some kind of indomitable warlike spirit that looks dead in the eye of the CIA, the IMF and 400 years of poverty and oppression and aims a gunshot for the sky: Rah. Rah. Rah. Rah.
And that's the bottom line. It's a safe bet Cham's album will contain both recent Madhouse 45s like "Vitamin S" and catchy hip-hop fusion like "Tic Toc" somewhere in its sequence. However Atlantic handles the LP, whether it's rounded out with club-friendly sexual taunts based around its original title Thinkin' with the Wrong Head or re-named after "Ghetto Story", something's already changed. The terms of the equation between reggae and hip-hop have been subtly re-written, some new bit of code has been grafted on to rap's DNA…and the genie will not go back in the bottle. Rah.