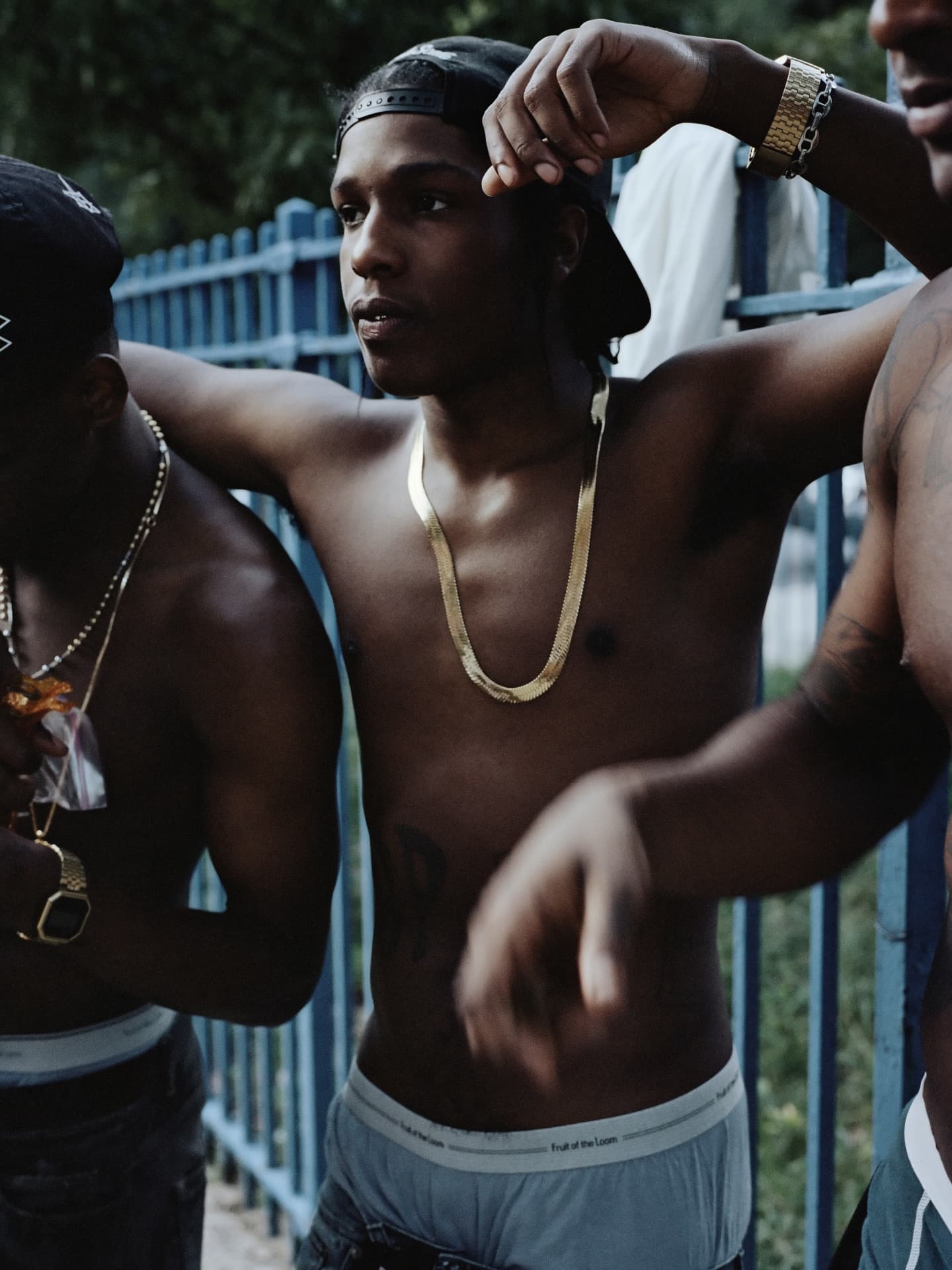 In an apartment perched northeast of Morningside Park in Harlem, A$AP Rocky is sitting knuckle-to-temple in a leather armchair he dragged halfway out of a closet. In song, Rocky routinely calls himself a "pretty motherfucker," and that he is. Since high school, he's worn his hair long and relaxed. At the moment, it's tied in perfect jaw-length, face-framing braids. He speaks quietly but flirts constantly, fishing for smiles with a politician's manner. As if to ensure future favors in return, he regularly congratulates people around him for a job well done: This girl up the street—she gets more bitches than he does. His boy Ferg paired a silk blouse with basketball shorts—he looks incredible.
Rocky was born in 1988, a couple bus stops from here on 140th and Lenox Avenue. His mother auspiciously named him Rakim, after the then-budding New York MC adored for his intricate lyrics and low-key delivery. When Rocky was 13, his brother was killed around the corner from his apartment, which inspired him to get serious about rapping. "He was like the revolutionary big brother," Rocky says. "He would make me feel secure, and if it wasn't for him being able to get that confidence out of me, I wouldn't have had the balls to discover I had a talent." Since 2007, Rocky's developed that courage within his A$AP (Always Strive and Prosper) crew, a band of not-blood brothers that functions as a social club and rap project. "This is an extended family right here. We all ate from the same plates, slept in the same beds," he explains. Rocky didn't start A$AP but he's become its main mouthpiece, rapping in a mellow and singalong mushmouth. He's quickly becoming a figurehead for hometown fans eager to call a relevant uptown ambassador their own. "I love being from New York," Rocky says. That appreciation is on display in his "Peso" video, where the ASAP crew hang out in elevators, make thrifted Versace look new and toast newspaper-wrapped 40s. "Peso" is a paean to '90s city culture, but also a sentimental snapshot of how A$AP recreated it for themselves.
Despite all his hometown pride, a year ago Rocky left Manhattan, moving with his mom and sister to a condominium in Elmwood Park, New Jersey. A grip of A$AP affiliates have taken up residence at the condo as well. The camp is purposefully just 15 minutes from the city by car, so A$AP travels back and forth often, rolling luggage in tow.
Young enough to have seen major labels publicly mishandle great rappers, Rocky sounds genuinely disinterested in courting them, but he's undoubtedly pulled by stardom's allure. "I wanna touch on people. I wanna be the fucking trill Michael Jackson. I want fucking African fat bitches to see me and panic and faint and shit. I know I'm gonna bring back hip-hop," he says. Widening the claim to encompass his team, he continues, "I think we will." For the time being, Rocky allows his boys to manage the wide circulation of his work on the internet while he sits pretty, believing that good money and a place in Harlem's history will eventually come his way.
From The Collection:
GEN F