London Streetwear: Just Brilliant
A new generation of London designers has a ball reinventing streetwear.
Last June, to kick off London Fashion Week's first-ever weekend dedicated exclusively to menswear, Prince Charles paid the honor of swinging by St. James Palace in Central London to shake hands with some of the young talent and give a short speech. Twenty-seven-year-old William Richard Green, one of the presenting designers, found himself in the funny position of being a fashion designer without a thing to wear. "I don't own any suits except one I bought from Zara about four years ago for my granddad's funeral," he says. "I just wore that. It was all us young designers and none of us have suits. We all dressed really badly in the palace meant to be representing British fashion."
Green graduated with a degree in fashion from London's prestigious Central Saint Martins in 2009 and learned to cut a proper suit as an apprentice on Savile Row, but when it came time to start his own line, he applied those technical skills to more casual clothes, shaping soft cotton sweatshirts in his signature black and white polka dots. "I thought I wanted to be a tailor—it's an amazing craft—but to me, the relevance of suits isn't so much." When I go to meet Green early last December at an East London studio on a grey stretch of Cambridge Heath Road he shares with fellow men's designer Shaun Samson, he's wearing just that—a worn, navy blue Fruit of the Loom sweatshirt, along with an unkempt bristle-broom of a beard. "I used to wear tracksuits everyday," he says. "But when I'd go to a club, the bouncer wouldn't let me in. I just started making them myself and figured out how they could be smarter." Astrid Andersen, a fellow up-and-comer who's one of three menswear designers chosen this season to show her collection at Topman's prestigious MAN show, sums it up best: "The trackie is the new suit, isn't it?"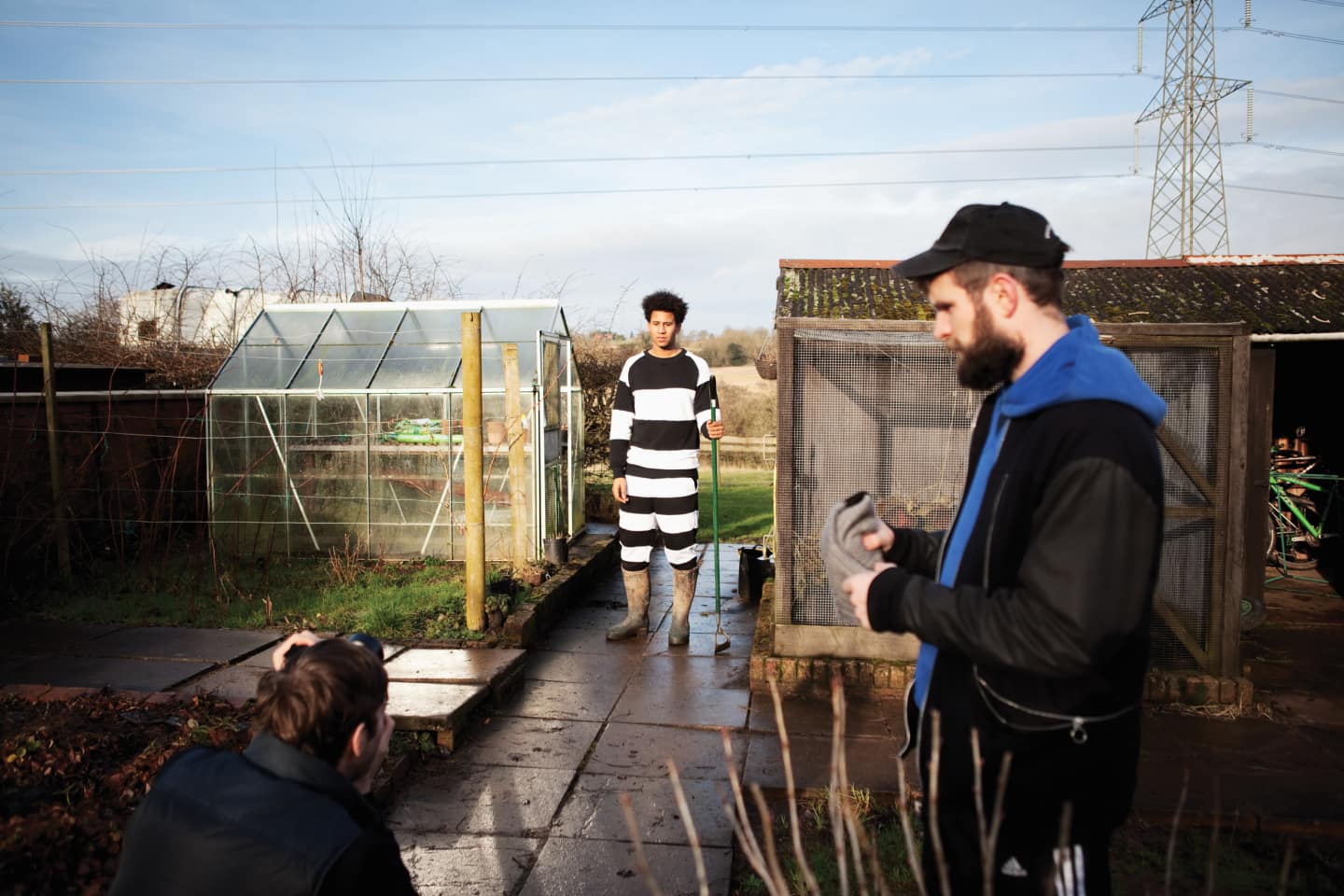 A Britishism for the tracksuit, trackies are just one staple in a slew of sportswear-inspired silhouettes that Green, Andersen and other likeminded designers are using as fodder for all sorts of experimentation, like the Versace-inspired prints of Kit Neale and Alex Mattsson, or the wonderfully garish designs of Nasir Mazhar, a Turkish-Cypriot from East London who grew up on a heavy diet of '90s R&B and whose fantastic collections of sports bras, crop tops and sweatpants are like an acid-trip interpretation of retro Nike classics. "It feels like it's '90s, because there's nothing else to reference it to," Mazhar says. "There hasn't been that much since the '90s that's been colorful or skimpy or revealing. It's remembering the things that you liked and can't get anymore." Mazhar, as well as Green, Samson, Mattsson and Neale, have all set up shop outside of the corporate fashion headquarters in Central London, preferring the cheaper studio spaces on the east side of the city, and it's there that they trawl the inexpensive, eight-pound sports outlets for inspiration. "Trackies are just comfy," says William Richard Green. In contrast to the raw, stiff, reappropriated workwear and '60s-style fits that have proliferated in men's fashion for the past five years—the style known as heritage—these young designers are rejecting the notion that those looks were ever their heritage to reinterpret. They grew up on sportswear, not suits. "Sportswear is your first relationship to clothes," says Steve Salter, a London fashion journalist whose blog, Style Salvage, champions emerging designers. "I come from the suburbs, a seaside town. Before you know anything else, you know what brand of trainers to buy."
Matthew Josephs, a 24-year-old stylist who now works regularly with many of these young designers, grew up in Sheffield admiring his dad's wardrobe of FUBU and diffusion D&G, moved to London when he was 17 and now embodies the sporty look and ethos to an almost cartoonish extreme. Josephs spent December in New York working on a few high-profile international assignments, and two weeks before I head to London to survey the design scene, I meet up with him at a basement bar in Greenwich Villbedage. He's dressed head-to-toe in Shaun Samson, and looks something like a McDonald's Happy Meal version of a street court basketball player, swimming in a mesh jersey with a hairy appliqué on the chest, grey sweat shorts that hit below the knee and Timberland boots so chunky he seems to struggle with each clomping step. Josephs has nabbed enviable styling gigs due primarily to the fact that his instincts and personal style are so authentically cool. "I was interning at i-D, and I used to just dress like an idiot to entertain people. And I guess people liked what I was wearing," he says. "The editor was like, Do you want to do something for us?"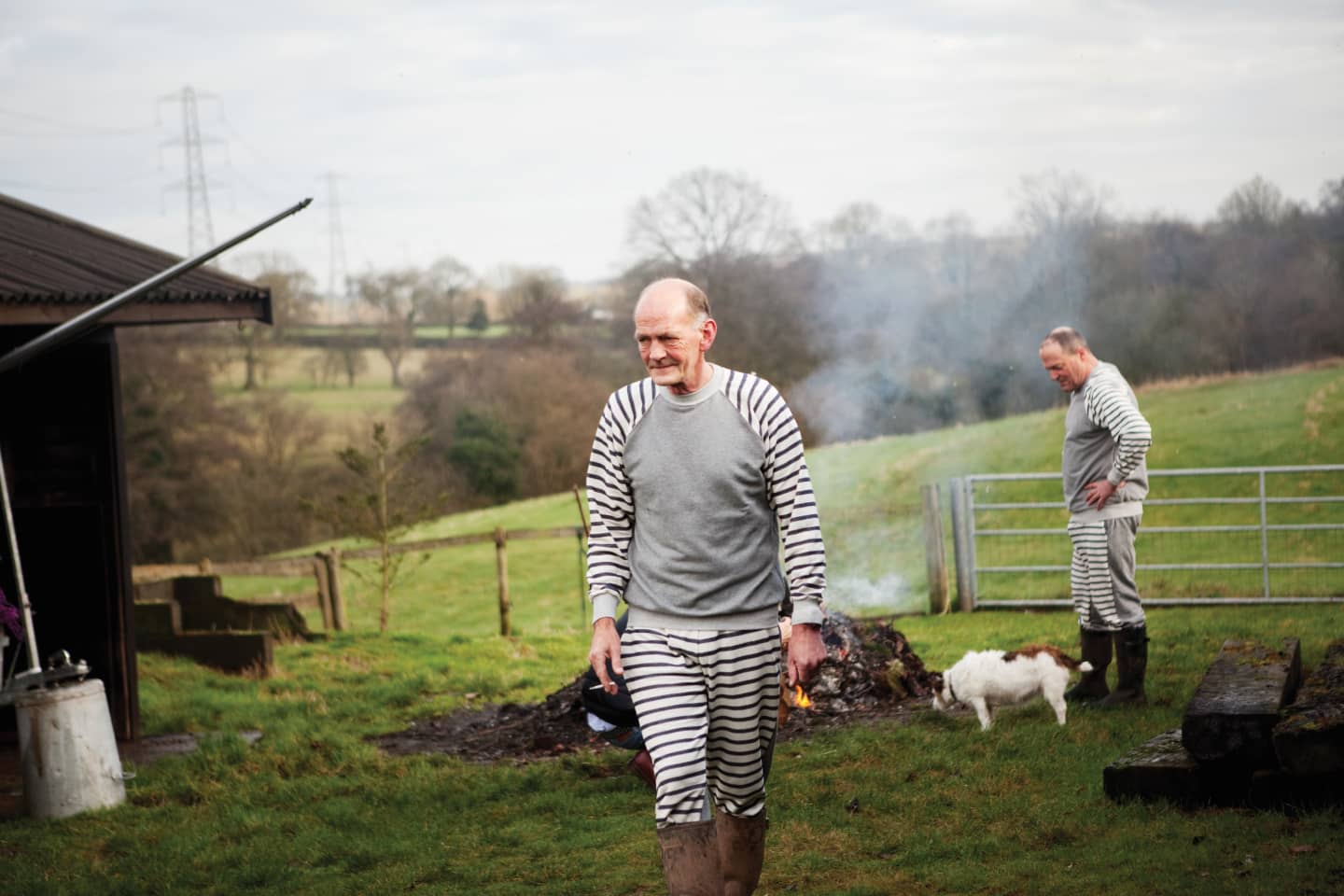 For the magazine's most-talked-about cover of last year, Josephs styled the musician Twigs in a Balenciaga sweatshirt, nose ring and big silver hoops, with the word "love" spelled out in a scripted, waxed wisp of hair across her forehead. Working with Samson and other young designers, Josephs has pushed a street-wise, over-the-top aesthetic to the fore—ever bigger, ever bulkier, always in sneakers or high, wobbly platforms. "I have immense respect for tailors, but we need to say something different," he says. "So many designers are making the same old shit. I don't need to see another trench coat. I don't care. I care about what I want to wear everyday." Samson agrees. "London has always had this sense of antiestablishment that comes up from the street and moves things forward," he says. "Punk was the same thing. London has tradition and anti-tradition at the same time."
Ironically, it's largely London's fashion establishment that has allowed this younger anti-tradition to flourish: Saint Martins is like a Petri dish for experimentation, famously rewarding students for coloring outside the lines and hosting a much-watched competitive graduate collection runway show every year. Then there's Fashion East, a small but hugely influential nonprofit run by Lulu Kennedy out of a tiny attic space in the Old Truman Brewery in East London, which has been supporting young talent for the past decade and teams up with Topman for their annual MAN runway show every year that spotlights three selected talents. Kennedy got her start organizing raves, so she knows a thing or two about wrangling creative madness, and it's Fashion East's administrative support that helps young designers with the business side of things and, more importantly, to keep dancing while they're at it. "I saw all these amazing young designers and thought, How can you do that and organize a show? Finding a venue, sponsors, doing invitations, cleaning up afterwards," she says. "It just became: you do the clothes, I'll do the show." As a practical side of a creative industry, she has helped launch enough careers that even the Royal Family awarded her a Member of the Most Excellent Order of the British Empire. She was pinned at the palace by the Queen herself and learned to do a proper curtsy just for the event.
Martine Rose cycled through the Fashion East program a few years ago, and, at 33, is a relative veteran of the bunch. She worked first as a designer for the label LMNOP before striking out on her own. "[Through Fashion East], we're afforded the luxury of being supported and putting our ideas out, even if our ideas come from the street," she says. Each of her menswear collections pays subtle homage to different subcultures, and she's filmed kids skateboarding around London wearing her billowy translucent tunic shirts buttoned all the way to the neck, topped off with Vans sneakers and snapbacks. A more recent collection hinged on a baggy pair of light, loose blue jeans. It's a month until she'll show her fall collection at the January men's shows, and Rose takes a break from the mania to meet me at Black's, a private dining club established in the 1800s on a quiet road off touristy Oxford Circus, not far from a giant H&M.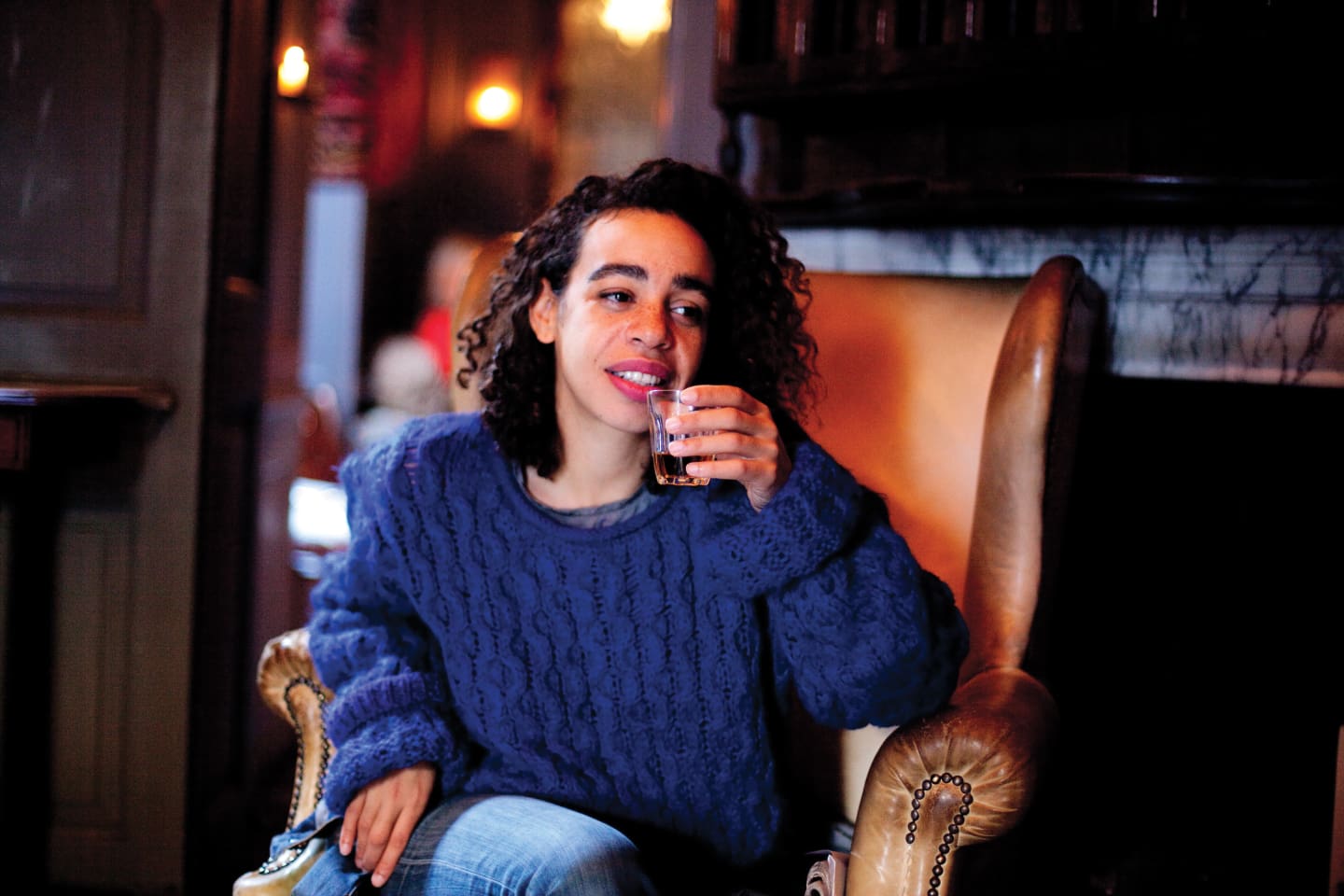 A dusty, ancient place with gilded-frame paintings lining the wall seems an anachronistic choice for a designer who sent baggy leather cargo shorts and Timbs down the runway, but Rose used to work at Black's, and everyone knows her there. She grew up in South London, surrounded by her Jamaican father's massive extended family, and has watched the city change over the years. "When I was a kid, there was this explosion of house music in London. I was, like, nine, so I wasn't really going to raves, but everyone used to come back from the raves and set up a soundsystem in the park at Clapham Common and continue dancing. Anyone could come—your kids, your family." The neighborhood has since gentrified, and the parties have shut down, but Rose sweetly remembers electronic music as a formative experience. "That's London. It was this massive racial mix. Dance music brought together people who were into reggae, hip-hop, white indie kids, white acid kids. It was black, gay, white, young, old," she says. And it's still music that's brought many of these young designers together.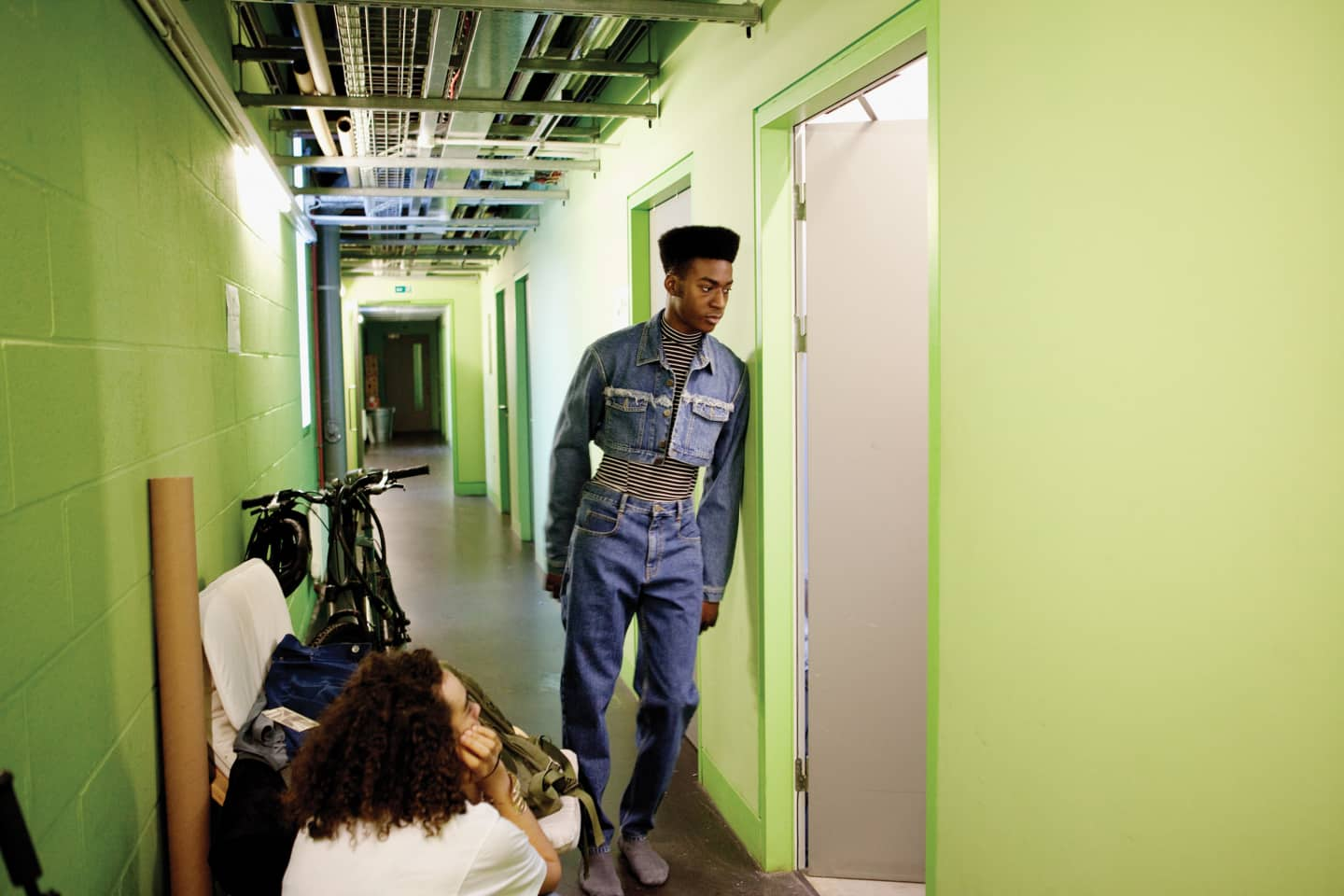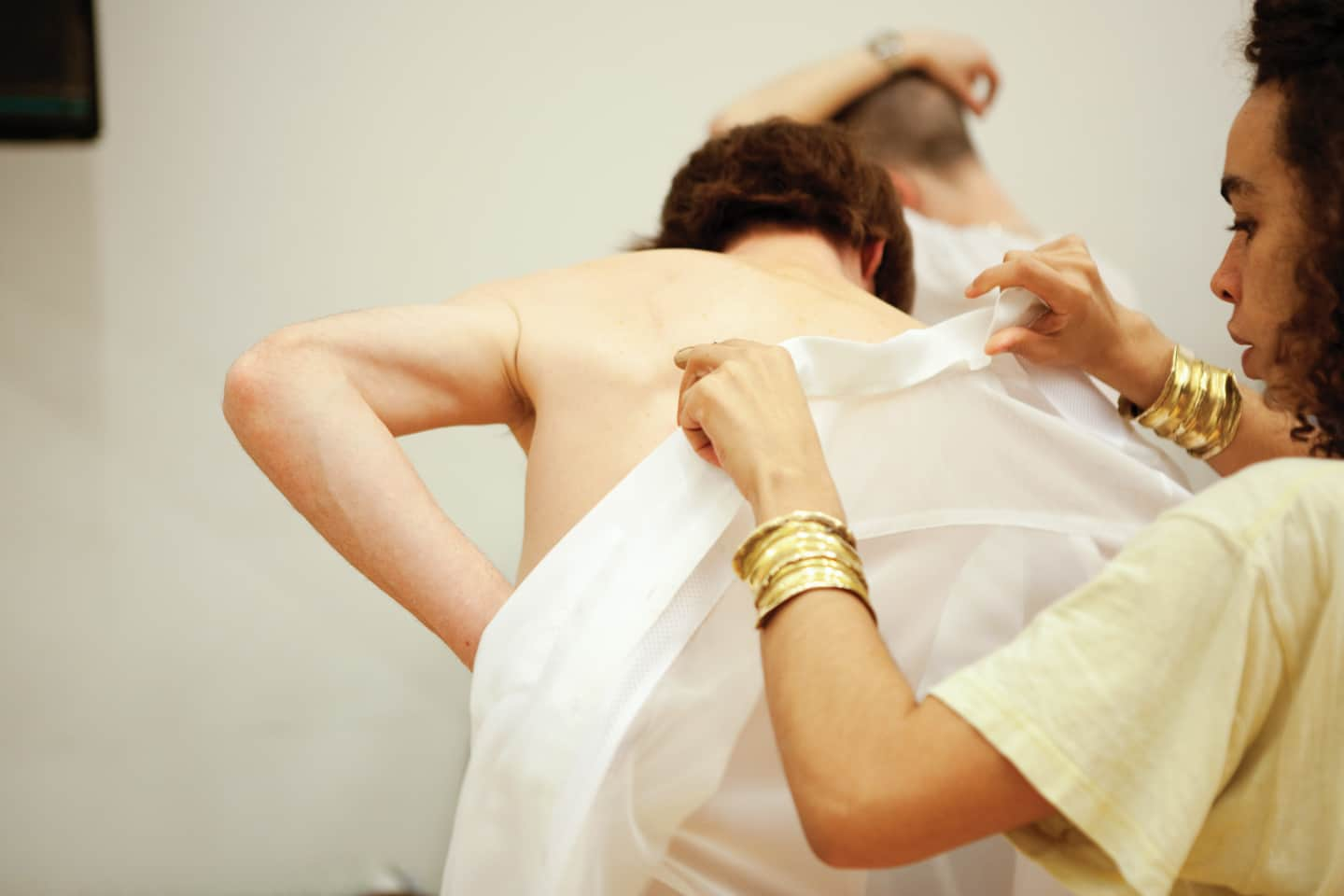 "When I was in school, there was this new rave thing going on," says William Richard Green. "I moved from the countryside and it was just, like, wild." Most of the designers got their start on the scene by going out to clubs, particularly to a party called BoomBox, which was popular in the mid-aughts. "People would wear sportswear, but, like, flourescent '80s track suits," says Green, who, in addition to fashion design, produces techno and house music, and came out of the gates inspired by the menswear designer Carri Munden, better known as Cassette Playa. Munden epitomizes the BoomBox era for many. She cycled through the Fashion East program in the mid-2000s, and became one of the first of this new generation of London menswear designers to get worldwide attention for streetwear, collaborating with M.I.A. on digitally-printed, oversized tees, logos and even the album art for Kala. She synthesized cool music, art and fashion, and has been an important influence on all of the designers. Green even has an old black Cassette Playa hoodie hanging around on a rack in his studio like a souvenir concert poster from a beloved band.
At 27, Green doesn't go out like he used to, but he's still doing music, and, on a cold, grey Wednesday night in December, he's been asked to DJ a fashion party in Central London, a few tube stops away from his East London studio. Behind the DJ booth with his girlfriend Roni, who is wearing matching polka dots designed by him, Green tailors the music to the well-heeled crowd, but still, few people are dancing. He's a cool guy balancing the expectations of a world that's not always in an adventurous mood. The same is true for his designs, and to temper his out-there instincts, Green uses a helping of conservative colors and an attention to material to ensure that his clothes are worth the 100-plus-pound price tags that often accompany them. "I started making clothes because I don't want to DJ when I'm 50," he says. "But I'm also not that into the fashion scene. I'm getting grumpier in my old age. I'm starting to like grey." Green grew up in the rolling English countryside north of London and even hesitantly bats the heritage term around when describing his work, although his focus is his country's heritage of fine manufacturing as opposed to the more superficial, stylistic connotations attached to the word. "The heritage clothing thing is amazing, because it made people actually care about where the fabric was from and how it was made," he says. "But I don't want to be making deliberately old clothes. I went up to Nottingham to this old jersey factory and they were like, You want to use this nice fabric to make a spotty jumper? I was like, Yeah, that is what I want." For him, it's about honoring Britain's rich history of producing some of the best fabrics in the world, but still making clothes for the 21st century, keeping traditions fresh by using them to make untraditional clothes.
Color is the defining feature of designer Kit Neale's little studio in Shoreditch, a bougie part of East London, where racks are filled with tees and trousers in all-over prints of lobsters, waterbugs and vegetables line the walls. Neale works on the collections in a back room and, over a soundtrack of Destiny's Child's The Writing's on the Wall, talks passionately about putting all of the color of his London life directly into his clothes. "I worked on my first collection during the Queen's Jubilee and the Olympics and all that," he says. "I remember the Queen floating down the river on a flotilla, like this was North Korea," he says. "British culture is so mixed—we don't even know what British culture is—but I don't think it's that. I want to show my side of Britain." Neale grew up in Peckham, a diverse neighborhood in South London with a strong Afro-Caribbean influence, and though it may seem like his designs comes from the Land of Oz, his clothes are actually inspired by the most universally beloved British arena: a soccer stadium. "If you go to a football match on Sunday, there'll be one team in baby pink—or bright orange—or bright blue. It's so beautiful!" he squeals. "That might be the only time straight guys can justify wearing crazy colors. My dream scenario would be a real British lad going to a match in head-to-toe Kit Neale."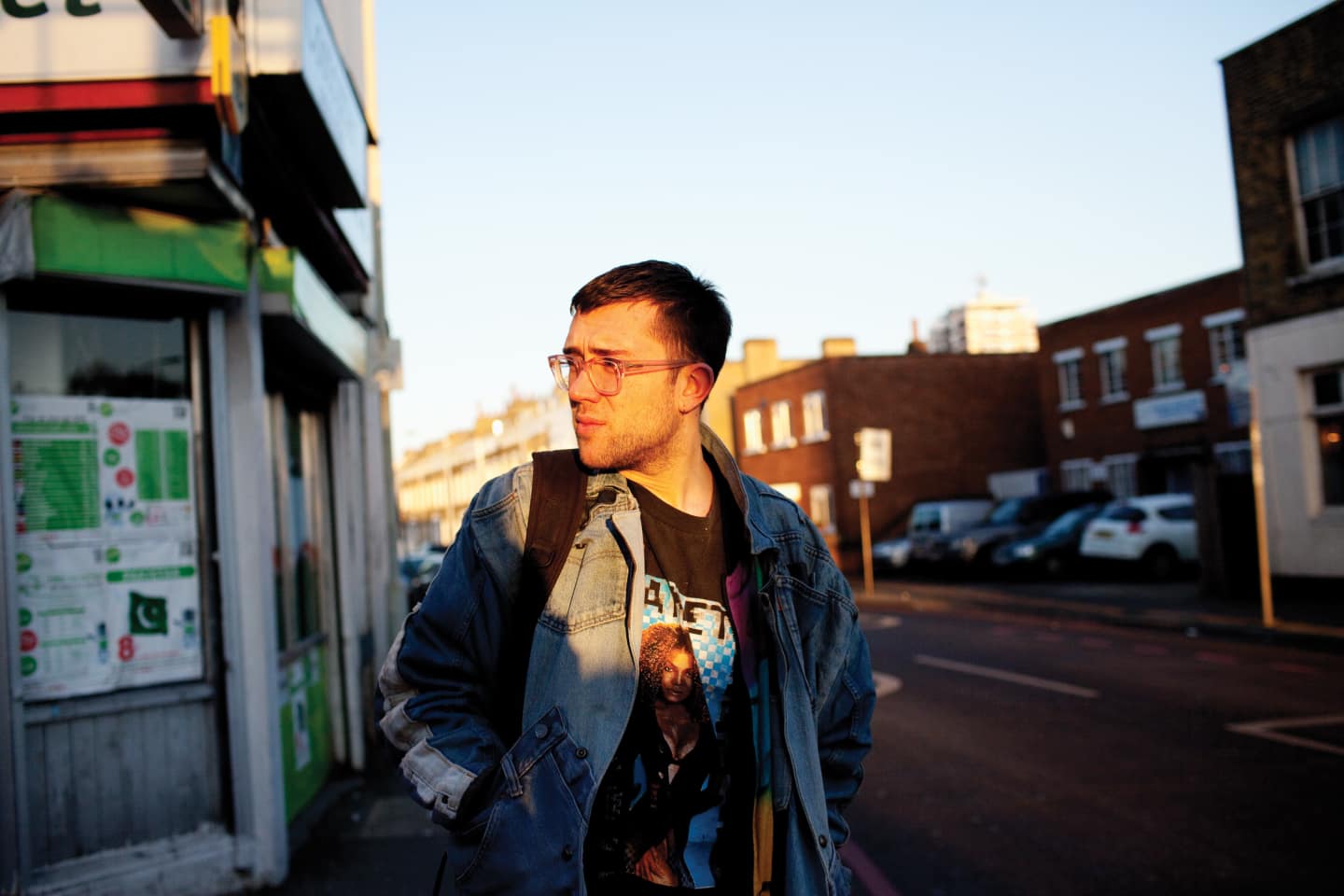 A few miles from Neale's space, Nasir Mazhar uses, as a studio, an apartment he shares with eight people on a grey cobblestone alley in Stoke-Newington, near a Hasidic community in Northeast London. It's inaccessible by the tube, the front door opens directly to the street and hardly any natural light makes its way through the piles of magazines stacked a mile high in the corner. It's got a collegiate vibe as much as it does a fashion one, with a mannequin near the entrance and Mazhar's tattooed assistant sketching on a drafting table behind us. He's a super delightful, stubbly guy in a soft, worn hoodie, and his head nods and eyes widen every time he smiles, which is a lot, despite the fact he says anger is his primary inspiration. "London feels so clean now. If I want to go to a garage night, there's hardly any. I'm honestly an angry, bitter hater," he says. Still, Mazhar makes his own fun at his fashion shows, designing crop tops with "SEX" written across the front like it would be in the margins of a junior high notebook and underwear with "NASIR MAZHAR" scrawled across the waistbands, creeping up out of the sweatpants of models with Marky Mark muscles.
Mazhar has evolved his brand from a collection of outsized, sculptural hats (Lady Gaga has worn a few) into a full range of clothing. Last year, he showed his first ready-to-wear collection in a Fashion East space, which he transformed into a barbershop filled with shirtless beefcakes in holsters and bulky backpacks, ladies wearing snakeskin trousers and Jamaican mesh dresses, and hosted a makeshift MC battle between grime MCs. The clothes were mostly sweats, the highlight being a pink terrycloth tracksuit for men, in J. Lo pink. It was camp done expertly. "Name me one big designer or brand where I can find a tracksuit like that. I'd go there happily. But there ain't!" he says. "To be able to pull off something like I make, you're not gonna be a quiet little shy girl or boy. You got to be ballsy. But can you imagine Tupac wearing J Brand jeans?" Mazhar grew up in East London and is one of the few designers I spoke with who never went to fashion school, and instead spent his younger years studying hairdressing at Vidal Sassoon and being obsessing over the pirate radio scene in London. "I didn't want to be a fashion designer," he says. "I just started making stuff."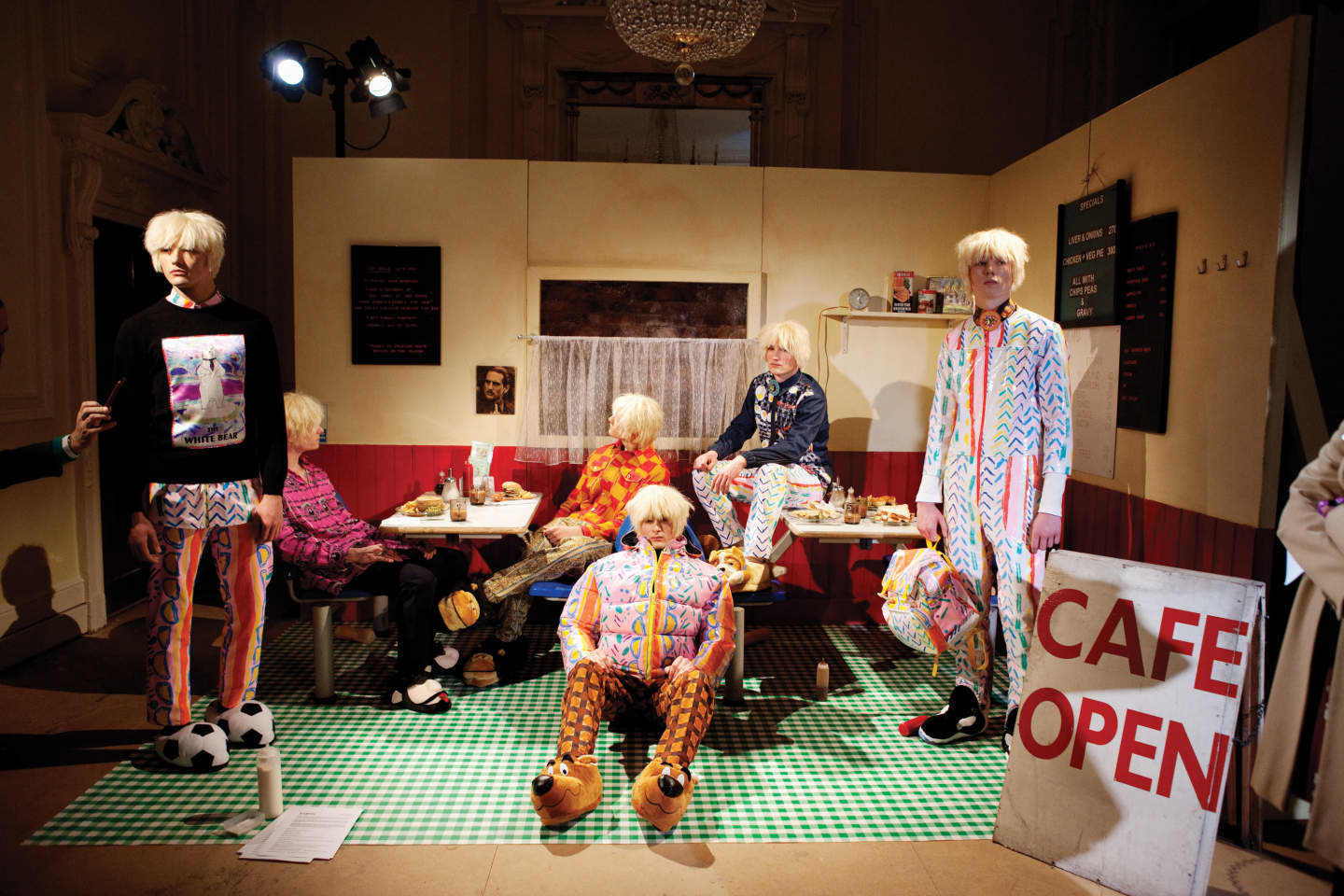 Mazhar is particularly interested in the much-maligned chav, a controversial and derogatory term Brits use to describe what Americans might call white trash, caricatured on popular TV shows like Little Britain and tabloids like The Sun as crass, tracksuit-wearing, welfare-receiving partiers. "Calling people chav was a way of cleaning them up, making them feel like they're scum. It was never seen as a proper subculture," Mazhar says. "People that used to wear tracksuits and Reeboks are now in Barbour coats and Converse. They even banned hoodies in some stores! But to me, that's snobby—I like a bit of attitude." Mazhar's playfulness with notions of class and masculinity similarly inspired Alex Mattsson to collaborate with the American vogue MC Zebra Katz to record an exclusive track for his fall 2013 collection, and he says his line of full-length leather coats and rainbow-striped motorcycle jackets is about mixing macho with something lighter. "It's a gay swag," he says. "You can look tough but still be a bit camp."
The idea of camp is really what separates this new crop of designers from their earliest British predecessor Kim Jones, whose mid-2000s collaboration with soccer brand UMBRO made him the forefather of luxury sportswear. "He was really the first menswear designer to be on the regular fashion schedule," says Steve Salter, who, as faithful chronicler of London fashion, has the authority to say so. "He made people take men's seriously." Jones is now creative director of Louis Vuitton men's, a trajectory unimaginable five years ago. In Jones' absence, the new sportswear scene is more in line with one of his former design assistants, Christopher Shannon. Where Jones made minimalist updates of suburban staples like sneakers and soccer shorts, and has since pushed those to the heights of luxury, Shannon has kept his sights firmly on the street, designing playful, patterned takes on tracksuits. Last year he started an inexpensive diffusion line called Kidda that sells at Opening Ceremony and ASOS. "I worry that high-end menswear isn't always the best business model," says William Richard Green. "So many men's designers like J.W. Anderson have gone on to do women's. But Chris Shannon got around that by going cheaper. It's a smart move." Wild menswear looks great on a runway, but it can be a tough sell in boutiques that prefer to stock the basics. "All the attention isn't necessarily translating to sales," says Martine Rose. "You're trying to compete with Sports Direct. I don't want to be a luxury brand, but I can't afford to make my clothes cheaper yet. I find it actually sort of embarrassing that my stuff is so expensive," she says. "I want to see lots of people in my clothes." Mazhar feels similarly: "It's young product, but it's not young prices."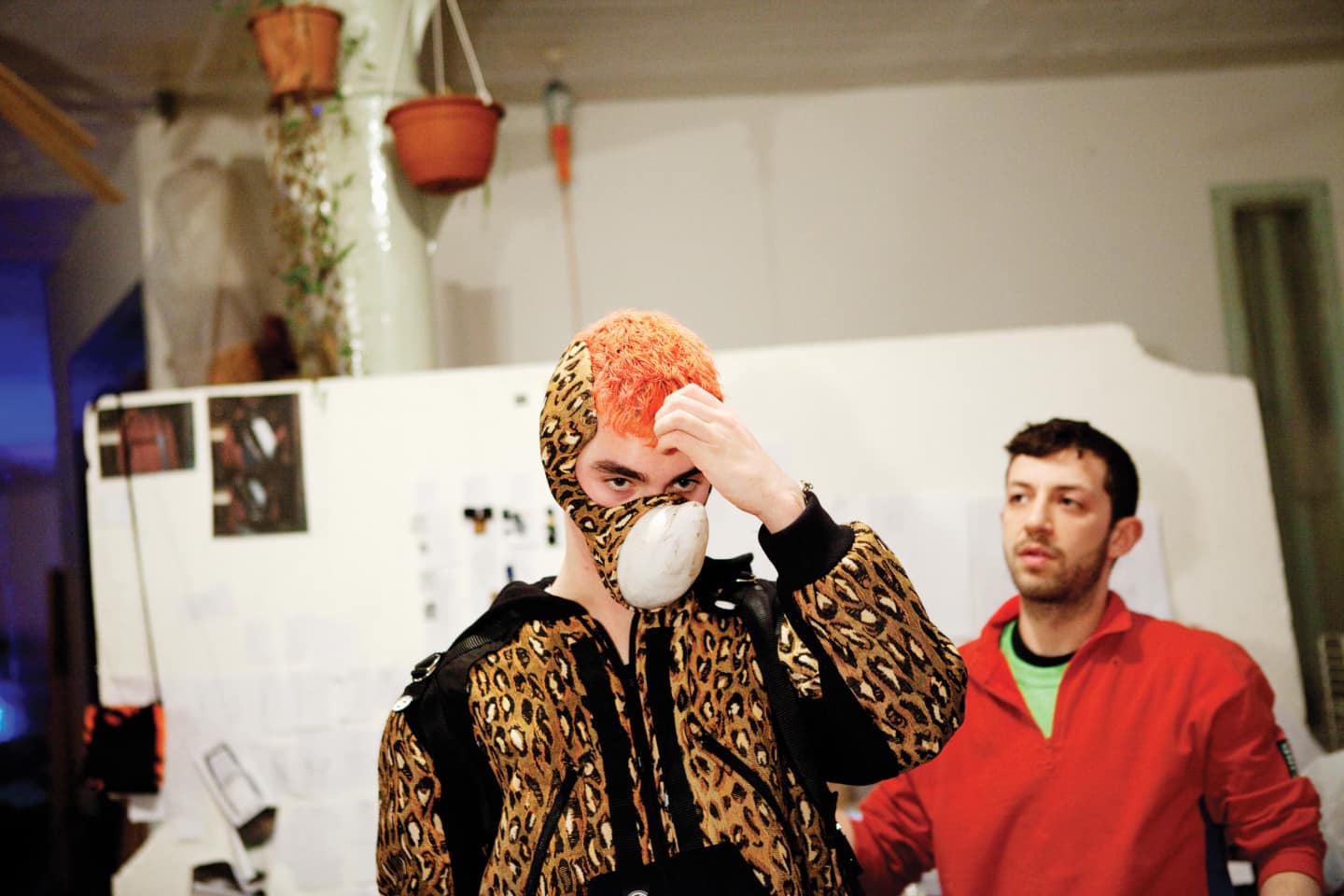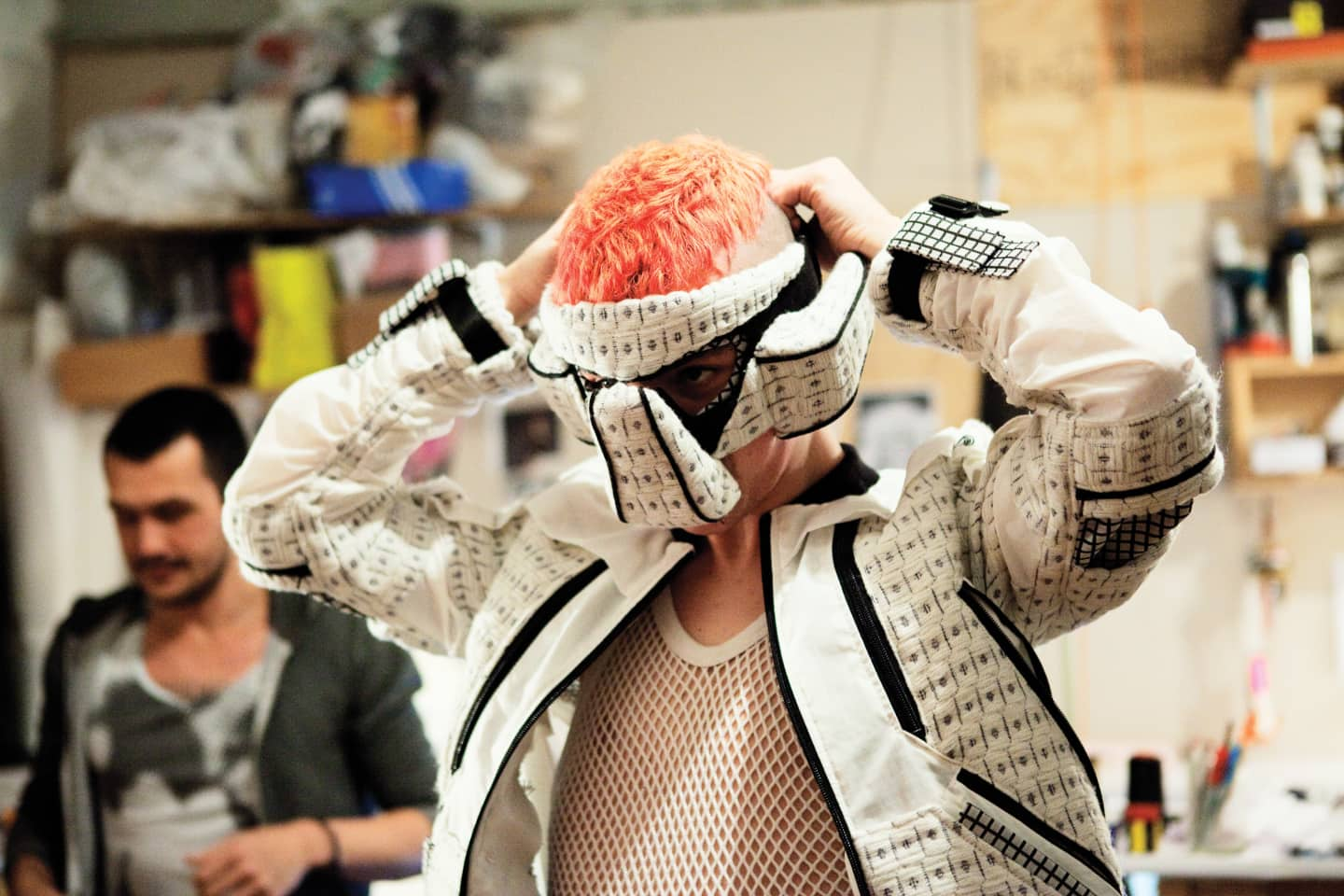 For all the good that Lulu Kennedy's promotion of young talent through Fashion East has done, even she worries what it will mean for designers who want to grow up if London gets pegged as a place for kids only. "I've been championing young talent for 12 years," she says. "But you're better off if you have more than one message." It's hard to worry too much when there's such an abundance of creativity. One of the striking things about the London scene is how, even if the inspirations are similar, each designer makes very different clothes. "London has lots of different tribes and can do lots of different things," says Kennedy. "We're multicultural." There are parallels in New York of designers interested in diverse styles—Hood By Air has long championed ballroom and hip-hop culture in its designs, and Telfar embraces questionably tacky, suburban mall style—but while many of the same ideas may be percolating in both cities, the main difference is that the young New York designers don't have the same level of support.
For a city as diverse as London, it's essential to have more than one voice. "When you think of British style nostalgia, you might think of Savile Row," says fashion writer Steve Salter. "But everyone's got their own Britain, and that's what makes it exciting." To many of these designers, tracksuits are as heritage as tweed suits and Union Jacks. They're making clothes that feel authentic to them. Fashion runs on the lifeblood of young talent, but it so rarely embodies youth culture—the norm being that you're 25 and living in a cheap flat brainstorming your best ideas for big labels and customers that live a million economic and cultural miles from you and your mates. It's exciting to have your own label in your mid-20s, to prove something to yourself and your friends, to make something that has your name on it. Nowhere in the world is that more possible than in London. "I see posh people in Dalston wearing workwear, a chore jacket, and I just think, We're not on a farm. We live in a city, you don't need tractor clothes," says Mazhar. "My friends order my clothes. I wear my clothes."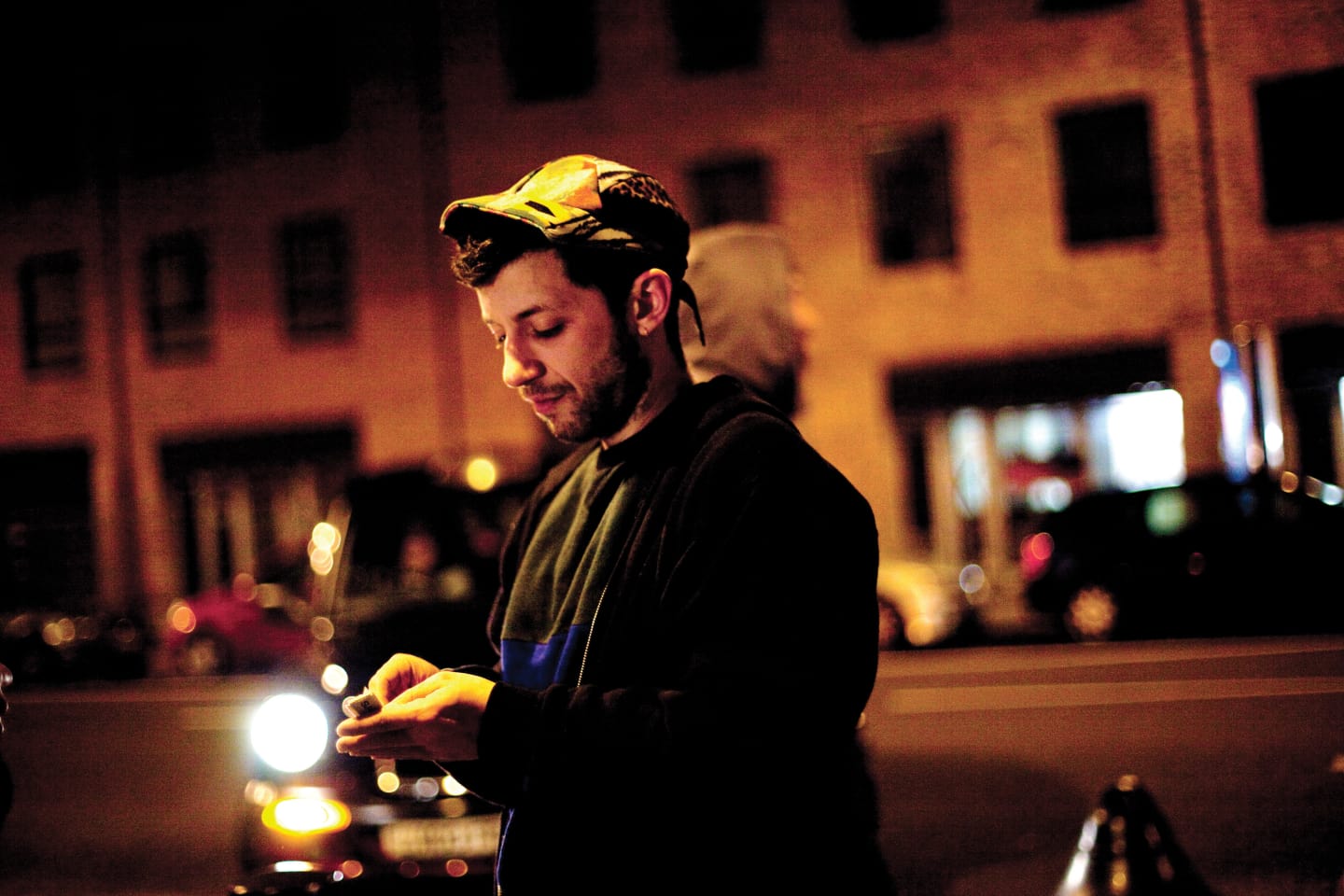 On a Friday night towards the end of my visit in London, Mazhar meets me at a hip-hop party in the shitty basement of a proper Dalston pub. Downstairs, the DJ plays Cam'ron, and then, weirdly, Talking Heads. No one cares that David Byrne is not a rapper—it's fun to dance to. Mazhar will be presenting his next collection in one month to the day, but for now, he's spinning in circles. When the party ends at four, people spill out onto the sidewalk. Mazhar rolls cigarettes and chain smokes, rebuffing an endless stream of kids trying to bum one off of him. A boy wearing a bowl cut and a football jersey and who looks to be about 17 wobbles about, dizzily.
We decide to head to a friend's house and jump on a classic, red doubledecker bus, then walk upstairs so the driver can't see us sneaking sips of our smuggled cans of Kronenbourg. It's hard to imagine a scenario in which a successful designer in any other city would forgo a taxi for public transit at 5AM. When we get back to Mazhar's friend's house, I ask him if he's going to party on his upcoming 30th birthday. He smiles, telling me he probably won't do much, since there's so much work to be done. "We've got clothes to make," he says. But even if he's saying goodbye to his 20s, it's nice to think he might find time for both.