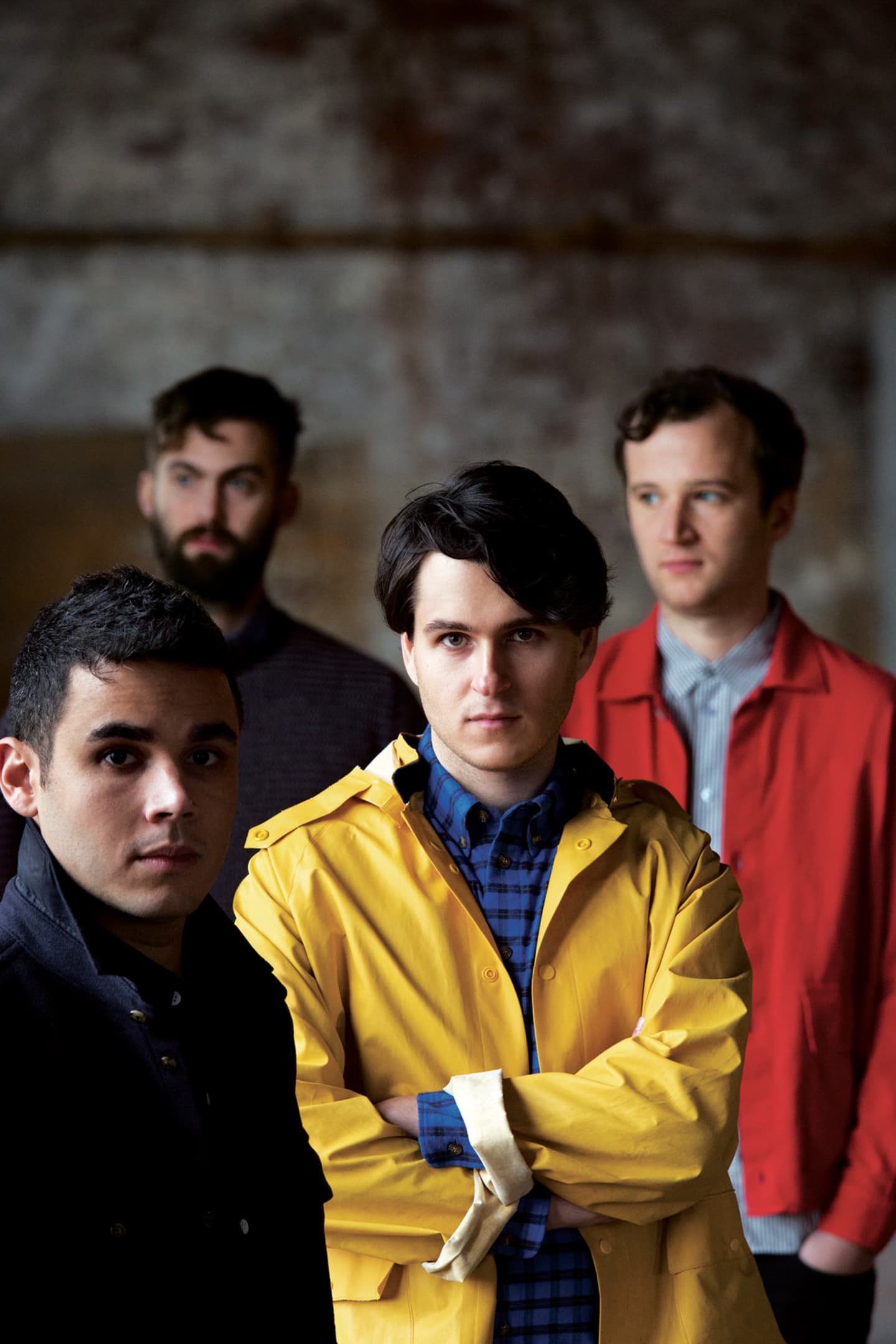 Vampire Weekend: Upper Classmen
Vampire Weekend gets comfortable making music that's complicated.
To date, Vampire Weekend has sold over a million records, played every music festival worth being jealous of your friends for attending, been the musical guest for Saturday Night Live with each of their studio releases and had a Billboard #1 and Grammy-nominated album, and yet an early December Twitter search reveals them to be just as much a rickety comedic device as an identity marker for young adults across the web. "There are more important things in life than school. like figuring out wtf the lyrics to any vampire weekend song mean," posted Twitter user @Esassboulian. "Just made a very genuine plea to restore an Oxford comma. In your face, Vampire Weekend. In, your, and face," user @PabloTorre shared. "Vampire Weekend is the best music for Excel files and InDesign documents," said @KelseyAlexis. And finally, "How do we all have time to tweet AND contribute to Vampire Weekend blog sites?" asked @NickBossRoss.
Since breaking the scene in 2007 with a wildly acclaimed CD-R demo that would lead to signing with London's famed XL Records, Vampire Weekend has blown up in every way a band could hope to, and at the same time solicited the ire of music bloggers posing as cultural commentators and vice versa. In releasing two highly palatable albums of Afro-pop-influenced, jaunty patio rock while dressed like pages of Take Ivy come to life, the band presented a conundrum as Ivy League-educated whitey's—though producer and keyboardist Rostam Batmanglij is of Iranian descent—whose upper-middle class identities shone that much more brightly against ethnically-tinged backdrops. They were taken to task for juxtaposing a preppy, New England visual aesthetic with African sounds, best represented in the video for "Cape Cod Kwassa Kwassa," shot at a beach house barbecue where pastels and polos abound. It's been five years since their debut and three years since their sophomore album, Contra, and they've spent the last one and a half making their third, Modern Vampires of the City. At this point, they have no one left to impress but themselves. And that, as they'll merrily admit, was the only goal they've ever had.
In the very first week of 2013, the band is gearing up for Australia's Big Day Out Tour, their first since 2011. Combined with a few dates in Asia, the trip will have them within arm's reach of each other for nearly a month, and as such, personal time is at a premium. Outside of rehearsals, of which they only hold two, members Ezra Koenig, Rostam Batmanglij, Chris Tomson and Chris Baio are living their lives—as much as is possible while mixing and mastering the record—very separately. Before they were bandmates, they were friends as students at Columbia University. Now bearing down on their 30s, the band carries on more like members of a professional sports team, coming together to make good on, or to prepare for, their time in front of the world.
I meet Koenig on a frigid Tuesday evening after the band's second rehearsal. He's wearing a navy rugby jersey, dark fitted denim and high-top boat shoes. The rehearsal studio is on West 25th Street by the West Side Highway, a part of town renowned, depending on your own social pursuits, for either its community of art galleries or parish of nightclubs. We begin heading down 10th Avenue. He is naturally talkative, and though neither of us seems dressed adequately for the January chill, we stroll, as people do when walking without purpose.
"I don't think I have the type of voice where people hear it and are just like, Wow, you were born to sing," Koenig says. "I feel like it's the right voice to sing what I want to sing. I've always been into music and songwriting, so it just seemed natural." He is the band's baby-faced frontman and the person whose idea it was to get together as Columbia undergrads (they'd enter a "Battle of The Bands" showcase before even scheduling their first rehearsal). He has a rubbery tenor that breaks falsetto without much adieu and, aside from singing and playing lead guitar, is the band's main lyricist and the architect of their aesthetic. "When we came out and we wrote early descriptions of ourselves, we were very clear about what our influences were," he says. "For us, in a general way, we felt like African guitar music and preppy clothes was a good combo. It just felt right. So rather than try and mash that up until it was unrecognizable, we would do things like call a song 'Cape Cod Kwassa Kwassa,' specifically referencing a type of African dancing and not try to hide it or be coy about it." As the band's co-songwriter with Batmanglij, he's written songs riddled with pockmarks of conspicuous consumption ("Cape Cod Kwassa Kwassa" calls out Louis Vuitton and United Colors of Benetton by name), but also so cryptic they can be difficult for a casual listener to understand.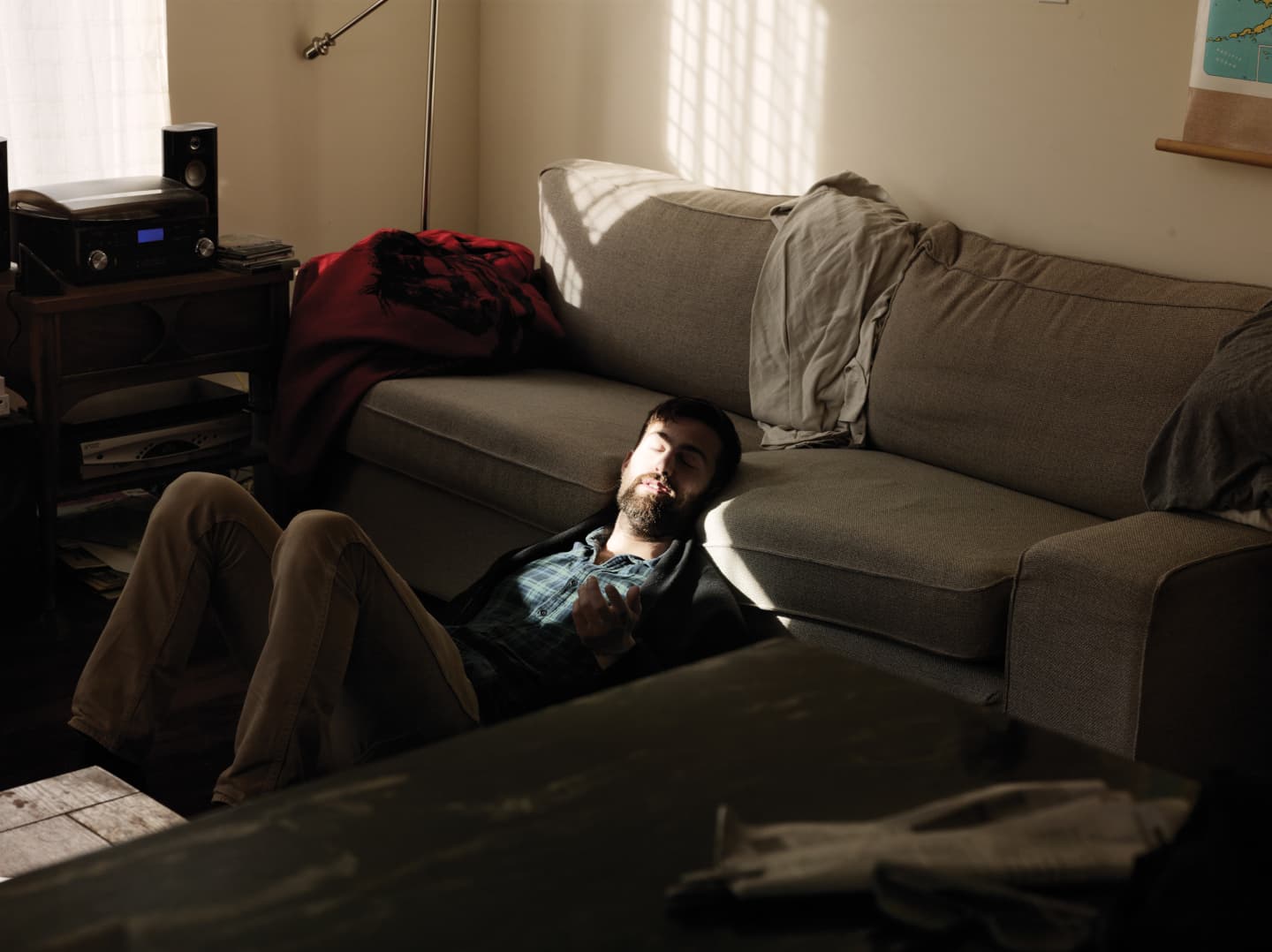 "There's always multiple layers," he says of their songs. "So you can interpret things on one level, and maybe there's another way to read the lyrics, maybe there's another way to appreciate the musical references, and to me that's always gonna be a part of our music. All the music that I like has a sense of humor, and if being sincere means not having a sense of humor, never fucking around, never doing things that are playful or weird, then I'm very uninterested in it." In the beginning, this meant ratcheting up their preppy style cues and singing about outmoded punctuation. For Contra, it could have been the '80s pop feel of "Giving Up The Gun," or writing a MIA-sampling reggae song about a gay relationship like "Diplomat's Son." On Modern Vampires, it's Koenig doing spoken word for a spell on "Ya Hey," or flaunting a dreamy, Elvis-like inflection toward the end of "Diane Young."
Two days after I speak with Koenig, and eight days after returning from his honeymoon, bassist Chris Baio answers the door to his Greenpoint apartment in a white button-down shirt and black pants, looking something like a caterer just off work. He's offered to take me running in the vein of the storied former CIA Director General David Patreus, and I have, at my side, a gym bag filled with running gear. The youngest of the group, Baio looks the furthest removed from college life, and as the only married member, is easily the most domesticated. In recent years, he's been DJing outside of Vampire Weekend, and last year he released a well-received dance music EP on Greco Roman, the label run by Alexander Waldron, Dominic Mentsh and Hot Chip's Joe Goddard. Eventually, Baio changes into a grey dad-fleece (it has a polo collar) and track shorts. I was worried about having to hold the tape recorder while running, but we sit down to speak at his dining room table before heading out.
"What's interesting is that right away, at our first show, which was at a student center, there were probably like 100, 150 people," he says. "Even though it was a battle of the bands and we came in third place, the crowd was really into it." He's talking about the band's very first performance comparatively, as he's been performing in bands—including a "wack pop-punk band" that scored gigs at The Continental on Astor Place—since high school. Much to his surprise, Vampire Weekend touched a nerve quickly, though sometimes it was hard to tell with whom and in which way. "I think some of the criticisms were misguided," Baio says. "I think that being inspired by a guitar tone from 'the continent of Africa'…it's very different from like, doing a field recording of someone and making a song out of it, and then not paying the performer. That is theft." And thieves they are not. For Baio today, it's all leaves on the road, but he's had time to put it into perspective. "You put a record out, there's some think-pieces, maybe two or three that shit on your band, shit on what you do and then that's it. You go on being a band," he says. "If you had to carry the negativity from an article with you for a year-and-a-half, that would suck, but most people move on from something like that."
Modern Vampires of the City sounds further away from Africa than either of their previous albums, although Koenig would argue that portions of the record are "more African than anything they've ever done." He may be referring to a particularly funky break in "Everlasting Arms," where Baio's bass plucks pace his singing, or a vocal patch of "Ya Hey," where he sings over sparse guitar, but the album is anchored by Batmanglij's piano and cascades significantly from a melancholy sway to kick-out glee and back again over its 40 minutes. It's emotionally rich, with Koenig maxing out his vocal range and is, as the previous two were, about young life and relationships in the most abstract way. I know I love you/ And you love the sea/Wonder if the water contains a little drop, little drop for me, Koenig sings on "Unbelievers." The title comes from the first line of Junior Reid's "One Blood," and is, according to Koenig, little more than a lyrical allusion to the band's here and now. "You make your first album, you put your second album out hoping that people don't think you're a one-album wonder," Baio says. "Hopefully, with this record it shows that we're gonna be here doing exciting stuff for a long time."
After running with Baio who, though slim, looks to be getting himself back into shape over three-and-a-half miles around Williamsburg, I head to Chris Tomson's, a few blocks away. Tomson's downstairs neighbor, whom he believes to be a "struggling musician," is reaching for max levels of irieness, with potent marijuana smoke and one-drop reggae leaking out into their shared downstairs hallway. Tomson is listening to a record called Cajun Rendezvous: Featuring a Host of Top Cajun Entertainers Playing the Best in Cajun Music when I arrive, a recent purchase. In his living room, which hosts a classroom-sized pull-down map of the United States and a vintage Rhodes piano, we talk first about his new haircut ("I thought she went a little nutso with the trim here," he says, rubbing the closely buzzed sides of his head) and then about how his role in Vampire Weekend came to be.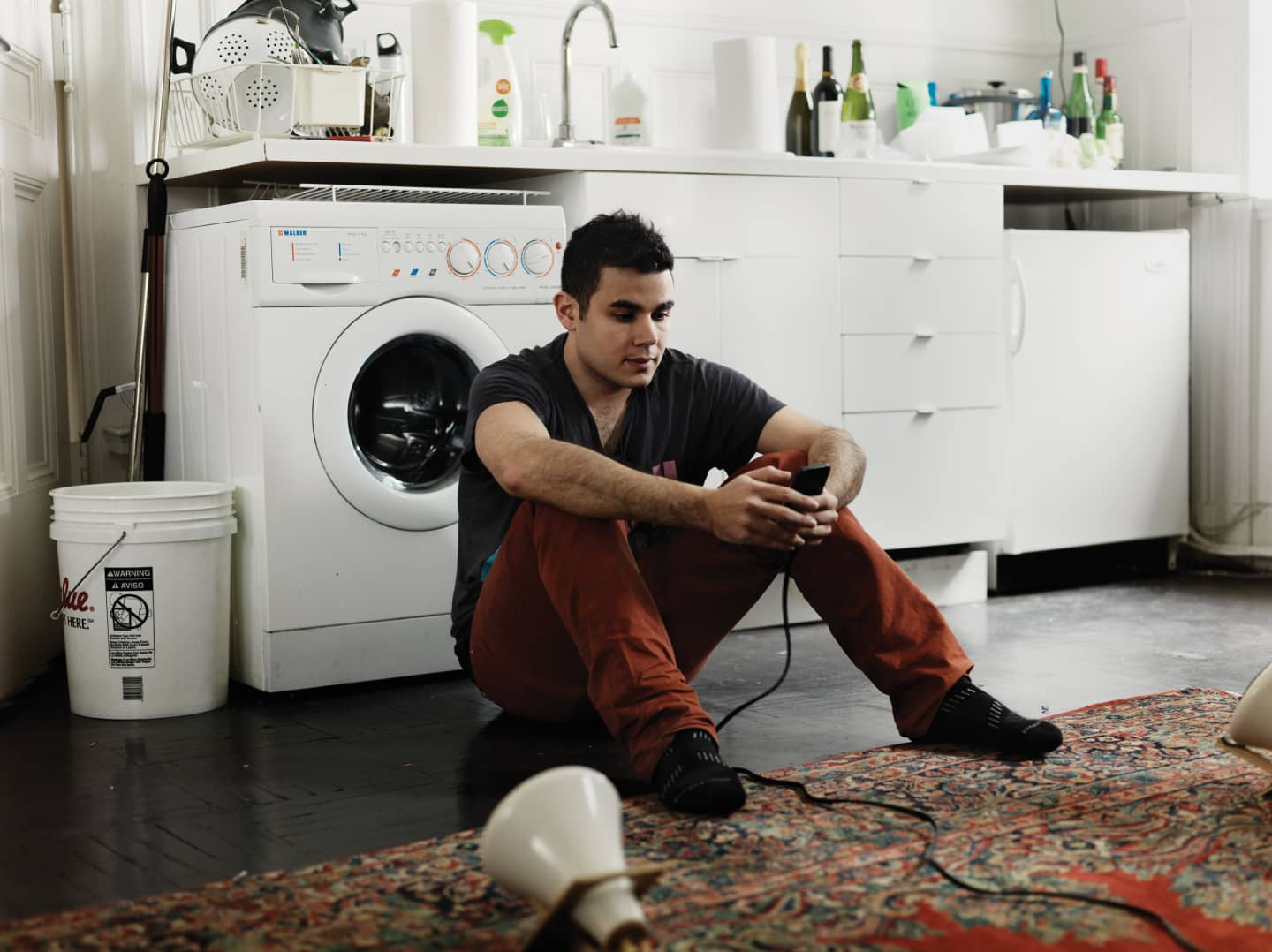 "The first two practices in the dorm room, I played guitar," he says. "It was like, Oh cool, we'll find a drummer, and then we got a gig and we didn't have a drummer. I was like, Well, you know I fucked around in high school with drums, I can take a shot…and it just so happens that I stayed there." Tomson hits hard naturally, which he attributes to a lack of formal training, but is also essential for the busiest parts of Modern Vampires, like "Unbelievers." Tomson was once also the "laptop DJ" for Koenig's college rap project, L'Homme Run. He'd go on to play bass for L'Homme Run as well, but in his transition from utility man to full-time skinsman, he couldn't have foreseen the impact making music with friends could have on popular culture.
"I think we're all well aware of the context within which we're releasing something," Tomson says. "You know, it's not like we're bros from college anymore—we're a band and an entity that people know and that some people, either good or bad, are emotionally invested in. Luckily—and I'm glad that we are all on the same page on this still—the decisions are based on what makes the music best as opposed to what sells in a movie or something." To date, Vampire Weekend's music has appeared in three movies, most notably on the soundtrack for The Twilight Saga: Eclipse. "I think we'd like to get bigger, but we've gotten big through our own purpose," he adds. "We've never really done anything, explicitly, to get bigger. We've done what we thought was right—the songs that we thought were good and the shows we thought we should play—and it's worked out well, which I think is sort of rare, but for us has been true, and that's what we're continuing to do."
When I meet with Rostam Batmanglij on a Saturday morning at his DUMBO loft, he is just putting himself together following a late night spent attending a Dirty Projectors' show at Carnegie Hall. He is wearing all-over floral print lounge pants, monochrome Nike running sneakers and a T-shirt. Batmanglij is the sole producer of Vampire Weekend's first two albums, the maestro of their sound who develops their melodies alongside Koenig. His living room is the spacious home studio where the band seeded ideas for and recorded early versions of a good portion of Modern Vampires. He hasn't eaten breakfast yet, so we head to a dimly lit café a block over before returning to listen to some of his earliest production work.
"I was not good at making music for a long time," Batamanglij says from the computer chair at his studio desk. "And then something clicked between my sophomore year and my junior year of college, where I feel like I started making shit that was actually good." He giggles as he plays a very rudimentary, West-Coast- inspired beat he made as a kid, and at the same time, an a capella of Snoop Dogg's verse on "Xplosive" that he's dug up on YouTube. He's recreated his earliest producing experience and admits these kinds of desktop DJ edits were a common pastime during high school. Today, his pedigree is unquestionable, having provided the beat for Das Racist's "The Trick" and produced LP, a thoroughly underappreciated R&B album he made as Discovery with Ra Ra Riot's Wes Miles. He's continually pushed Vampire Weekend's sound forward, from the heavier afro-pop influence of their first album to the experimentalism of Contra.
For Modern Vampires, though, the band looked for production assistance, reaching out to Ariel Rechtshaid, who has worked with artists as diverse as Cass McCombs and Theophilus London, as well as co-producing Usher's most recent hit "Climax." "We didn't just produce the album together, he's one of my best friends," Batmanglij says of Rechtshaid. They'd worked together sporadically since becoming friends in 2010, and for Modern Vampires, "it made sense to make him part of our team for this record."
On the phone from his Los Angeles studio during a break from working with rockers Haim, Rechtshaid considers the experience a privilege unto itself. "When I came into the process of this record, they had certainly already set the tone to some degree," he says. "A lot of the songs were written, and I was kind of helping to finish it. They're super lucky—and it's deserved—but like, that they had such success off their first record, which nobody [else] had any creative input on, and that led to the success of their second record, which naturally, because they did things their way the first time, they did things their way the second time, and so on…so they're not concerned with any sort of conventional rules. They do things their way, [and] they do it until they're happy."
After playing a number of early incarnations of "Ya Hey," Batmanglij talks about the impending tour and the rigors of the road and how he thinks their fans will receive the new music, revealing how much this album really does mean to him when he puts it into the context of performing. "You know what I hate?" he says. "When you go see a band and you don't like any of the songs from their new album and you're waiting for them to finish playing the songs from their new album so they can go back to playing the old ones that you like? That's what I fucking hate, and that's why this record took a long time to make. 'Cause we were not about to do that."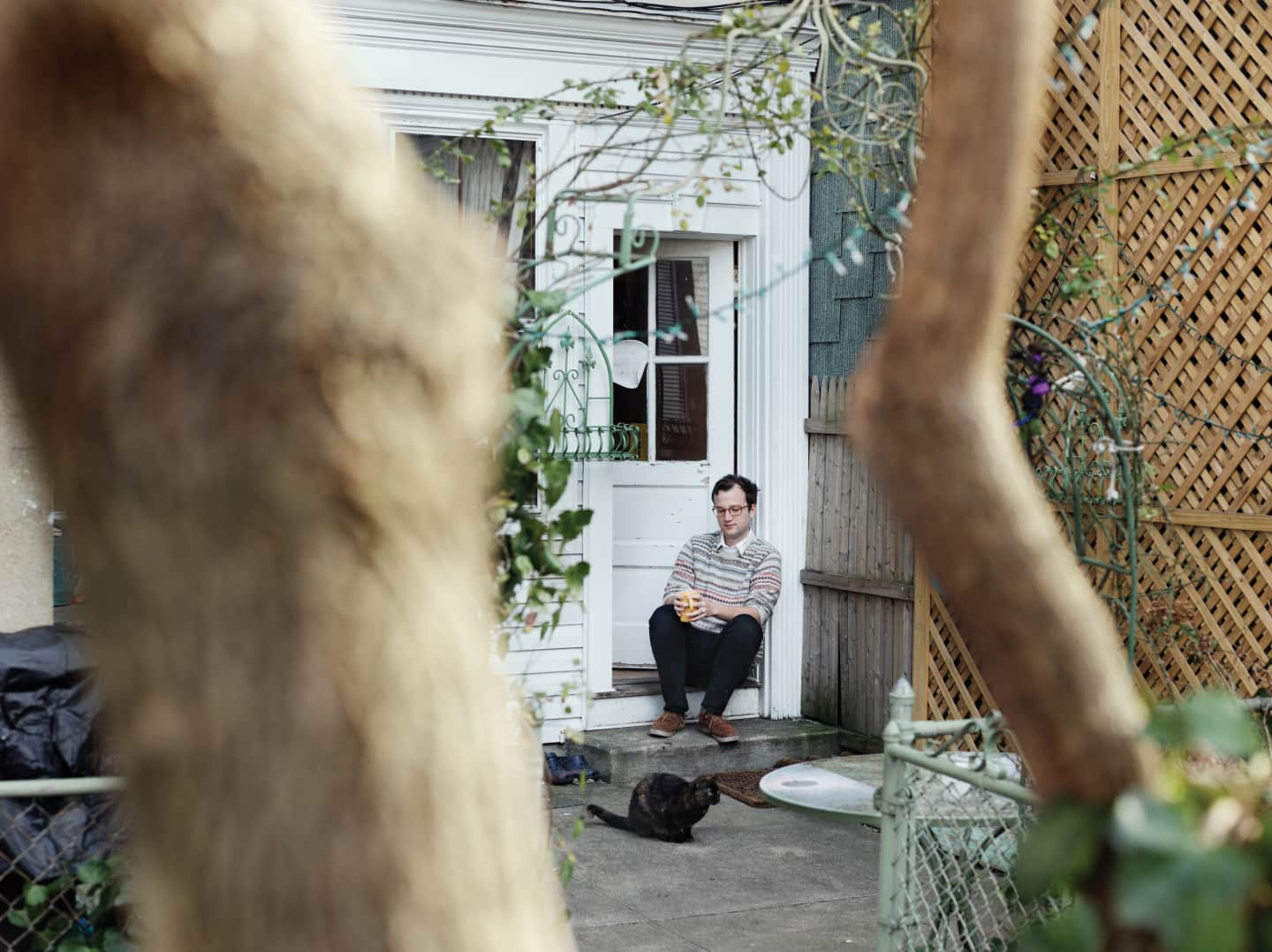 Over the course of the afternoon, he plays records from John Lennon, Jay-Z and Kanye West, Curtis Mayfield, Monica, The-Dream, as well as his own side project, Discovery, and Vampire Weekend. He notes that he's been getting really into hip-hop lately, and points out tuned-down 808s he's layered against Tomson's drums on Modern Vampires. If not wholly apparent from the three years that have passed since Contra, he admits that they've labored over the music until it was exactly where they wanted it. "I don't care if it's successful," he says of the album. "Maybe it will be, maybe it won't be, but I'm proud of it." Modern Vampires is a very different album than Contra or Vampire Weekend, and it's a success in that regard alone. The reward is that they'll never have a catalogue that is boring or a song that in itself defines their band. There's sure to be a lot of people waiting for this album and there will be even more awaiting the next one.