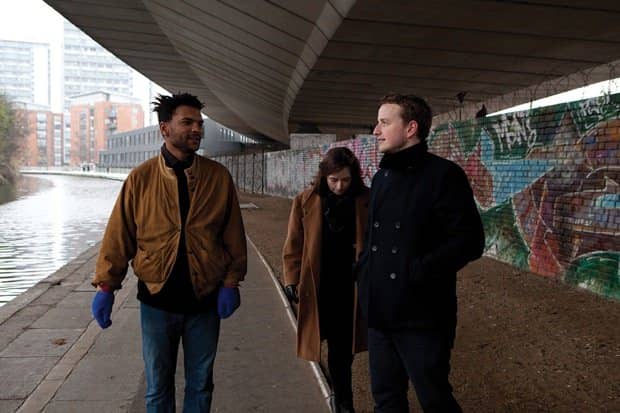 Listening to London trio Nautic is kind of like filling up on dim sum: there's a lot of small components to consider, and it can feel like an embarrassment of variety. "Fresh Eyes," one of two early singles from 2012, offsets distressed machine beats with shocks of jazz saxophone and sitar, as an ethereal female voice duets sweetly with the rhythmic quivers of a vocoded male. It's an oddly harmonious meeting of far-flung, analog and electronic sources, and the kind of song where the smallest of details—a hanging extra beat in the vocal sample or the bending of a guitar note—can make or break a moment. "It's just real identity, and proud identity, basically," says bass player Tic over Skype. He's referring to the group's obsession with isolating sounds that brim with personality, and making them interact like characters in a play.
On a macro level, Nautic is a coming together of three London indie-scene figures whose voices are already pretty distinctive. Production credit goes to the shape-shifting, West London beatsmith Bullion (Nathan Jenkins), known equally for his J Dilla/Beach Boys mash-up album Pet Sounds: In the Key of Dee as well as his Robert Wyatt-covering, Canterbury scene-inspired Love Me Oh Love Me Please EP. Everybody helps out with the lyrics, but they're carried mostly by the airy soprano of Laura Groves, whose 2009 debut under the moniker Blue Roses combines acoustic psych-folk with lush auto-harmonies and twinkling piano. In Nautic, she also plays keys. Finally, on bass and guitar synth, there's Tic, who does A&R at XL Recordings imprint Young Turks. Nautic is the first band he's ever really recorded with, but he's been championing and disseminating music for so long that he says he sees Nautic as "just another team project." Ever the musical tastemaker, he's the one who corralled the group together a little under two years ago, and the member who's most eager to advance colorful theories about the music they make. These tend to orbit around the jazz-like premise of an active exchange between equal actors, an ideal so modest that it actually sounds fresh. "Say that jazz, in the theoretical sense, expresses all the possibilities of classical music but with this extra emphasis on feeling and individual expression and spontaneity and improvisation," he says. "I think it's just essential to be able to have conversations. It's a kind of dialogue through your practice."
The band's name nods to the sing-along tradition of the British sea shanty, and fittingly, it seems that anybody would be welcome to chime in. From the sax to the percussion, "Fresh Eyes" is rife with contributions from the group's extended circle of musical friends; even the found footage video they released with the track was originally submitted to the band by a fan. "Fixxx," their second single, casts bluegrassy flourishes by violinist Sarah Anderson, who goes by Sadie, alongside soulful male/female vocals, a video game-like synth motif and sundry digital flickers, though none of these could be said to play starring roles. "We just started calling on friends to do bits and bobs, and just be adventurous and let them express themselves on the Nautic stuff," says Groves. "So I guess it's the three of us at the core, but it's a bit of a family." In breadth of imagination and expansive personnel, Nautic could be said to be an unwitting supergroup, but their very humble aim of making music where each sound matters is probably their most powerful asset.
From The Collection:
GEN F