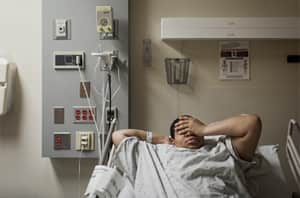 Chicago Fire: A Photo Essay by Daniel Shea
On the ground, navigating the city's epidemic of youth violence
In our annual photography issue, we usually showcase multiple essays from different photographers. This year, we dedicated all that space to a single feature by Daniel Shea. Last year, Shea photographed our cover story on Chicago's drill scene, focusing on the young rapper Chief Keef and members of his local-clique-cum-record-label Glory Boyz. Now, returning for a month to the same neighborhoods, Shea looks at the city's South Side from the perspective of teenagers whose careers haven't spirited them away from their home blocks.
Daniel Shea:
This story is a loose followup to the Chicago story I shot for The FADER last year, a way to pull back the curtains a little bit and examine the mythology that exists in hip-hop. This essay is about real people with real lives, a way to understand where the hyperbolic stuff in the lyrics is actually coming from.
Right now in Chicago is not a good time. A lot of the young people call it Chiraq. Innocent people are dying. For the general public, it's easy to just say, "Chicago is violent. We need to stop getting guns in the hands of violent people, we need to lock people up." I wish people would be more open to thinking about the complexity of the violence. The memorial walk I photographed was for a six-month-old baby. I haven't been sleeping well, because I've got all this anxiety about this story—there's too much to cover and I'm feeling overwhelmed. That's a larger crisis about doing this kind of work: you go in quickly and leave. I think this essay will cover the bases, but I'm hoping it's just a proposal to viewers to consider these issues more.
I've spent time as a teacher, in Chicago public schools and in Baltimore, so I've always had some access to neighborhoods that are in the same social and economic space as the ones in this story. It doesn't freak me out to be in Englewood. On the ground, it's obvious that a lot of the bad things that are happening now are a result of a history of neglect. It's important to understand how that factors into the violence. A lot of things we take for granted as city dwellers, these neighborhoods just don't have.
There's only been four weeks of shooting photos, and that's really not enough time to get someone's trust, so meeting people from CeaseFire [the anti-violence, conflict-mediating program] was a turning point in making this story. CeaseFire's "Interrupters" are respected, and being with them helps me a lot, because that trust is already established. I'm piggybacking on it a little bit.
CeaseFire's people mediate conflict and attempt to squash future beef, but they're not police. I didn't talk to the police much, and that is the attitude of almost everyone I've been meeting. The cops are a broken model for a community to deal with violence. CeaseFire is for people in the community, by people in the community. They're invested. The cops I've interacted with while doing this story seem kind of worn down and jaded. They're just doing a job. Police lights become a metaphor. The police themselves aren't very present, but that blue is always there.
READ MORE: Interview: Chicago journalist Alex Kotlowitz reflects on 20 years of reporting on the effects of violence in the city he loves.