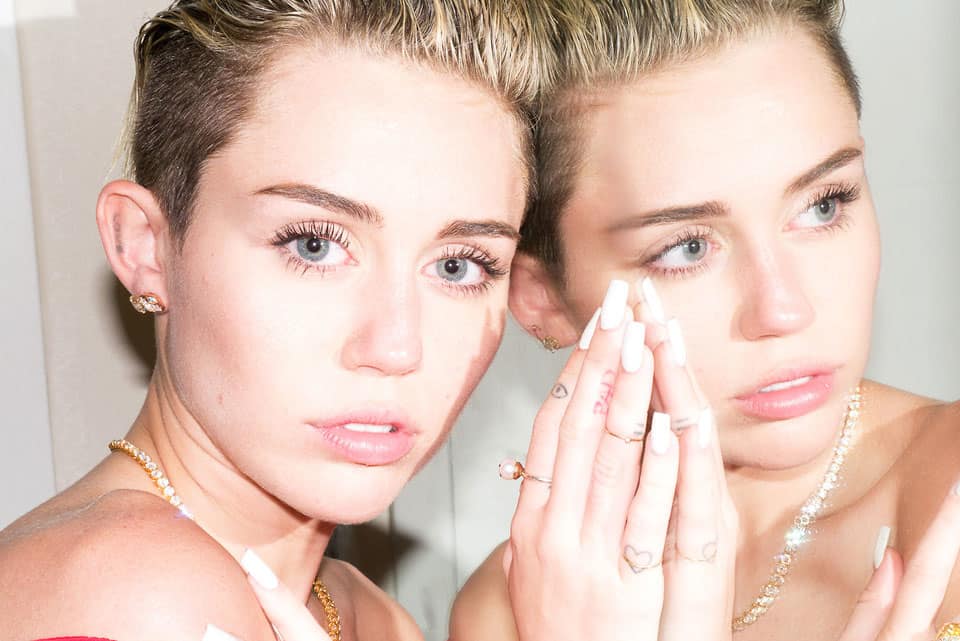 The Best Songs from Miley Cyrus' Bangerz
If you're curious but not quite ready to brave the deluxe edition's 16 tracks, we've compiled five noteworthy picks, a shorthand guide to conversation-piece pop.
In zeitgeist-y moments like the one we're all living in with Miley Cyrus, for better or worse, we always try to look on the bright side. It just seems better to find reasons to ride for someone, rather than against them. So it's disappointing to find Bangerz such a lumpy grab-bag, an album that's altogether not quite as cool as Miley's SNL jersey dress. There are fortunately still some shining spots. If you're curious but not quite ready to brave the deluxe edition's 16 tracks, we've compiled five noteworthy picks, a shorthand guide to conversation-piece pop.
Miley Cyrus f. Future, "My Darlin"
If "FU" and "Adore You" are Bangerz' intentional vocal showcases, "My Darlin" may be where Miley actually sounds best. On producer Mike WiLL's own single, "23," she raps in a squeaky-rubber style, but here she finds a real flow on her second verse, singing but basically rapping, like she's mimicking something that tumbled out of Future's brain a moment earlier. The song's ostensibly an ode to love gone half-sour, but as the two warble over each other about the 3D movie they're going to make, a real sweetness comes through. The melody borrowed from Ben E. King's "Stand by Me" is a vessel for emotional investment; the words are largely beside the point. Both all in on this goofy premise, Future and Cyrus sound like unchecked teens, making out in the car after a fall Friday night football game. I wish I could have kissed a boy in high school to this; but what pop ballad a decade ago was even close to this weird?—NAOMI ZEICHNER
"Maybe You're Right"
The production loops on this one are really loopy—the rock guitar and simple piano bits start abruptly and do the same thing 16 times then turn off—making the song seen extra-formulaic. It's colored so neatly within the lines of generic pop that it calls attention to the lines. In this context—particularly after hearing it once all the way through, ending on the studio-talk "Let me go to the top one more time," a double-meaning for the recording process and heights of adoration—Miley's singing seems to address both a personal romance and her position as a pop singer: Chapter one, we started happy (Hannah Montana-era Disney bliss), Trying to figure out chapter three (what comes next after wild-and-crazy, early-20s Miley), Maybe you're right, might think I'm crazy/ That I'm lost and foolish (addressing critics of her persona), and so on. That reading kinda works, makes things interesting. The bridge at 1:45 reminds me of Taylor Swift a bit, so I like that too.—DUNCAN COOPER
"Drive"
Back in May, the site Do Androids Dance published a shit-stirring list about "why EDM is crushing hip-hop." It erroneously argued that rappers have incompetent PR firms and DJs have great ones, and that EDM songs rise based on their merit (merit specifically and weirdly defined by bit rates) and that rap songs rise based on DatPiff payola. It also turned a pretty aggressively blind eye to the rap producers who dabble with EDM sounds. Mike WiLL steps outside of his "thunderous" signature all over Bangerz; on "Someone Else" and "Drive," he approaches EDM on his own pop-rap terms, asking Cyrus' "Jolene" twang and jackhammer buzz to serve his complex arrangements, rather than dropping some 808s on top of a dustep drop. "Drive," which I favor, has no grandiose drop, just a stubborn pulse that gives the song its appealing undercurrent of ugly, tighty coiled strength. Mike WiLL's as great an EDM producer as he wants to be, and has a talented, independent rap publicist.—NZ
"Rooting for My Baby"
This reminds me of Justin Bieber acoustic, the opening tones of the guitar and her voice. I strongly identify with the phrase "rooting for my baby," relationship-wise, but honestly this one scrapes the bottom of the barrel of my affections, and sometimes I hear Hold on, in a minute it'll be over and gone like reassurance of the song's finite running time (and maybe even the Bangerz album cycle). But no, I actually really appreciate Miley's interest in making such low-energy, not-brash music—I think it bodes well for the future, setting the seeds to diversify her sound. I guess just because it's so innocuous—they couldn't even figure out an ending, just fading it out—but I find this song the easiest to listen on repeat.—DC
"We Can't Stop"
Mike WiLL and Miley Cyrus made "We Can't Stop" on the first day they recorded together and months later, Cyrus says in her recent MTV doc, she chose it to be her album's first single: "Not everyone came to me and so okay, you've got the first single. I had to say No, I know this is it and I'll go to battle if I have to for whoever doesn't believe in it… And now I kinda have this freedom, this freedom to do whatever I want, because people trust me." She was right about this one. The song's straightforward party is now tied to a sordid universe of visuals; for more context, read our thoughts on its video and VMA performance.—NZ