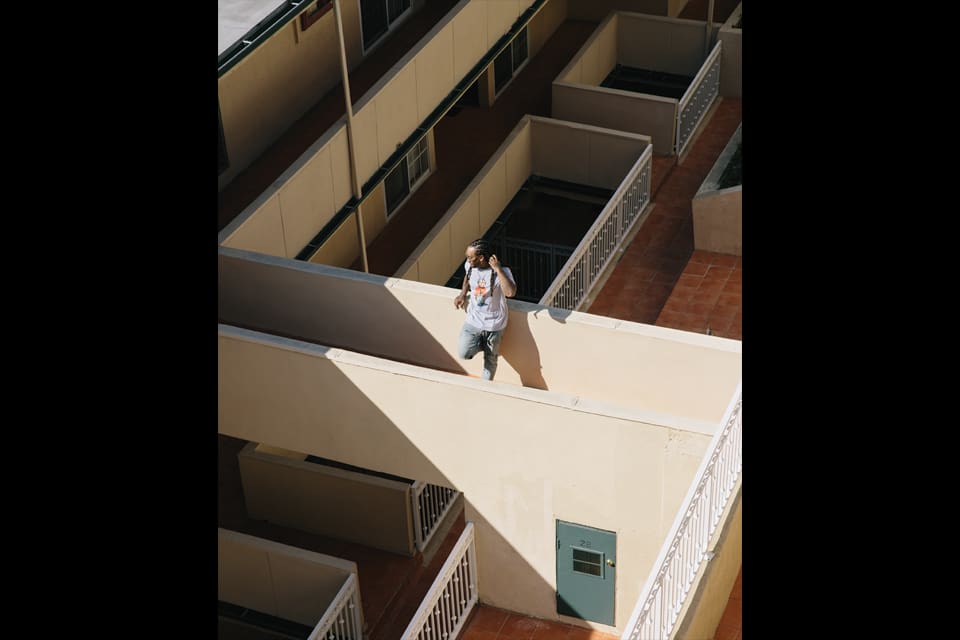 From the magazine: ISSUE 89, December 2013/January 2014
You know you've arrived when the local weed dispensary names a strain after you. It happened to Ty Dolla $ign earlier this year when a Los Angeles cannabis club unveiled its latest hybrid, "Dolla $ign OG." Such is the stature that Tyrone Griffin occupies in his hometown. In the last three years, rarely has an hour of LA radio passed without an appearance from his resin-sticky hooks. Essentially a singer of rap music, Ty has a drug-numb tenor and mesmerizing emerald-green eyes. His neck is tattooed with his stage name and a pair of bright red lips—the Casanova equivalent of a Crip's teardrop.
Ty's lyrics are blush-inducing—on "Float," he opens a verse with She got that wet, Sea World/ And I dive in the pussy like Shamu, girl. For all that gumption, though, his musicianship is sophisticated. His father played keyboards for the '80s funk group Lakeside and post-disco singer Evelyn "Champagne" King, and the younger Griffin, now 28, inherited his virtuosity. "I could make the walls sound like a drum kick," Ty says, reclining in the Hollywood studios of Atlantic Records, with whom he signed in 2012. "I could take that [music] stand over there and turn it into a snare and really EQ it. I do music for real."
Ty Dolla $ign
"Float ft. IAMSU & Terrace Martin"
In the late '00s, Ty polished his studio skills as one half of the future-soul group Ty & Kory. Signed to Buddah Brown, a short-lived, Interscope-affiliated music company, the duo rubbed shoulders with Timbaland and released mixtapes that split the difference between Slum Village and The Weeknd. Eventually, their deal dissolved without a commercial release. Ty continued as a writer and producer, gifting the freaky 2010 radio smash "Toot It and Boot It" to then-fledgling Compton rapper YG.
Since, Ty has staked out his own turf, stepping out as the face of ratchet, the club-to-the-mattress subgenre fusion of LA jerkin, Bay Area hyphy and Southern snap. "People started call-ing hoes 'ratchets,'" he remembers. "Our music was what they would get ratchet to, so they started calling it ratchet music." Ty's spin on the sound is slow, sordid and cauterized by the occasional Skrillex sample. His 2013 tape, Beach House 2, is full of graceful flourishes: dive-bombing violins and chopped samples that evidence Ty's crate-digger's ear. "Ratchet in My Benz," a saga of lust in luxury cars, captures that adventurous vibe, blurring the influence of a South Central childhood and a steady diet of R&B and house music. Ty's fallen-angel vocals and airtight instrumentation might make heads bob, but it's the brazen directness of his music that appeals to our most base tendencies. His main goal seems to be stripping away pretension—to write songs that communicate with carnal sincerity. "I'd been recording at the most expensive studios with some of the biggest names in music, but I learned that it's about more than just writing songs and being tighter than everyone else," Ty says. "Things only started to pop off after I really went out in the hood. You really have to fuck with the people." In the city that perfected how to make sex sell, Ty is the ratchet pied piper, poised to bring the noir and nasty side of soul to the entire country. "It's just really human music," Ty says. "Maybe you just want to get drunk, smoke some weed and tell a bitch how you feel straight up. You're not lying. You're saying, this is what I want to do, tell me what you want to do."