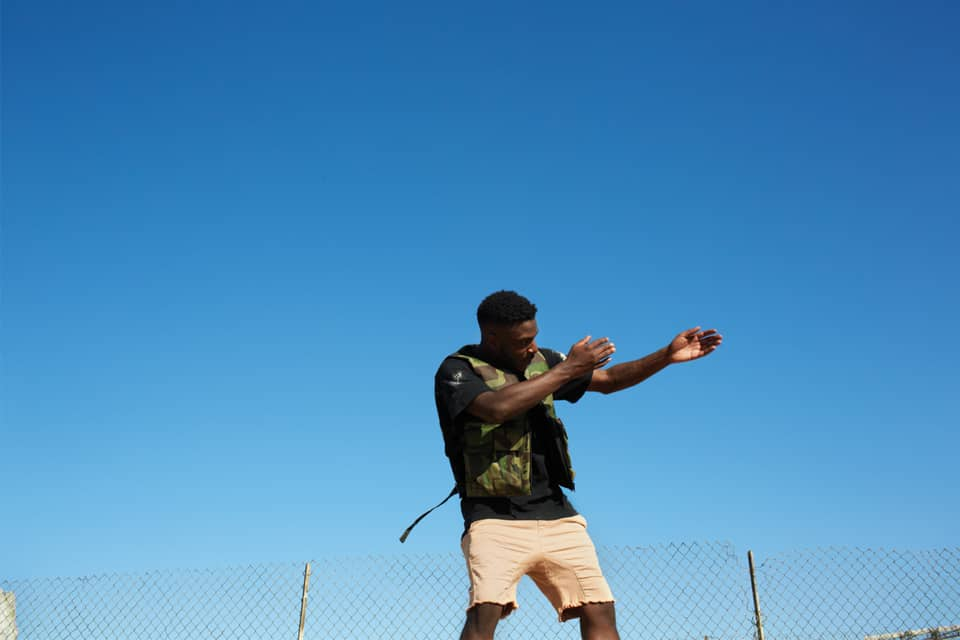 GEN F: Isaiah Rashad
"The place I wanted to go to, it don't exist on a map."
From the magazine: ISSUE 89, December 2013/January 2014
It's late on a Wednesday in Carson, California, and Isaiah Rashad's friends are on a Black & Mild run. The studio has almost gone quiet. "Childcare shit, DirecTV, one of those microfilm departments where they keep court records and shit…" Rashad is reading his resume. "Oh, and Hardee's. I worked at Hardee's up until last October." On that last note, he gets almost sentimental, in a way that only someone who no longer works at Hardee's can. In March, Rashad got a new job, one that suits him better. "My mom wanted a diploma and I didn't give it to her," he says, laughing. "I brought her home an advance check instead."
Born Isaiah Rashad McClain in Chattanooga, Tennessee, at 22 he's the newest signee to Top Dawg Entertainment, the Los Angeles-based record label that also functions as a sort of boot camp for promising young rappers. Many musicians will tell you they live in the studio, but since signing in March, Rashad actually has. When he got to LA, he moved into TDE's converted house/studio, a space that once housed Kendrick Lamar and the rest of Black Hippy. Along with New Jersey's SZA, Rashad is part of the label's second generation, a cautious widening of the roster enabled by Lamar's enormous success. Rashad's signing became public with the September release of "Shot You Down," its video set in the yard of a Chattanooga housing project, much like the one he grew up in.
Isaiah Rashad
"Shot You Down (Remix) ft. Jay Rock and Schoolboy Q"
"People want to know that 'started from the bottom' type of shit," he says. "I didn't know I was at the bottom. I didn't know I lived in the projects until I got out." Rashad was raised primarily by his mother, a hairdresser whose go-to disciplinary measure was to have him copy pages out of the dictionary. His father was less stern and would let his son, then in elementary school, stay up late with him while he listened to Too $hort and Scarface. "And then one day he just left," Rashad says. Rashad briefly dreamed of becoming a preacher, until his stepbrother lent him a copy of ATLiens in junior high, and his ambitions shifted. He started smoking weed, recording raps and spending much of his time in his own world. "The place I wanted to go to, it don't exist on a map," he says.
Today, Rashad makes the kind of spaced-out country rap that his dad could have enjoyed, with a sheer joy in language that his mother can admire as well. This double accomplishment, an almost paradoxical appeal to both technique and pure presence, has been a major part of the TDE project all along. As the label's first artist from the South, Rashad draws on a legacy of dispossessed, deeply felt moral urgency, with pained echoes of early David Banner and T.I. on songs like early 2013's "Hurt Cobaine": Wanna pull us over so they can search us/ Camera, yes sir, I purchased/ I live right up the street, I'm black, i.e., I'm worthless. After the release of "Shot You Down," a propulsive statement of purpose that undercuts its own hyper-confident hook with an aura of self-doubt and desperation, Kendrick Lamar offered the rapper a subtle endorsement on Twitter, posting the link and writing, "Raw Talent."
Rashad calls himself "raw" as well, but in the more self-effacing sense of the word, acknowledging that he's still learning. "It's like I'm in school," he says of his recent time in Carson. "It's up to me whether I pass or fail." Either way, it's a step up from his former situation. "Chattanooga," he explains, "is being satisfied with the bare minimum, cause that's all you know. All my friends sell drugs. The only thing I'm interested in is music. I just like noise, you know what I'm saying? Comfortable noise."
From The Collection:
GEN F