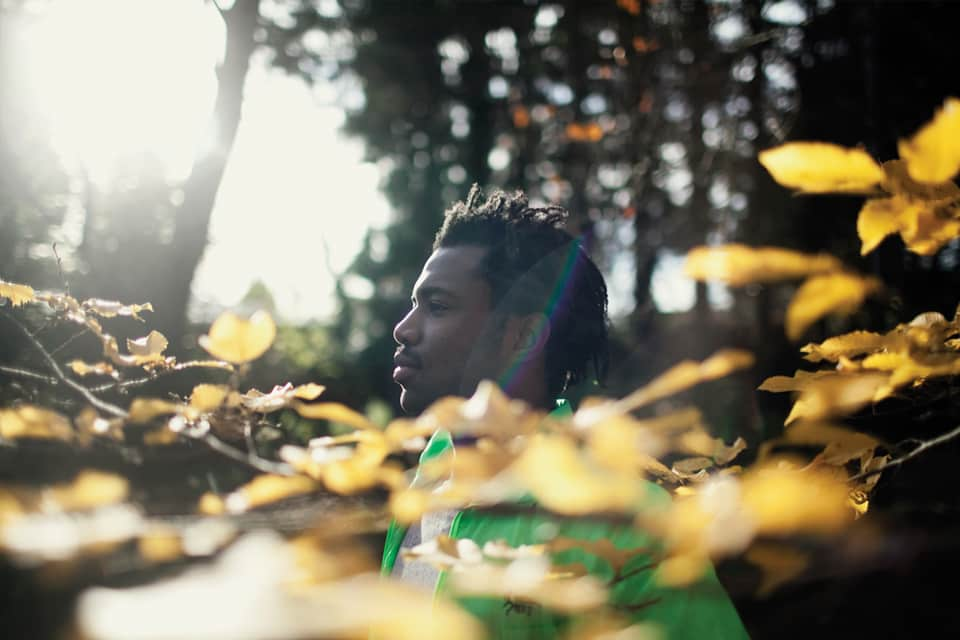 GEN F: Sampha
From the magazine: Sing softly and craft some big hits. Sampha talks Drake collabs and his solo career as it takes off.
From the magazine: ISSUE 90, Feb/March 2014
There's only one way to hear to Sampha Sisay speak, and that's to listen very, very carefully. In conversation, the singer/songwriter/producer talks in hushed, measured sentences, seemingly not out of caution, but thoughtfulness. "I was always the introvert in an extroverted crew," he says over the phone from London. "Music is my way to express things that I have buried." Take his plaintive piano ballad "Happens," for example, on the impermanence of the people we love: An echo of our time stands before us/ Her eyes ears and her mouth, she looks just like you, my dear/ No I don't want to lose you now. Combined with his delicate melodic crafting, Sampha's propensity for the unsaid and unexposed makes for songs that feel universal enough to straddle the avant-garde and mainstream, making him a coveted collaborator for progressive pop musicians.
Raised in South London and now 24, Sampha is the youngest of five brothers in a family of musical enthusiasts. His father bought him an old piano at the age of four, and Sampha began writing songs. He started producing as a teenager, walking to his brother's nearby flat and messing with mostly grime beats in his bedroom. "My brothers shaped my musical upbringing," Sampha recalls. "Each one is sort of an influence, and their musical taste trickled down: the Strokes, Air, Zero 7. It gave me open ears." Sampha began adding vocals to his productions and releasing them under his first name; with the aid of Myspace, he linked up with compatible musicians, though working with others proved no easier for him than going it alone. "I find writing the hardest part, whether it's for me or for someone else—coming up with the definite miracle idea that I'm comfortable with. A lot of times I just use my voice as a musical instrument. It's sort of my distinct, unique feature to finish off a song."
His dusky croon was featured on SBTRKT's 2011 self-titled debut, attracting ears and more co-conspirators, including Jessie Ware and, most notably, Drake. Last year, the rapper flew Sampha to Toronto for a series of overnight Nothing Was the Same sessions that resulted in "The Motion," which Sampha co-produced, and the aching album highlight, "Too Much." The latter prominently samples a Sampha demo as the hook, lending the song a steady undercurrent of tenderness. Don't think about it too much, too much, too much, he sings, impassioned and pleading. His falsetto teeters between affection and anguish, remaining candied even at its starkest.
Shortly after partnering with Drake, Sampha released his first solo EP, Dual, a quiet, albeit befitting, exercise in restraint. Over plucks of piano and featherweight harmonies, tracks like "Indecision" and "Without" ruminate on love's complexities, while "Can't Get Close" addresses his late father, who passed away when Sampha was nine. Clocking in at only 17 minutes, it's a brief but intimate glimpse at Sampha the songwriter. Since its release, though, he seems to have put solo initiatives on hold to satisfy increasing demand for his songwriting and production, recently spending a week in Ghana working with Solange. Sampha's rise has been slow, with a potential fork approaching: on one side, solo artistry, and the other, a career as a go-to collaborator. But there's always been two sides to Sampha's music—simple yet opulent, up-close and resonant—and that should keep him from getting boxed in. In any case, he feels flexible: "What I love about music is you can create who you are," he says. "I could change it every day."