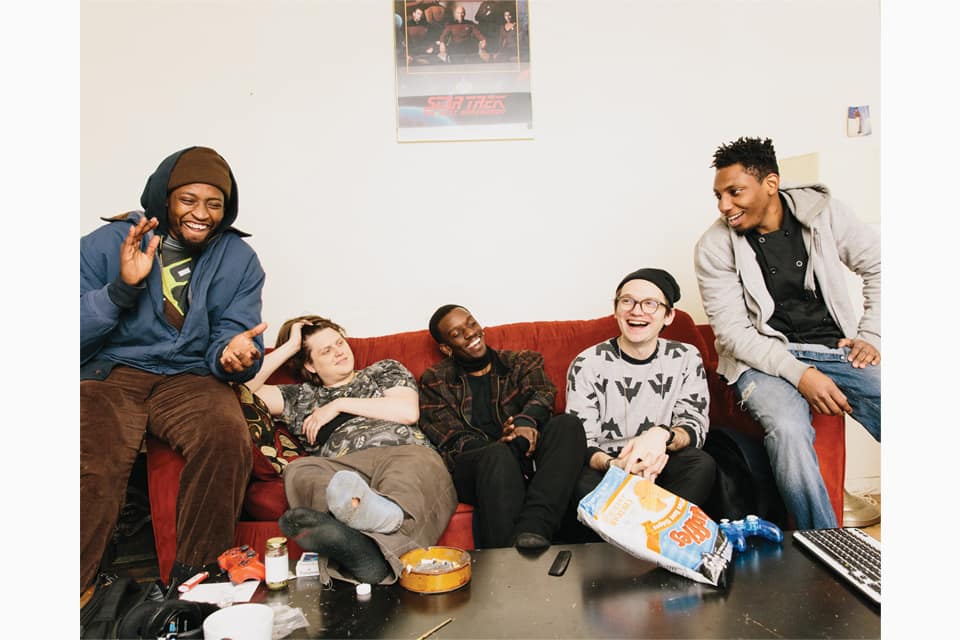 GEN F: JODY
Meet Chicago's weirdest boy band.
From the magazine: ISSUE 90, Feb/March 2014
Outré R&B quintet JODY has drawn quick comparisons to Jodeci, but Khallee Standberry-Lois, one of the Chicago group's three vocalists, says they are more of a TLC. "I'm the T-Boz. And Dave [Robertson] is definitely Left Eye—there's no question," he says. The group is sitting together in a smoke-filled Southside apartment. Standberry-Lois looks at third singer James King, sandwiched down at the far end of the couch, and says nothing. King screeches with laughter, defiant—"I AM NOT CHILLI!"—and Robertson cracks on King's one-shoulder-off overalls. "He got the Left Eye look today—I'll give him that."
Until JODY formed, its members were all independent acts, singing, rapping and producing at the intersectional fringes of Chicago's hip-hop/footwork/electronic underground. Producers Jeremiah Meece and Brandon Higginbotham, at whose place we've convened for the day, had been making treacly, '90s R&B bump cuts that were paces away from the icy electronics of their primary project, The-Drum. They decided to form a Keith Sweat/Jodeci style "boy band," and roped in Robertson, who in turn recruited Standberry-Lois, then punting a cappellas on the far Southside. King came into the fold independently, after he'd approached The-Drum to produce songs for his solo project, The GTW. Smooth, Imma-do-you R&B was what they'd all come up on, and the chemistry between the five musicians was immediate. Early singles, like the crooning, finger-snapping, MIDI-driven "Floodin,'" worked listeners' nostalgia, but tracks from their forthcoming album, due out this year, play with discordance, pitch-shifting and processing tender vocal harmonies to their fragile edges. Asked to describe the collaboration, Standberry-Lewis jokes that "JODY is kind of the nucleus, and The-Drum is the mitochondria."
Jody
"The Long Goodbye (Prod. The-Drum)"
Early JODY sessions were informal—drinking and freestyle crooning over tracks at the producers' home studio. Robertson shorthands their vocal dynamics thusly: "James will be hitting the crazy-ass notes, Khallee will be the crazy-ass riffs, and I'll just talk my shit—and splish-splash." Meece says they knew they had something special from their first tracks, but they held back, tinkering, perfecting and mulling for six months before releasing the synthetic-sensual "Echos" in early 2013. "Stuff has to be good to us for months," says Higginbotham. JODY is aware their perfectionism has slowed their roll—including the decision to table a full JODY album they had planned to drop last summer—but they take the long view. "That's one of the fallacies of SoundCloud producers: people don't think at all before they put that stuff out," explains Meece.
JODY followed "Echos" with the sexy woo of "Floodin'" (which cribs Missy's Ann Peebles reference for max, meta-funking effect) and a hook-cameo on Kit's "My Bad Bitch," a minimalist hip-hop anthem slowed to a glacial pace and set in blunted deep space; the song dominated Chicago's party scene all summer long. With the release of The-Drum's sophomore album, Contact, in July 2013, and alongside similar-minded Chicago acts like Sich Mang and Supreme Cuts, Meece and Higginbotham were opening a new chapter in the city's electronic scene, based in a deconstruction and combination of wholly local musical languages, like footwork, drill and house. With JODY, the boom became even vaster; the woozy, heady production acquired a dubby, amniotic drift. Says Robertson, "Ain't nobody making some crazy shit like this. That's a driving force in us making music. Just being on some other shit." Upon further reflection, he allows that they've got some other, perhaps less artistically pure motivations: "JODY is just an excuse for Khalee to take his shirt off." Standberry-Lois cackles and cops, "Every day is a new opportunity."