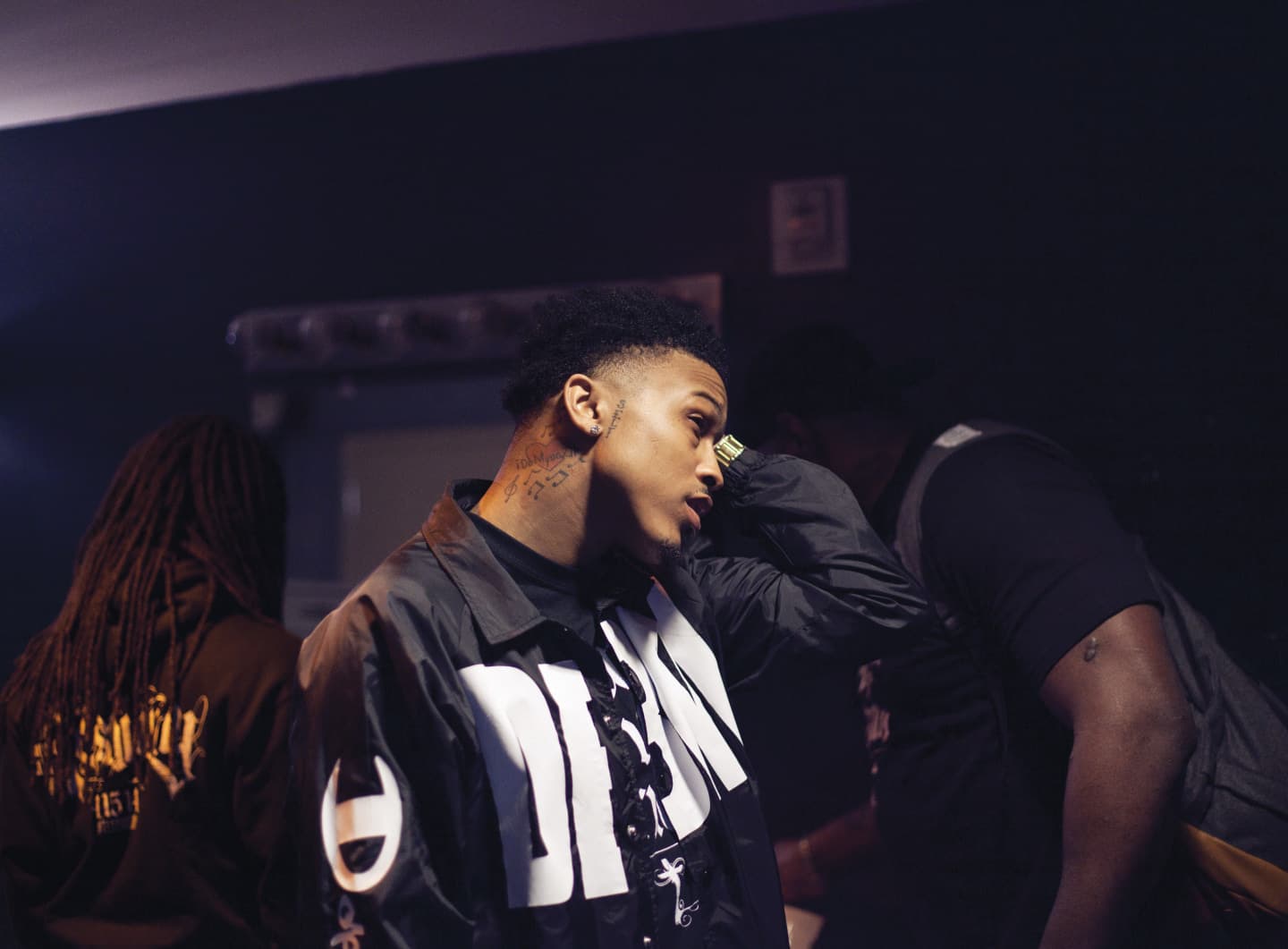 GEN F: August Alsina
Talking growing pains with the New Orleans R&B artist.
From the magazine: ISSUE 91, April/May 2014
A tattoo runs along each side of August Alsina's face where his sideburns would be, spelling out the words "SELF MADE." It's an affirmation that keeps the 21-year-old singer tethered to the rough New Orleans upbringing he says he doesn't want to ever forget. "It ain't all bad, but it ain't all good. It's just fast," he says of life in the 7th, 8th and 9th Wards. Over the phone, he speaks openly of a troubled relationship between his mother and addict stepfather, the fallout of which left him homeless for brief bursts of time. But it was the murder of his older brother, Melvin, that cut Alsina the deepest. "I was getting into the same shit, and it could have been me. It would have been me," he says. "People like me don't expect to live past 24."
On a day off from his first major tour, supporting 2 Chainz and Pusha T, Alsina is keenly aware that he, unlike so many of his friends, made it out. "I'm growing every day and getting to another level, but there's a lot of motherfuckers out there that's still living that life and still struggling," he says. "My niggas is still in the trenches." Thanks to YouTube, there's evidence of his growth: in one grainy clip, a teenaged Alsina, eyes closed, wearing a black durag and oversized white tee, sings a Lyfe Jennings cover with conviction, even when he's not quite hitting the right notes. But it was only after his brother was killed that Alsina began to focus squarely on his own brand of dramatic street R&B, not to mention a more polished delivery. At 18, he moved to Atlanta, where he crashed with a friend for months before convincing his manager he was worth the investment in studio time. Eventually, on the strength of two solid mixtapes, he began earning interest from labels like Young Money and Def Jam, the latter with whom he ended up signing.
Alongside The Exclusives, a writing and production duo he's worked with "since day one," Alsina crafts urgent, glittering anthems drawn directly from his life. The novella-like "Downtown," off last year's Downtown: Life Under the Gun EP, chronicles his brother's murder through resonant, pained vocals that build over a creeping, trap-inspired beat. But it's the track's unexpected resignation—People dying every day/ That ain't nothing new when you from downtown—that has become a running thread in Alsina's music. Working within R&B, a genre more commonly associated with the highs and lows of romance, Alsina deals in a different kind of heartbreak, one that soundtracks the realities of lives waiting to end prematurely in prison or murder.
To those ends, Alsina often relies on tried-and-true motifs of drugs, women and the fast life, which, oddly enough, sets him apart from another recently dominant strain of his genre, the gentrified R&B that, he laments, has prioritized "weird-ass niggas who wear Jesus sandals and sit in trees." Unlike that left-field take on tradition, Alsina's approach is a well-executed reclamation of the sorts of hard knocks that, lest we forget, were once a mainstay of hip-hop radio. He's found his lane in something that should sound derivative and trite but, thanks to his unflinching earnestness, doesn't.
From The Collection:
GEN F