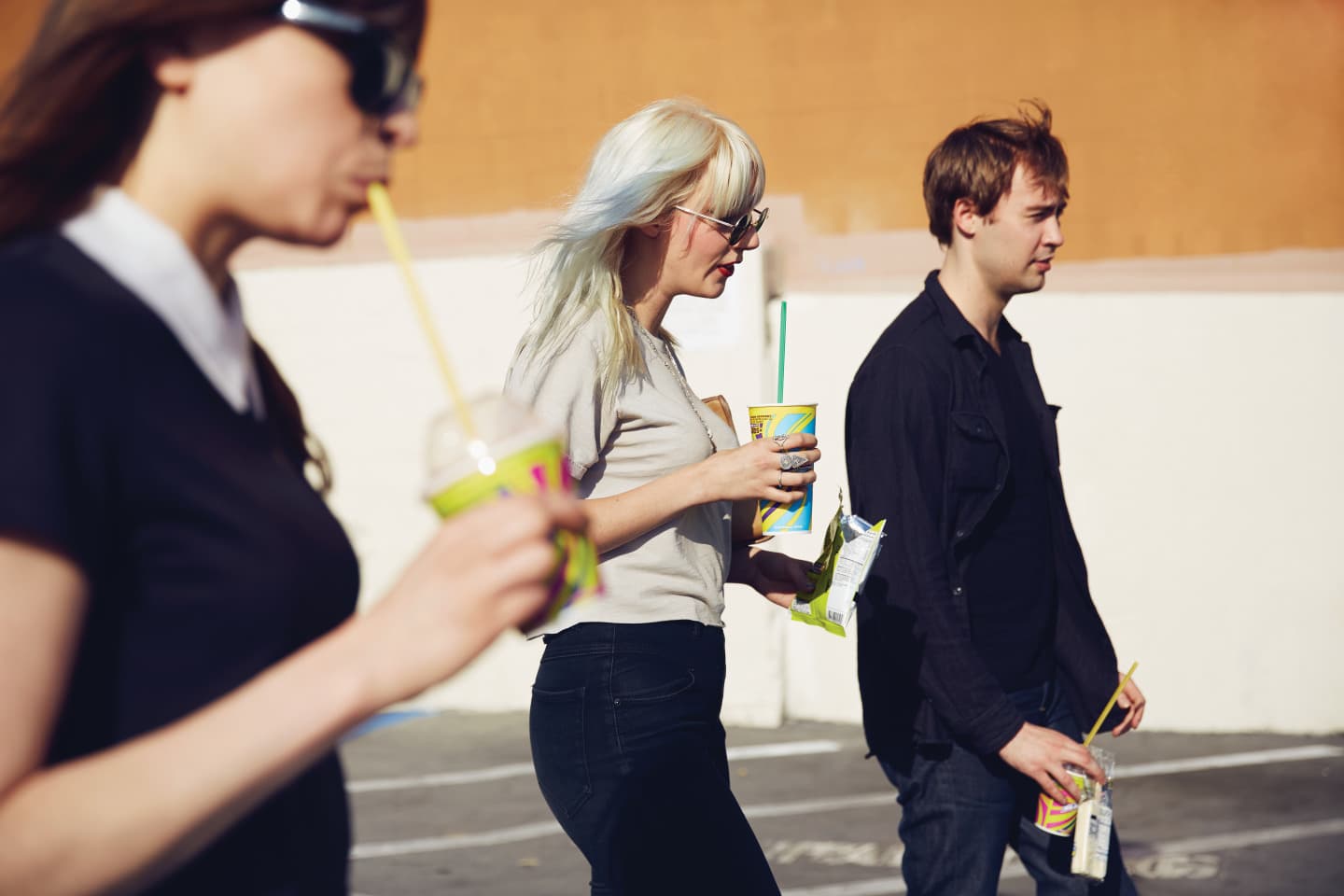 GEN F: Vancouver Punks White Lung Slim Down and Sound Bigger
On their new full-length, the Vancouver-bred band make punk that's as brainy as it is emotionally raw.
From the magazine: ISSUE 92, June/July 2014
The best breakups force you to make yourself better. White Lung parted ways with bassist Grady McIntosh last year, turning the Vancouver hardcore punk band into a three-piece, but slimming down only made them more ferocious. Now comprised of singer Mish Way, drummer Anne-Marie Vassillou and guitarist Kenny William, they unanimously agree that White Lung is currently at its strongest. Judging by their new LP, they're right.
Deep Fantasy is loud, large and aggressive, but more advanced than White Lung's first two albums. While White Lung and Sorry demonstrate their succinct songcraft, Deep Fantasy delivers on the band's long-implicit promise of punk as brainy as it is emotionally raw. Standout track "I Believe You," for instance, sees William's guitar playing skewing toward razor-wire noodling reminiscent of a post-hardcore act like Unwound. "Snake Jaw" showcases the band's new technique of harmonizing bass lines against Way's vocals, doubling her already-intense emotion. Fittingly, White Lung considers its closest peers to be bands performing radical reconstructive surgery on punk: Merchandise, Destruction Unit, Milk Music, Perfect Pussy.
Part of their newfound focus stems from Way's move to Los Angeles last December. The band couldn't write using the collective, jam-based process that guided their first albums, but, according to Vassillou, separating members made the writing process "a million times easier." By sending demos back and forth, everyone could hone in on their contribution, leading to music that's more "refined, thought about, cared for," as Way puts it. With punk, refinement is usually counteractive to energy, but perhaps White Lung has transcended its status as a punk band.
The press has a tendency to talk about White Lung as inheritors of the '90s Riot Grrrl movement, which Way attributes to her being "a woman playing loud music and talking about the female condition." She sings about her body dysmorphia on "Snake Jaw" and the politics of broken relationships on "Lucky One"; as women, says Way, "we're all struggling with that shit." But Riot Grrrl, she adds, came from a different place. "It was a politically rooted movement. We started our band because we wanted to play music." Still, Way knows that her position as a visible female making righteous music can be exciting, and empowering, for young listeners. "When you're a young woman, you're totally confused about who you are and what you're supposed to be," she says. Way admits that she found Riot Grrrl supportive when grappling with such questions. Even if White Lung doesn't claim to be a political band, she hopes they can extend the same hand to a new generation.
In January, White Lung was flown out to Brooklyn to play the final show at 285 Kent, the defunct Brooklyn DIY staple, alongside DIIV and Fucked Up. I recall an enraptured audience, the band's fire a perfect fit for the night's funerary ruckus. Vassillou's kick drum pedal kept sliding, and the gear provided by the venue broke throughout their set. Afterward, they blew off steam by partying in the five-foot gap between the stage and the venue's rear wall. Since chaos is part of their appeal, you'd never guess that White Lung was delivering what Way considers one of the worst sets of its career. You have to wonder what a show's like when White Lung is on its A-game.
From The Collection:
GEN F