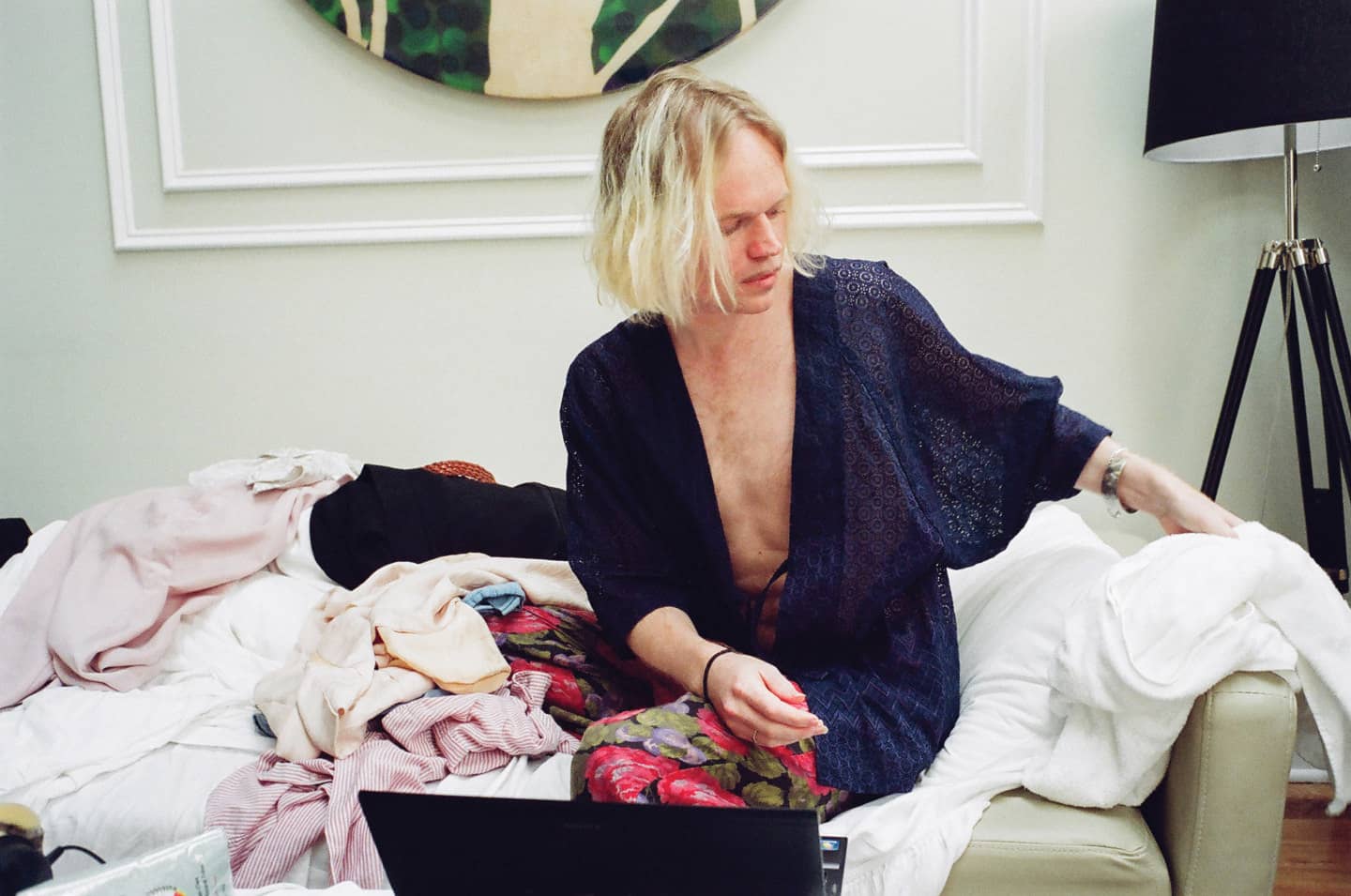 Best Dressed: Style Tips from Weirdo Heartthrob Connan Mockasin
Connan Mockasin gives us some unexpected pointers on how to pack for the road.
Ever since he showed up to play The FADER FORT Presented by Converse in Austin, Texas this year wearing a white kimono and oversized straw hat, we've been noticing New Zealand's Connan Mockasin rocking looks that are as beguilingly strange as his sexual healing-driven psych-pop. He's the rare, self-styled ladies' man who almost exclusively wears women's clothes ("They fit me better," he says), with a wardrobe largely comprised of borrowed, thrifted and discount store items. We got together with the recent Brooklyn transplant to find out what he'll be throwing in his suitcase when he goes on tour this summer, and how to look cool without spending, or thinking, too much.
Pick a color
Playing shows, I like to have only a few things to choose from. All white with maybe a salmon color. Or maybe the equivalent of that in black. I have to pick from two things so I don't have too many options. Otherwise, I'd get a bit stressed before playing.
Try layers
Sometimes the more, the cooler. Layers get me going in the summer because the air that gets trapped between the layers cools you down. Kimonos are really light and soft, so they are nice to wear all year round. My favorite pieces of clothing are a Japanese white silk kimono jacket I bought while I was making Caramel in Tokyo and a black jacket that was given to me a couple of years ago by a beautiful Japanese princess.
Get a good hat
The straw hat that I've been wearing is not my hat; it's [Haunted Graffiti member] Tim Koh's hat, which I've been carrying around with me for a few months now. I've been wearing it mostly because I want to give it back to him next time I see him, and I like how it keeps the sun off my face. It's a good sun hat. He just left it with me. He seemed a bit disappointed that it was a bit crinkled. He cares about it.
Choose your fabrics wisely
I have a love/hate relationship with synthetics; they look so good but they are dangerous. All the synthetic stuff gets sticky after shows. I have to chuck it in the hotel sink each night. I don't like the summer very much. I can't handle the heat. I grew up in one of the hottest places in New Zealand, but I avoid the heat when I can.
Borrow stuff
I don't really shop very often. I'd buy something if it got me going but I don't appreciate most clothing labels manufacturing nasty, slave labor-made clothes for very cheap and selling them to fashion followers for a lot of money. That doesn't get me going. Most of the things I wear are [my manager and band mate] Sofia's. One of my favorite pieces is a leather jacket that I got from Sofia's mum. I wore it in the video for "Do I Make You Feel Shy?" with this button-up shirt I got in Japan when I was meeting the princess' parents and needed something respectable to wear.
When in doubt, just make your own clothes
I used to make moccasin shoes, and that's where I got my name. My dad's mother used to weave wool and make crochet slippers—sort of outdoor slippers for us when we were young, and for the adults as well. I really liked them, and I just started wanting to make my own shoes. I used the tire from a four-wheeler motorbike for the sole, with a thick leather rooted to the base of it. Then I'd sew sheepskin and have that going to the heel as well. I've got a pair in England, and the rest are in New Zealand.