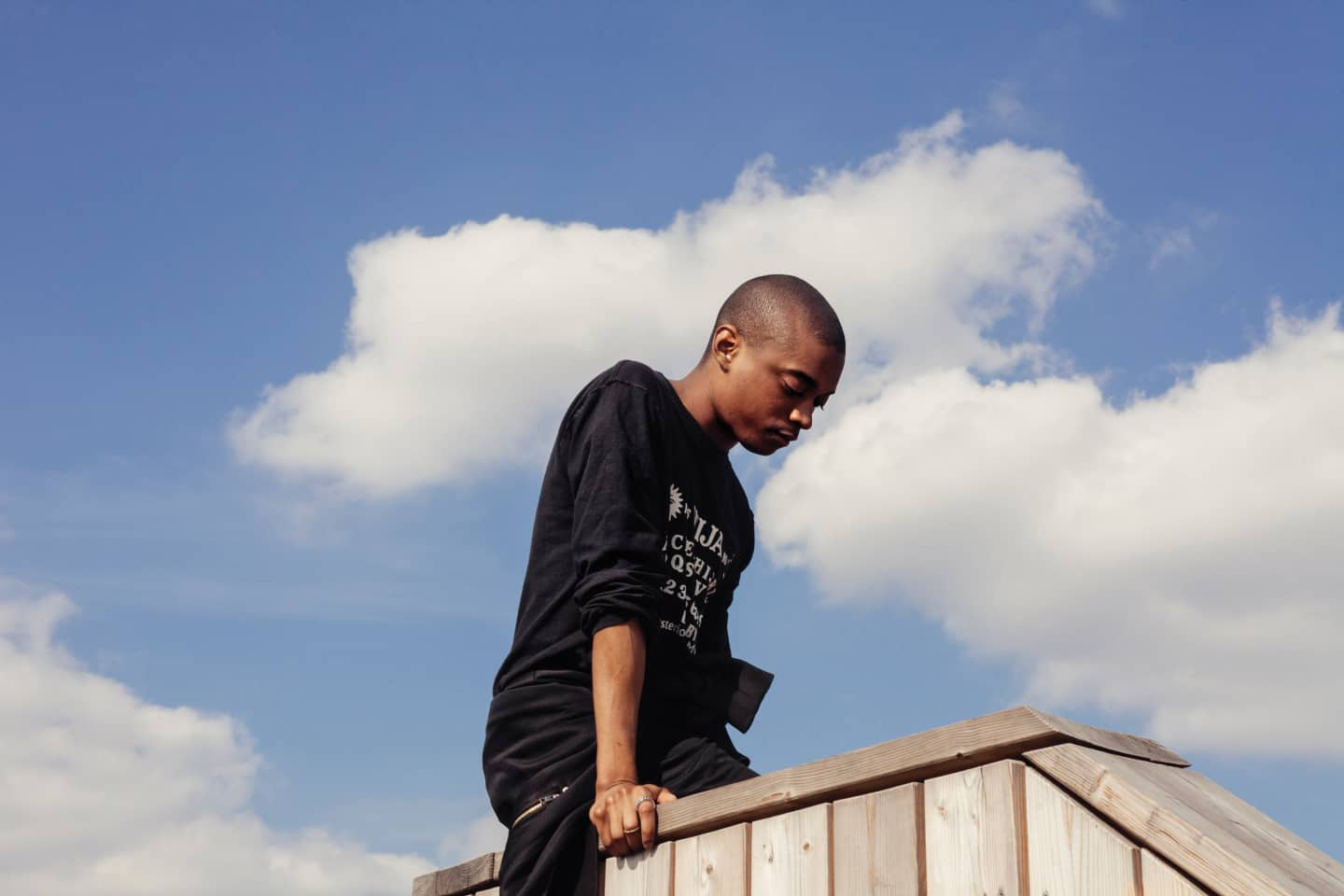 GEN F: Lotic Makes Club Music as Thrilling as Slasher Porn
The Berlin-based producer and recent Fade To Mind signing on making club music with every emotion.
From the magazine: ISSUE 92, June/July 2014
Berlin-based producer Lotic manipulates his music like a movie director does a thriller. On his 2014 mix for Janus, everything starts out smooth until he layers synths like swarming bees on top of a trap beat, pops a note that sounds like a faraway, dying scream and hollows Beyoncé's voice out over clamoring applause so that she bellows like the devil incinerating the damned. As with rollercoasters and slasher porn, there's a particular joy that comes from feeling unnerved at the same time you're being entertained, and Lotic, born J'Kerian Morgan, understands that more than most. With his music, the dance floor can be a space for as wide a range of feelings as the human experience allows. "I want to use club music to play with people's emotions," he says. "I want to make people mad, I want to get people horny. Sex can be scary. You can be horny and pissed off at the same time. It just means you're going to go home with someone and take it out on them."
Lotic
"Damsel in Distress Janus Mix"
Morgan wanted to be a DJ after discovering genre-blurrers like Venus X, Total Freedom and, especially, the pioneering Fade to Mind impresario Kingdom, who, with his signature mix of hard and soft, pop and underground, is some-thing of a forefather to much of this era's disruptive, difficult electronic music. Morgan saw Kingdom DJ in 2009 while still a student at the University of Texas, and it opened his eyes to the thought-provoking possibilities of club music. "I had always struggled with how to be accessible, but interesting," he says. "I was tired of seeing straight white men trying to have some sort of black swagger and playing really basic Mad Decent music. And then I heard Kingdom." Morgan moved to Berlin after marrying his college boyfriend, Mark, who had been offered a job in the city by the German-based music software company Ableton. While his husband leans more toward classic Berlin techno night-life, Morgan found himself stifled by the city's tradition of hard techno and has gravitated to a scene of expat DJs, including M.E.S.H. and Physical Therapy, who orbit around the weirdo dance party he co-hosts, Janus. "Berlin had been so techno-centric for so long," he says. "We didn't necessarily set out to be the alternative to that, but people were so sick of hearing straight techno everywhere."
More than techno, though, Lotic is affronted by the teems of EDM DJs who have turned electronic music into the soundtrack for privileged, expensive euphoria and YOLOing your life away at Las Vegas casinos. He feels a personal responsibility to make things dirtier, queerer, blacker, weirder, rawer—something he'll be doing on Fade to Mind, as their latest signing—and if there's a bleakness to some of his music, it's the sound of someone trying to express the harder facts about life. "A lot of what I do comes from a place of frustration," he says. "If people of color and queer people create club music from an emotional, necessary place, then why are there so many random white dudes making a lot of money off of it? The notion that music can be apolitical is in and of itself privileged." Morgan ultimately makes music for those who see the dance floor as a place not just to dance, but to live a whole life: meet a husband, feel depressed, have sex, get your heart broken. "I've never been afraid to show every emotion," he says. "I want my music to have it all."
From The Collection:
GEN F