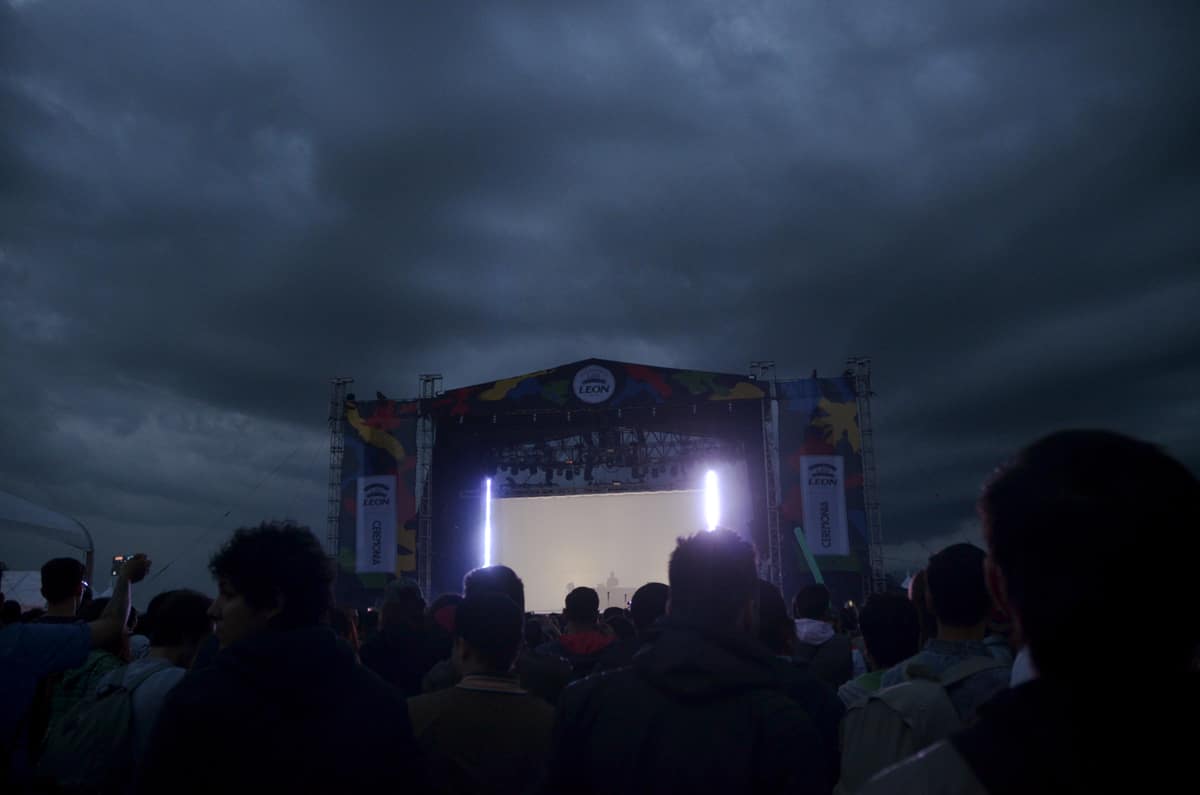 Live: Four Mexican Acts You Should Know
Staff writer Patrick D. McDermott discovers homegrown talent at Mexico's Ceremonia Festival.
The night before Ceremonia—the first night I'd ever spent in Mexico—I drank a really big gin and tonic. I was at a bar called Salinger in the La Condesa neighborhood of Mexico City talking to Lalo Rojas, the 24-year-old dude in charge of press and media for the two-year-old festival. He clued me in on the current state of his home country's thriving music scene, which is presently dominated by electronic sounds. "In Mexico, touring is a big problem if you're a band," Lalo tells me. "Covering the expenses of five people is really, really hard. I think that's why a lot of producers are coming out. I think there was this need to make this certain kind of music." He went on to talk about how, sadly, some of Mexico's largest and most popular music festivals don't book homegrown acts, before assuring me that even though a lot of the big slots on Ceremonia's lineup were filled by international artists (Julian Casablancas, A$AP Ferg, Theophilus London) there were still plenty of unmissable Mexican acts rounding out the bill. I finished my gin drink and tried to say something in broken Spanish. Lalo laughed.
The next afternoon, when I arrived at the festival grounds in Toluca—a mountain city one hour southwest of the capital—I decided I would try and see as many of those Mexican artists as I could. There was, of course, other moments from the day that stick out: my sneakers slowly sinking into mud while Flying Lotus played new music, his silhouette bobbing behind fluid, hypnotic projections; Jacques Greene making a couple thousand people swoon when he dropped "Another Girl" just as it started raining; Tyler, The Creator's raspy howling—Mexico! Mexico! Mexico!—as he bounded across the festival's biggest stage. But more often than not, it was the Mexican artists on the lineup that made me feel something. Below, meet the four that stood out most.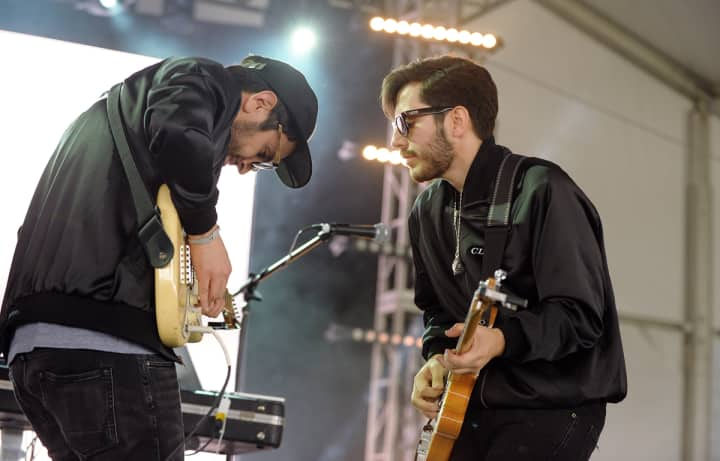 The thing I liked the most about Monterrey duo Clubz was how tricky it was for me to pinpoint their sound. During their early-afternoon set at the festival, I sipped on a sugar-free Red Bull and huddled close to the barrier between the stage, carefully avoiding a lake-sized puddle that had formed behind me. Before they started, there was hardly anyone watching. But by the time they finished their first song—an engaging union of warm guitars, loud drum machine snaps, and after-hours production—the crowd had filled in significantly. Towards the end of the set (I think it was during a song called "Celebrando") some kids finally stumbled into that big puddle, kicking up water and singing every word.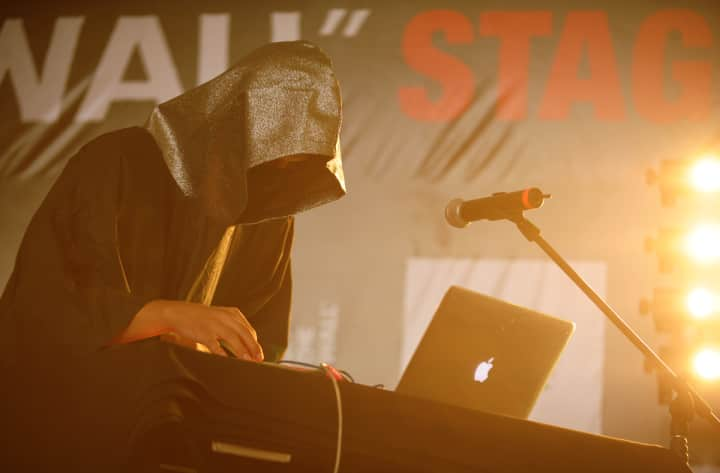 When Monterrey-born, Mexico City-based producer David Oranday plays live as Teen Flirt, he wears a black gown with a sparkly hood and the lower half his face is obscured. He looks like a gothic altar boy. At Ceremonia, on the festival's red stage—which is smaller and exclusively reserved for Latin electronic artists—he was joined by a drummer, who played a mix of organic beats and pre-programmed percussive loops. Meanwhile, Oranday triggered choppy, romantic bass music with tender, almost wounded-sounding samples of artists like Future and Mexican pop vocalist Denise Gutiérrez. "I have always listened to R&B," Oranday told me an hour before his set while sitting on the hood of a car on the outskirts of the festival grounds. "We used to steal dish, and Sky TV and listen to early fucking MTV jams." I asked if his Teen Flirt alias had something to do with nostalgia for being young. "It's more about you being a teen, when you don't have those walls that tell you 'this is shit' or 'this is good'—you listen to everything," he said. "It's giving honor to that feeling."
You might already know Erick Rincon. As one of the founding members of 3ball MTY—a trio of Mexican DJs that make Latin-influenced techno—he's garnered international attention (including a Staff Selects playlist on this site) for his intuitive re-appropriation of traditional Hispanic sounds. At Ceremonia, he DJ-ed a rare solo set of propulsive house music that, of course, borrowed percussive elements from his ancestors. I'm pretty sure he's still a teenager. A kid standing up front held a wrinkled photograph of Mexican singer-songwriter Juan Gabriel over his head, a harmless jab at Rincon's fondness for taking his parents and grandparents' music and making it his own. Earlier in the day, I learned how to say "Porque chicado no?" which, I was told, is a very Mexican way of saying "Why the fuck not?" I thought of that phrase during Rincon's set just before I stopped talking notes. I took a big gulp of watered-down whiskey and started dancing.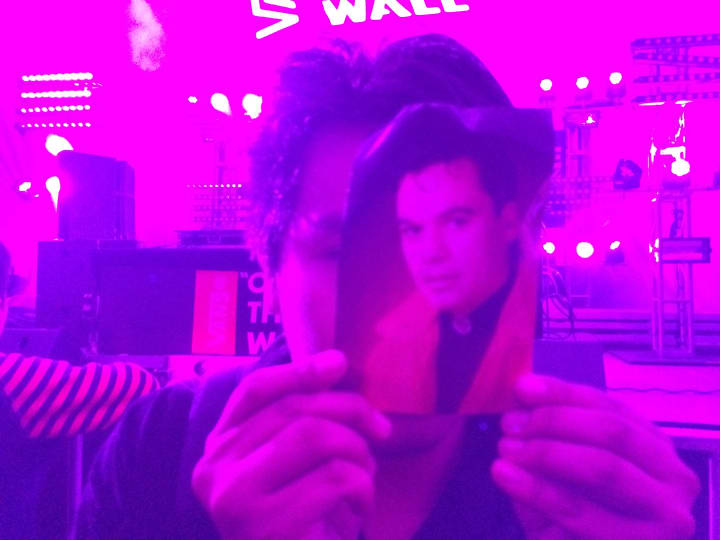 Mi Banda el Mexicano
"No Bailes De Caballito (Erick Rincon Remix )"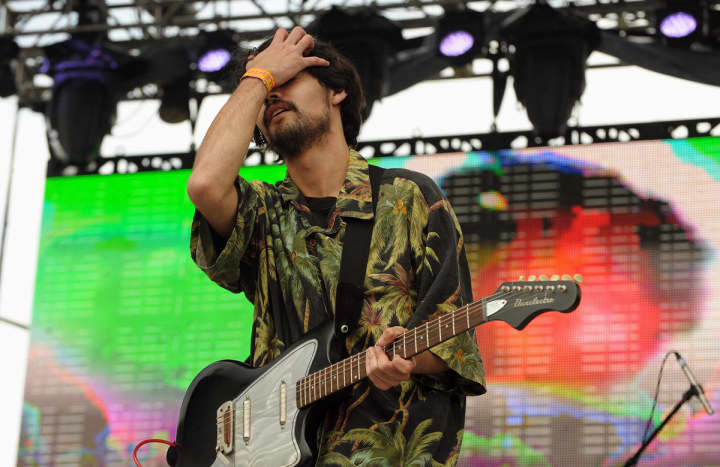 It can be a bit cringe-worthy when bands cover songs written by their most obvious influences. So when one of the guitarists in Mexico City five-piece Hawaiian Gremlins started playing the indelible opening lick from Joy Division/New Order's "Ceremony," part of me felt like rolling my eyes—but I couldn't. Maybe it was because the sun was shining very brightly even though my iPhone said it should have been raining by then, or maybe because the teenage girl next to me started screaming and jumping up and down wildly. Or, most likely, it was because the song's not-so-subtle nod to the festival itself felt just the right amount of celebratory, like the gloom-pop purists were so happy to be on a stage that big that they just had to play a song that everyone knew the words to. The air smelt like marijuana. I started singing along.
Hawaiian Gremlins
"Give It Up"