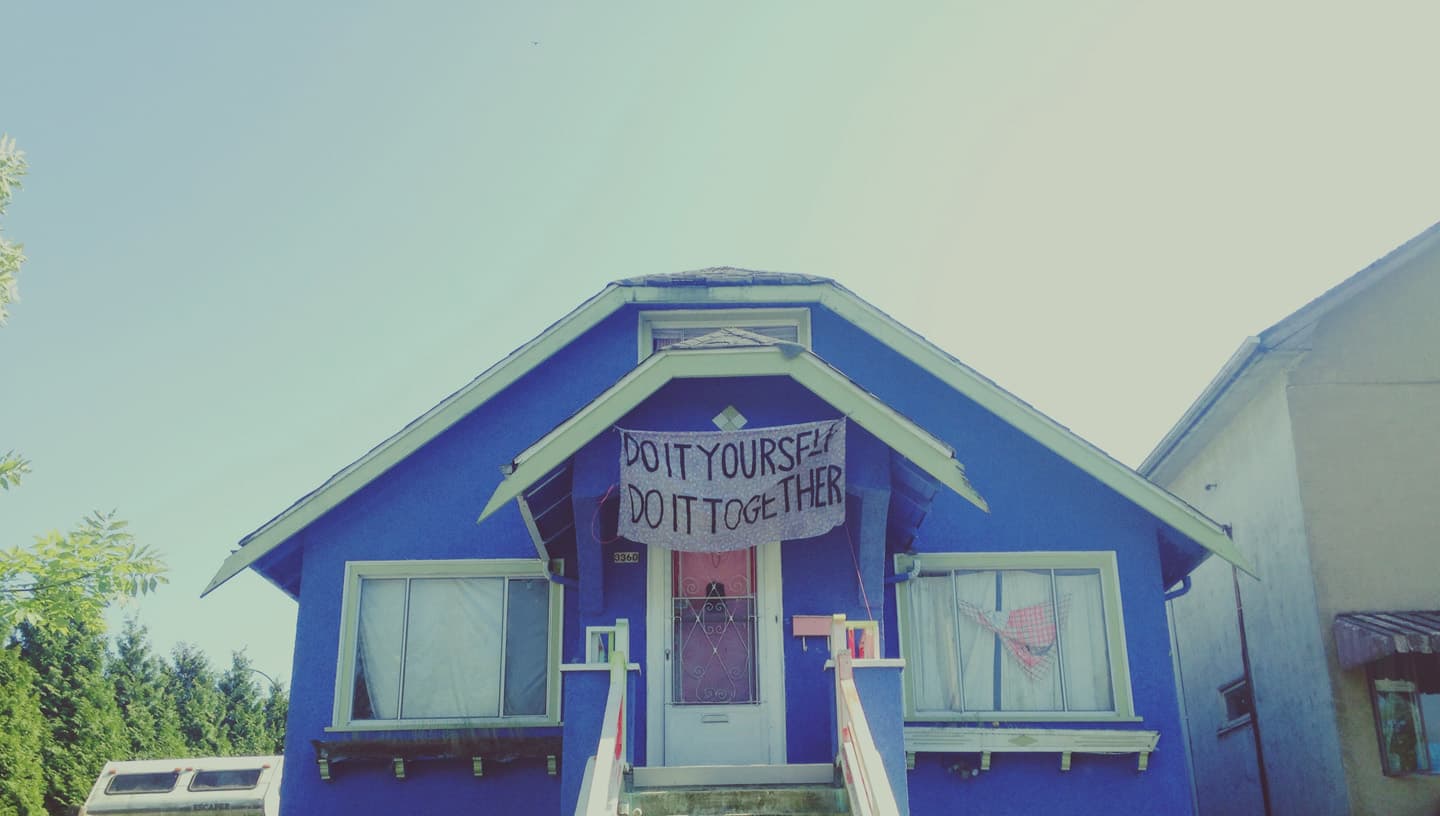 Utourpia: Exploring America's Community Arts Spaces
​Emily Reo and Noah Klein's inspiring summer tour connects the dots of DIY spaces from coast to coast.
From the magazine: ISSUE 93, on stands August 26th.
Who besides spellcheck could take issue with Utourpia, this summer's coast-to-coast tour of socially progressive community art spaces led by Emily Reo and Noah Klein? In recent years, Reo has become a master of the vocoder; her voice on 2013's Olive Juice harmonized until her singing seems to come from an army of existentially despairing dolls. Klein's solo project, Cuddle Formation, has moved from microcassette field recordings to a singer/songwriter setup based on live, sampled loops. As musicians, they both make big statements with simple electronic tools, but Utourpia was something to behold simply as a concept. Kicking off at dA Center for the Arts, a longstanding non-profit in Pomona, CA, the tour spanned 30 all-ages shows at non-traditional venues, including art galleries, homes, record shops, warehouses and even a renovated firehouse. "For me," Klein says, "touring is less to promote my personal projects than it is to peek into dozens of arts communities and observe the variety of organizational models. Every space and every person involved has a different approach to doing it yourself, doing it together and contributing something to the world."
For his part, Klein started organizing shows in high school. Sick of the pay-to-play schemes dominating Los Angeles' indie scene, he was out to create an alternative. In 2008, he co-founded FMLY, which began as a music and arts blog and has since morphed into something more like a way of thinking, best exemplified by the sponsor-less FMLY Fest, which he describes as an "open-source frame for a festival." Guided by principles of inclusion, collaboration and sustainability, it's basically a free music and arts fair with shows in unconventional locations, plus workshops, pop-up libraries, marketplaces and whatever else people cook up. Theoretically, FMLY Fest can happen anywhere, so long as there's a local community to help lead public meetings about its planning. The formula is simple: "Nothing is defined, everything is relatively fucked, and to progress civically, aesthetically, relationally and so forth, we each need to be open to criticism and encourage community discussion within a global conversation," Klein says.
The hope is that the principles of FMLY will spread to anywhere concerts are held. One of the biggest responsibilities for show hosts, Reo says, is to ensure their spaces are safe for everyone: "It's important for both show-goers and artists to feel comfortable where they're playing. In the midst of tour stress, going into a space knowing I'll feel respected and safe is so important." Utourpia's final stop, on July 4th at Silent Barn in Brooklyn, drove the point home; in May, Silent Barn convened a Safer Spaces Working Group, which published a list of oppressive behaviors that'd get someone kicked out or banned from the venue, like uninvited physical contact or discriminatory language. Calling attention to practices like Silent Barn's is what makes Reo and Klein's tour so valuable: by connecting the dots from Vancouver to Boston to Des Moines, Utourpia was a road show that left a road map behind.