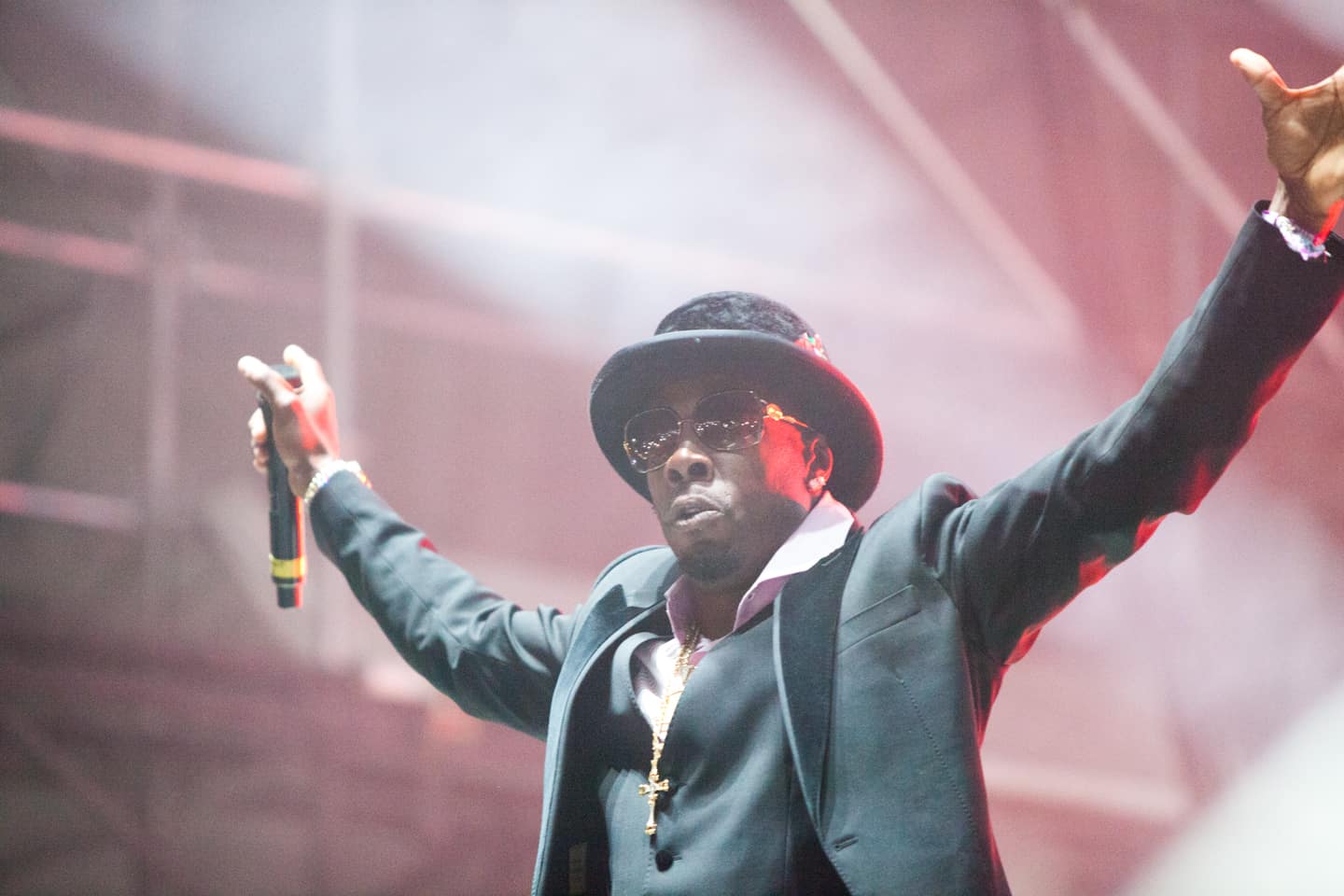 Live: Hot 97 On Da Reggae Tip
Browse photos from this year's Hot 97 Pon Da Reggae Tip featuring Shabba Ranks, Shaggy, Beenie Man, Gyptian, Kranium, QQ, and more
The crowd is spilling out into the highway at Pier 97 in midtown, and we are on the hunt for a man named Zanadu. He's the plug to Shabba Ranks—we've been trying to secure an interview for weeks, and he'd finally agreed at least get us in the same physical vicinity as Shabba if we could make it to Hot 97's On Da Reggae Tip concert that week. We held up our end, and style editor Deidre Dyer is shouting into her iPhone over the din, trying to make out the cross-sections we should meet him at (I grab the phone at times when Zanadu spoke to translate his thick accent). After loafing around some port-a-potties and shouting his name, we spot Zanadu in a money green bandana, and he points us toward Shabba, laughing a little bit, most likely at us. Shabba walks up wearing a black vest and a red hat that says "EMPEROR" in green, yellow, and red: he has the imposing aura of a multiplatinum rapper and a screwfaced Jamaican uncle all in one. Recorder in hand, Deidre sneaks a selfie after Shabba finishes up a video interview with a curly-haired hostess, and gets in position to sneak in a question. Shabba considers for a moment, looks at the recorder, looks at us, and then darts off into the crowd, with his entourage in tow. After twenty years, the impromptu meet and greet was over in twenty seconds, on the Emperor's terms.
Each Labor Day weekend, New York radio station Hot 97's "On Da Reggae Tip" serves as a Summer Jam-lite for the biggest artists young and old in Dancehall, Soca, and whatever other offshoot island genres have bubbled up from Caribbean shores. The West Indies musical output ebbs and flows into mainstream scope with the seasons, each peak serving as a timestamp. This year, the concert was significant not just for the white-hot DJs and artists on today's dial, or past icons resurrected, but specific long-lost summers brought back into focus, and a spread of on-lookers with memories just as sharp.
The afternoon acts flew by in a whirl of waved flags, wheeled up tunes and genitalia slamming into one another at high force. American Idol's Tessanne Chin's soulful set served to bless the JBL Pier 97 waterfront stage, before Kranium turned the boardwalk into a bashment and the party started. He brought out special guest sets from Gyptian, Ricky Blaze, Mavado, Kes, and seemingly everyone else posted up backstage with their record in the DJ's serato. QQ burst out next, all flailing limbs palancing left and right while launching into dance anthems like "Tek It To Dem" "Skip To My Lou" and "Stukie." He brought a special guest on stage and introduced her to the "Jack Hammer," she seemed genuinely enthusiastic to meet it.
Now is as good a time as any to mention that the crowd was split between 20-somethings pregaming for the escapades throughout the weekend, and older patrons that came for one name: Shabba. So they waited patiently as soca's first family Bunji Garlin and Fay-Ann Lyons hyped the crowd to fever pitch: "Dis side is the livest side! It must a bunch of foreigners on that other side!" Bottles of various brown liquors were whispered between hands frequently, and by the time Beenie Man was on stage belting "Memories don't live like people do," he had a wet chorus backing him from the crowd. As the sun set to dusk, Beenie brought out a blonde Ashanti to share the stage. They dropped a new song together this year, but her live rendition of Foolish with Beenie Man chatting in response won over on buzzed nostalgia. Who doesn't want to hear Murder Inc classics when its 80 degrees?
If Shabba Ranks is regarded as the original don of dancehall, all cred and clout to this very day, then Shaggy can be considered the opposite: a crossover pop act, inescapable through the heights he climbed but far from representative of his genre's roots. He used his stage time to pay tribute to iconic records past and present, a "Shaggy Does The Hits" medley that largely worked, sneaking in classics alongside his namesake titles "Boombastic" and "It Wasn't Me." But it wasn't long before Shabba Ranks burst forth, the iconic artist that brought dancehall along for hip-hop's massive rise in the 90s. Like his contemporaries of that era, he's aged markedly but retains enough ego to kill the stage decades later: "Ting-A-Ling," "Dem Bow," and "Mr. Loverman" all clapped off with authority, and he shot back and forth across the stage like a man nearly half his age. It was the sounds of countless Augusts in New York and Miami and Toronto and London and the islands they fly from, as slack and sweaty in person as they are on wax.