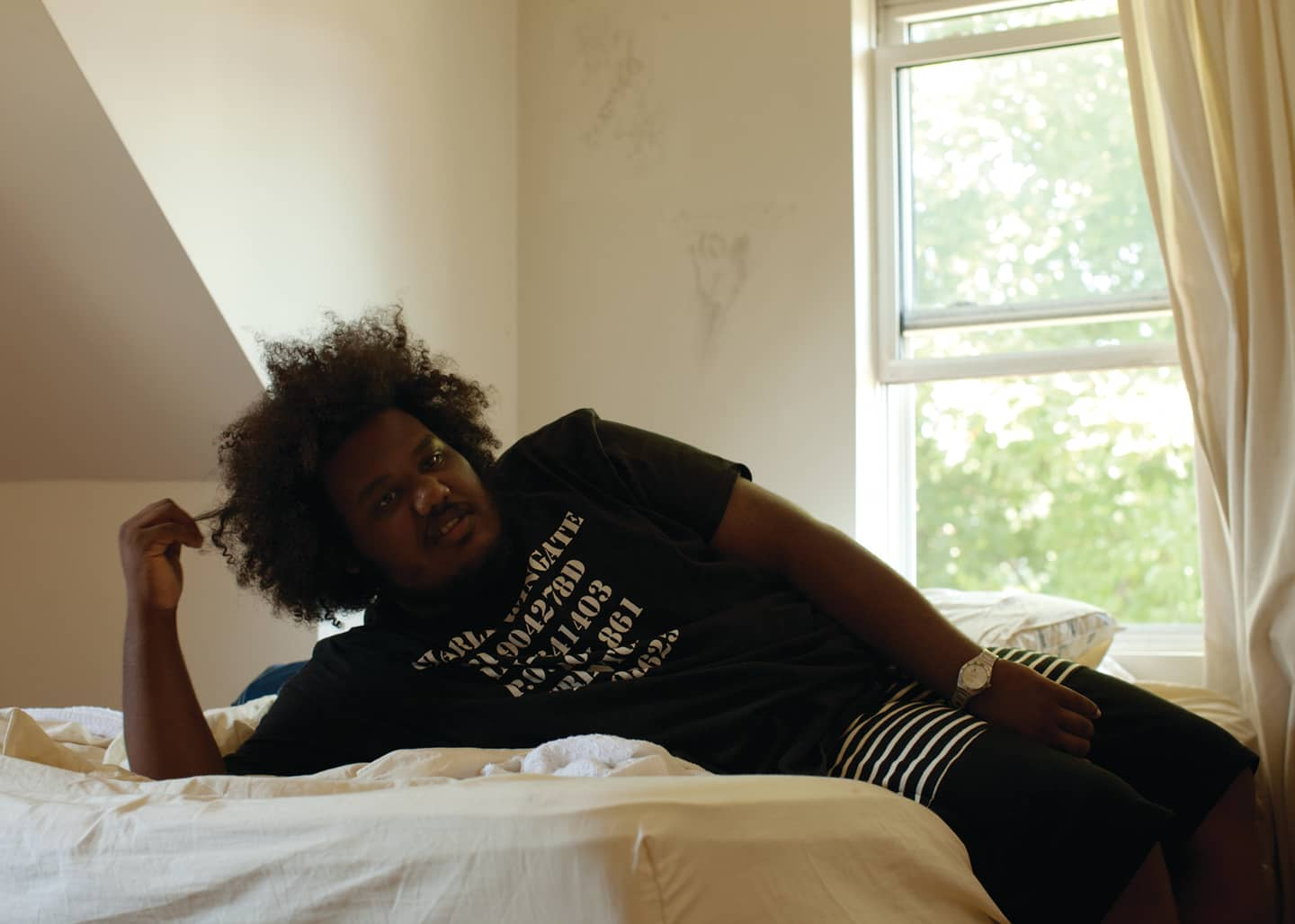 GEN F: Michael Christmas is Beantown's Realest Joke-Buster
Rapper Michael Christmas nails chunky everyman raps and Apatowian punchlines on his rich debut.
It's impossible to miss Michael Christmas, with his puffy frame, electrified afro and mischievous grin. But on a Sunday night at Brighton Music Hall in Boston, amid a sea of streetwear-clad stoners and curly haired it-girls, it's the rapper's father that I spot first: he pulls up to the bar in wheat Timbs, a Red Sox fitted and a T-shirt emblazoned with his son's album art. It's Father's Day, and Papa Christmas has been eagerly awaiting his son's second-ever headlining gig. "He's been calling me all week like, 'Get me a shirt, I want to wear it to the show,'" Michael tells me over limp pizza. "He's been stressing too."
Born Michael Lindsey, he's snug in his dad's shadow. I'm from a neighborhood where they call me 'Jermaine's son,' he says on his 2014 debut, Is This Art? That neighborhood is Roxbury, a historically rough, historically black patch of Boston where Malcolm X robbed houses and got locked up as a teenager. "Everything here is struggle," he says of his hood. But Michael Christmas' biggest strength is making struggle sound funny. The 19-year-old spits post-pubescent zingers about rejection, masturbation, boring days and disappointing nights with a couch potato charm that lands somewhere between Earl Sweatshirt and Jonah Hill in Superbad. Onstage, he's part rapper, part comic: when his wallet flies out of his pocket during one amped number, he jokingly refuses to pick it up: "Fuck my wallet. There's absolutely no money in there. It's worthless—my bus pass is in my pocket."
"Fuck my wallet. There's absolutely no money in there. It's worthless—my bus pass is in my pocket."
Of course, it wasn't always laughs. As a kid, Michael and his parents bounced around between stretches of homelessness. "We'd stay at my aunt's, or my grandmother's, and I'd get in trouble for trying to eat food out the fridge," he recalls. "I didn't know we weren't home." Facing shitty grades and a barrage of bullying, Michael dropped out of school and began loitering at sneaker shops, cracking jokes and begging for a job. In April 2012, his father went to prison for possession of a firearm; a month later, Michael started recording. "My music was dark as fuck at that time," he explains. "School was fucking me up, my dad's in jail." But he found a staunch supporter in a fellow artist named Goodwin, who directed his first videos and produced his earliest tracks. "I remember we were shooting, and I'd never shot a video before. I kept forgetting my lyrics, and he was yelling at me," he recalls with a laugh. "This was the first time anybody had ever taken something I was doing seriously."
Following a year of tinkering with flows, Michael landed on "Daily," an infectious cut cataloging a day spent lurking Instagram, eating chicken wings and searching for an open crib. "Michael Cera," a witty tribute to Arrested Development, came soon after, and folks began to take notice: he's since opened for Schoolboy Q, popped up on Adult Swim's The Boondocks Season 4 mixtape, and played Boston's Summer Jam concert alongside Kendrick Lamar and YG. His dad was released from prison just weeks before Is This Art? dropped, and Michael credits their relationship for his optimism. "I remember one time my dad said, 'You see this dresser? I had one just like this. You have toys and shit up there. I had my family's guns and drugs on my dresser. Appreciate that you're not fucking up.'"
A growing crew of directors, producers and jokesters point to Michael Christmas' success in the making, but it's easy to be a big name in a small city. "The more I've met people outside of Boston, the more I've realized it's really crazy to people that I'm from here," he says. "I'm coming from a place where nobody's made it." At the close of his show, as he calls his dad on stage and they share a hearty dap, it's evident he's already made it further than most.
From The Collection:
GEN F