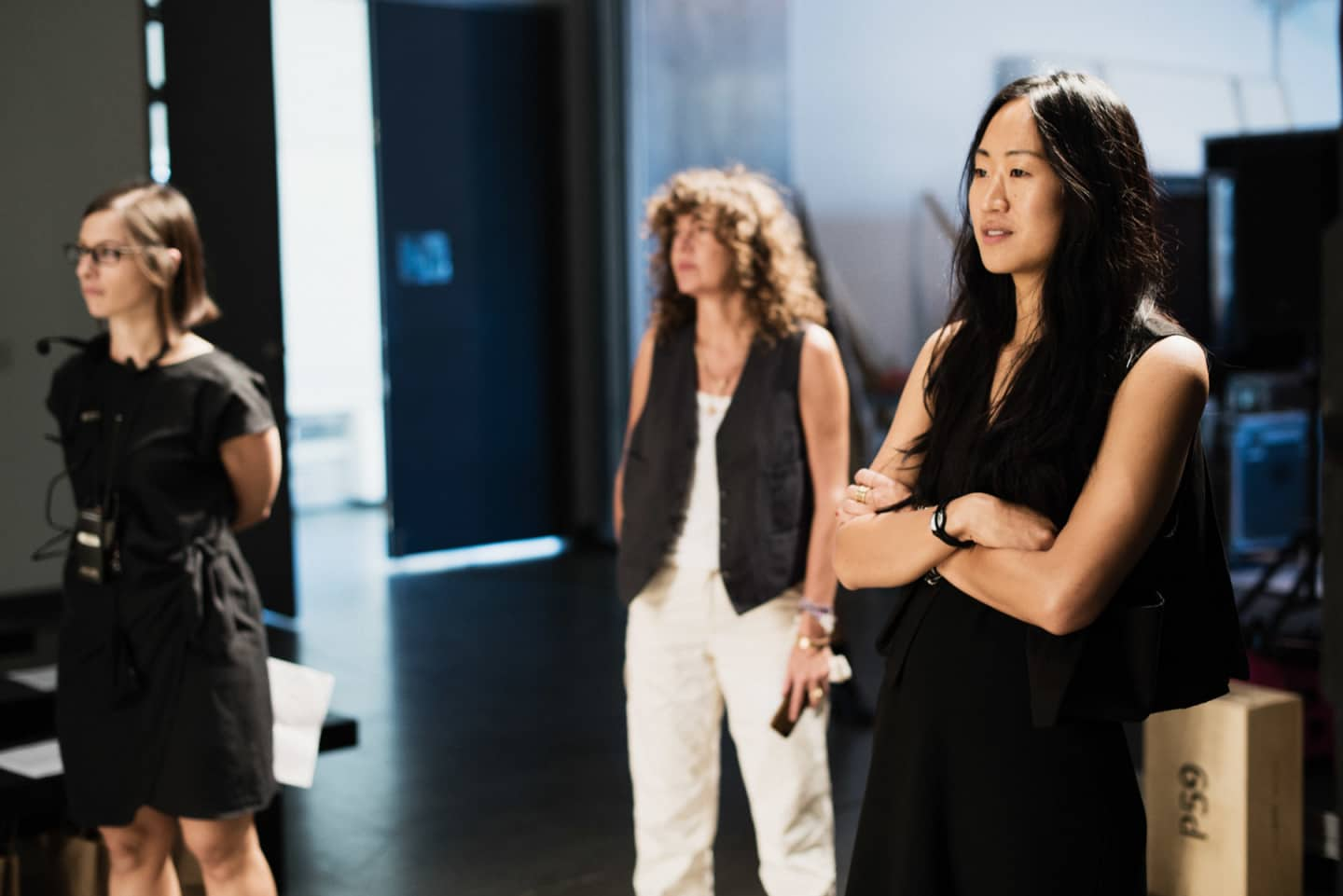 NYFW Interview: Creatures of Comfort's Jade Lai on the Rise of Comfy Clothes and the Demise of the Stiletto
The designer and shop owner shares guiding principles of cozy girl life.
Based on the name of her store and in-house clothing line, Creatures of Comfort, there's really little room for guessing as to what the guiding ethos behind Jade Lai's approach to fashion is. Lai, who opened her first CoC store in LA, has continued to build her cool, comfy girl empire in NYC with a second location and an in-house apparel and accessories line. We spoke with the designer after her NYFW runway show to hear about the inspiration behind her earthy, low-key spring collection and how she feels about the rise of the Birkenstock.
How would you sum up in your words the inspiration for this collection? Basically the collection is about this whole idea of going into the wild. Like this worldly woman who kind of decides to leave some parts of her life behind and go into the wild and find her own world. I was looking a lot at Agnes Martin when I started doing the collection, her drawings and landscape work were incredibly inspiring as far as the color palette that I used. So a lot of the colors were pulled from that, a lot of the pastels and the lines. It's about a strong woman who is venturing into the wild and finding her own and kind of going native.
Yeah, I got that vibe with the makeup and the hair being very pared down. This is only your second runway at NY Fashion week, how has staging a runway show affected your design process? I think ultimately when I'm designing, I'm thinking of looks that would go on the runway. Some of them are specifically for the runway, but generally I think most of the clothes are very wearable. I design things for the woman, so—even though the clothes are good—I feel like it's the woman who really makes the clothes. I feel like I design things for a strong woman who is independent and is able to wear really big jackets and pull that off.
Your store is called Creatures of Comfort, your silhouettes are very easy, your models wear flats and nowadays Birkenstocks are everywhere. How do you feel about the rise of comfort in fashion? Did you feel ahead of the curve in that sense? Well the reason I called the company Creatures of Comfort is because I feel like when you're comfortable—either in your clothes or in your own skin—you always exude confidence. I feel like if you're always fidgeting around you take that away. I think it's great that people are getting into being comfortable or dressing casually because it doesn't mean that you can't be stylish. There used to be this bar where if you're in fashion you have to wear four-inch heels but personally, I've never been able to do that.
How does the business side of being a shop owner continue to affect your creative output? I think because I understand what my women want, I try to make clothes that I can see people wearing and that are actually easy to wear. Not something you only wear when you're going to the Grammys or something. I feel like you should be able to wear something every day and then you can dress it up a little bit and go to a party with it. I try to make things more functional.
I feel like even in your show there's a huge presence of 90s silhouettes—easy, longer maxi dresses almost back hearkening back to the 90s minimalism of Armani and Calvin Klein. Was that influence in the mix for you or was this totally organic? I try to make clothes that are a little bit timeless, something that's like a classic in your closet. That's what my goal is.