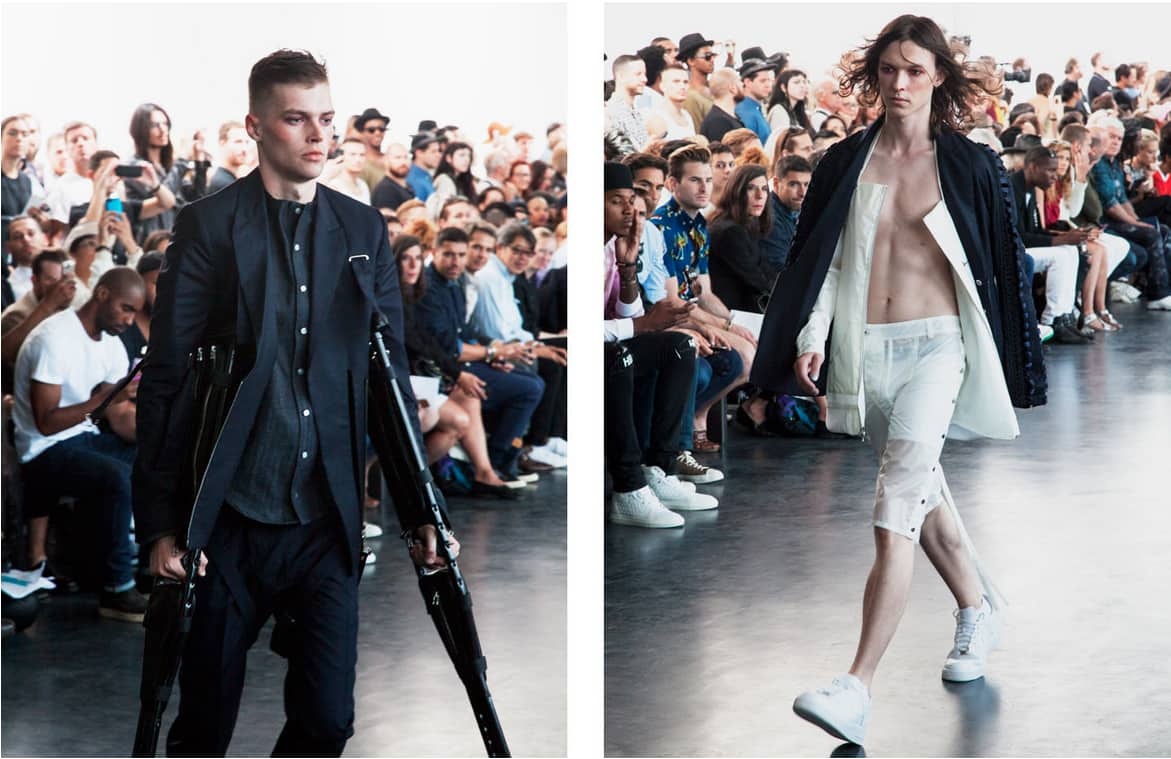 Social Anxiety: Hood By Air Dreamed Up The Perfect Wardrobe For Life After The Apocalypse
In a world running on empty, a new fashion line from Hood By Air offers a glimmer of hope
In her bi-weekly column, Social Anxiety, Emilie Friedlander peeks underneath the artifacts of contemporary culture to question what it all really means.
Do you remember where you were standing when the US economy tanked? I do. I was in a small city in France, fresh out of college and hanging with my coworkers by the photocopy machine at a small school where I working part-time as an English teacher. Most of our clients were middle-aged professionals looking to learn business English, so we always kept a stash of British and American papers around, and the memory pretty much begins and ends with one of the other teachers holding up a copy of the International Herald Tribute so we could all see the headline.
"Economic Crisis" was too abstract a pronouncement to really make sense of back in 2008, but nowadays, whenever I think about my generation and its pretty abysmal career prospects, I think about how lucky I was to have a job on that day. There were the older millennials, like myself, who had the slightly better fortune of being out of school before the recession hit; most us already had some work experience under our belt, and work experience typically leads to continued employment. But then there were the ones who were still in college, even high school, when it happened, graduating into a job market where finding any work at all was more like hitting the jackpot than a natural extension of getting good grades at school. It would be naive to say that the recession has impacted all of us equally, or in the same order, but it has impacted most of us all the same. Next to the internet and 9/11, it's probably the defining event of our coming of age—a slow-motion, at times dormant calamity that continues to haunt our bank accounts and stalk our empty afternoons, even when we manage to define ourselves in spite of it.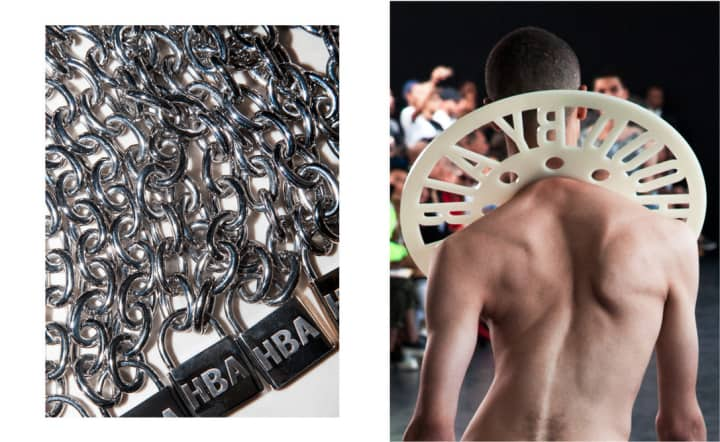 This summer, that omnipresent sense of unease ramped up a little bit. Youth unemployment got higher, the number of new jobs generated by our convalescent economy ended up being about half what we expected and a brutal succession of highly mediatized news stories (Ferguson, Gaza, Ukraine, James Foley) created a feeling of apocalyptic global unrest. For those of us interested in avant-garde fashion and music, Hood by Air's Spring/Summer 2015 New York Fashion Week show—titled Ego—probably couldn't have come at a better time. For one thing, the industry-wide anticipation surrounding a new line from Shayne Oliver, whose idiosyncratic, gender-ambiguous street fashions have garnered two prestigious award nominations and countless hip-hop cosigns of late, makes for a heartening, homegrown, millennial success story. Held at the somewhat godly hour of noon this past Sunday in Tribeca, the event featured many familiar faces from the HBA orbit, including music by Total Freedom and Dutch E Germ mastermind Tim DeWit, styling by Akeem Smith, administrative direction by Leilah Weinraub and a runway appearance from musical performance artist Boychild (with a giant, speckled dog). It was the same close-knit group of artists and scene characters you'd expect to bump into inside the fog-filled rooms of GHE20G0TH1K, the Oliver-cofounded underground party night that Hood by Air grew up alongside, only now, the scene was being courted by paparazzi photographers and K-pop superstars.
Seeing the line of logo-branded HBA devotees stretching all the way down the block outside, I went in there expecting a swaggering victory lap from one of the most celebrated young minds in the biz (last season he'd brought out a sea of blond-wigged voguers; how was he going to outdo himself this time?) But Oliver took the room by surprise, mobilizing his customary theatrics, not in the service of triumph, but complete, abject collapse. One model came out on crutches; others, behind him, walked with their hands padlocked pillory-style into large perspex discs that were jutting out from their necks, like prisoners escaped from their prison cells. Jeans were shredded to the point of abstraction, tailored power suits seemed repurposed from parachute gear, and all the models—girly boys, boyish women and everyone in-between—looked like their faces had been rubbed in the mud sometime within the past few days. In the promotional video for the event, a mock weather advisory from "Hood by Air Doppler Radar" had warned HBA fans of "a severe thunderstorm capable of producing a tornado," possible consequences of which include "headlessness." Inside the showroom on Varick Street, though, the overall effect was less that of the calamity itself but of a community of people who had somehow survived it, damaged and teetering but still determinately trucking along. The soundtrack, you should probably know, wasn't just an electronic edit by Total Freedom and Tim DeWit; those guys were dueling with a real-life choir, singing an appropriately eerie version of an old Gospel song, "The Storm Is Passing Over."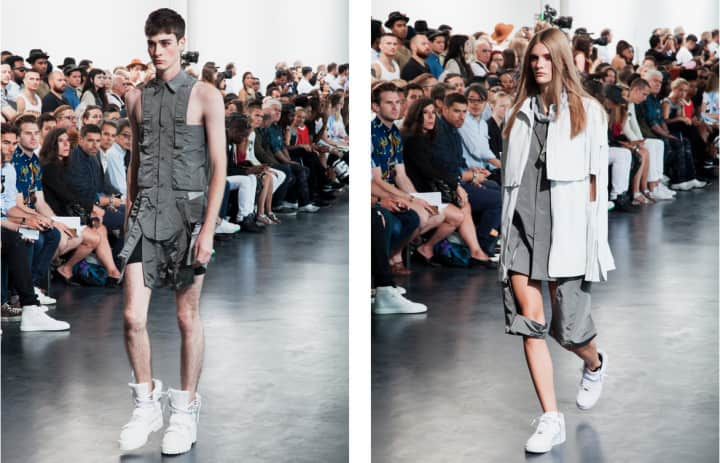 "Dystopian" is a word I can imagine people using to describe it all, but the thing that truly made it moving—and had me shivering throughout—was how utopian it all was, too. There was a hope in the air that went beyond the churchly message in the song, a hope directly related to the beguiling, ambiguously gendered, variously ethnic, post-apocalyptic beauty of the people that walked by. Maybe the storm the announcement refers to was just a metaphor for the impact that Hood by Air hopes to have on the fashion world, but I wonder if Oliver's vision isn't also a vision for life after the storm, an example of someone making the most of a post-apocalyptic situation and seeing it as an opportunity for building the world you want to see. I'm not sure exactly what sort of high-powered jobs the characters who strolled by were supposed to be checking in to that day, but in interviews I've encountered with the designer about the show, he says that the collection was inspired by a desire to create his own version of businesswear, presumably for a whole new generation of entrepreneurs. "For me, I was sort of looking at the freedom within acknowledging the constraints and realizing what holds you down, and what may have a hold of you," he told Style.com in the above video. "And I think that's like the first step to becoming free."