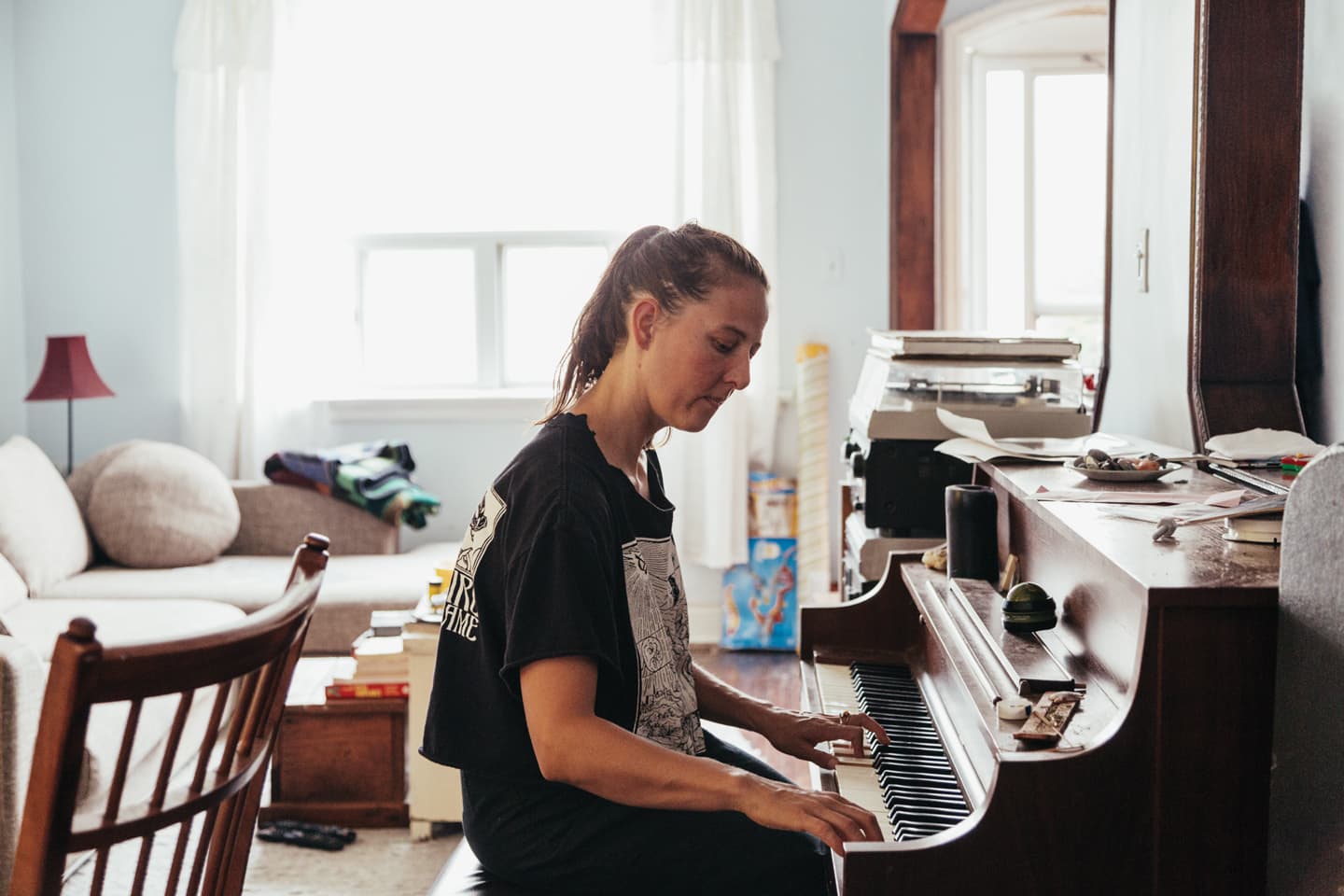 Jennifer Castle's Wandering Folk Music Is Happy to Get Lost
The Canadian singer/songwriter's heartfelt music is there if you come across it and just as satisfying to its creator if you don't.
Nearly 20 years ago, after a high school breakup and a chance encounter with an acoustic guitar at an antique shop, Jennifer Castle picked up a few chords and started writing songs. "One day I'd never played guitar, and the next I had," the singer/songwriter, 37, explains over the phone from her Toronto home. Things haven't changed much since. "I don't think I know anything more now than I did that day," she says.
Starting with the beginner-friendly strains of the American folk songbook, Castle spent the next eight years home-recording "tons" of songs, none of which ever saw the light of day. The music has since faded from her memory, but the decision to confine them to her four-track stems more from a general disinterest in public acclaim than a fear of putting herself out there. "I'm very ambitious when it comes to being inspired, and finding moments where I have a sense of freedom," she explains. "But I don't really gravitate toward seeking attention." That period of reticence ended in 2006, when, on a whim, she took her intimate music to a local venue that happened to record the performance. Afterward, the Canadian folkie brought home a CD-R of her set and, pleased with the results, decided she was finally ready to share.
In the intervening years, as she filled two albums with recordings, Castle has continued to drift according to happenstance, playing here and there and changing her recording name as it suits her: she put out 2008's You Can't Take Anyone as Castlemusic and 2011's Castlemusic under her birth name. "Every time I release something, I'm scared to be criticized, but the stronger thing is… I just don't care," she says with a wise chuckle. Now raising a young son and working as a gardener—a day job that echoes the calls to nature that occur frequently in her lyrics—Castle remains modest. Arriving with the vaguely spiritual intention to "honestly and truly convene with the vibrations," her new album, Pink City, comes with the same nonchalance that has marked her career since she snagged her first six-string.
Like the two albums that came before it, and unlike the poppier Joni Mitchell and Paul Simon records Castle grew up on, Pink City is an unassuming collection of folk songs that ramble and digress. Soft-voiced choruses pop in here and there, as feathery acoustic guitar picking and reverberating piano lines unravel the music's more traditional structures. Such is Castle's general vibe; she's content to wander, to observe her surroundings with a shrug rather than a pointed finger. But when her songs actually do build up and reach a climax, as with the raised-voice assertion on "Nature" that she'll "lift [her] skirt for the economy," the moment of revelation is all the more disarming.
As Castle readies herself for the release of Pink City, out via the Astoria indie label No Quarter, she's content to rely on the casual progress that has guided her career so far. "I'm very protective about my creative effort," she says. "It's this thing that I've gathered that not everybody gets to experience. I've never wanted to shine a million flashlights on it." Castle's priorities are honorable: to release heartfelt music that's there if you happen to come across it and just as satisfying to its creator if you don't.
* * *
Tour Dates:
10/30 - Dakota - Minneapolis, MN *
11/1 - Park West - Chicago, IL *
11/2 - Stoughton Opera House - Stoughton, WI *
11/4 - Enwave Theatre - Toronto, ON *
11/5 - Enwave Theatre - Toronto, ON *
11/7 - Iron Horse Music Hall - Northampton, MA *
11/9 - Le Poisson Rouge - New York, NY *
11/10 - The Sinclair - Cambridge, MA *
11/11 - Olympia de Montreal - Montreal, QC *
11/13 - Palais Montcalm - Quebec, QC *
* - w/ Agnes Obel
From The Collection:
GEN F