Cover Story: Flying Lotus Confronts Death
​The Los Angeles producer opens up about drugs, jazz and his dark new opus, You're Dead!
From the magazine: ISSUE 94, on stands October 21st. Pre-order a copy here.
There may be no better sign of Flying Lotus' restless creativity than this: with every new album, the 30-year-old producer, born Steven Ellison, has upgraded houses. There was the apartment he lived in while recording his 2008 sophomore album, Los Angeles, nestled in the suburban desert purgatory known as the San Fernando Valley; the cramped house tucked into a hillside in Echo Park when 2010's Cosmogramma dropped; the bigger house located in the up-and-coming LA neighborhood Mt. Washington, with the backyard pool that Ellison jumped into for the photograph on the cover of 2012's Until the Quiet Comes. On the eve of Flying Lotus' fifth album, You're Dead!, I find myself before his latest home, a two-story behemoth located on the north side of the Hollywood Hills, in Studio City.
On the day of our first appointed meeting, fragrant rose bushes bloom along the path leading up to the house. The bright red door opens, and the only two residents of this sprawling, four-bedroom domicile emerge: Ellison and his six-month-old miniature Boston Terrier pup, Iko. "I wanted to buy the house," he says as he ushers me in. "The houses keep growing, don't they?" Ellison's ex-girlfriend Niki Randa, who guests as a vocalist on You're Dead!, put it to me this way in an email: "It takes a lot for Steve to conjure the inspiration for these little universes of his. Fresh settings bring new sounds, new neighborhood noises, new ideas." It doesn't hurt that Ellison's career has garnered him an affluence few experimental beatmakers can match.
When he shows up to meet me, however, he's barefoot, modestly dressed in surf shorts and a black hoodie with the Grand Theft Auto V logo across his chest. While in concert and on festival stages he seems to be perpetually hunched over his laptop, he is tall and broad in person, with a narrow strip of beard. Speaking only when prompted, he tells me he's been taken by rap battle videos lately, leading me into the midday dark of a home studio cluttered with keyboards, synthesizers, hardware and about half a dozen different medicinal marijuana bottles. He cues up YouTube clips of legendary local MC Daylyt, staring intently at the screen as the battle rapper weaves together rhymes referencing Coolio and Michael Jackson. Ellison pulls at a glass bong and contemplatively nods along, as though he's trying to eschew eye contact with me. Even when he's sitting still, he has a nervous, fidgeting energy about him. Though today marks the third occasion in the past few years that we've convened to speak about his kinetic music, there's something reticent about the guy, to where I get the feeling that he doesn't remember me at all.
Since he released his 2006 debut, 1983, Ellison has demonstrated an uncanny ability to meld musical abstraction with hard percussion, veering from mellow to face-meltingly psychedelic in a heartbeat. Back then, he was still interning at Stones Throw Records, the legendary California label home to Madlib and J Dilla. But ever since the tastemaking BBC DJ Mary Anne Hobbs crowned Ellison the "electronic Jimi Hendrix," he's made good on that promise of fame. Rising from the crowded field of beat producers on LA's Low End Theory scene, he signed to Warp Records for 2008's hyperactive Los Angeles, which slotted him in the same peer group as IDM labelmates Aphex Twin and Autechre, and opened the door to collaborations with the likes of Erykah Badu and Thom Yorke. Ellison's music, like the man himself, is tumultuous, taking daredevil risks and embracing chaos, smashing together disparate sounds yet retaining a firm sense of control. His live sets are turbulent amebas of sound, absorbing cutting-edge bass music, West Coast hip-hop and trap, speed-demon jazz, kinked R&B, Radiohead rock, post-dubstep rumble and extraterrestrial electronic music. And on You're Dead!, Ellison has zoomed in on his life-long loves, hip-hop and jazz, collaborating with Snoop Dogg, Kendrick Lamar and Herbie Hancock, the legendary keys player who jammed with Miles Davis through the 1960s before becoming a jazz superstar in his own right.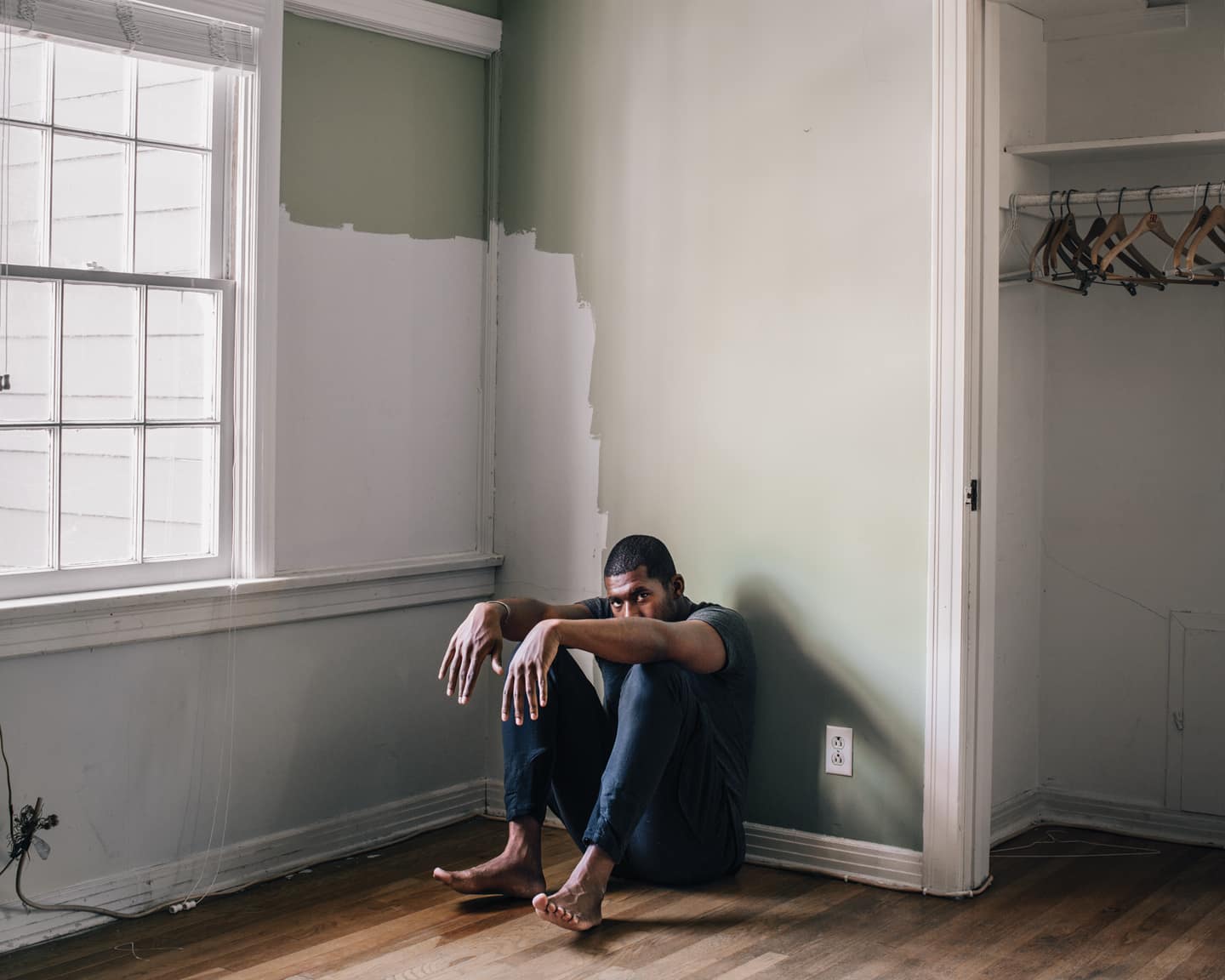 "I just understand that I'm supposed to be one of those people that disrupts the flavor a little bit."
Ellison tells me the record was originally conceived as a double album, with himself and frequent musical co-conspirator Stephen "Thundercat" Bruner as a crack jazz duo playing "30 jazz breaks, a minute each," twisting up the swinging rhythms of that classical American form like Superman with an I-beam. "It was a joke, a playful thing," he says of the title. "Ahh, we got you. You're dead!" But when Thundercat went out on the road to support his 2013 album, Apocalypse, released on Ellison's own label, Brainfeeder, Ellison continued fussing with the tracks. Before long, he began pondering the meaning of the album's name in light of some brushes with death in his own life. "Then it became, 'Wow, what about the whole journey of death and my own mortality and fears of that, and the people we lost?'" he says. Now in its finished state, You're Dead! blurs by across 19 tracks in just 40 minutes, moving from disarray into a more stilled sense of space by the album's midway point. As he describes it, this move from confusion to clarity is meant to emulate the voyage of the spirit after death itself.
* * *
Ellison grew up in the neighborhood of Winnetka in the San Fernando Valley, born into a musical family with roots in soul and '60s jazz. His grandmother, Marilyn McLeod, worked as a Motown songwriter and penned "Love Hangover" for Diana Ross. His first cousins once removed are Oran and Ravi Coltrane, the sons of John Coltrane, who died before Ellison was born. "Oran got me into making music in the first place," Ellison says. "He was making music on an old Apple, the IIci, on some software-based program. He's the one who gave me stuff first. He's like a big brother to me."
But the biggest influence on Ellison's music can be seen just above his grand piano. There hangs a five-foot-tall painting in black and gold of his great aunt Alice Coltrane, the jazz pianist and harpist who married John Coltrane in 1965 and became a firebrand in her own right after his death in 1967, elevating the form of jazz to a spiritual consideration with a string of albums spanning into the '00s. Alice Coltrane also made an album that was a sonic contemplation of the afterlife: 1972's Lord of Lords, which abandoned the rhythms of jazz to instead pit her singular harp prowess against a backdrop of melodic strings. In later years, when Coltrane established the Sai Anantam Ashram at the foot of the Agoura Hills, she began performing devotional music with an early synthesizer.
Flying Lotus
"Coronus, The Terminator "
"For me, Lord of Lords is the story of John Coltrane's ascension," Ellison says. "It's her understanding and coping with his death. I feel that. This one song in particular, 'Going Home'—an old spiritual that composer Antonín Dvořák used in the 'Largo' section of his New World Symphony—that's a family song. When someone passes, that's the song we play at the funeral. When my Auntie Alice passed, we played that one. When my mom died, we played it for her."
Ellison has lost many people in his young life, a near-continuous run of deaths that he lists off with little inflection. His father, whom he only met a few times and never established an intimate relationship with, died in early 2000. His mother, an aspiring actress who helped manage the John Coltrane estate, passed in October 2009. When we speak about them, his mind wanders to his maternal grandmother, who raised him as a young boy and suffered a stroke a few years ago. He returned to the Valley in part to be nearer to her. "Sometimes I feel like it would be easier on her if she got to leave," he says, shaking his head at this slow, downward slope of life. "She's at the point where you're only gonna lose things. Your friends, your family, all your relatives—gone."
Yet, it was the passing of another Angeleno musician, the 22-year-old piano prodigy (and son of skateboarder Stacy Peralta) Austin Peralta, that seems to have shaken him the most. That's Peralta's electric piano you hear rippling on "DMT Song," a song from Flyling Lotus' last album, Until the Quiet Comes. Ellison knew Peralta from the LA scene and released the keyboardist's jazzy third solo album, Endless Planets, on Brainfeeder. In November of 2012, Peralta died in his sleep due to complications arising from untreated viral pneumonia and numerous chemical depressants in his system. They weren't the closest of friends, Ellison admits, but it seemed that there was nothing but potential for the young protégé. On You're Dead!, Ellison dedicated the mournful, unsettled "The Boys Who Died in Their Sleep" to Peralta, and the suddenness of his passing seems to haunt him: "I still think about him a lot, like he's so crazy, but he's going to live forever. I never thought he'd die, never thought he'd be dead."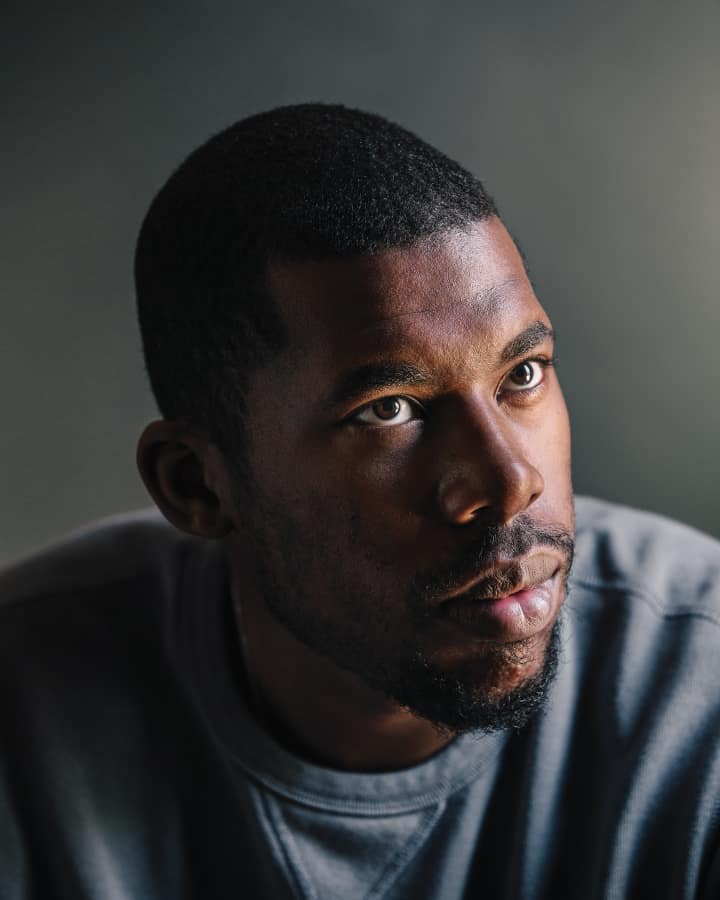 * * *
Suggesting activities to get Ellison out of his house is a futile task. While his music could be said to evoke the sprawl and diversification of Los Angeles, he's generally only amenable to going outside for food. His management and publicist warned as much, and at times during my trip to Los Angeles, I feel a little like Joe Gillis, the writer who frequents Norma Desmond's compound in the film Sunset Boulevard. Does he want to go catch Robert Glasper and Herbie Hancock live at the Hollywood Bowl? He shakes his head. How about checking out some new jazz talent at the Piano Bar in Hollywood, a frequent haunt of Thundercat's? "Not really," he mumbles. What about visiting his great-aunt's ashram? Turning his back to me, Ellison quietly explains that it's been too long since he went out to visit his family's land. After a few moments' consideration, he reckons that going there is a matter too close to the heart, and declines again.
On the night I finally convince him to attend Low End Theory, however, I notice another side of his personality peeking through. As we drive to the long-running weekly party that nurtured Flying Lotus in his early days, we listen to Power 106, LA's biggest hip-hop station. Lil Wayne and Drake's "Believe Me" comes on, and Ellison does a spot-on, creaky-voiced Drake impersonation that cracks us both up. "I'd love to work with Drake," he says. "I got Drake beats." He doesn't look as favorably on the other productions blaring through the speakers, though, lamenting the unimaginative 808s dominating hip-hop at the moment. "Can't you just picture ass cheeks bouncing to this?" he asks disparagingly, pointing at the radio when the song Chris Brown did with Kid Ink comes on. "That smell of the strip club—I can just smell it." While he shades toward anxious at home, Ellison flashes just enough of his sly humor here to suggest the origin of all the mischievous turns in his music.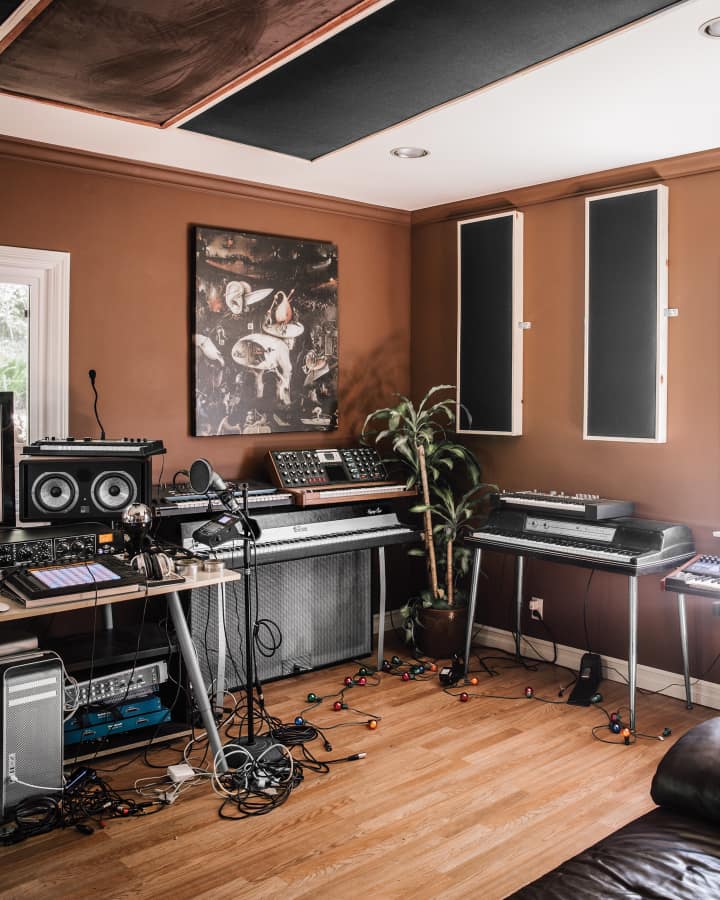 Even with his hoodie pulled over his head, Ellison is waved to the front of the line when we arrive at Low End Theory's current home at The Airliner, in Lincoln Heights. He hasn't been out here in months, and he can no longer play a show at the party without it turning into a mob scene. Inside the venue, it's hard to walk five feet without someone giving him a pound or asking to take a photo with him, and the playful spirit I glimpsed in him just minutes before vanishes without a trace. He watches Nosaj Thing spin, converses with friends about the Ebola outbreak and downs his pints quickly. We've barely been there an hour when Ellison decides he is ready to leave, agitated by his inability to have a conversation without interruption, by the fact that he can't come out to events anymore and just experience the music. As we head out, the DJ announces that he's about to play a new Flying Lotus track called "Dead Man's Tetris," and the room fills with enormous chimes and dizzying bass. Ellison doesn't linger or look back.
The next day, I get a tour of his big, near-empty house. In addition to proximity to his grandmother, Ellison's new Studio City abode has given him some needed distance from the social scene that had begun to form around his old house in Mt. Washington, with friends, musicians and hangers-on dropping in at any hour of the night. Considering Angelenos' stereotypical aversion to leaving their own neighborhoods, I get the feeling that he has fewer visitors these days, which Ellison seems to prefer. There's a game room and a wine cellar and an entire bedroom upstairs dedicated to housing Ellison's prodigal sneaker collection. In the master bedroom, the Leigh McCloskey painting that appears on the cover of Cosmogramma hangs over an unmade bed, and in one corner, there's a portrait of Freddie Mercury. When I ask him why he has a giant painting of the notorious Queen frontman in his bedroom, Ellison visibly brightens. "That," he says, "is my hero."
In disbelief, I follow him downstairs to his studio, where he cues up a live rendition of "Play the Game" from the 1981 concert film Queen Rock Montreal. "It [gives] me chills just thinking about it," he says of the song, rubbing the hair on his forearm. It seems ludicrous that Queen could be such a big influence on You're Dead!, but when Ellison needledrops "The Fairy Feller's Master-Stroke" on his turntable, I hear it in an instant: the frenetic pacing, the myriad layers all brought together into a cohesive sound. He tells me that his Queen obsession, which dates back to last year, not only revitalized him musically but provided the inspiration to make an album that sounded like "it was done in the same breath, all the same energy." To better understand the mechanics of Queen's music, he even procured the stems to "Bohemian Rhapsody." By way of an explanation, Ellison pulls up a version of the song that he put together from scratch, and it sounds like... well, it sounds just like "Bohemian Rhapsody." Not a Flying Lotus remix or deconstruction of it, but an honest attempt by Ellison to remake that dizzying opus of classic rock and get inside Freddie Mercury's head.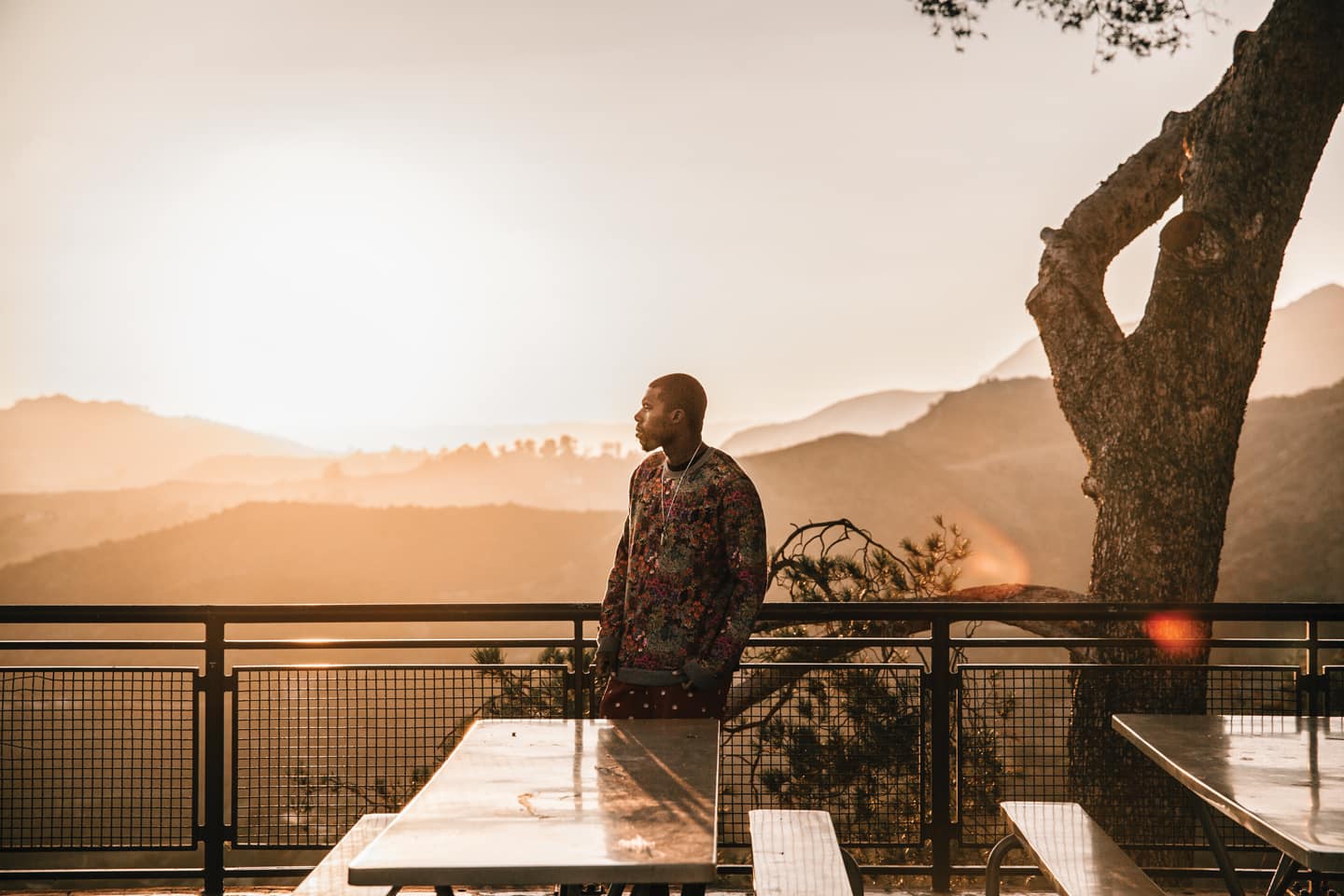 "It's not death that I fear, it's being comfortable in a cloud where nothing ever happens."
When Thundercat arrives at his best friend's front door, he's a bubbling font of energy. Wearing bright rainbow shorts, turquoise rings on every finger and a hoodie bearing the logo for the original '80s cartoon Thundercat with extra tiger patches ironed on, he's got the musical acumen of a pro jazz session man (his production credits span from Erykah Badu and Vijay Iyer to Mac Miller), the patter of a street hustler and the fashion sense of a Japanese teenager. His iPhone makes a Street Fighter grunt with every new message. He sings the praises of his new reverse osmosis water filtering system in one breath and of the shot of Jameson he just downed in Ellison's kitchen with the next. "We met literally in the middle of the street at SXSW," Thundercat says of how the two first connected nearly 10 years ago. "I was working with Sa-Ra at the time, and we had heard of each other. He sent me a track, and I sent it back, and he was like, 'Hell yeah.' And then when I heard what he did with it, I was like, 'Hell yeah.'" It didn't take long for the two producers to realize they were musically aligned, and they've been working on each other's projects since 2009, Thundercat lending his bass skills and jazz chops to Flying Lotus' music and Ellison helping him realize his own solo productions.
While Ellison goes off to make a phone call, Thundercat sits in the studio with me and recounts the night that Herbie Hancock rolled through to Ellison's old house to lay down some keys for the new album. "We played him Slum Village's 'Get Dis Money' [a J Dilla-produced track that samples Hancock's "Come Running to Me"], and Herbie's sitting there going, 'That sounds familiar.' And I'm like, 'That's you! You've been traveling, man.'" Hancock ended up lending his eerie keys to the You're Dead! cut "Moment of Hesitation." When I catch Hancock on the phone a few days later, the jazz elderstatesman says he wanted to know what was happening "at the cutting edge musically, and everyone was saying 'Flying Lotus.'" Looking back on their experiences in the studio together, he stresses the questing soul in Ellison: "Jazz is something he's interested in, and he feels, [but] his music is uniquely his own. It didn't sound like anything I knew. He hears and feels a complete gamut of sounds.
Thundercat and I join Ellison in the game room, where he's playing Titanfall on a wall-sized screen, the subwoofer booming through the walls. It's a casual scene, the sort of hang between friends where dialogue isn't necessarily the goal. Ellison switches over to Adult Swim just in time to catch the episode of Family Guy where Stewie is terrified of the giant robot on the cover of Queen's News of the World. "Too perfect," Ellison mutters with a chuckle. When Boondocks creator Aaron McGruder's new show Black Jesus comes on, the two friends crack up at the joke where Jesus turns the water into cognac. Near midnight, after the show ends, Thundercat makes his exit, saying he's going to hit the studio where Kendrick Lamar is hard at work on his next album. As he walks out, I notice a bit of shadow crossing Ellison's face.
The next day, when I ask Ellison if he felt left out when Thundercat went to go hang out with Lamar, he nods: "Definitely." Uncharacteristically open, he explains the thoughts that ran through his head after Thundercat left: "Should I just go, so as to be in the mix? What I need to do is make some new shit and then roll through. That all went through my mind. I think about it sometimes. I notice people are putting their records together and using the same personnel I have." Lamar does appear on You're Dead!, on the feverish "Never Catch Me," a collaboration that came about after a meeting between the producer and his childhood idol Dr. Dre one night in Beverly Hills. Dre had asked him who he wanted to work with most of all, and the next week, Kendrick Lamar came calling.
Even for an artist of Ellison's caliber, though, it's still easy to feel underappreciated. During our time together in Los Angeles, he laments that he didn't get a beat onto Lamar's good kid, m.A.A.d. city, didn't get a beat on Earl Sweatshirt's album or Schoolboy Q's. I get the sense that he's in a purgatory of sorts: too big to remain in the underground, too strange an innovator to gain acceptance in the mainstream. I ask what he considers his place in music to be. "I just understand that I'm supposed to be one of those people that disrupts the flavor a little bit, instead of being part of the same sound as everyone else," he replies.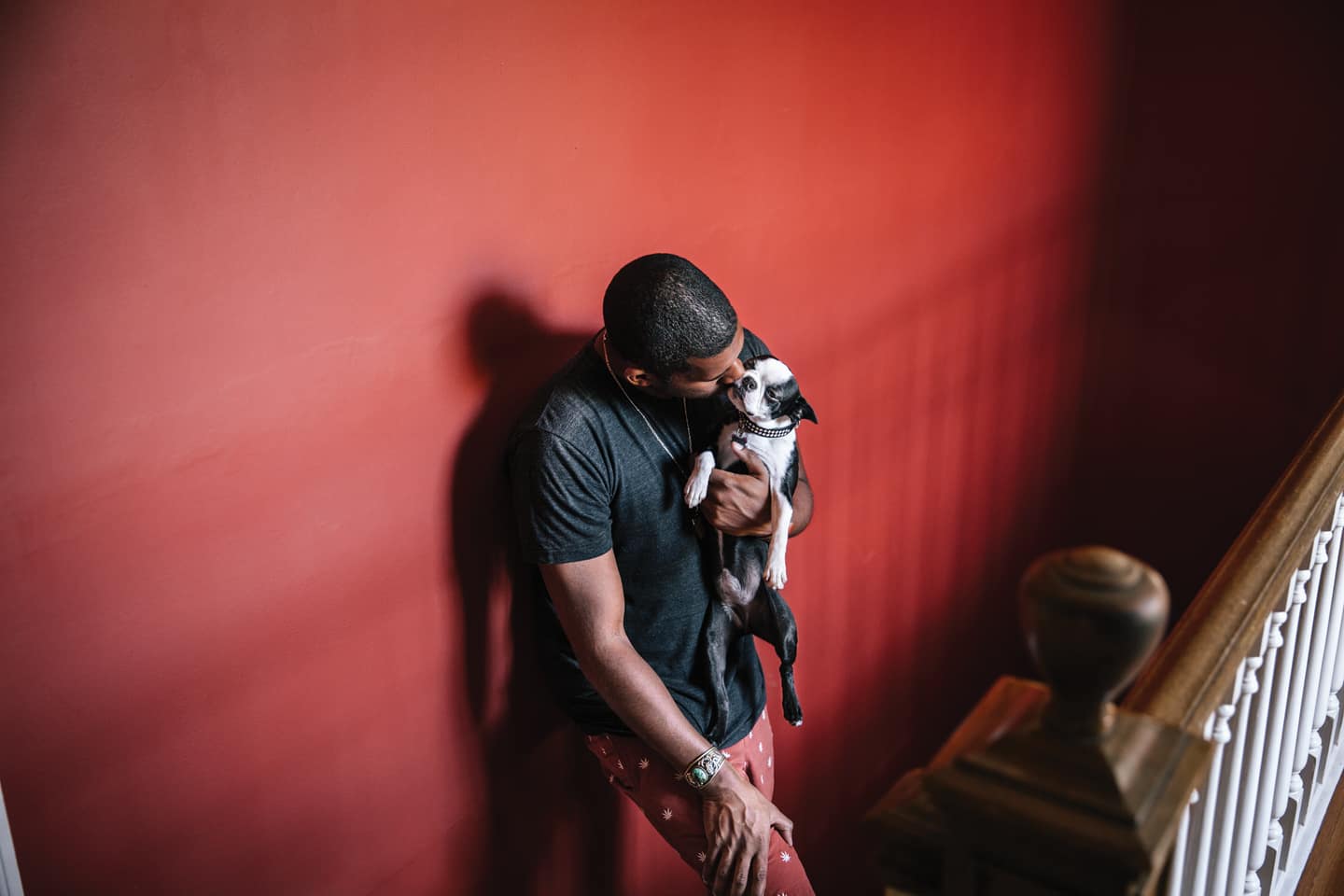 It's a position that could lead to feelings of isolation, maybe even depression. On the aforementioned "The Boys Who Died in Their Sleep," rapping under his alter ego, Captain Murphy, Ellison laments: I can't even look in the mirror/ Baby would you get my pills?/ I need a Xannie and a Vicodin, Percocet or Valium/ Anything to take the edge away/ I travel through the light in the ceiling and everything just goes away/ I know of a place inside my mind where I am free/ Take another pill, take another pill. It's nominally an ode to the deceased Peralta, but is there an autobiographical aspect as well? Ellison explains it one way: "Oxycotin, Vicodin, Xanax—that's the new heroin. I've seen what it does. It's not death that I fear, it's being comfortable in a cloud where nothing ever happens." It's that fear of passivity—drug-induced or otherwise—that finds expression in Ellison's music, always searching for new sounds, always fighting against complacency and comfort, never resting or resolving itself. In some respects, Ellison's relationship to chemical substances might be seen as a part of that endless search for stimulation, but it's hard not to see it also as a form of self-medication, a means of tamping down the more mundane and lonesome aspects of his life.
In fact, if there's anything worrisome about the trajectory of Ellison's career, it's the possible consequences of the lifestyle that surrounds musicians of his stripe. Over a ramen dinner that night, talk turns to the accidental death of widely beloved footwork pioneer DJ Rashad as the result of a drug overdose last spring. "Rashad was still trying to figure out his thing," he says. "He was right about to make the statement, but he didn't get there." Amid the din of the restaurant, Ellison then tells me matter of factly that he had a near-death experience in New York this past June, right after he had handed in his album. "I was in my hotel room, and I had done my fair share of ups and downs that night and um..." he pauses as he floats back to that troubling scene. "I woke up in the middle of the night and stumbled to the minibar to try and find some water, and I just collapsed. I couldn't move; I was paralyzed. I could feel my heart stop. All feeling stopped. I stopped hearing. My sight started to get white, and things in the room just started to go away. And then I got cold. I was just like, 'Okay, I'm dying. This is totally what they talk about when you're dying.' And I started thinking about my friend Austin who passed away. I thought of all the people that have passed away in similar instances, like drug-taking: 'Ahhh, this is how it happens. It's just a slip up.' And then I was thinking, 'Wow, I'm going to fucking die in this fucking shitty hotel room!'"
Unable to move or call for help, he said that he lay on the floor and tried to be conscious of his breath until the moment passed. Today, at the restaurant, he shakes his head at the memory. And though he doesn't ever say it aloud, maybe there was a lesson he learned on that hotel floor. While on the album he is seeking an understanding of what follows after death, I get the sense that there was also a moment of clarity for Ellison here in his own life. Gratitude, perhaps, knowing that it was not time for him to be called home just yet.