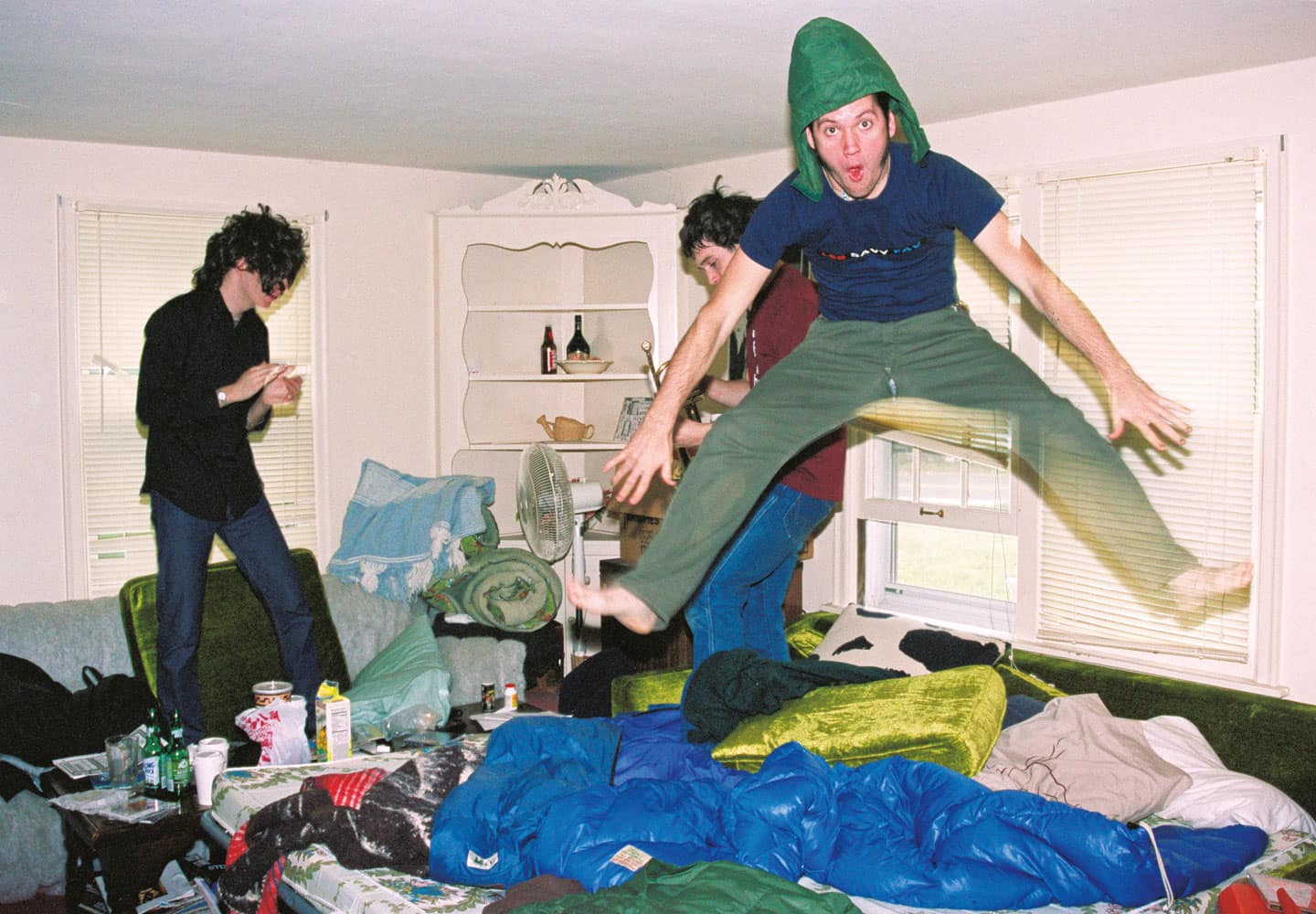 Relive Modest Mouse's Life on the Road with Photographer Pat Graham
The photographer talks life on the road, playing dress up with Isaac Brock and finally unveiling his decades-spanning body of work.
Looking at Pat Graham's photos of Modest Mouse, newly collected in a book named after the band, you can sense the closeness between the artist and his subject. Wisconsin-bred Graham lived with frontman Isaac Brock in a house with a bunch of other artists and activists in DC in the early '90s. After bonding over photography and punk music, Brock invited him on the road with Modest Mouse for their first big cross-country tour in '97. From then on out, he was around to capture pretty much every phase of the rock band's influential run. Years later, after Good News for People Who Love Bad News went platinum, he would join them for one more victory lap—not as a buddy or a merch boy—but as a professional tour photographer.
The imagery in Modest Mouse: 1992-2010, out today through powerHouse Books, evolves alongside the group's career: hazy prints and faded Polaroids become crisp digital photos, dilapidated vans are replaced by glossy tour buses, half-empty backyards transform into sold out theaters. What's consistent, though, is Graham's appreciation for shifting landscapes, his unabashed sense of humor and his willingness to experiment. Over the phone from his current home in London, the photographer speaks about almost dying on the road, playing dress up with Isaac Brock and finally unveiling a decades-spanning body of work that's near to his heart.
"Isaac said, 'Come out and tour with us and think of a job.' I was like, 'I'm just gonna take photos.'"
While on tour, did you have other roles besides taking photos? The first Modest Mouse tour that I went on, I was going out just as a friend, but I was attempting to tour manage at the time. I would collect money, sell the merchandise, drive the van, just do whatever I could to help the tour move along. Isaac [Brock] did a lot of that as well; we all kind of worked together on it. In 2007, right before Modest Mouse's last record came out, they were a lot more popular. Everything had changed and [Isaac] was like, "Come out and tour with us and think of a job." So I was like, "I'm just gonna take photos." I really wanted to finalize my series and just wrap up my documentation of him. When I first started touring with them I was doing photography and driving, and they were musicians on tour but also having to drive and deal with managing themselves. We both had our main love: for them it was music, for me it was photography. Fortunately, they got more popular so they got to focus on their music, and I got to focus on only photography. It ended up that way, but there was a lot of work to get to that point. There was even near-death experiences.
I feel like near-death experiences are kind of a motif in the book. Exactly! I don't know how it started but, we started doing a joking series, like, "Eric's dead." Eric [Judy] would just do these fake dead poses in random, strange locations. There's a lot more—there's only a few in the book. During the blizzard, on the first tour, we did almost die a couple times for real. No dead poses were struck then.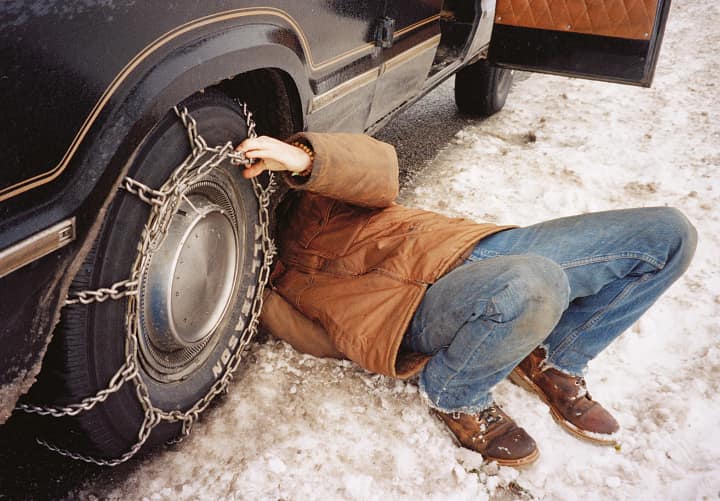 What happened there? The van got caught in the blizzard and spun around and we almost crashed off a bridge. Luckily, a guardrail stopped us. Later on, we got stuck in the middle of a highway all night long, by a snow drift and no road. Just vanished. That's in [the book]. That whole story. That was their first big tour; they'd maybe done short runs around the Midwest and played New York before. There was a huge learning curve for everybody on that tour. As the tours went on I started taking more photos. That was one of the things I learned along the way: I just need to keep shooting. There would be moments in the first tour where you get caught up in something and you don't stop to take a photograph. Just technically speaking, it was before digital photography so there might be moments where you can't capture something because it's too difficult. Or when you're about to die or you're too scared.
How did you and Isaac meet? We met in April of 1992. I'd moved to DC from Wisconsin to document the punk scene and be a part of causes I believe in. I moved out to Positive Force House, which was a group activist house. Isaac moved out there, too. I believe he dropped out of high school and moved from Issaquah, Washington, probably for the same reasons that I went. He was really into photography and I would share photos with him of the gigs that I was going to, like Fugazi and Bikini Kill and Nation of Ulysses, and he was really into that. He would also build sets, collect costumes from thrift stores and stage scenes and have me photograph them. He'd pull me aside and say, "Tonight, when everyone goes to bed, we're going to do this shoot. I've built this set and you can be in it. I want you to wear this outfit." I wasn't sure what we we're going to do with the photos, I don't think he was either. One night, he came to me and he was wearing a green dress and had made himself some angel wings and a halo. He was like, "You've gotta come with me now, you've gotta come with me to the 7-Eleven. I need a photograph of this." So we went to the local 7-Eleven and I photographed him buying gum. That was our relationship: Isaac had all these crazy ideas, and I was totally into capturing them.
"That was our relationship: Isaac had all these crazy ideas, and I was totally into capturing them."
You must have an insane amount of photos. Was the editing process difficult? I've got boxes of images from over the years that I've printed myself in various dark rooms. I've found that as time goes on my taste in photography has changed, so I'll have a sheet of negatives that I haven't looked at in 10 years and I'll pull it up and look at it and think, Why did I ignore that image? Also, when I was taking most of these pictures, I would have to go to the darkroom and print the images myself, so if looked at a negative and I judged it as being you know too dense or too dark, I wouldn't even bother trying to print it. Now you can stick any image into a scanner. So that added a more complex element to it, but it also made it more exciting, because there is some work that I had never seen, and no one else had ever seen.

The Polaroids are pretty amazing. I'm fascinated by all these different cameras that were out there—and still out there—Polaroid being one. I started a Polaroid project in 1997. I decided that I was going to take a Polaroid every single day and just date it and put it up on my bathroom wall. As the Modest Mouse tour started, we did the same thing. I started a little gallery in the back of the van. There's one shot of Jeremy where you can see all the Polaroids taped up. The Polaroids to me are probably the most special artifact because they were photographs taken on the tour, and they lived with us in the van. They've got the wear and the tear, as if they were another human being on tour.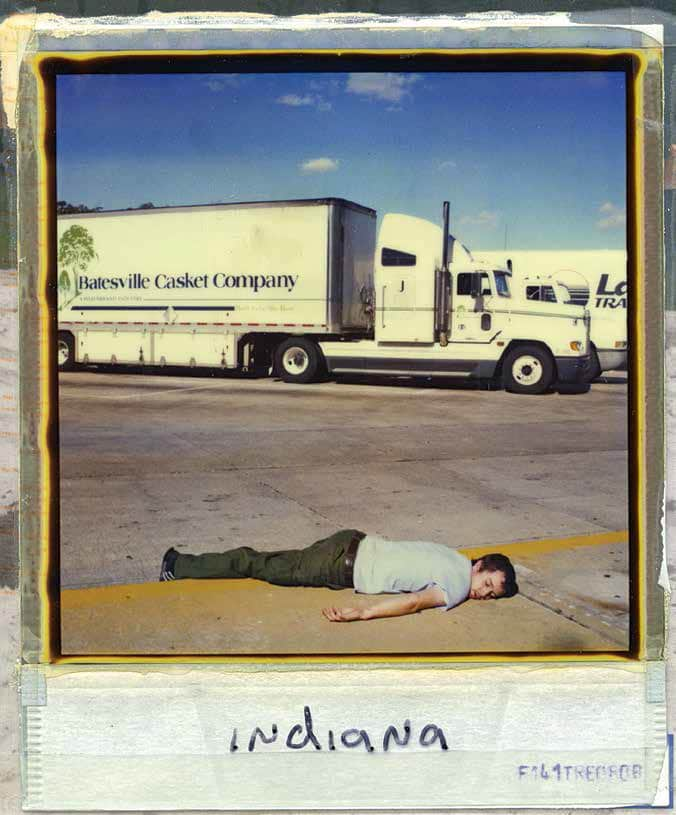 Did you always know that you would ultimately publish a book? I didn't always know. I always hoped there would be something. That part of my life is my favorite photography that I've ever done. I've gone on to do a lot of other things, but this has always been in the background. It's always been the base of what I do.

Is there a bittersweet element to finally releasing it, like, putting this part of your life behind you? No—I'm really happy about it. It's why I take pictures, so I can have these memories and share them with other people. There's certain things I would forget unless I had a picture of it. I've got those pictures and I can share these stories with my family, the guys in the band, the people I toured with. It's not at all sad; I've got the photos—and my relationship with Isaac. Sometimes [the two of us] will go a year, two years, three years, not even seeing each other. Then I'll see him and we'll be hanging out for a month straight, 24 hours a day. Or I'll see him randomly and it's the same as the last time I saw him. As far as bittersweet moments go, those first couple Modest Mouse tours that I went on, the last day I was just crushed. I remember being very upset at the end of the first couple tours, like, not even being able to take a picture and just being very, very sad. I'm not very good at saying goodbye.
Pat Graham will be exhibiting the original photos, Polaroids and cameras at The House of Vans in London, 27th November-12th December.