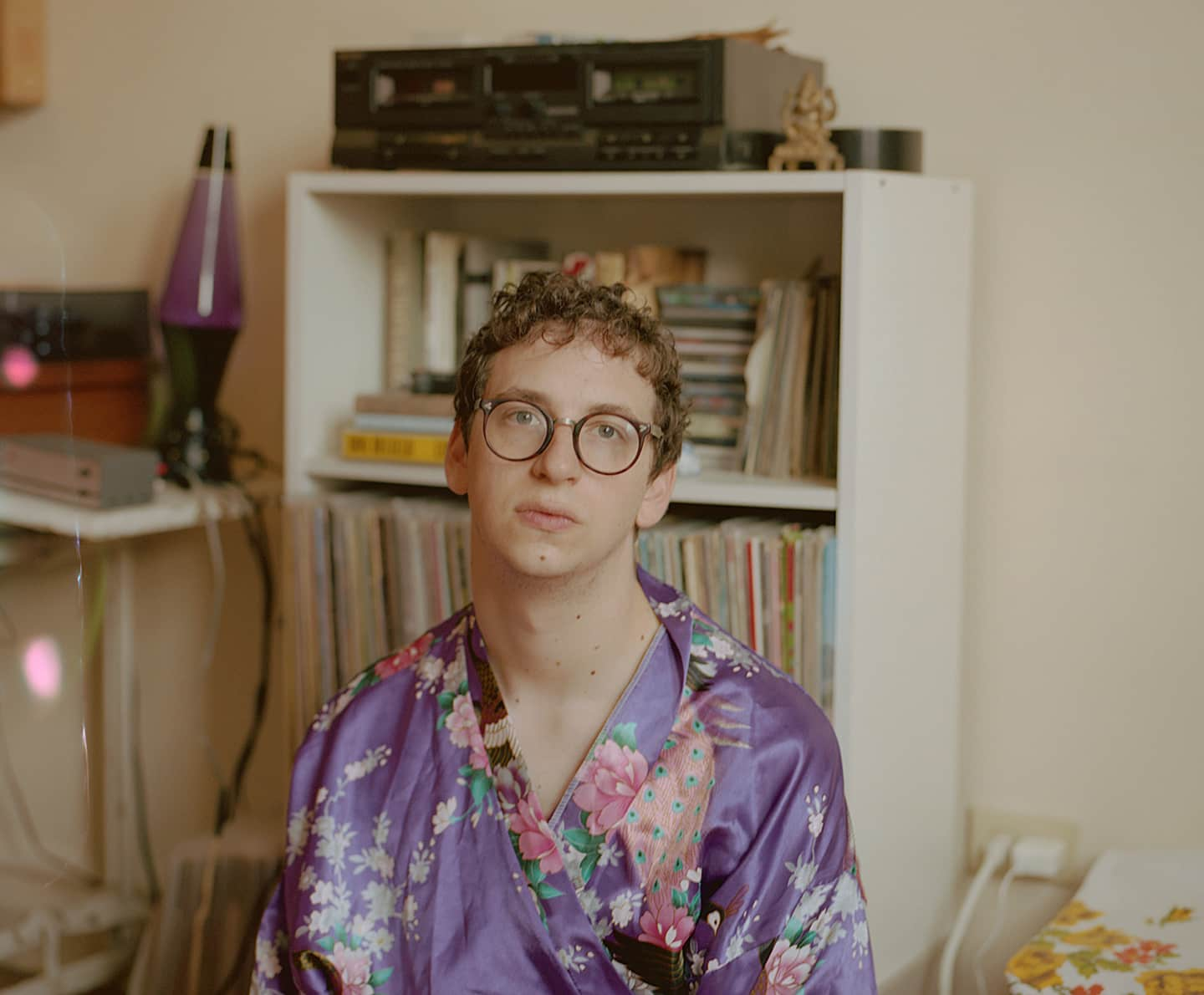 But Still, Who The Heck Is Jerry Paper?
In this week's GEN F: flower garlands and philosophical inquiries with synth-pop's curly-haired enigma.
An early 2014 mockumentary about Jerry Paper opens with a question from the narrator: "Who the heck is this guy?" That's a standard reaction to first encounters with the postmodern synth-pop producer. Press materials over the course of his career suggest that Jerry is an 11-dimensional musical entity who occasionally inhabits the three-dimensional body of curly-haired Brooklyn busboy Lucas Nathan, but when pressed Nathan admits that this tongue-in-cheek explanation of his project stems from a lifelong fascination with mystical experience.
Ever since he was a teenager, when he hung around Scientology Centers and Mormon temples in his native Los Angeles, Nathan has nursed a fascination with the idea of "direct experience"—that some of what you gain through sensory perception can't be expressed linguistically. He sees religion as one of the primary ways that such an experience could be manifested. The other way, naturally, is music. "Musical sounds act as symbols, but they carry information that can bypass linguistic processing," Nathan says. "That was my main focus. I wanted to investigate that freaky idea." Starting when he was studying Philosophy of Religion and Sociology of Music at The New School, the songwriter, now 24, has spent the past half-decade pouring his heady ideas into the string of fractured synth-pop releases, first under the alias Zonotope and now as Jerry Paper. "I was always interested in religion, at least the ritual of it," he says. "So I created this ritual that makes me Jerry."
For concerts, the ceremonial ritual that transforms Nathan into Jerry requires nothing more than putting a flower garland around his neck or a silk robe on his shoulders, but don't think he doesn't take the idea of religious ritual seriously. On his latest full-length album, Big Pop For Chameleon World, and in its accompanying surrealist video game, Nathan explores that idea of direct experience through another philosophical obsession: the concept of simulacra. "What is the dividing line between a simulation and the real thing?" he muses between bites of a tostada at a Bushwick taqueria. He attempts to answer such questions through the bizarre instrumentation on Chameleon World, which is composed entirely of synthesized versions of physical instruments. "One of the synth sounds I used is supposed to be harpsichord, but it just sounds like a straight up square wave," he explains. "Is it just the word 'harpsichord' on my keyboard that makes it a harpsichord?" The resulting tapestry of faux-instrumentation is about as uncanny as you might expect. Chintzy and cheap synthesizer sounds approximate and invert the easy-listening pop sonics that Nathan has explored over the course of his career, and on Chameleon World things are just close enough to their sources to be totally revolting.
Nathan presents all of these ideas with total sincerity, but he's aware it's funny, too. "Synth sax is also just hilarious," he chuckles. "The point is try to get you to ask questions about it. 'Is this guy an idiot?' That's a totally valid question." And it's a question you may find yourself asking as you make your way through the absurdist video game that accompanies the record. In addition to horses in jean shorts and cockroach biker gangs, the game includes the ultimate goal of ritual purity and transcendence. As ever, he's cloaking serious ideas in the midst of surrealist frivolity, like a spoonful of sugar to philosophy's medicine. Other artists may fear not being taken seriously, but Nathan can't imagine a world where his metaphysical pop tunes wouldn't be infiltrated by mirthful runs of sub-Seinfeld slap bass. "There's no point in not having fun with it," he says. "It's not even an option. It just seems like a false reflection of life."
From The Collection:
GEN F