According to an early report from AllHipHop.com, Interscope quietly began to distance itself from Chief Keef after the Glo Gang/GBE rapper became tied up in a spat of legal issues. There were further disagreements regarding marketing for his upcoming album, and more broadly, the handling of his career. His post-rehab relocation to Los Angeles—where Interscope is located—was allegedly the final straw: "Keef and his people tried to keep the label accountable (once Keef moved to Los Angeles) but Interscope didn't seem interested in dropping a new album. Keef's team tried to have formal meetings but nothing moved," an anonymous source told AllHipHop.
Keef confirmed the news this afternoon on Twitter, citing Jimmy Iovine and Dr. Dre's departure for Apple, and assuring fans that he plans to move ahead with the numerous projects he has slated for release in the coming months:
Laughing because to me I been Dropped. mfs ain't help me Pay no Mf Bills 😞
— AlmightySo (@ChiefKeef) October 21, 2014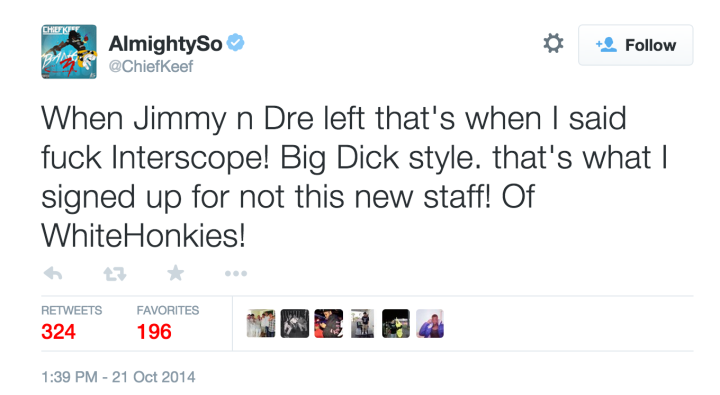 According to court documents obtained by DNAinfo Chicago, Keef signed a three album contract worth more than $6 million with the label in June of 2012 following the success of "Don't Like." The FADER reached an Interscope representative, and is awaiting further comment.