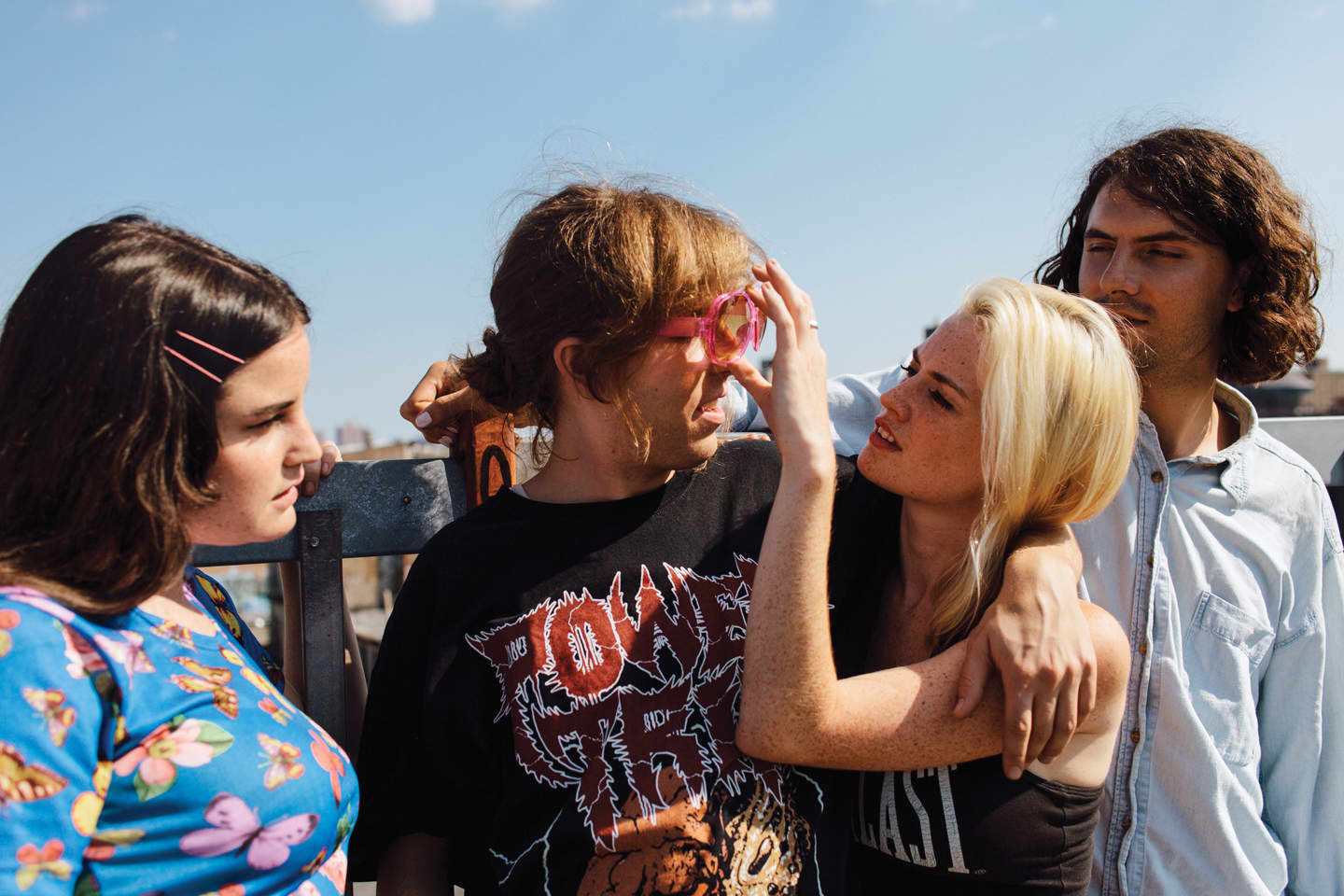 Montreal's TOPS Makes The Durable Songs We Need For Turbulent Times
In this week's GEN F: clean-sounding rock that'll stick with you.
From the magazine: ISSUE 94, Oct/Nov 2014. Order a copy here.
On "Circle in the Dark," from TOPS' new sophomore full-length, Jane Penny sings about an earth-shattering development in her Montreal neighborhood, her untrained soprano sounding at once sad and hopeful. "They're building a huge university residence in the train yard across the street," the 26-year-old explains over the phone. "It's going to be a completely different place, and I was just sort of seeing it all happen." Like in other places with low rents and hoards of restless creative types, things in Penny's universe rarely feel permanent. TOPS, however, is committed to making clean, classic-sounding rock that will stick around a while. Forever, maybe.
Although they're all loyal fixtures of Montreal's weird pop scene, all four members of the band are transplants. Guitarist David Carriere moved to Montreal from Edmonton, an oil-mining city in Canada's midwest, and began collaborating with lo-fi songwriter Sean Nicholas Savage. They started writing songs for a female vocalist and called on Penny, another ex-Edmontonian, despite the fact she'd never sung before. "They were like, 'Hey, you should sing these songs because you're our friend,'" she remembers. When she and Carriere decided they wanted to start their own band, they linked up with California-born musician Riley Fleck after hearing him drumming tirelessly through the walls at La Brique, a sort-of-legendary practice space among Montreal's DIY community. "We all had similar reference points," Penny says of their initial jamming, from which TOPS' reverb-laden, familiar-feeling aesthetic was born. "We were huge fans of Ariel Pink, Fleetwood Mac, Sly and the Family Stone—stuff like that."
In 2012, TOPS put out Tender Opposites, their first LP of groovy soft rock, sounding like your mom's favorite AM pop station half-remembered in a dream. It was the same year that Grimes, who also practiced at La Brique, released Visions, a left-field commercial success that brought unprecedented attention to their city's loft scene. Suddenly, tons of eyes were on Grimes' local label, Arbutus, and its eclectic roster of experimentalists: Doldrums, Blue Hawaii, BRAIDS and, of course, TOPS, whose approach to songwriting was strikingly conventional compared to that of their contemporaries. It was an exciting time, and the buzz wrought change. "Everything was put up under a magnifying glass," Penny remembers, noting that some artists started leaving town or identifying themselves separately from what was once a unified community. TOPS, for their part, chose to stay put. "Being in the same place and doing the same thing can be kind of challenging," Penny says. "But I feel like it was a big gift, because it came with the time."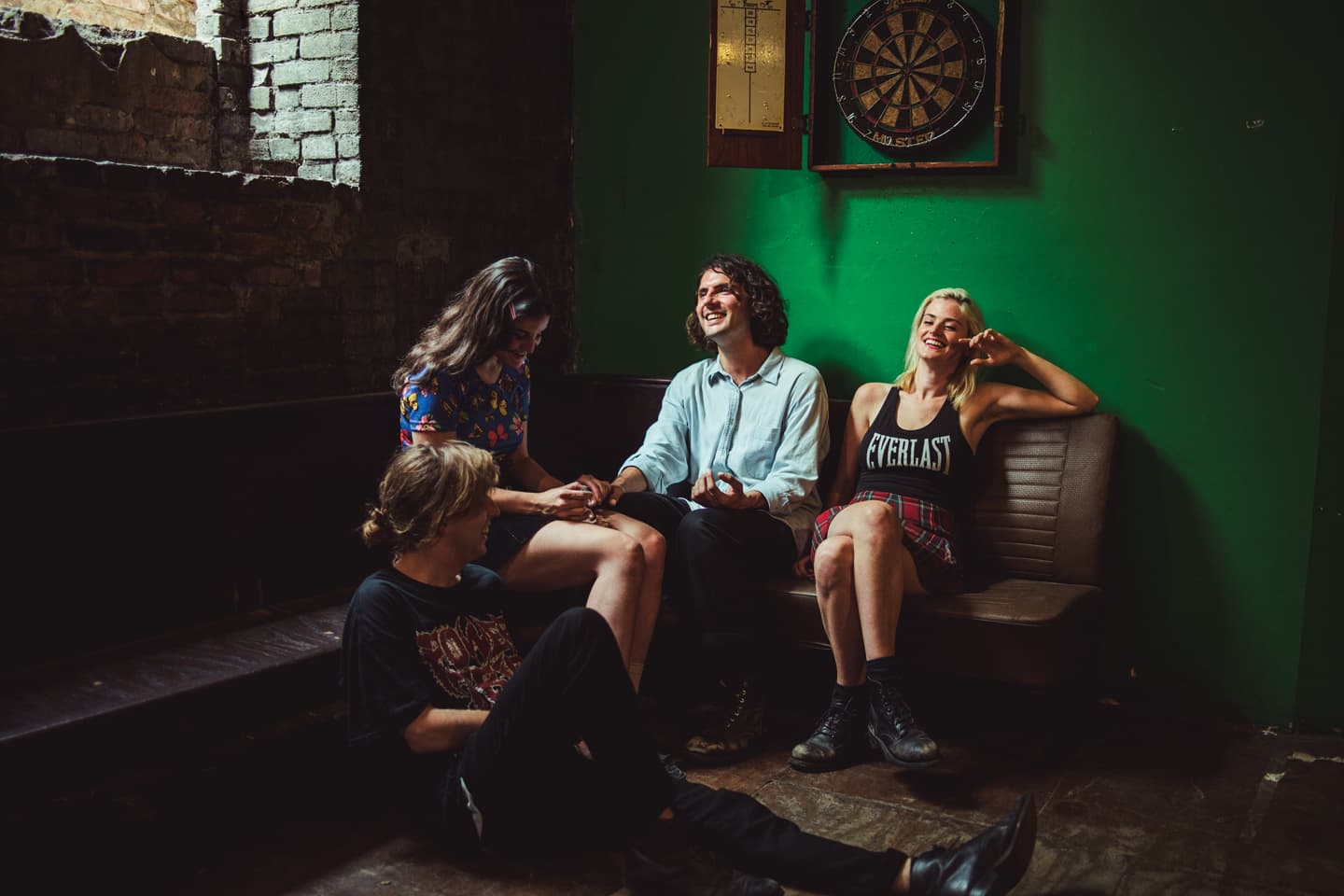 While Tender Opposites was meant to relay how TOPS sounded live, their new album, Picture You Staring, is a deliberate reflection of the emotionally complex, sonically curious time they spent making it. Recorded over 18 months, their sophomore effort, Carriere says, "has much more intent to it," including the addition of live bassist Madeline Glowicki, another transplant from Edmonton, on backup vocals. The band's new attention to production is audible on each of the album's uniformly slick tracks, from the Fleetwood Mac-ish lead single, "Way To Be Loved," to the '80s power ballad throwback, "Outside." Lyrically, most of these songs are concerned with Penny's day-to-day observations of young people existing in Montreal. You're not my only friend/ But you didn't have to go/ You didn't have to go away, she sings sweetly atop wistful synths on "Destination," the album's low-key heartbreaking closer. "It's sad because you have all these memories, but you can't hold on to things," Penny says when asked if it's strange to be stationary in a community that's always rearranging itself. "You have to open yourself up to change."
From The Collection:
GEN F