The 5 Best Record Shops In North America, According To Jamie xx
The London producer shares his vinyl haul from his summer tour, and opens up about his debut album.
Jamie xx got his first turntables when he was 10 years old, a gift from his uncle who used to be a DJ and had an old set of decks in his loft. He started buying records not long after that. By the time he was 16, was using a fake ID to get into clubs and soak up the sounds. It was the beginning of an education that's showed no signs of stopping, and he says that vinyl collecting has been a "massive influence" on his approach to both DJing and production. "I listen to so many different genres of music, which I didn't used to," he says over the phone from London. "That all comes from my love of buying records."
This past summer, Jamie spent three weeks on tour in North America, stopping off at record shops along the way whenever he had the chance. "I usually head to the soul section, because that's what I know most about," he says of his crate-digging technique. "Then jazz and world music. Those are things that I'm best at finding, because I know about the producers and the studios and the players on the record. Even if I don't know the record, I can sort of tell whether it's going to be good or not."
His plan was for him to come home and do a radio show with all the records he'd bought on tour, but something came up: "I had to go and mix my album," Jamie explains in his characteristically calm and quiet tone. Ah yes, his debut album. When's that coming? "I'm not sure when...early next year." What's it like? "A journey, I would say. It's music from three years of my life, and it's changed quite a lot over that period of time." As to whether any of the records he's picked up have made their way into his new music, he says not quite yet, but you never know. "I'm always looking for drum breaks and a lot of samples," he says. "I think that Delia Derbyshire thing might eventually make it into something I do." You heard it here first. While we wait for new music from The xx producer, dig into Jamie xx's favorite stores from his trip below.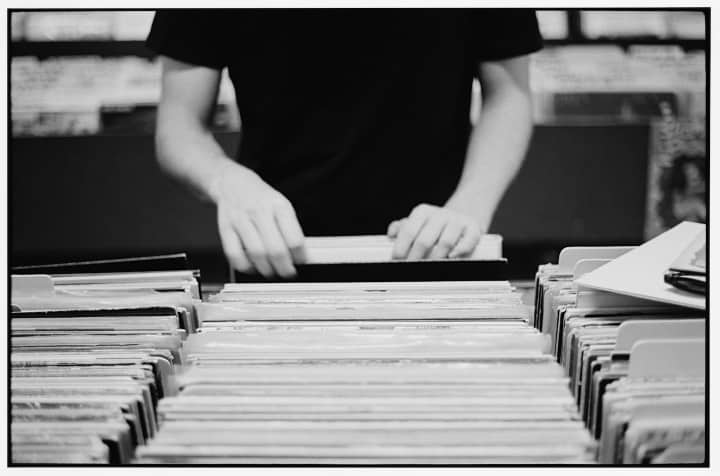 "Mississippi Records in Portland was my favorite. I didn't know about it before I went. They re-released a lot of weird gospel, and records that I wouldn't have usually come across. They also re-released a Delia Derbyshire thing of her interviewing people about their dreams, and then she sliced them up on tape. Just really cool stuff."
Jamie bought: Various, Five Minutes to Midnight 10"
"They're always playing amazing records that I've never heard when I go in there, but also it's kind a scary vibe, so you don't want to ask what the record is. I always end up finding something good in there."
Jamie bought: ESG, "Moody / UFO" 12"
"[This has] loads of used records you wouldn't be able to find in a lot of places in England—stuff that's specific to the south of America. Country and blues, and stuff that's been imported up from South America, as well."
Jamie bought: James Wells, True Love Is My Destiny LP
"It has a lot of soul music, and it feels like you're flipping through somebody else's record collection rather than a bunch of random records."
Jamie bought: Interceptor, "Together" 12"