Who Will Survive When Migos Meets Big Data?
Read the cover story from FADER's 95th issue.
Quavo is positive he nailed the guy in the shoulder. "I got him!" he shouts, perching on one knee behind a barrier, hiding low with his gun tucked in. "I got him! I got him! I got him! "
Quavo's target, a trained shooter with a neckbeard and camo gear, doesn't acknowledge him, just keeps firing paintballs back as if nothing happened. Seconds later, when he hits Quavo square in the butt, Quavo ignores it and, as much out of principle as spite, stays on the field and keeps shooting. When one of his teammates gets knocked out, Quavo inherits his gun and is suddenly firing two at once. "Back left corner! Back left corner!" an opponent yells, and Quavo takes cover as little yellow bullets come flying.
We're about an hour outside of Atlanta, Georgia, at a place called Dan's Land Paintball. The three rappers who make up Migos—Quavo, Takeoff, and Offset—and their entourage have made their headquarters in a mansion not far from here. Until recently, they played paintball on the golf course that overlaps with their backyard, but they were forced to stop when it got them in trouble with the community board. And so, on this sunny Saturday in October, the gang woke up early to drive to Dan's Land in their gigantic Mercedes Sprinter and have a little innocent fun.
When the game ends, Quavo leaves the field looking downtrodden. "I hit that nigga, man," he says, shaking his head. "I seen that paint splatter! That shit made me wanna go another round." When the four Duck Dynasty types on the other team, all armed with custom guns and pockets full of extra clips, strut over to debrief, it looks like there might be an argument. But then something nice happens: the guy Quavo hit in the shoulder admits that he cheated—good-naturedly, as if everybody does it. Suddenly Quavo lightens up. "Alright, man, that's all I needed to hear," he says, flashing a reluctant but genuine smile. With his protective mask now off, you can see his dreadlocks, which dangle luxuriously near his shoulders, and his youthful face, which looks strangely exposed because, for once, he's not hiding his eyes behind a pair of oversized Versace shades.
Everyone returns their equipment and pays, and the paintball facility's lanky, dad-like owner takes the opportunity to ask Jerel Nance, Migos' manager and friend since childhood, to describe "the band" in three sentences or less. "We make hits," Jerel says, and pretty much leaves it at that.
As the Migos gang piles into the Sprinter, joking about who caught the most bodies, no one seems to be thinking about the fact that, just six months ago, as the group drove down a dark Florida highway, their van was shot at from two lanes over by people with actual guns.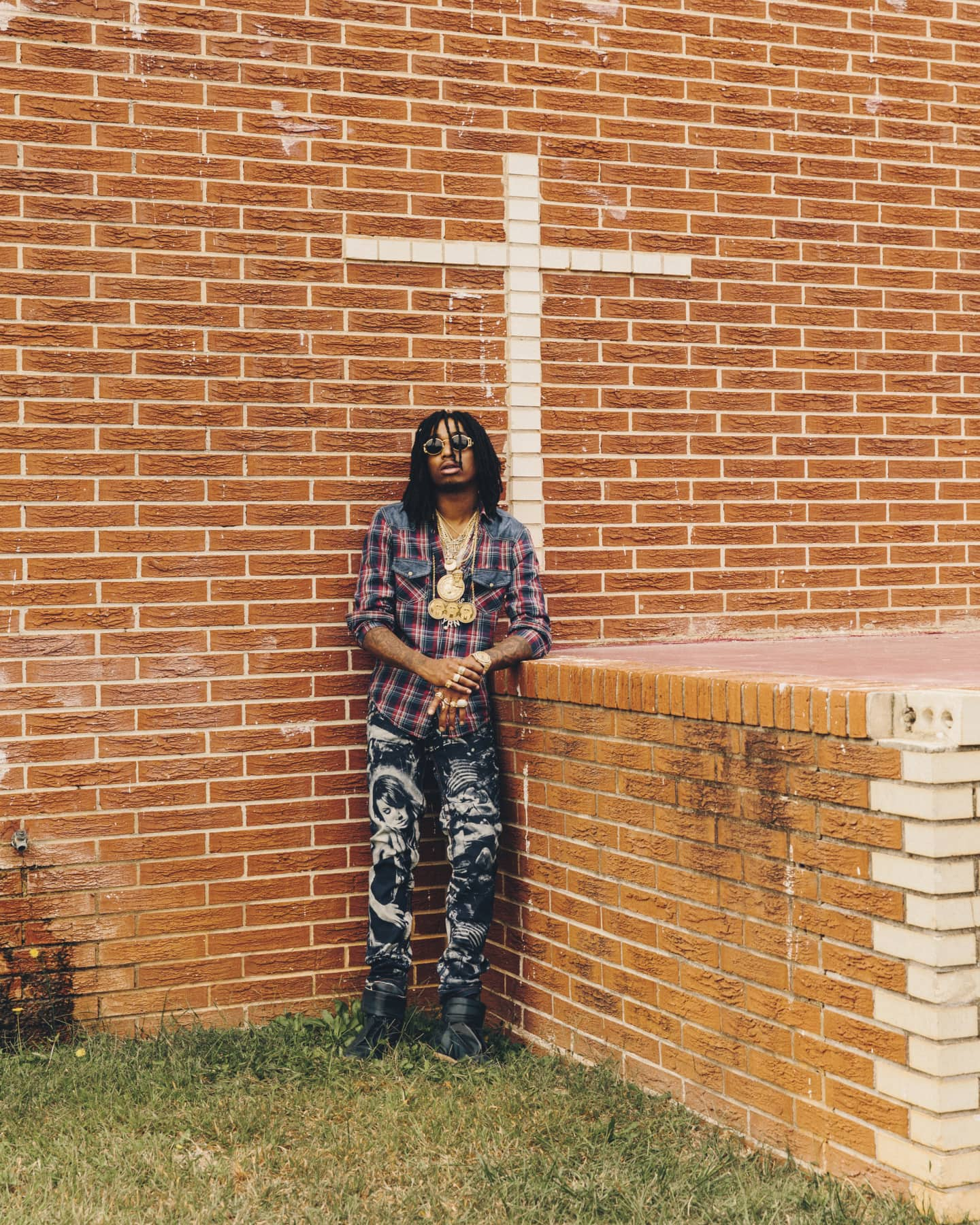 Before Migos scored their first radio hit with "Versace" in 2013, and the money they started making from shows allowed them to move into a mansion, they lived in Gwinnett County, in the suburbs north of Atlanta. They called their house there the "bando," which was also the name of the song that first got them noticed by local DJs. The three Migos have known each other pretty much from birth: Quavo, the oldest at 23, is Offset's cousin, and Takeoff, the youngest at 20, is Quavo's nephew.
Born Quavious Marshall, Quavo is the group's de facto leader, the one whose creativity the members of the entourage marvel at and the one most closely associated with the sharp-elbowed triplet flow that countless other rappers adopted after "Versace." (According to Jerel, it was actually Offset who invented it.) Takeoff, né Kirshnik Ball, is the calmest and also the one with the deepest, most patient voice; he has dreads, like Quavo, but they're much thicker, so that when one of the other guys exhales a lungful of weed smoke directly at his head, the smoke sort of just nestles there and curls slowly into the air, like steam wafting off a puddle.
Offset stands apart from the other two. Born Kiari Cephus, he has a devilish goatee and short hair, and he's more closed off than the others, at least when there are strangers around. It's hard not to suspect this is a residual effect of having been in the middle of an eight-month jail term when Migos blew up. ("Versace" and its accompanying mixtape, Y.R.N.: Young Rich Niggas, were recorded before Offset pled guilty to a probation violation, itself stemming from a theft-related felony in 2011, coincidentally the same year Migos released their first tape.) Today he lives in a separate apartment because the constant weed-smoking at the mansion makes it too risky for him to live there while on probation.
Migos started to make big moves while Offset was away. The first was signing with Quality Control Music, an independent label co-founded by Pierre "Pee" Thomas and Kevin "Coach K" Lee, an Atlanta powerbroker who had previously made stars out of Young Jeezy and Gucci Mane. It was Coach K who brought about Migos' other big move: going into business with another label, New York's 300 Entertainment. 300 was started in 2013 by former Warner Music Group CEO Lyor Cohen, one of the industry's most influential executives, and two of his longtime associates, Todd Moscowitz and Kevin Liles. Called the "Moneyball" of record labels in a Forbes article about its launch, they received $5 million in investment capital from Google and landed a data-sharing agreement with Twitter. In late March of 2014, less than a year after the release of "Versace," Quality Control signed a deal that put 300 in charge of promoting and distributing Migos' music.
Migos has been running on rocket fuel ever since. In 2014, they scored two more Hot 100 singles, the rambunctious "Fight Night" and the pouty but pretty "Handsome and Wealthy." Like "Versace" before them, both of these ultra-hooky, buoyant radio hits originated on a free mixtape released months earlier—in this case, No Label 2—a feat that was once practically unheard-of. With 300's help, both songs charted higher than "Versace" ever did, and on the strength of those successes, the group now performs between two and four times a week, earning a fee of $40,000 per show. In February, they're scheduled to release their debut album; according to Coach K, 300 will collect roughly 30 percent of the royalties in exchange for their services, and Migos and Quality Control will keep the rest while retaining full ownership of the masters.
Migos performs between two and four times a week, earning a fee of $40,000 per show.
Not that there haven't been some bumps in the road. Starting last spring, Migos has been getting into trouble—the kind that doesn't just get them headlines on TMZ but endangers their lives, causes promoters to cancel shows, and makes potential corporate partners nervous about working with them. First there was the drive-by shooting in Florida, which Pee says happened because a few local guys who were riding with Migos turned out to have some enemies. Then they were accused of physically attacking fans at two separate live shows, both of which erupted in chaos—and ended up on YouTube. The first time it happened, in Nashville, blogs reported it was because someone from the crowd had snatched one of Migos' chains, though they tell me that's untrue and blame a surly club security guard for instigating the fight. Next, at a Massachusetts club, Offset leaped from the stage with his fist cocked, apparently trying to punch someone who was harassing him from the crowd.
This pattern is worrying in part because it brings to mind Gucci Mane, a pioneer of the trap style that Migos breathed new life into, an early supporter of their music, and, lately, Atlanta rap's most prominent cautionary tale. Gucci got interested in Migos in early 2013, around the same time as Coach K. (By then, Gucci and Coach were no longer working together.) Excited by "Bando" and the group's other street hit, "FEMA," the rapper brought them into his studio for about six weeks, had them record a mountain of material, and offered them a contract through his 1017 Brick Squad label. Turning it down and signing instead with Quality Control proved to be a good idea. Gucci has battled drug addiction and been repeatedly incarcerated throughout his career, and in March of 2013, He was arrested again, for hitting a fan with a champagne bottle—an incident that, together with a separate weapons charge, would ultimately lead to the three-year prison sentence he's currently serving.
Quavo says that what's keeping the Migos on their toes, more than dodging the mistakes of their forebears, is eyeing what's coming next amid Atlanta's ridiculous pile-up of thrilling local talent. "It's a lot of new things going on," he says. "A lot of new swaggers, a lot of new trends. It lets you know how fast you can pop and how fast you can drop." Unless you learn some new moves, your initial originality will be quickly eclipsed by the appearance of stasis. Thankfully, Migos' new songs are unmistakably a step forward; no longer can you pinpoint a single definitive Migos cadence. They're becoming more tuneful than the jagged, machine-gun manner they were first known for, and in many places it's hard to say whether they're singing or rapping or both. Songs like "Wishy Washy," "Take Her to the Room," and "Just for the Night," all of which were completed this past summer, find Migos delivering verses in which they don't let a single line go by without bending it into its own self-contained little hook. As a result, there are dozens of unpredictable mini-melodies embedded in each broader movement, which works especially well when paired with Migos' penchant for emphatically repeating short phrases. What a feeling! Quavo exclaims eight times in a row on one of the more celebratory new songs, and every time he repeats it you're glad he did.
"Every 10 years it's like a new wave coming in, and that's what's happening now," says Coach K. "Not to knock nobody, but the Jeezys and the T.I.s and the Guccis—they're getting to that age, man. These boys, they're on a new wave that's coming through. They're coming with a new sound, new cadences, new flows. They're the ones now."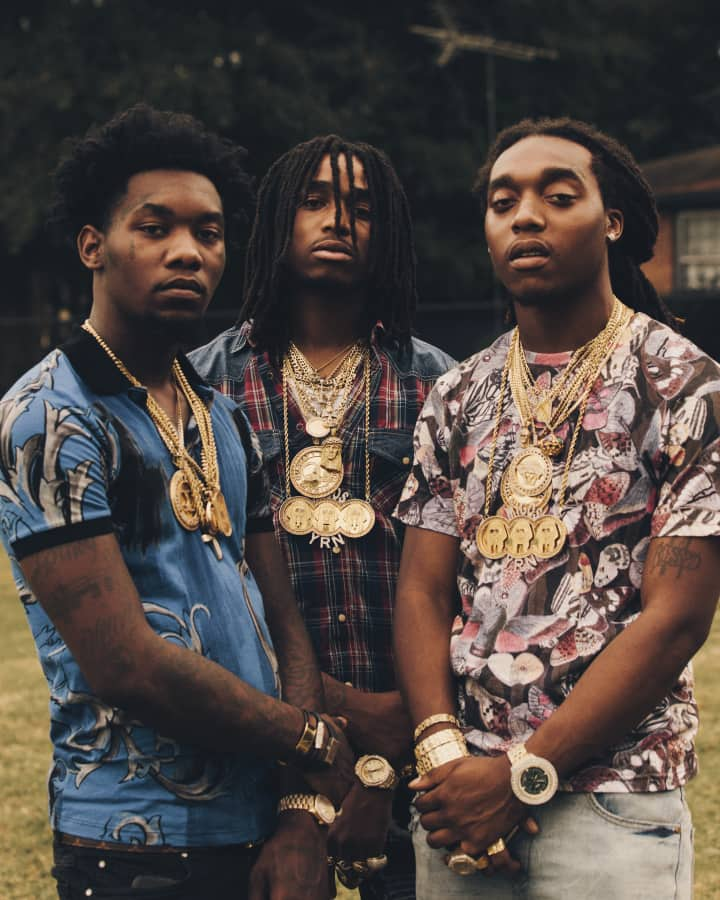 "I wanted five million dollars, but didn't none of them wanna come with five million. They'd come with one, two, two-point-five. But we already came in the game with that." —Pierre "Pee" Thomas, co-founder of Quality Control Music
Drive the looping, tree-lined paths of Migos' gated community on a Saturday afternoon, and you might see golf carts, kids riding their bikes, and old white-haired Southerners walking their dogs. Make the right set of turns, though, and you'll find yourself on a street crowded with a procession of dazzling muscle cars—a Dodge Challenger, a Chevy Camaro, an old-school Monte Carlo—stacked up on the sloping driveway and unmistakably leading the way to the Migos mansion.
It was Coach K and Pee who insisted the group find a home outside the city limits, so that they would be less likely to get into harm's way. Today, the house is appropriately quiet. In a tiny basement studio adjacent to his bedroom, Takeoff rolls a blunt and listens to songs recorded the previous night. The floor is covered with a thick, unapologetically stained beige carpet, as well as a shoebox that contains a sort of compost pile of discarded cigar tobacco and empty 20-ounce bottles of Fanta. Offset appears, a pair of Uggs on his feet, and starts worrying about the photo shoot they're doing tomorrow for the cover of their next mixtape. "If we're gonna call it Bachelors, we gotta wear suits on the cover," he says, and Takeoff agrees. (Ultimately, they rename the tape Rich Nigga Timeline and save Bachelors as a possible album title.)
It's around this time that Pee stops by to check in. Tall and heavyset, he grew up idolizing Birdman and Master P, and, at 35, he carries himself like the CEO that he is. He wears a Gucci skull cap that looks almost like a yarmulke and a pair of low-top Louboutins covered in silver spikes. When Offset asks about their wardrobe for tomorrow's photo shoot, Pee calls Coach to consult and soon announces that everyone's going to the mall to buy suits at Zara. By the time the crew is dressed and the caravan of cars pulls out, it's already dark outside.
Pee drives separately, in a white BMW X6 M, and as he zooms through traffic, he talks about how proud he is of keeping Quality Control independent. "We turned down every label. We turned down Def Jam, RCA, Atlantic," he says. "I wanted five million dollars, but didn't none of them wanna come with five million. They'd come with one, two, two-point-five. But we already came in the game with that. When Migos came out, Migos had real Rolexes on. Migos had real Versace on. The 'Versace' video cost us $100,000, you feel what I'm saying? We already came in the game with money."
When I ask where the money he invested into the company came from, Pee gives me a brief, meaningful look. "It was hard workin money," he finally says. "That's what it was. That's what I like to call it. 'Hard workin money.' You feel what I'm saying?" It's obvious that he doesn't want to go into more detail—except to say that when he started Quality Control and signed Migos, his life changed about as much as a life can. "I ain't doing stuff from my past, you know what I'm saying?" he says. "My whole life is dedicated to making sure that this music thing works for us. Cause don't no one want to go back to doing whatever they were doing before."
Outside the mall, Jerel collects claim tickets to valet park the cars. Quavo, Takeoff, and Offset post up on the curb, dressed like they're ready to go to an awards show. At one point Pee notices that one of Offset's chains is facing the wrong way, and he flips it forward for him.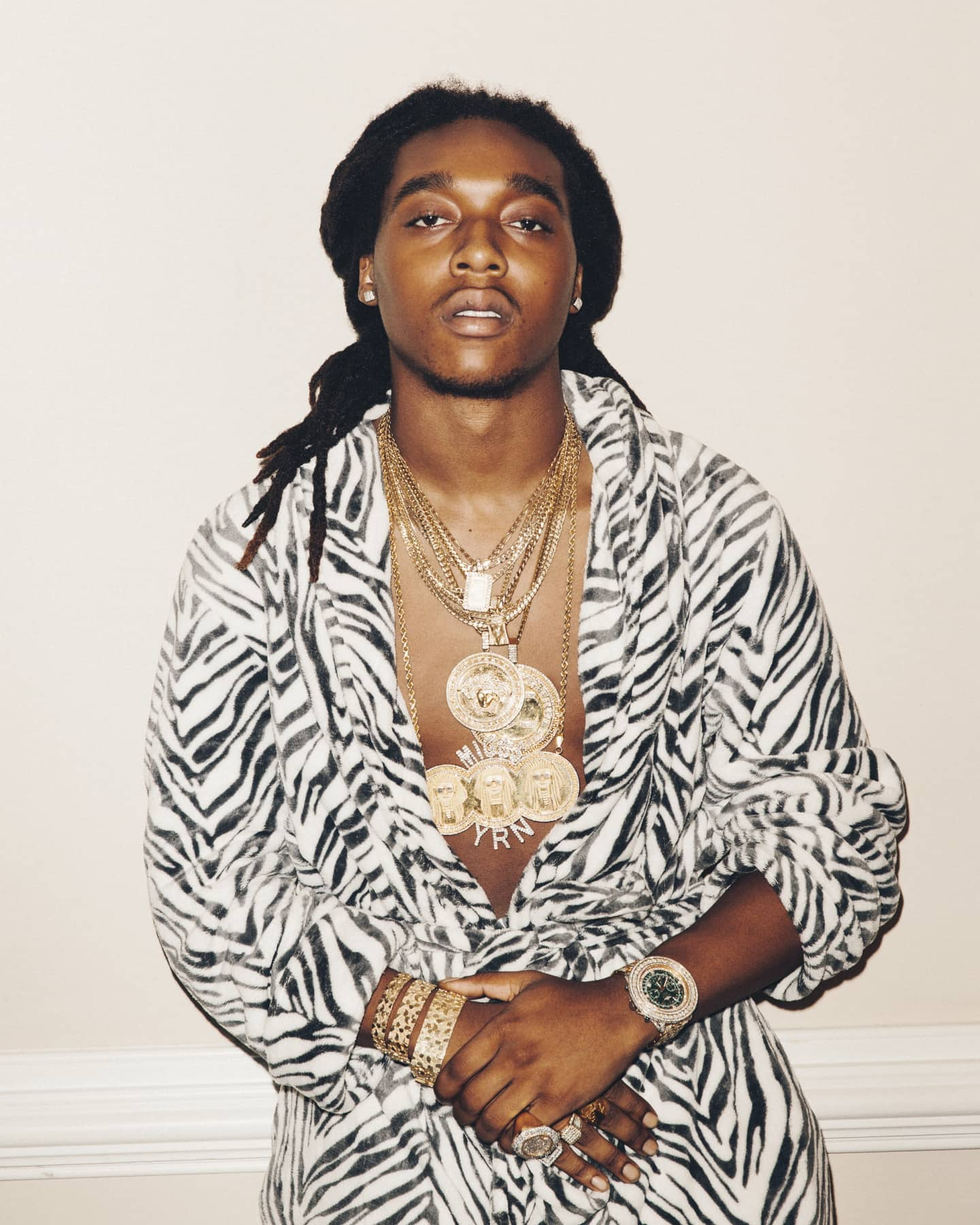 A few days earlier, in Manhattan, Lyor Cohen is trying to leave work so he can go home for Yom Kippur. Sitting in a low-slung chair at 300's brand new headquarters north of Madison Square Park, he drinks tea that an assistant has just brought him and explains the problem with surface-level social media metrics. "When you have on Twitter these 'likes' or 'thumbs up,' the thumbs are equal to one another, and that's not how the real world works," Cohen says. "I have a bigger thumb than the person behind the deli counter probably does, when it comes to rap music."
Cohen's big, well-connected thumb—which, among other things, he can use to influence programming directors and DJs at radio stations and introduce Quality Control artists to executives at places like MTV—is a big part of the reason Coach K and Pee entered into a partnership with him. And yet, Cohen and his co-founders would like 300 to be more than just a vehicle for the power they've accumulated during their decades in the music business. Rather, they want their company to be seen as a trailblazer and an innovator—a lean visionary coming up with new ideas for how to discover artists and make them popular.
Earlier this year, Cohen made headlines by announcing that 300 was partnering with Twitter to develop new analytical tools, which he said would ultimately benefit the entire record industry. A Twitter spokeswoman says 300 is getting a trove of non-public data—what kind, she wouldn't elaborate—as well as access to a dedicated team of Twitter engineers who will be responsible, over the next year, for helping the label to develop a music-specific data-mining tool. 300's Travis Rosenblatt, who is heading up the project, says the challenge is to take Twitter's firehose of data and figure out which parts of it might be valuable to people in the music industry. Rosenblatt says the tool he's working on with Twitter's engineers will be an open API, which means other record executives will be able to use it to answer any number of interesting questions, like where in the country a specific artist is gaining momentum, or which thumbs exactly are responsible for causing a song to go viral.
300 flew down to Atlanta and listened to the entirety of 'No Label 2' while sitting in the back of Pee's car.
The project is still in its infancy. And it must be said that 300 didn't discover Migos because some magic social media stats told them the buzz was right—its partners have been taking independent labels national since before Twitter even existed. When Moscowitz ran Asylum and Cohen was the CEO of Warner, they went into business with labels like Swishahouse in Houston, Cam'ron's Diplomat Records in New York, and Gucci Mane's 1017 Brick Squad in Atlanta. These were labels that did well locally on their own, Moscowitz says, but didn't necessarily "have the muscle and the financial firepower to take it to the next level." That was where Moscowitz and Cohen would come in, and in exchange for a piece of the action, give them access to the resources of a major label. "I think we've always had kind of an affinity for that model," Moscowitz says. "So when we started up 300, one of the first things that I did was go back to a lot of those people I had worked with before."
It was through working with Gucci Mane that Moscowitz first met Coach K. The two came to trust one another, and by the time Moscowitz saw Migos perform in New York in 2013 and approached Coach about signing them to 300, he was able to do so with all the good will of an old friend. Even so, it took months of courtship before Moscowitz convinced Coach to agree, and when he did, it was for a pressing and distribution "plus marketing services" deal that involved no transference of ownership whatsoever.
The origins of 300's association with Quality Control underscore something surprising about the brash young company: despite all the noise about innovation and reinvention, there are key ways in which 300 is extremely traditional. This includes their approach to promoting music—specifically, getting singles like "Fight Night" and "Handsome and Wealthy" to do well on the Billboard charts. "We work the clubs first," Moscowitz says. "In Atlanta, you start off working the strip clubs. When it's hot in the strip clubs, the DJs in Atlanta start to hear about it, and you start working the DJs. If it looks like you have real heat on a record, and Atlanta radio is starting to really play it, and it's working for them, you say, 'Wow, it's probably time to take this to the rest of the country.' And you do." Whether or not Migos could've done as well as they did with "Fight Night" and "Handsome and Wealthy" without 300's help is obviously unknowable. But 300 surely played an active role in the process: at one point, when it was still undecided which song would serve as the tape's lead single, Moscowitz actually flew down to Atlanta and listened to the entirety of No Label 2 with Coach and Pee while sitting in the back of Pee's car.
The approach 300 took to pushing "Fight Night" wasn't exactly revolutionary—but then, as the company's marketing manager Rayna Bass tells me, it would be foolish of them to try to "reinvent the wheel… just for the sake of saying we're different." She says that "nine times out of 10, our instinct and gut is gonna trump numbers on a paper." Maybe in other industries it's more black and white, Bass adds, but "with art, it's not. And it's our job to [determine] when we can use the data and when we actually have to use our souls."
When Migos and their crew finally arrive at Lenox Square Mall, they decide to hold off on Zara and hit Nieman Marcus first. The store is nearly empty and in the process of closing for the night. An employee radios over to a colleague that our large party has entered the store, and I wonder how obvious it is that this large party is about to spend a ton of money. As we walk past docile security guards and smiling attendants betraying no hint of annoyance at being forced to work late, I conclude it must be pretty damn obvious.
Upon reaching the high-end sneakers department, the guys scatter to examine the selection. These shoes cost at least $500 per pair—some come with gold chains instead of shoelaces, and some are designed to look like they were made by Jackson Pollock. Migos and their friends look them over like they're checking fruits for freshness. Takeoff considers a pair of white leather Buscemis but, after trying them on, decides against it. Pee sees a $2,300 backpack and decides to go for it after examining it for approximately five seconds. As a group of store employees huddle around, Quavo flirts with a pretty salesgirl and respectfully bosses around a bald guy who's helping him find the right size of rainbow Margielas.
"I don't talk that top-floor New York type shit. That ain't my business. My business is to make music."—Quavo
The group makes its way through the mall while curious teenagers turn to gawk, and at one point a kid working at Abercrombie & Fitch sticks his head out of the store and yells, "I fuck with you, Quay!" Soon they come upon three young women who want pictures. Quavo, Takeoff, and Offset pose as a group with each one, and then Quavo, as the heartthrob of the bunch, is asked if he would mind taking a few more with just him.
At Zara, it becomes clear right away that none of the suits will suffice. Once that's settled, it's a free-for-all, with everyone in the crew, not just Migos, ripping through the store and piling the counter high with jeans, sweaters, and fall jackets. It's understood that Pee will pay for everything, and while he waits for the clerks to run up the total, he talks about how good it feels to have proven wrong all the people who said "Versace" had only become a hit because Drake added a verse to a remix. It wasn't because of Drake, Pee says—in fact, he adds, he's not even sure the Drake thing ended up helping that much, especially since Drake's label never gave Quality Control the clearance to sell the song on iTunes. "It was a gift and a curse. Sometimes I really wish he had never jumped on it—it was gonna blow without him."
After the mall, as everyone heads to the new, $1.5 million studio that Pee and Coach K built for Quality Control, it feels like there's celebration in the air—a shared sense of excitement about how well everything is going. Quavo, Takeoff, and Offset don't betray it on their faces, but somehow it seems clear they're not used to it yet.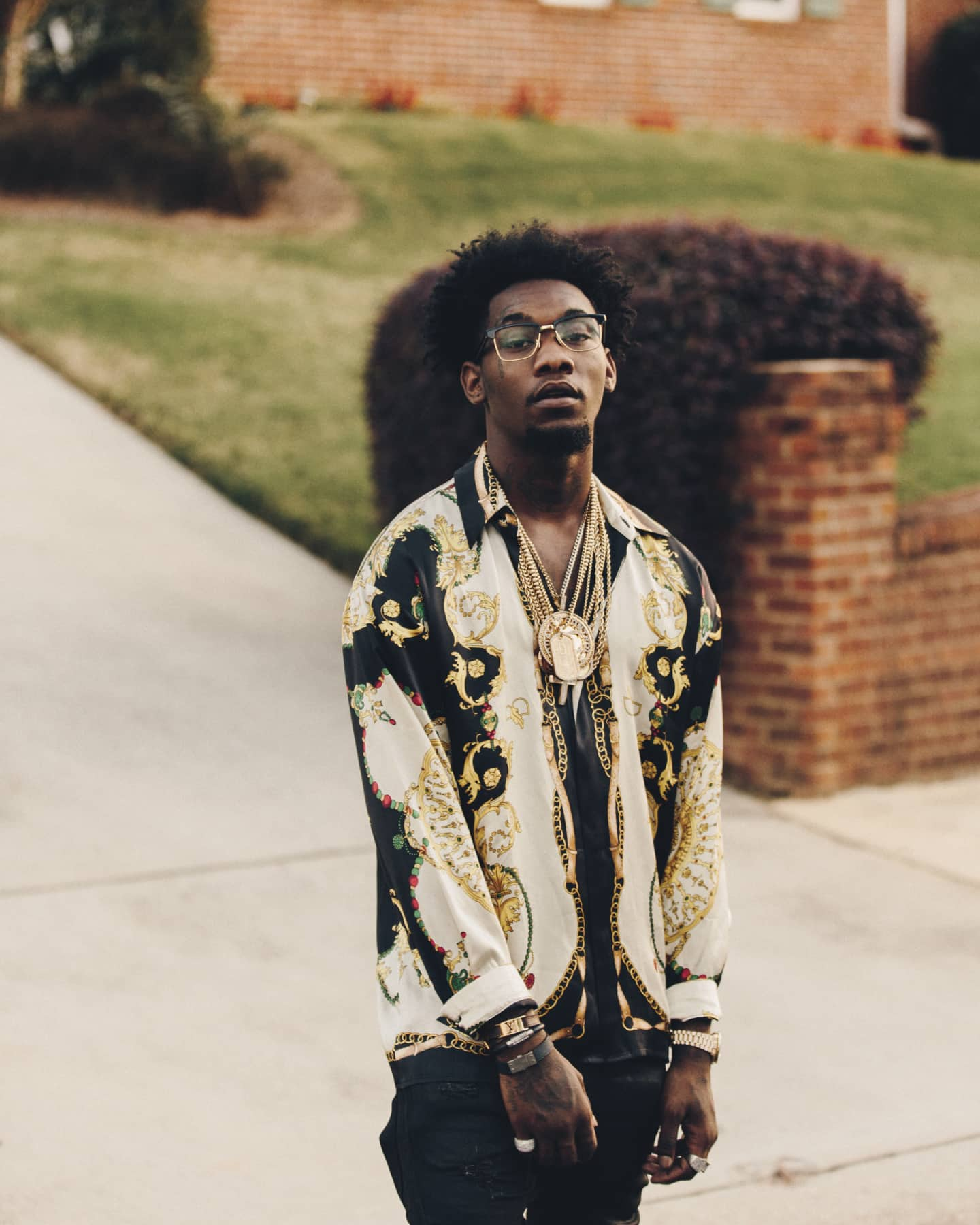 Coach K, of course, has already been on the roller coaster of rap fame, and the last time he took a ride, as Gucci's manager, you could say he got stuck upside down. "It was really hard," Coach says now, looking back at the years he spent worrying about an artist he loved and believed in but ultimately had to part ways with. "It was really, really hard."
I tell Coach I wouldn't blame him if working with a volatile, impulsive guy like Gucci had made him hesitant about linking his fortune to not one but three young artists. But he says Migos was like "a breath of fresh air," not least of all because they were younger and therefore less set in their ways. Migos, he says, is like a combination of every artist he has ever worked with rolled into one. "They got the work ethic and the wittiness of Gucci," he says. "And they have the originality that Jeezy brought… And they have the crazy energy, and the ad-libs, of Pastor Troy." As he goes down the list, it's hard not to think of Coach K as an actual coach, becoming mentor to each artist before eventually having to let them go. Working with Quavo, Takeoff, and Offset, he says, feels like a calling. "I enjoy taking young men and teaching them, and I think God put me on this earth to do that," he says. "A lot of people don't know this, but before I got into the music industry, I taught high school for three years in Atlanta." The kids he taught were special education, he adds. "It taught me patience, man."
With Migos, Coach says, he gives advice knowing that it'll sometimes be ignored. I ask him whether he feels like there's anything he can do to help them avoid the pitfalls that tripped up Gucci Mane. "You know, I just pray on it, man," he says. "Cause you can't tell the future. All you can do is set a good path." He tells his boys to avoid busy spots when they're out in Atlanta, and if possible, avoid going out entirely unless they have a show or a paid walkthrough at a club. "You go into these cities," he says, "and you got people who don't like your music. You might have some girls in the crowd who love your music but their boyfriends might hate you because of it. I mean, it's trap music—you're talking street shit. So there are always fans that will want to try you and see if it's real."
Nevertheless, Coach says, what he worries about most isn't threats from outside but the possibility that one day the three rappers could stop wanting to work together. "What's the history of groups? They split up," Coach says, adding later that before he and Pee signed any contract with Migos they sat them down and asked, point blank, if they could see themselves coming apart. The answer was no. "I said to them, 'If you give me 10 years of your life, we'll make a whole lot of money, and I'll make you guys as big as you can be.' And they said, 'Let's do it.'"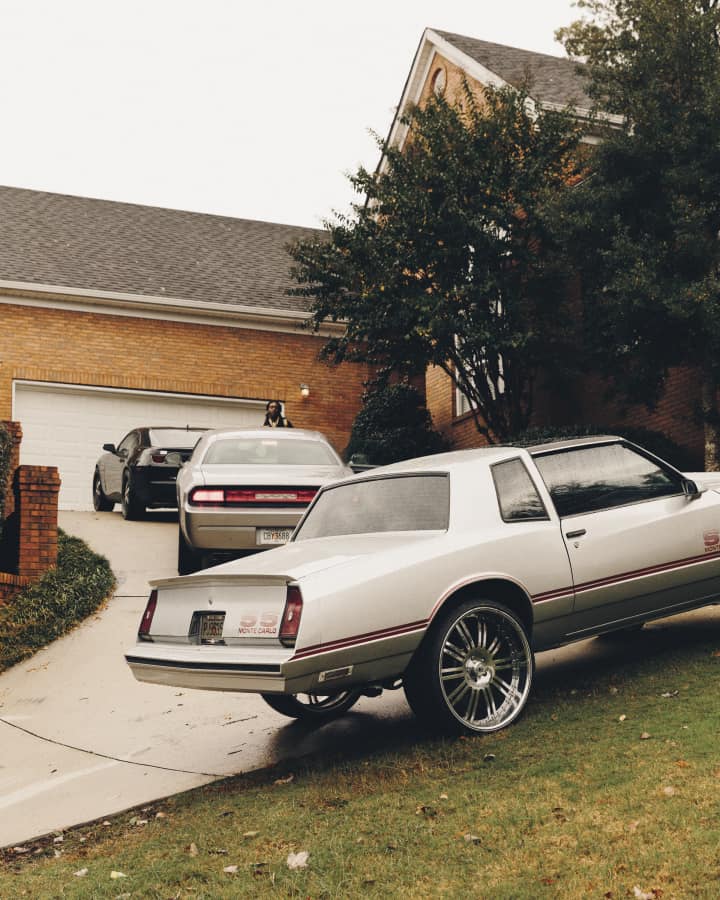 How to make Migos as big as they can be is also something Lyor Cohen thinks a lot about. Indeed, this might be the real value that 300 brings to the table in their dealings with Quality Control: not their data but the sheer scale of their ambition for what Migos could become. "When they did TomorrowWorld," Cohen says, referring to the massive EDM festival that 300 helped Migos book after they did a song with DJ Carnage, "it was a huge wakeup call for them. They murdered it, and they saw the potential and opportunity. And listen—if you don't experience it, you can't play for it."
Cohen very clearly wants Migos to play for it—to become not just a popular rap group but a real crossover sensation. To that end, he wants to send them somewhere special to finish recording their forthcoming album. "Quavo just called two days ago," Cohen says, "and he said, 'We want to leave Atlanta to finish up our album. Where should we go?' I told him: Sweden." Sweden, Cohen explains, "has a culture of soul, R&B, funk, and rap—but also pop." You get them in the room with "a couple of those great producers" they have over there, and Migos "could create something really global." Never mind that just last year Migos was working out of Quavo's mom's basement in Gwinnett; 300 thinks they should be playing arenas and recording songs with acts like James Blake and Imagine Dragons. "If we wanted an extremely limited, keep-it-real Atlanta group, we'd just keep them in Atlanta," Cohen says. "But that's not interesting to us. What's interesting is to import the essence of Atlanta to the world."
Back at the Migos mansion, a long day of paintballing and shopping has boiled that essence down to something that looks a lot like a big group of old friends plopping down in front of the TV and playing Xbox. Above them hangs a painting of Quavo, Takeoff, and Offset that a fan in Mississippi made for them and brought to a concert, and which they bought from him for $500. On the opposite end of the living room stand about 30 pairs of carefully arranged, possibly communal sneakers and a massive stack of luggage that lives by the front door in anticipation of Migos' next travel day.
No one seems to have any big plans for the night. Quavo smokes a cigarette while Takeoff talks about how sometimes he gets tweeted at by people from other countries in languages he doesn't know. "We about to get our passports," he says, audibly excited at the prospect of seeing the world. "We about to go to London and some more places—I don't really know all the information. I'm ready to go overseas, though. I wanna see how it is overseas."
I ask if it's true they're going to Sweden, and when Takeoff says it is, I ask whether they'll use the time to work with some of the famous pop producers who live there, like Max Martin. Takeoff and Quavo are skeptical about this. "I think we're creative enough on our own," Quavo says, which makes me wonder why they're going to Sweden at all. It turns out this is a sentiment Quavo shares. "Why Sweden, right?" he says, sounding vindicated by my confusion. "What's going on in Sweden? What's going on out there?"
Later, I ask him what the deal is with 300—what Migos is getting out of working with them, whether he thinks the Google and Twitter stuff will really help them find a new audience. "I know Lyor, and I know Todd, and I know they're good people," he says. "They're great people. But… I don't talk that top-floor New York type shit. That ain't my business. My business is to make music. I'm an artist."
What he means by this, I think, is that he believes in his talent. While he's happy to have a team of experienced, forward-looking executives and managers looking after the many moving parts that make up Migos' presence in the world, he's more concerned with ensuring that what he and his friends are making is worth it. "I want the whole world to listen to our music," he says.
Before I leave, Quavo calls me over and asks a question that takes me by surprise. "You feel like we'll be here for a long time?" I look at him kind of stupidly, because the truth is I can't be sure, and when I automatically start to say, "Yes, of course," he interrupts me. "Don't just say it just because, man." Then, after a beat, Quavo asks me again: "How long? How long you think we gonna last?"