Teyana Taylor Took Six Years To Make An Album, And She's Not Sure She Wants To Do It Again
An underestimated soul singer looks at what it means to be disliked on the internet, but loved by Kanye West.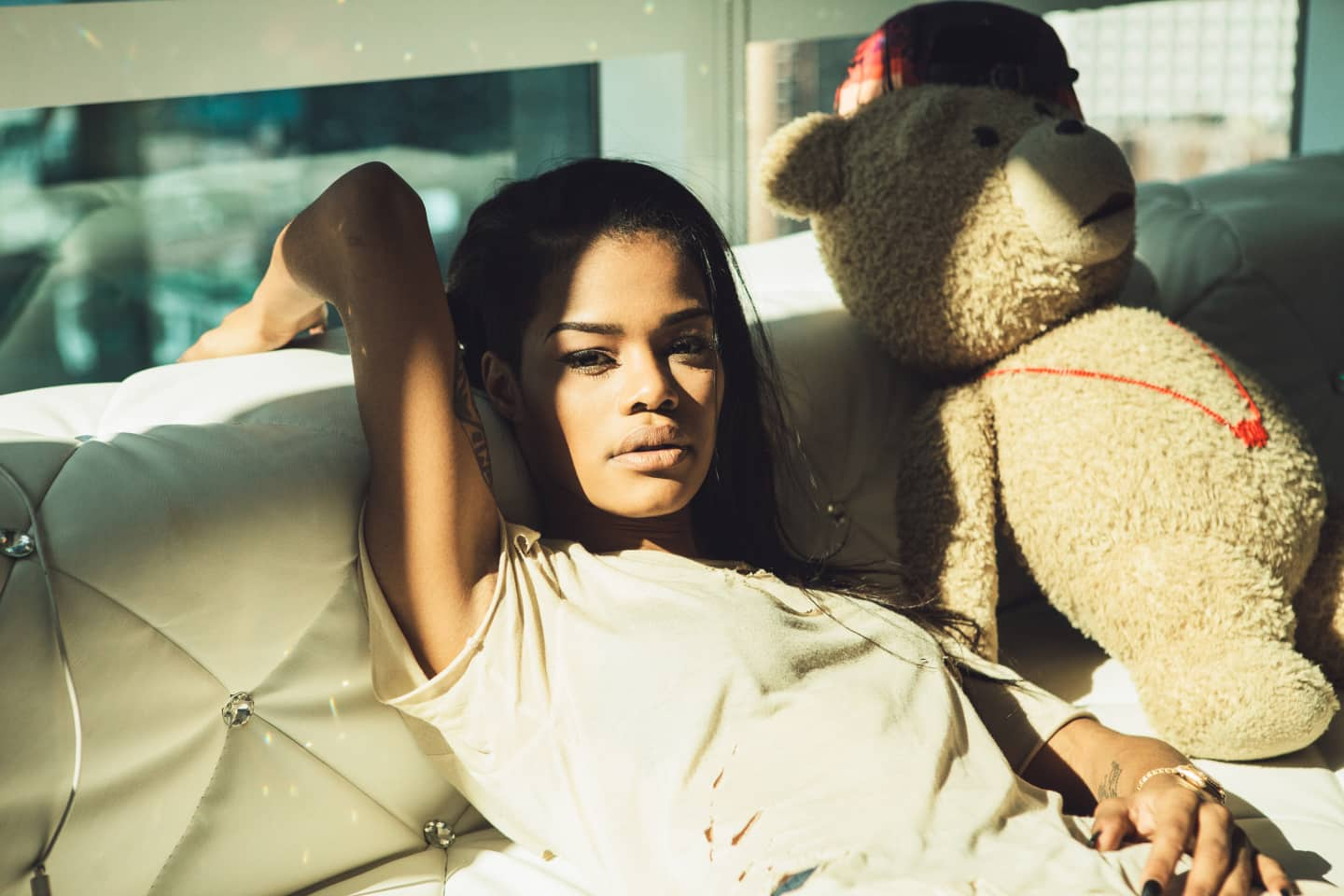 In her 2008 GEN F, Teyana Taylor detailed her plan for world domination. "My own TV show, my own cartoon, my own daycare. I'm tryna do it all," she boasted, then 16 and the precocious princess of Pharrell and Chad Hugo's Star Trak Entertainment. Nearly seven years later, she's basically followed through on it—the 23-year-old has dabbled in acting, walked runways, and designed the fastest-selling sneakers in Adidas Originals history. In a weird twist, all that's missing from this come-up is the music. Following her 2008 single "Google Me," a Jazze Pha-produced pop-rap confection which she doesn't hesitate to disown, her releases have been few and far between, often drowned out by tabloid drama and Instagram beef.
She hopes to change that with her debut album, VII, out now via G.O.O.D. Music/Def Jam. The record makes few concessions to mainstream radio demands: it's a uniformly velvet collection of sex jams that wears its '90s worship on its sleeve, a first album that already recalls mid-career Janet Jackson. It's also passionately co-signed by Kanye West. At a recent listening party in LA, he gushed on her behalf, saying: "Teyana provides something that's so R&B, so black, so hood, so missing and so necessary in the marketplace."
In a year where R&B charts often felt dominated by male voices more committed to fuck-your-feelings posturing than actual fucking, it's a welcome change of pace. And for Taylor, it represents a long-awaited clean slate. Lounging in sweats at her Jersey City high-rise in late October, she excitedly previewed the album in full. Here, in her own words, Taylor walks us through the past decade, sharing her uphill battle for recognition in music and what she has in common with Kanye. (They're both "assholes," with purpose.)

TEYANA TAYLOR: Low-key, I think people enjoy just not liking me because they think I was a spoiled brat. Because I asked for a fucking bike on Sweet Sixteen. The thing is, I had already signed when I filmed that, and I worked hard for that. To be perfectly clear, my mom and the label gave me that party. At that time I was choreographing, I had worked with Beyoncé, I was doing a lot behind-the-scenes stuff. But ultimately the right people gave me my props, and that's why I'm still here.
When I was first signed, we didn't have all the 360 deals yet. I was kind of one of the youngest people out at that time. Then things started to get real gimmicky—that's how "Google Me" happened. I did From a Planet Called Harlem when I was 16, that whole tape is sick. But I feel like "Google Me" almost made me a joke. It made people not take me seriously. I didn't even want to record the song, but the label was like, "Just try it!" It's so sad: people will do it out of respect, so I'll come in the building and they'll play "Google Me," and I just sink into my chair. Like if I could just blend into this chair right now and turn this bluish gray shade—that's how I feel every time I hear it. I just want to blend into wherever I'm sitting and act like I'm not even there.
I used to read comments, people saying, "You're irrelevant," and get upset. I am not the person that's like, "Oh, all press is good press." I hate that shit. I do not want niggas in my business, only because I am a Harlem girl. I like to do what the fuck I wanna do. Being from New York, period, I am not with the fake shit. But that doesn't mean I don't love making people laugh. When I'm just chilling and shit, I am the opposite of what people think I am. Everybody thinks I'm going to be like, aggressive. When I was younger, when I would meet guys they would be like, "Oh, you're actually shy."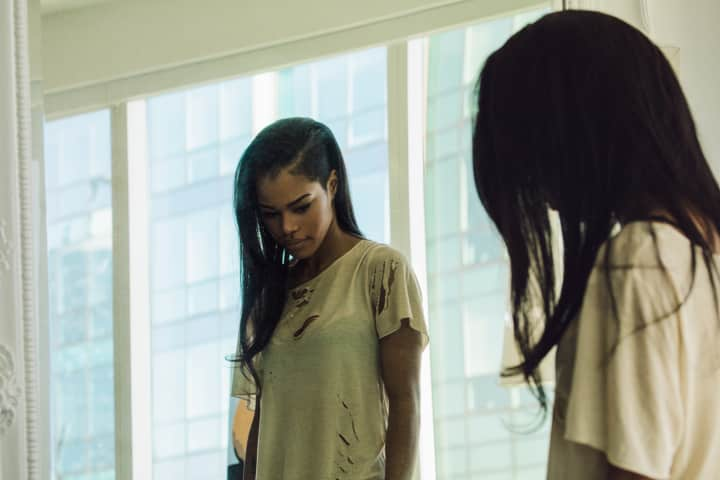 "I do not want niggas in my business, only because I am a Harlem girl. I like to do what the fuck I wanna do."
When I was, like, 13, we had cliques in Harlem and mine was Team N.E.R.D. and we were really popular. N.E.R.D. stood for "not everybody really doing it." Everybody used to call me the female Pharrell. I was always riding skateboards and BMX bikes, and I loved N.E.R.D. I had this hat with an American flag with "N.E.R.D." popping out. This was back when Kanye was wearing the Polos and the blazers, and he did a college tour. He was popping, but he was just beginning to. When he got done with one of his shows, they chose some lucky fans to come backstage, and his security guard picked me. I got an autograph, I got a picture. I was with one of my after-school programs or something. And he just looked and was like, "I like your hat," and I was like, "Thanks." It's crazy how you get exactly what you put your mind to.
On the Glow in the Dark tour, I was coming around a lot and Kanye was like, "Yo, you're really fly." We became fashion friends. It was like, "You're an asshole, I'm an asshole. We're just alike!" He hit me one time like, "Yo I want to show you the album and these new Balmain clothes they designed for my tour, I know you'll appreciate it." He emailed me at nine o'clock, and I'm not even a morning person, but I think I woke up to pee or something. Kanye was looking at it strictly like, "I want you to hear the album, look at the clothes." And I'm looking at it like, fuck that, I'm about to get signed today! I got dressed so quick, got to that studio, started humming and shit. Kanye played "Dark Fantasy" and it was empty, with just the verses, and he heard me humming and was like, "Can you put that on there?" But when he put me in that room, he was just like, "Put some background verses on there. Do whatever you need to do. I'll come back." He should've never told me that. I came out with the whole intro, the whole hook; it sounded like a little choir on that bitch. And he didn't take anything out, he didn't add anything back in.
That's when he was like, "Yo, what is your situation?" And then, like, "Put backgrounds on this other song! Write on this! Write on that!" So that's me on the album, singing after Nicki Minaj like, The watered down ones, the ones you know… Nobody knew it was me! I'm just happy to have been given the opportunity. G.O.O.D. Music is a swaggy situation. It's almost like a brotherhood. You've got that bond, and you've got to keep it there—that's what we have. And who else do you see being the first lady of G.O.O.D. Music?
"Kanye was like, 'Yo, you're really fly.' We became fashion friends. It was like, 'You're an asshole, I'm an asshole. We're just alike!'"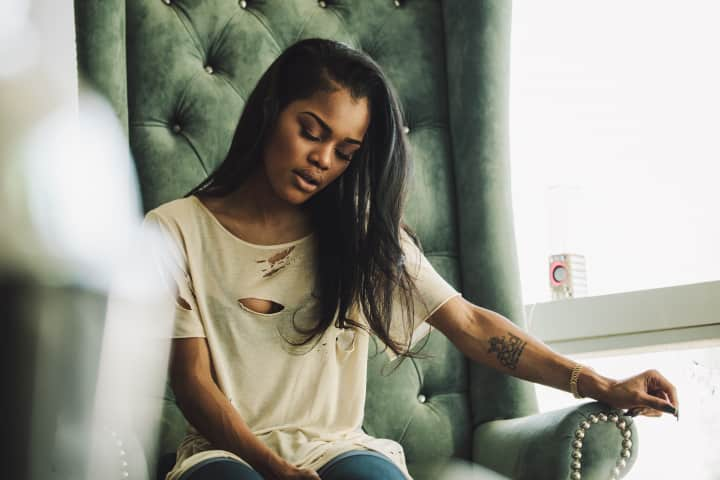 Some people be so busy hating that they don't even realize what's good in front of them. They're too busy hating to just open their ears and open their mind. If you just listen to my music for five seconds, there's no way you can tell me that I don't have vocals. But once you're set on hating something, no matter what, it's never gonna be right for you.
I have something to prove with this album. I'm not giving nobody credit—this album was all me, and the only thing I got from anybody else was perfecting the art. And as a woman, I'm proud of myself, because I don't need progress reports, I don't need anybody in the room to tell me what I need to do. No love lost toward anybody, but I would be lying if I sat here and said that when I was in the studio, anybody from the label walked in to check in or say, "Hey, I think this." I worked my ass off on this album when niggas were sleeping on me.

Early in the industry I didn't understand how to have a happy medium with the label, because they wanted it this way, and I wanted it that way. What I learned with being more mature and having a clean slate is how to meet them halfway. That's what I did with [my single] "Maybe," because "Maybe" sounds completely different from the rest of the album. But that was that compromise. I knew it would be commercial enough for the label, it would be commercial enough for the radio, but I still had to put my '90s R&B vibe on it. That beat is a rap beat, so I could've been on there like, rap-singing, but I'm like, my happy medium is to give you vocals on this track but still give you commercial.

I feel like my music does not match my style. You see the J's, you see the big hair, the snapbacks and the Bulls jerseys and I think everybody expects me to be, like, rapping. But it's just like, dude, I'm actually an old ass lady. I just be listening to like, Anita Baker and all '90s stuff. I try to be in the loop and buy new albums, but I buy them and forget that I have them and just go back to my throwback list—like, Total, Xscape, SWV, Faith, all of Bad Boy. Janet and Aaliyah are two of my biggest inspirations. Musically, Aaliyah gave you that young vibe that girls can relate to, and Janet gave you that grown-woman sexy. I wanted VII to be like, "Oh yeah, my mom's buying me the album but she bought herself one too." Like something a daughter and a mother could rock out to.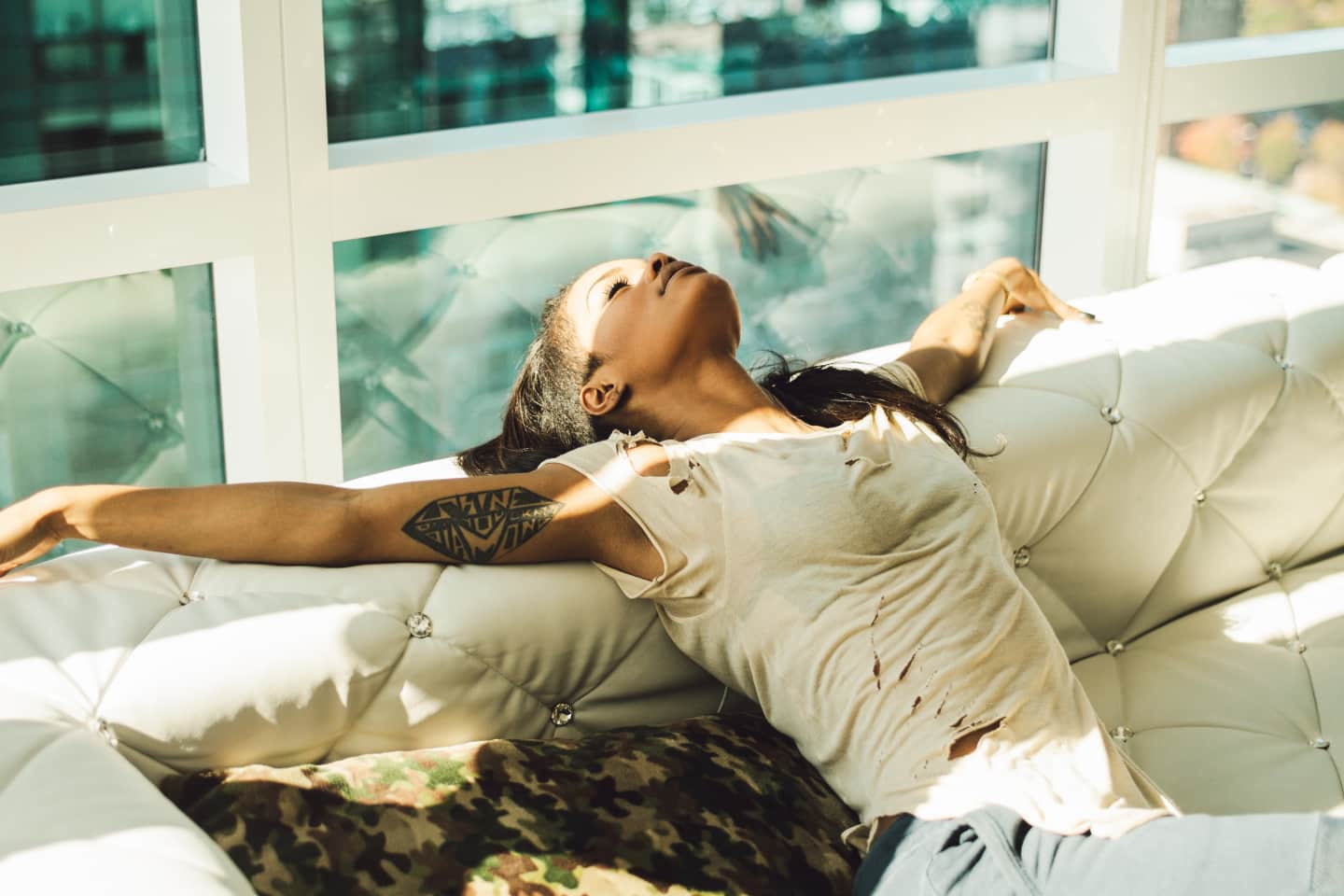 Kanye told me, "I have two kinds of favorite albums, one is all slow and mids, and one is all super turnt-up, so I'm not mad that this album is all slow." The moment he said that, I took that shit and ran with it. My A&R was like, "We gotta find that missile!" I'm like, "Nigga, this album is the missile!" It felt good to preorder my album and see that it was labeled under "R&B/Soul." That might not be a big deal to people, but it's a big deal to me.
Honestly, I don't know what will happen after this. I don't even care if I Lauryn Hill-ed it. I just want this album to be heard, even if I never want to do one again. There have been times when I want to give up and be like, "Fuck this shit, I ain't got time." I didn't get to go to college; I was homeschooled. I didn't get to go to prom. I graduated at Starbucks, you feel me? So I don't got time for this shit if it's going to keep making me miss out on life. Because I wanted to be in homecoming, I wanted to step—and I had to give up all that in order to hear people's fucking opinions about me? But even if I don't know my path, I think I'm here for a reason.