Patrons Is An App That Helps Artists Monetize Their Free Time
Like Airbnb for artists with tons of Instagram followers.
Musicians tend to keep odd hours. When tonight's set time is late and you've already pulled into town, what are you going to do? What about a haircut at an upscale salon, or a yoga class to yin last night's party's yang—for free? Well, there's a catch: you might have to post a selfie afterwards.
Patrons is a new app by the makers of Gigit; it's essentially an online meeting place that connects live acts with potential bookers and vice versa. Artists can set up these sorts of service exchanges entirely on an iPhone, as Patrons uploads offers—a place to crash in exchange for a set at Saturday night's house party, a free bar tab for a DJ set, a preshow blowout for a social media broadcast—and a list of participating artists.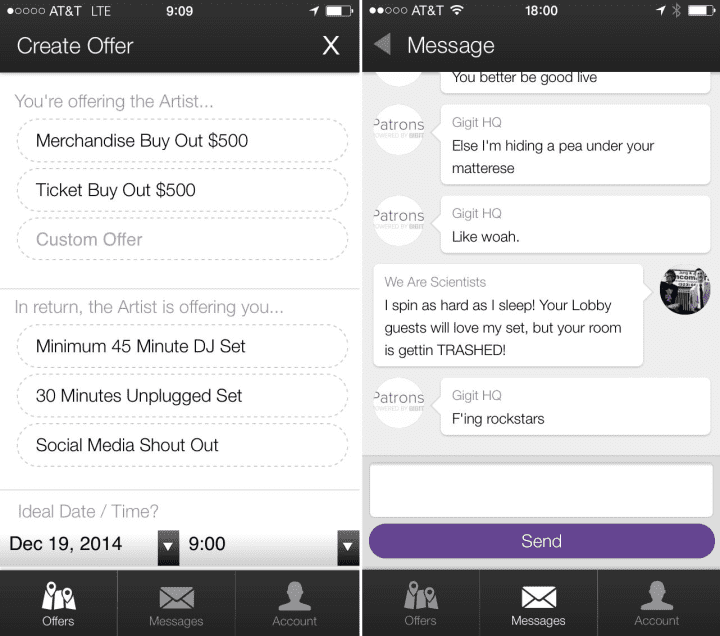 The idea is to help artists monetize their "pre-soundcheck, post-show, and days off," as well as to help businesses and brands engage with artists in less traditional ways.
"After hanging out with many artists and building out Gigit for two years, we started to learn about their daily lives," explains Patrons founder Tegan Gaan, likening Patrons to other collaborative consumption models such as Lyft and Airbnb. "I wanted to open the marketplace even more. I know quite a lot of bands in Brooklyn that probably make $10,000 per show or more, and they'll still go down and DJ at their favorite pub for a beer and a hamburger. It's not widely talked about, but Patrons is meant to help them do that."

It's not about removing agents from the equation—in fact, Tom Windish of booking agency The Windish Agency is an investor—as it is providing a chance for artists to leverage their caché (skills, cool cred, sweet merch, Twitter followers) and free time more easily. In reverse, Gaan points out, it's an opportunity for potential patrons to organize a fun event: "You can't know every band that's in town. It's nice to get a ping that says Young and Sick is down the road."