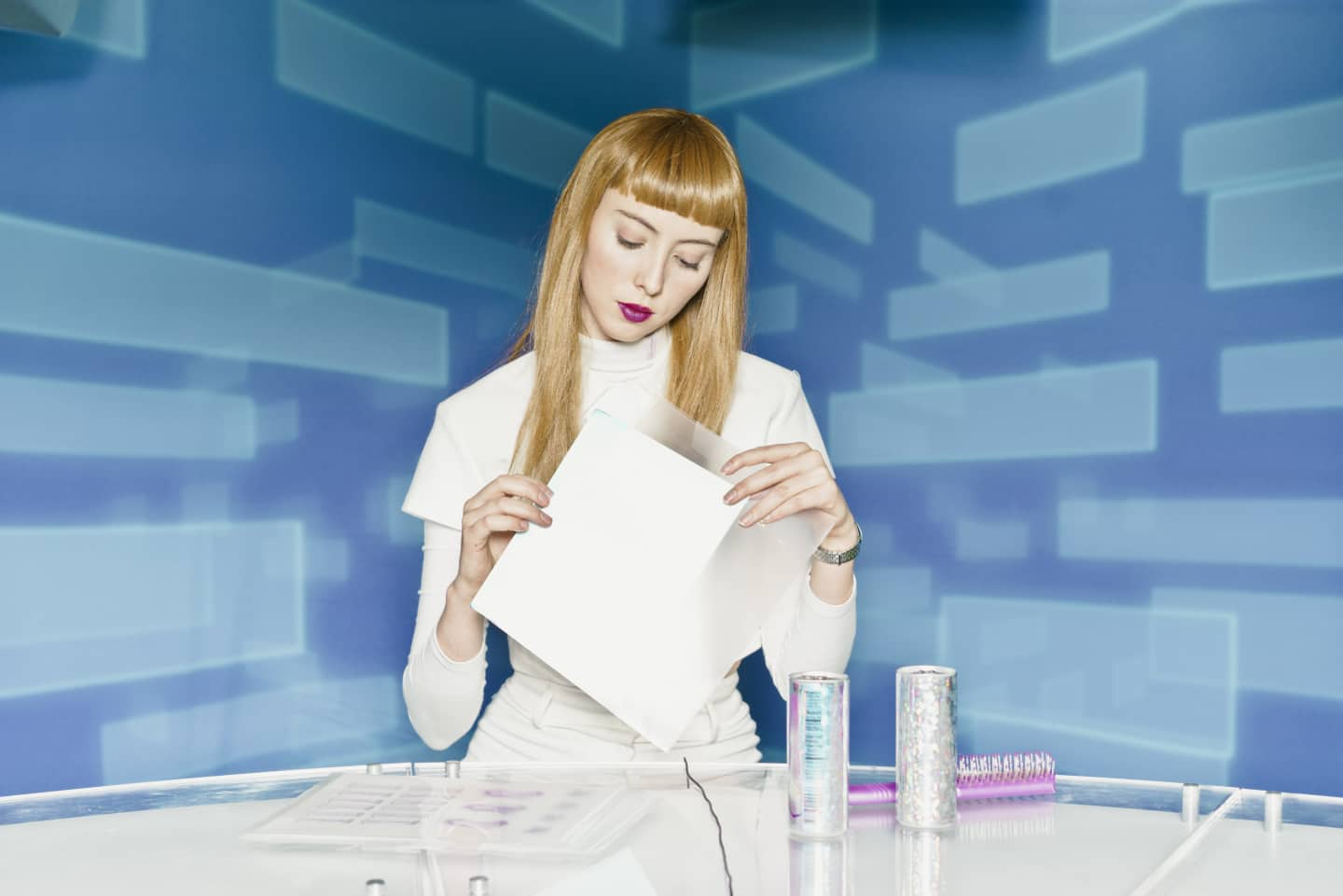 QT Is The @Horse_Ebooks Of Music
​In this week's GEN F, QT puts a brand new spin on bubbly pop.
Typing on Gchat from an undisclosed location in New York City, QT is having internet issues. Replies from the self-described "sparkling future pop sensation" trickle slowly enough for me to take the odd phone call and bathroom break. At one point, the singer, whose chat name is Quinn Thomas, interrupts our interview to change from Safari to Chrome. "I may switch browsers if thats alright with you," she writes, pausing for a beat. "See if we can stay connected ☺."
For QT, that connectivity is both a means and an end. She surfaced on the internet this summer with a smart blonde bob and a bonkers-sounding collaboration with Sophie and A.G. Cook. Called "Hey QT," the song paired her London producers' cute, over-caffeinated aesthetic with her pitched-up, chipmunked voice. Like most of her collaborators' work, it has an accelerated quality that feels both ecstatic and maniacal, and it immediately racked up hundreds of thousands of plays. Hey QT, she squeeks, Yeah?/ Even though you're so far away/ I feel your hands on my body/ Every time you think of me. "It's about that feeling of sensing someone's presence even when they are not in the same physical space," QT explains. "When you think about someone and look at your phone and they have texted you at that exact moment."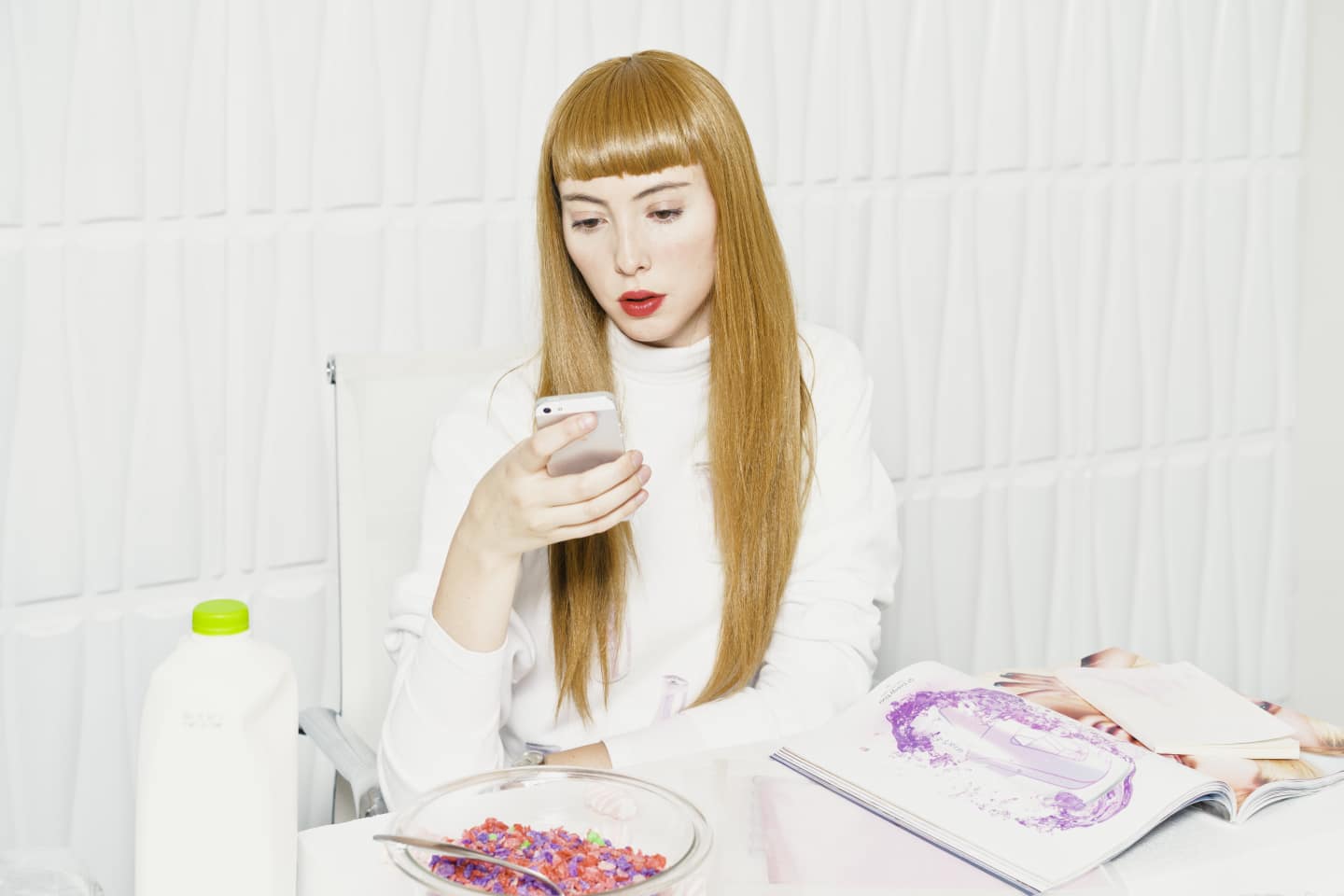 "It's about that feeling of sensing someones' presence even when they are not in the same physical space."—QT
By her own account, QT is a "very sensitive person." But QT is also an energy elixir. At least, that's how XL Recordings billed the project when it unleashed "Hey QT" this year, offering up both an image of the singer herself and a link to an animation of a spinning metallic soda can. (In early 2015, QT says, limited quantities of the drink will go on sale at a "big live music event in London.") Of course, it's easy to draw a parallel between a pop star and a consumer product, but chatting online, it's hard to tell which one of those sides of QT—the soda or the singer—takes precedence over the other. Unflappably friendly, she says the drink is specially formulated to promote "upward shine, vertical connectivity, and personal growth." At times, it feels like I'm asking a computer bot a question that it hasn't been programmed to answer. Will there be more QT songs to market the energy drink? "Could be, but the focus now is having fun with the ingredients we already have ; )." What ingredients are those? "Are you trying to get me to leak the formula for the QT Energy Elixir? The formula is top secret but I can tell you it is very bubbly."
To date, QT has made just a couple in-the-flesh appearances: one of them was a performance with Sophie and A.G. Cook at Boiler Room in Los Angeles, where, prior to delivering a bouncy lip-synch rendition of "Hey QT," she sat on stage leafing through business and health magazines, flanked by human-sized projections of the QT soda can and a mix of bubble sounds and perky advertorial catch-phrases: "Looks fizzy. Tastes bouncy. Feels QT." Given Sophie's recent suggestion that he makes music in the genre of "advertising," and A.G. Cook's use of his label PC Music as a platform for "concise pop products" (QT's words), I wouldn't be entirely surprised to learn that I was Gchatting with one of them, or at least some combination of the three co-conspirators behind the QT franchise. As a walking, talking, conceptual art project, QT is a pretty powerful example of a brand taking on a life of its own. To judge from the throngs hooting and cheering at Boiler Room, it's also a revealing litmus test for what a good brand can do, whether it's hawking sounds or energy drinks: it brings people together around it.