Kitty Cash Is The R&B Game DJ Khaled, And More
In this week's GEN F, a magnetic New York DJ lives her best life.
Cachee Livingston is not a rapper. Not even close. "People will ask me, 'Do you want to try to rap on this?'" she says. "And I'm like, 'No. If you want a rapper, why don't you hit up a real rapper?'" Settled in a Brooklyn cafe on a chilly Sunday afternoon, the 25-year-old is quick to explain what she doesn't do. "And I can't sing for shit!"
It's a bit harder to say exactly what Livingston does. A consummate New York City kid, she bounces between worlds, juggling a nine-to-five on G-Star's public relations team and a full nighttime schedule of DJ gigs. She also enlists artists—from SZA and Willow Smith to Vic Mensa and Melo X—to collaborate on the intimate, excellent mixtapes she hosts under the name Kitty Cash. Part mixer and part fixer, she cites DJ Drama and DJ Khaled as role models, characters in the music industry who've made an impact simply by developing a strong presence and cultivating friendships. "I love DJ Khaled because it's like, 'What does he do?'" she says. "Who cares? Because he's killing it. DJ Khaled is living his best life."
For Livingston's part, she still lives in the home where she grew up, in the suburban-feeling Brooklyn neighborhood of Ditmas Park. After high school, she briefly moved upstate for community college, but soon returned to New York and enrolled at the Fashion Institute of Technology. Around that time, she met the rapper and singer Kilo Kish, who quickly became a close confidant and professional ally. Before long, Livingston was DJing Kish's shows, which, at first, required a bit of faking it. Since then, she's opened for Skrillex and toured in Europe, but has kept her day job. "One day I DJed at Opening Ceremony during my lunch break," she remembers. When she returned to the office, a coworker had seen her on Instagram: "She's like, 'Girl, what kind of lunch break were you on?'"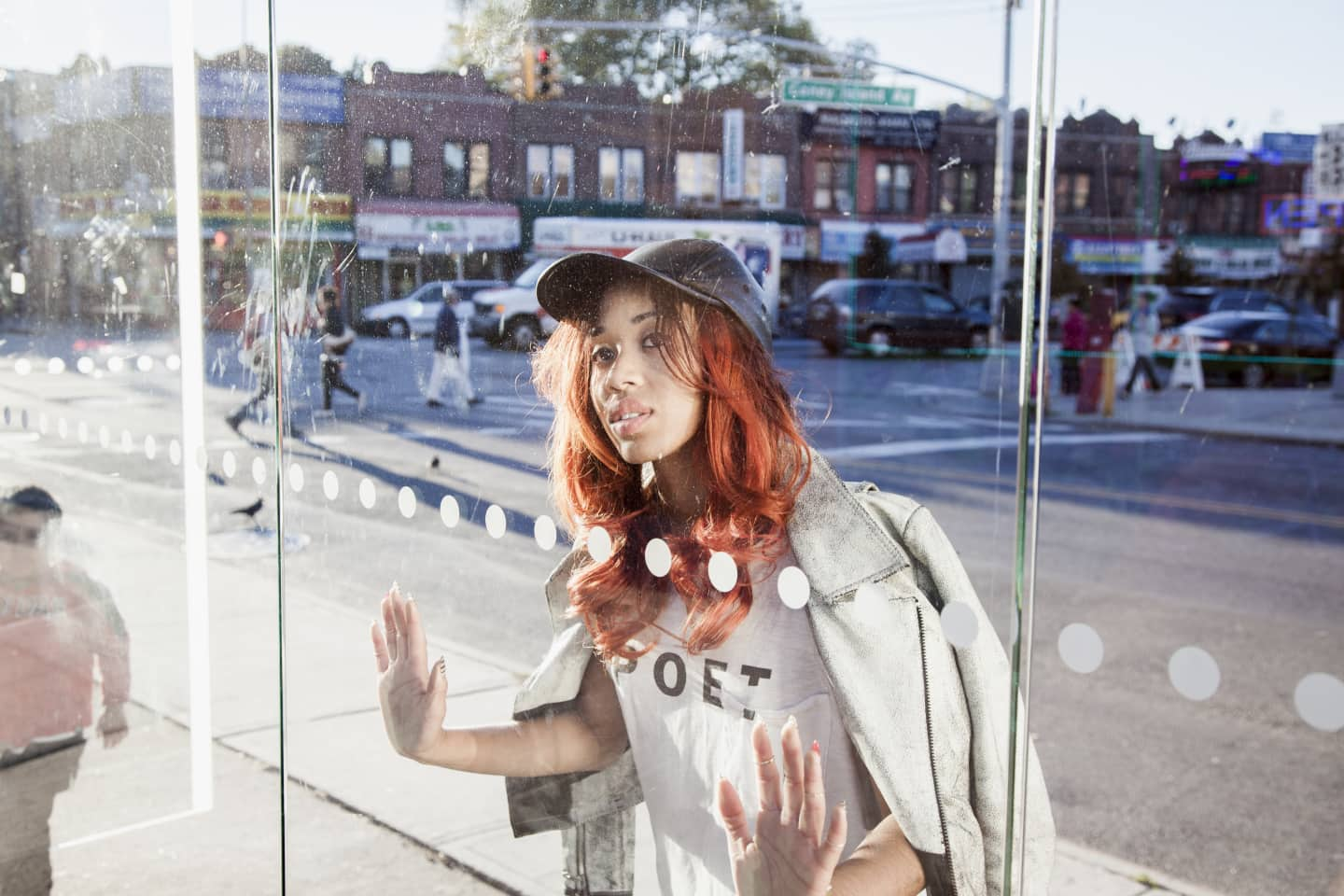 Livingston speaks as quickly as she works and socializes, offering up constant snap analyses of the many worlds she orbits. On viral rap stars: "I'm not going to knock any of these boys! They want to rap. If Kanye West jumps on a song and it blows up, you can't blame them." On her age bracket: "A lot of people I know are at a point where they're taking drastic leaps in their lives." On the bygone credibility of blogs: "Brands are paying bloggers hella money! That's why zines are having a resurgence." On fashion DJs: "Mia Moretti, to me, was mad smart." She's excited about all of it.
But she's wary, too. "It's a thin line, being a girl DJ and coming from the fashion world. How do you get respect?" she asks. "People will give me flak, and it's like, 'Hold up, it's not my fault I made something that people paid attention to.'" Even though Livingston idolizes men like Khaled and Drama, she would never try to explicitly emulate their gruff, shit-talking sensibilities. Instead, she makes her mixtapes safe spaces. She says she's not shy about asking artists she likes to contribute to her projects because the worst they can do is say no. And when they agree to create original songs for her, she gently encourages them to take risks they wouldn't on their own projects. On "Moodring," for example, a feathery song from Kitty Cash's Love The Free Vol. II that SZA wrote after two sleepless nights, the singer sounds more vulnerable and less structured than ever. Finding her own freedom and enabling it in others is the point. "Me and Kish always say," she explains, "that we both just like to do what we like to do."
Below, hear Kitty Cash's debut remix with original production, a flip on Beyoncé's "7/11."
Kitty explains: "To be confident and comfortable in my skin, especially as a woman, is a message that is and will always be present in my art. Beyoncé is always having fun while remaining an icon, artist, wife and mother. Now, I'm using the inspiration and taking the next step forward in revealing myself and true potential with original music material—all while still having fun with it. So, it's only right that I choose Beyonce's '7/11' as my introduction."
The song kicks off a new remix series called GEMS. About this one, she says: "Larimar is a stone specially for women that channels the goddess energy. It supports a state of confidence and self awareness, and also provides the power of clear communication and emotional strength that allows one to speak from the heart."

From The Collection:
GEN F