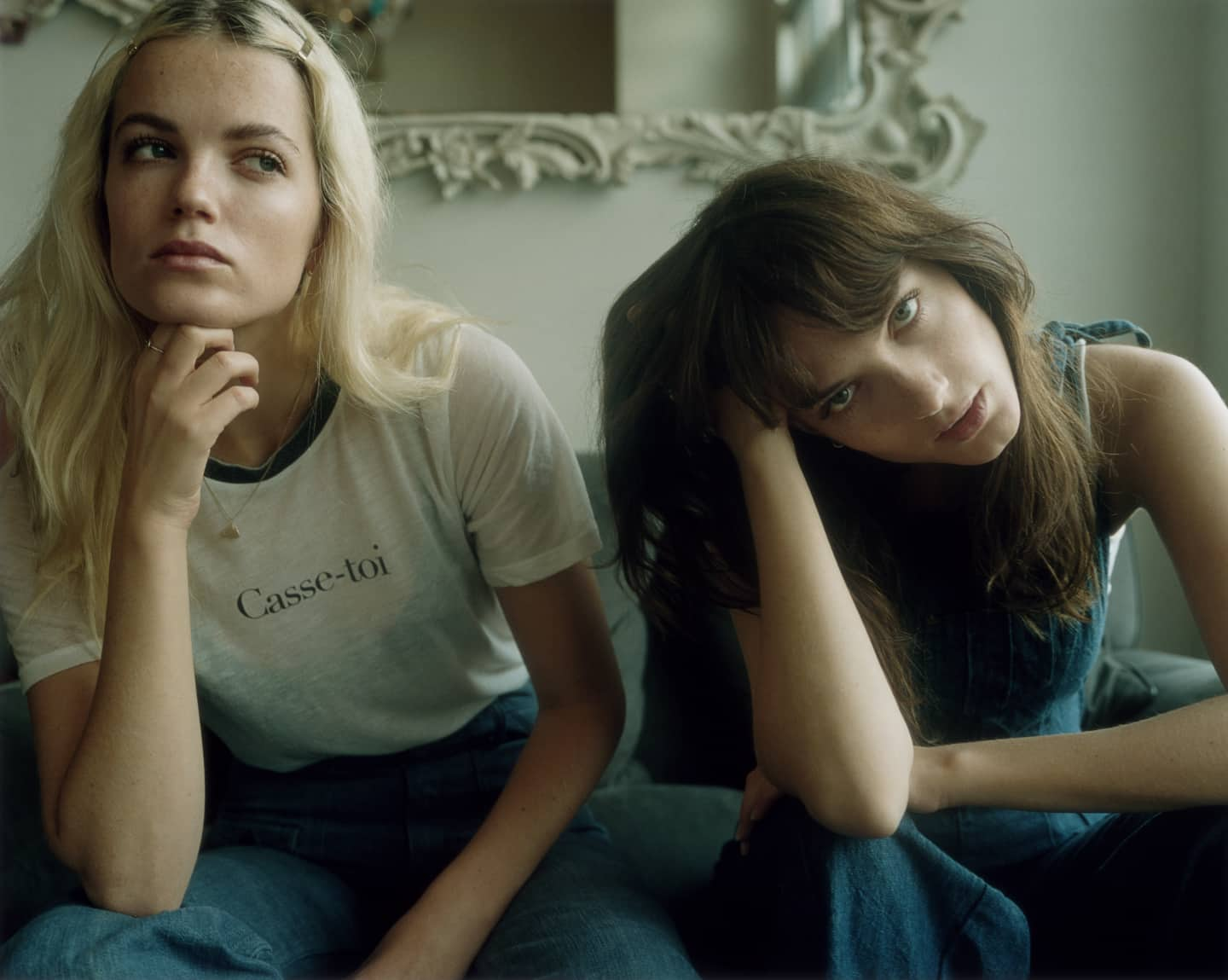 Say Lou Lou's Chic Pop Keeps Getting Better
In this week's GEN F, two sisters bring sad pop and sweet smiles.
The twin sisters that make up Say Lou Lou are curled up on an oversized sofa in an east London studio, intertwined like two drowsy kittens. "Normally, we're very chatty," sighs Elektra Kilbey, 23, fiddling with her blonde tresses. Visiting from their home in Stockholm, they're wary that their half-Swedish heritage and chic electro-pop might create the impression of "ice queens," as Elektra puts it, and today they're struggling to exhibit a more carefree side. "In Australia," Miranda adds, citing the other half of their lineage, "people would be more like, 'Yeah, we signed to Columbia, we played in front of thousands of people, got interviewed by The FADER.'" She picks at her gray jogging bottoms. "But we never brag."
Growing up, the Kilbey twins spent dark winters with their mother in Sweden and hot summer holidays down under with their dad, an arrangement that instilled in them a brooding sense of "missing someone and feeling like you want to be somewhere else," Elektra says. "We've always believed in escape," adds Miranda. "We knew there was something else, which was comforting." Their parents are both musicians, and a few years ago, the sisters recorded some covers as a special surprise for their mom's 50th birthday. Afterward, a friend convinced them to make some songs of their own. As it turns out, childhood feelings of longing grow up to make great love songs; the sisters were naturals.
One of their first efforts, 2012's understated, glamorous ballad "Maybe You," produced by their friends Addeboy vs. Cliff, was picked up for release by Kitsuné, and the twins were snapped up by Columbia soon after. Though newcomers to the music business—"I didn't know SoundCloud existed until we were told we were using it to share 'Maybe You,'" Elektra says—they insisted on setting up their own imprint, à Deux. "We funded the 'Maybe You' video and all the press pictures ourselves," says Miranda. "Everything's always come from us," Elektra adds. "We're in there controlling it and trying to make it fit us. We have a hard time letting go. It's like letting your child walk to school by itself. I mainly just trust us."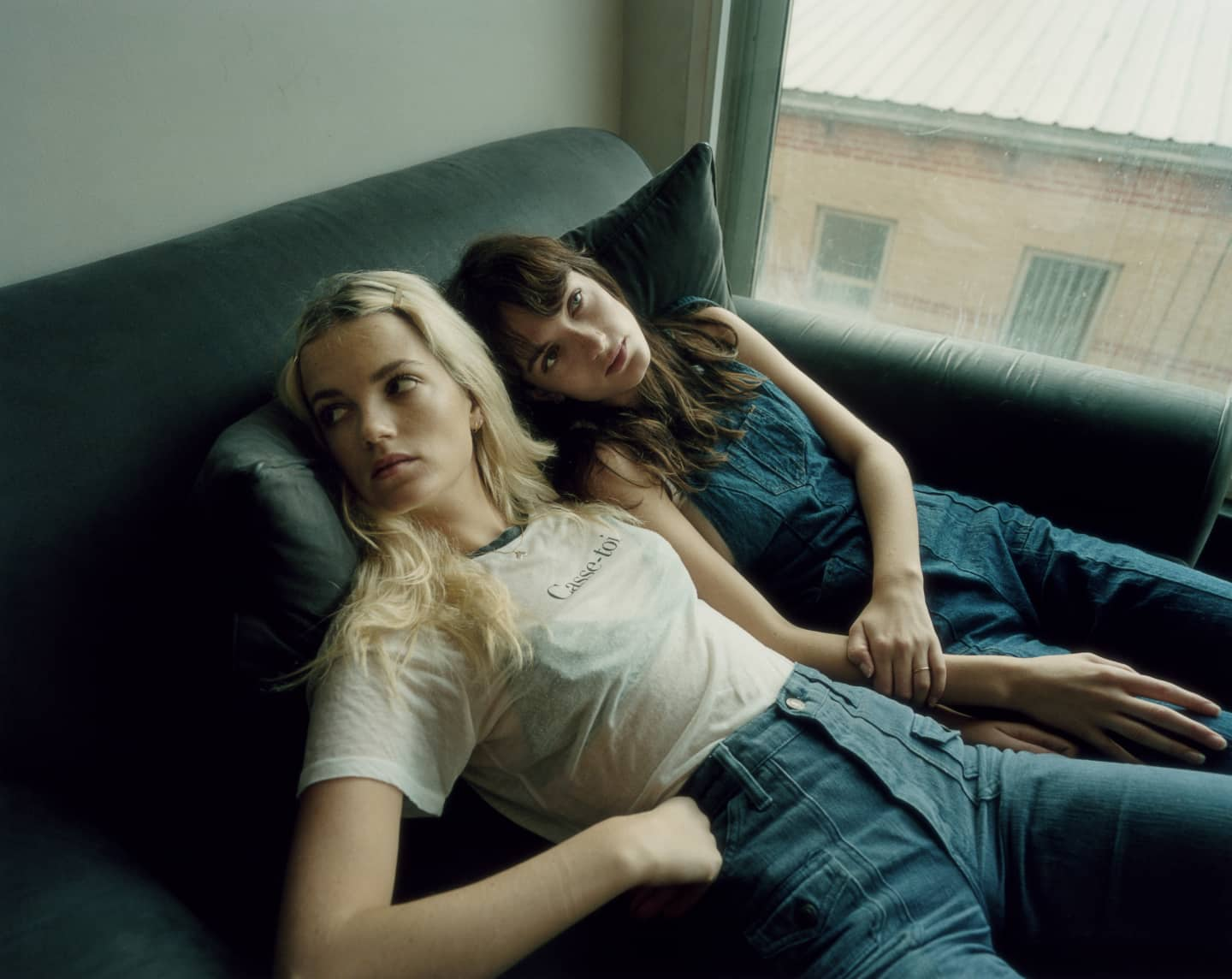 Their debut album, Lucid Dreaming, has been a long time coming, delayed by the legal wrangles that forced them to change their name (they started as Saint Lou Lou, but a similarly named German country singer wasn't happy) and recording sessions that weren't the right fit. "There was pressure to get bigger producers, but we want to feel like ourselves," Miranda says. Instead, they stuck with their old allies Addeboy vs. Cliff. "Elektra and I make mistakes all the time when we're singing and writing, and that's fine," Miranda adds. "You have to be free when you're making music and not feel that you have to deliver all the time."
To hear them talk about mistakes in their music feels slightly jarring considering the clarity of their output, evidenced by singles like the swooning "Julian" and washed-out disco noir-ish "Better in the Dark" and "Everything We Touch." The rare collaboration outside their usual circle came with the fizzy "Games for Girls," produced by the nu-disco pioneer Lindstrøm. Given the sisters' preference for control, it's worth noting that the song emerged more casually than usual, with them receiving the backing track via email and writing with the idea that it'd be used on Lindstrøm's album rather than theirs. The song's relaxed gestation permeates every single note. In its mischievous music video, they sing of little boys with fancy toys while pulling pranks in sunshiny LA. "It made us smile, and it made our friends smile," Miranda says. "We needed some fresh air in what we were doing. We can't constantly drape ourselves in melancholy."

Below, watch the video for Say Lou Lou's Lindstrøm collab, "Games for Girls."

From The Collection:
GEN F