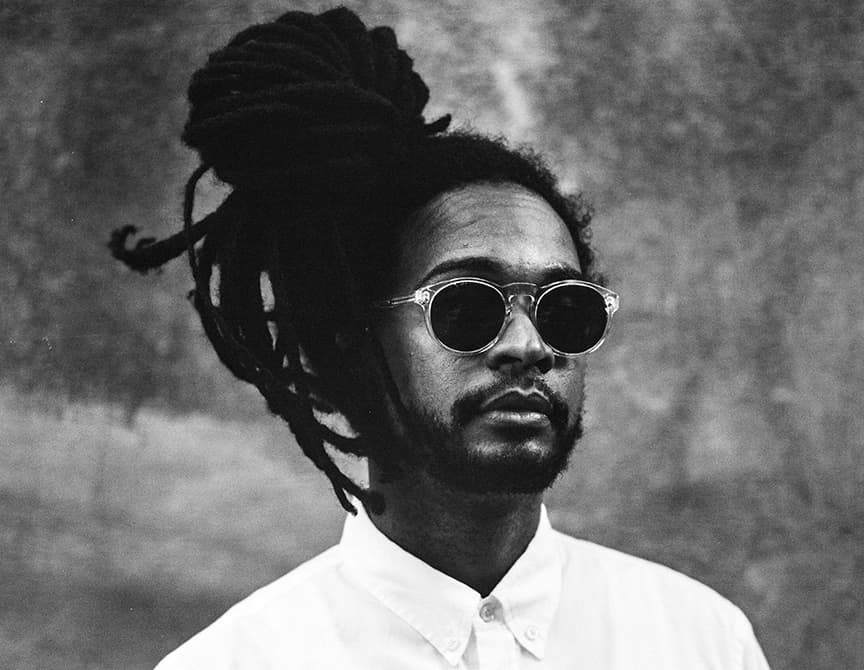 Beat Construction: Roofeeo
Globetrotting DJ/producer/drummer Roofeeo talks sessions with TV on the Radio and Bjork and drumming for Yeezus.
The producer is one of the most crucial yet anonymous figures in all of music. Every now and again we aim to illuminate these under-heralded artists with Beat Construction. DJ/producer/drummer Roofeeo has bounced between Philly and Bushwick for the past decade, drawn to the center of the most cutting-edge music circles of any given moment. Currently serving as drummer for TV on the Radio as well as countless side-gigs, the young Panamanian-born musician's journey traces Baltimore club, DIY punk, forward-thinking dance and straight-knuckled rap, with miles of touring and partying in between. Set to head back out on the road in a few weeks, Roofeeo told us about sessions with TOTR and Bjork, drumming for Yeezus, and the win some/lose some nature of the rap production game.
What's up, where are you at right now? Just got back to my crib, I was in Panama for the past week. Just chilling, hanging out with my pops, my girl, my sister and shit. It was an awesome trip. Usually I just go down when I gotta do passport renewal and stuff like that, but I worked my ass off last year, so I took advantage of having some down time.
Does your dad know your music? Yeah, if you get a chance, Google my dad—his name is Rasta Nini, he's a legend in Panama. He works for one of the biggest reggae/dancehall artists out of Panama. He's big in the hood out there. We went out to some hood with maybe 3,500 people on this dead-end block. They built a stage, and had a concert cause Christmas goes on until the 6th of January down there. Right after that, they have this tradition in this barrio where they burn all the old Christmas trees and have a crazy party, so we're out in the hood, in the thick of it, it was crazy. You can't really do stuff like that unless you're with somebody like my father.
You came to music through drumming. Yeah, my introduction to music was gospel drumming when I was really young. From there, I started playing different genres of music—playing jazz in school, and then I got introduced to rock and punk rock, and the DIY scene that was kind of booming in the mid-2000s.
Did that wide lens lead to DJing? I used to hang out with the Ninjasonik kids. Jah-Jah is the dude that introduced me to the punk/DIY scene. He used to DJ all these warehouse parties and little dive bars we'd hang out at. Make friends with the DJ, you drink for free, and when you're a young artist in New York City you're definitely broke. So it stemmed from that, I'd just be around them all the time. I feel like this is right before Serato really popped off, cause they used to still carry records. I was really into it, and wanted to try doing it and never really had the time or the chance to until I moved to Philly with my band at the time, Death Set.
You played with Kanye West when he debuted "New Slaves" and Black Skinhead" on SNL. What was the vibe like then? That was crazy. It was pretty intimidating, I remember walking into the practice space and Kanye wasn't there yet. It was Mike Dean, this dude Omar playing keys who's an amazing musician, and Mano DJing. I came in, they brought me a drum set and I started playing. Ye came in, he started playing keyboards, walked to me playing drums and I was just like, "This is fucking crazy." The most influential people in music having a mini-jam session with me in this practice space in the city. Then they played the song and I played along to it, and then he made all those amazing cues for lighting and video. He curated it all. Really amazing to see an artist work like that with such confidence and such vision, and be able to execute it, because that's the level that he's on.
No one had heard that material before. We got to SNL and we did soundcheck and that kind of bombed, and then dress rehearsal didn't go too well either. The last shot was live. In between the rehearsal and the show, I went down to the studio in Soho and just played the record on repeat and learned the parts pretty much that day, because it was the night before. So I took it upon myself to really cram these parts into my head and know the cues. It was a raw, once in a lifetime experience that happened to be documented on national television.
Those that know you for your work with Ninjasonik or TV on the Radio might've been surprised to learn you did "All About The Money," the recent street single from Troy Ave and Manolo Rose. Does traditional hip-hop production feel like a step outside your comfort zone? For me, it's all the same, it's just different mediums. I'm a musician through and through. I'm a creator. The Troy Ave thing came from me making this record with Manolo Rose, we made a whole EP. Troy heard the record and was super stoked on it, which happens pretty often in the music industry. Because Troy got the record, it got to the level that it is now.
There were a few versions floating around, and there was talk that Troy was using some of Manolo's rhymes on his version? There's the original song, "Dope Man," which Manolo wrote and I produced. And then Troy Ave... It was like three months of miscommunication which happens so much in the hip-hop industry, which is why I try to stay in my place in rock because it gets really sticky. At first Manolo was cool with Troy using the record, so Troy kept Manolo on the hook—that was the original agreement. Then there was no communication for a little while, so Manolo was like "Fuck it. I'm gonna put my song out and run with my version." I was under the impression that Manolo gave the okay for Troy to remix it, and then it wasn't okay. Troy ended up remaking the song and citing—are you familiar with the term citing? Classical musicians do it all the time. They take pieces from different compositions and place them in newer compositions. So yeah, Troy Ave used the same flow as Manolo Rose, then that came out and it was on the radio, and we were just like, "What?" I was just like, hell yeah, this is my first record that's been on the radio.
You started drumming for TV On The Radio shortly after bassist Gerard Smith's death in 2011. Was it difficult joining the band in such dark circumstances? The band is super tight, family dynamics to the max. Me being a newcomer and being the youngest and having such an important role in the band, playing drums, it was kind of tough. It was the biggest audiences I'd ever played too. Jaleel Bunton, who is like a big brother to me, told me "Yo, bro, you need to really start bringing it. So what that you're the youngest or the newest." Alright, say no more. Everybody in that band is such an amazing and talented person, one can't help but be intimidated by that. In the same way that they're really brilliant men, they're also super supportive and loving and encouraging so from there it got easier. I was super nervous, dude, it was TV on the fucking Radio. I been with them for five years or something like that, and it's still magic.
Session/touring musicians are almost a different kind of producer. You bounce in and out of different situations and have to make yourself fit, providing huge input from the background. I was lucky to play drums with Bjork in the studio when she was working on one of her later records, and that was really crazy too because she's another mystical, amazing being. Her producer, Damien Taylor, saw me playing with Spank Rock in Montreal and asked me if I'd be interested in coming into a session with Bjork. I was like "Are you kidding me? Absolutely." It's a gift to be able to do what I do and still maintain a comfortable lifestyle and not have to worry about the woes of celebrity or stardom. You have to be open-minded and patient and aware of your surroundings and the dynamics and be really in tune with vibes, and be able to read energies and know how to play your role. I've been playing sessions since I was really young, and you kind of learn that naturally, like know how to play your position. Not everyone has that gift. Some people are just like "Nah, I'm gonna bogard it, my input is important." There's a time and a place for all that.