In a sea of pastel gowns, Janelle Monáe is instantly recognizable on the red carpet. Most often dressed in crisp suit separates and wide-brimmed hats, Monae embodies a fresher, less girly breed of personal style—one that doesn't hide from black tie. Behind most every appearance is Monáe's stylist, Maeve Reilly, whose wavy, dirty blonde bob and predilection for leather have made her a fashion icon in her own right. "My voice and my taste are clear," Reilly told The FADER. "My aesthetic doesn't change much, and I really try not to fall victim to trends. I want my clients to have timeless moments, so they can look back 20 years from now and still love their look." Below, Reilly talks us through Monáe's style evolution, the comforts of having a uniform, and how tomboys can dress up without sacraficing their steez.
How did you begin working with Janelle Monáe? I was hired through someone at Atlantic Records. It was a match made in heaven from the very first job and I've been honored to be a part of her growth, and changes we've made to evolve her style. But the classic black and white menswear suiting was all her! I can't take a bit of credit. The wide-brimmed hats were all her, too. She sent me photos of one she liked and we had a bunch custom made in different colors.
How have you seen her style evolve? Janelle has always worn black and white as an ode to family members who wore uniforms for work; it wasn't a style statement—though it's become that. They work so well with her suits and her hair. The past two years, she's started wearing leather and skirts and crop tops, so that's been fun to watch. But she always keeps it in the black and white uniform, of course.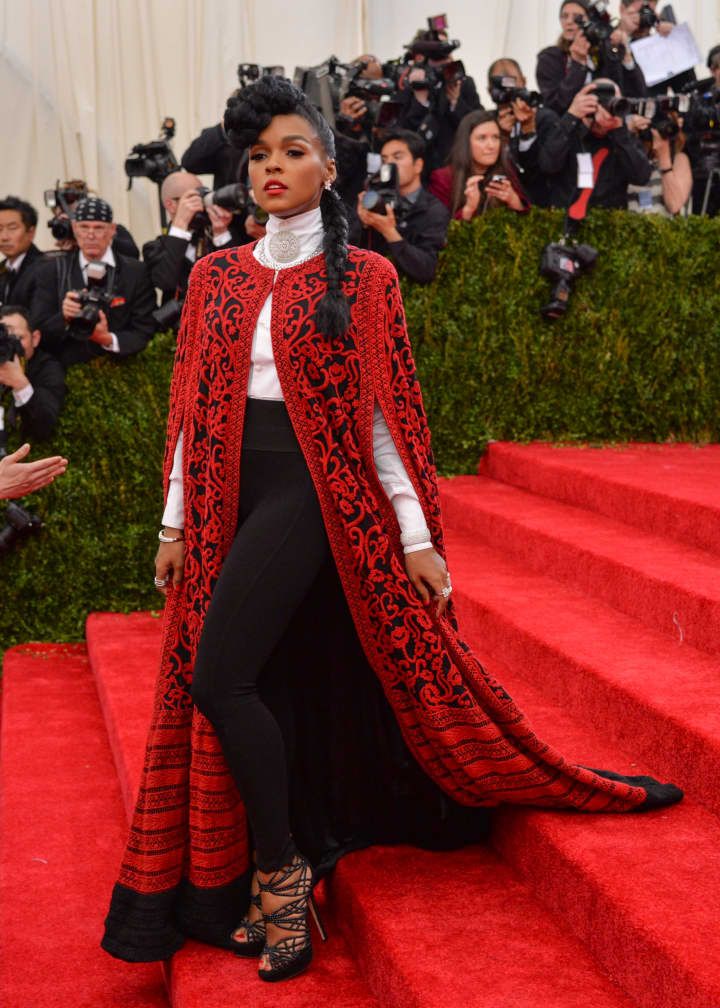 Her Met Gala look was so distinctive. How did that come together? It was actually a very last minute event for us. Janelle decided to attend just a few days before. So while most people had custom-made looks or were paired with a designer, we just figured it out on our own. I found that cape in one of our usual showrooms and immediately knew it was special. We weren't sure it was going to work until we altered it to fit her, the day of the Met Gala, which is insane. It was a game time decision; we confirmed it 30 minutes before she hit the red carpet. It was magical—I cried, actually. It was the biggest and most stressful moment of my career, and I was only 26.
What does a uniform mean for you? It's all about comfort: jeans, sneakers, T-shirt, and a leather jacket. And of course diamonds on every finger—I love a good accessory. I always wear the same brand of jeans, Frame or Topshop, and the same BLK DNM leather jacket. I mostly wear black and white, which is one of the first things me and Janelle bonded over. I like that I'm recognizable to people, especially on set. It helps me feel comfortable. I can guarantee you will never see me in anything but black, white, or grey. When I need to elevate my look, I throw on a blazer and a heel. Everyone should have a pair of jeans they feel great in that can go day to night, a heel you can dance in, and a leather jacket.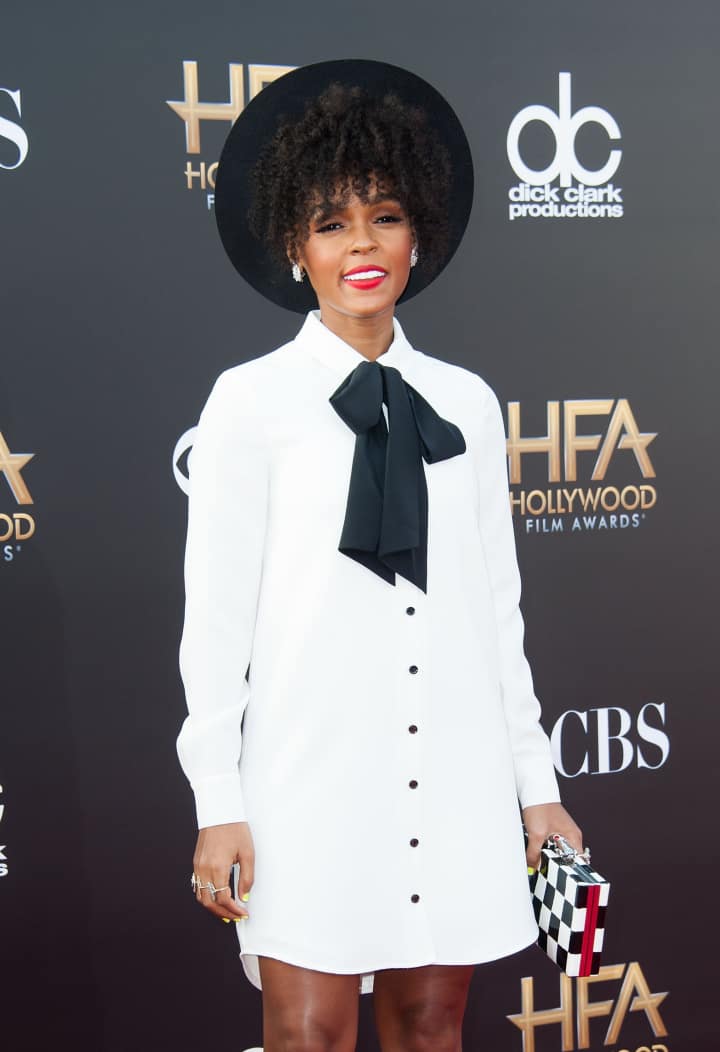 How can girls who love tomboy style get dressed up without sacrificing their aesthetic? I suggest purchasing a suit from H&M or Zara. It doesn't have to be Dolce or anything expensive—just see if it works for you. A sexy twist is to wear it without a shirt underneath, or add a sexy heel. Also try looking for a tuxedo dress!
How do accessories build out your uniform? My accessories are a huge, defining part of my style. My stiletto nails are always painted, usually red, I wear diamond rings on literally every finger and have hand tattoos. Accessories are also a trademark of my clients. I love them.
How old were you when you feel you locked down your personal style? I really don't think I got my style nailed down until I was about 24 years old. Please don't look for old photos of me!
Lead Image: Mike Coppola / Getty Images