Henry Walter, the producer and songwriter better known as Cirkut, thought he was going to grow up to be a boom-bap hip-hop producer, like his early idols Pete Rock and DJ Premier. Instead, he wound up working with Miley Cyrus, Katy Perry, Nicki Minaj, and other top 40 mainstays on songs like "Wrecking Ball, "Roar," and "Pills N Potions." The 28-year-old's resume goes on and on: Ke$ha, Rihanna, One Direction, T-Pain, Robin Thicke, Wiz Khalifa, and Usher, to name a few more.
Despite his proximity to some of the most famous people on the planet, Cirkut maintains a low profile. After the dissolution of his former electro-rap group Let's Go To War, which released a buzzy debut album on Last Gang Records in 2009, he realized he was neither interested in performing nor in being a star. He and Adrien Gough, who first met in high school and together made up two-thirds of the band, briefly worked together as a production duo called Dream Machine; they've since stopped producing together, but parlayed the partnership into a jointly owned publishing and artist management company.
Around 2008, Cirkut signed to Dr. Luke's publishing company Prescription Songs, and began working closely with Luke as his primary production partner. By his own admission, he essentially lives in the studio, preferring to be a behind-the-scenes player shaping the sound of contemporary pop.
I spoke to him on a recent Sunday in Los Angeles—his only day off from what is typically six-day workweek during which sessions usually last until 2AM. In his own words, here is Cirkut describing the rigors of the pop music industry, and how he went from being a kid bouncing around Canada to being a Grammy-nominated producer behind some of the most recognizable songs of the past few years.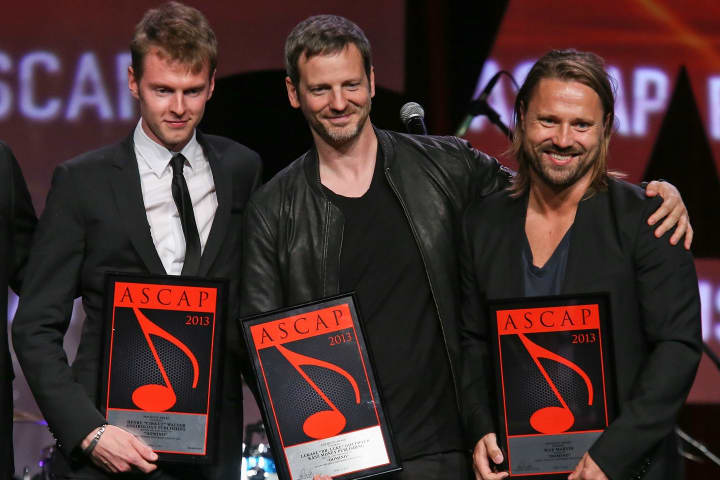 CIRKUT: I never had some grand plan like, "One day I'm gonna be a music producer and this is how my life's gonna go." I was ambitious and I wanted to be successful and do music for a living, but it was hard to predict, so I just went with the flow and kind of stumbled into things.
None of my family was very musical, so I grew up discovering music mostly through friends. I had friends who turned me on to hip-hop. A couple of [my] friends had turntables and they bought vinyl and they were into mixing and scratching. I got really into hip-hop at first and that's what started my love for music—wanting to know how these records were created. DJing got me into production and manipulating and flipping records.
After high school, I moved to Toronto. I felt like there wasn't much going on in Halifax in terms of music. There's talent there, sure, but I needed to spread my wings and move somewhere where stuff was going on. So I went to [the Harris Institute's] one-year audio engineering school, but I had no idea where I was gonna go from there.
During that time and for a couple of years after that, it was mostly struggle. I was trying to survive and make a living and eat while still making music. I consider that period just experimenting and grinding and discovering my potential, and just working hard at becoming great. I just remember being in the studio all day and loving it.
I kind of briefly interned, if you could call it that, with [MSTRKRFT producer] Al P. I was getting into electronic music and I heard what MSTRKRFT was doing and it seemed like something crazy and new and fresh. I had just finished school and I was looking for someone to learn from and be inspired by. I just cold emailed Al like, "Can I hang out in your studio and play you some beats?" So I learned some stuff about analog gear and all the crazy stuff they're into. That immersed me more in electronic music. I also met my attorney Chris Taylor through them and a lot of things started as a result of that relationship.
[Me and Adrien's] first big placement was a Britney Spears song called "Mmm Papi." It came about pretty randomly, from Chris Taylor asking us for tracks.. I think initially they were like, "A big pop star is gonna record to your track" and we were trying to guess who it was. We had no idea! I was really excited because at the time I had nothing else going on. I was working on a whole different bunch of stuff—rap, pop, all different styles—and I didn't anticipate that I would be doing stuff for Britney Spears, so that was very cool.
It wasn't a single or anything, it was a deep cut. But just saying you've got a Britney song gives people a reason to listen or take you seriously. It was a bit of motivation, too. Like, "Hey, I can do this, I can make a career out of this. If I keep working, I can make more things like this happen." I didn't know what was gonna happen after that but it was a sign that this was possible.

One other noteworthy thing around that time is we met Abel [The Weeknd] in Toronto when he was just budding. We ended up doing "High For This" off of The Weeknd's first mixtape. That was the polar opposite of Britney Spears, but I didn't think that was weird at all. At the time it didn't seem eventful, but now he's blowing up. He even has some radio hits.
Then I met Dr. Luke. I hung out with him a few times and he offered for me to sign with him, and I said yes. The first thing I did with him was another Britney song. It was called "Seal It With A Kiss," and I did it with him and Max Martin. He sent me the song they were working on and he was like, "Can you try a version of this? Can you make a beat around this a cappella?" I think it was a test for me.
Even though I didn't necessarily think I'd be working with pop stars, I was honestly just grateful to be working on music. When I first started, I thought was gonna be making '90s boom-bap. But I just got into it and enjoyed the process of it. I was basically down to work on anything. Whether it was brooding atmospheric R&B or the most bubblegum pop, I was down with it.
I just love to make music, I love every part of it. I like the feeling of exhausting all the possibilities. Knowing that a song started from this little idea and then it gets to a finished product? I love that. It's cool to work really hard on a song and then listen to it from front to back and think about where it came from.
But there are definitely parts that aren't so fun. Not that it's formulaic, but it's real work sometimes. It's not always just messing around in the studio. People sometimes think that [pop music] is easy or glamorous. I definitely can say there's not much that's glamorous about it. We work very hard and sacrifice a lot for this. It makes it hard to have a great social life or have a ton of friends or be up on the latest current events. You have to be always finding inspiration and motivation and it gets tough. I also think creatively or stylistically [some people] might hear Top 40 radio stuff and think it's not hard to make. But to come up with something that's simple and hook-y and catchy and is universally understood or relatable, I think that's the harder thing to do.
It's hard to say what I'm most proud of but maybe "Wrecking Ball." When I hear it, I like the sound of it, I'm proud of the production. I also like the Katy Perry song "Wide Awake" a lot. Sometimes when I listen back to stuff I've worked on, all I hear are the flaws. I tend to be self-critical a lot so I'm just like, "Ah man, I would have done that differently now."
I may not have a [signature] sound across the board, but I do a few different styles of songs and there are things that I do that people might recognize. But I don't really strive to be like, "Oh, let me put my signature sound on this and make it recognizable." [Having] a sound is a result of something that you do over and over again, and I think if you do something over and over too much, it can be boring, so I try to switch it up a little.
Someone like DJ Mustard, I think, has a very distinct sound. And that's cool but it's such a specific sound that eventually people are gonna be influenced by it and it's gonna be not so unique anymore. It's not necessarily a bad thing, unless people are copying [your sound] and doing it way worse. And that's not something specific about DJ Mustard, it's anyone—if you have sound, you have to eventually evolve and create a new sound.
I hope [my work] will evolve over time. I've signed a few people—Allie X, an artist and writer from Toronto who lives in L.A., and two producers, Kevin Figs and O C—that I'm really excited about. I'll maybe evolve somehow but as long as I can balance work with a normal life, I'll be happy. I like being dedicated to something, you know? Whenever I take a few days off or go on vacation, I'm always ready to get back into it after just a couple of days.
Lead image: Che Kothari